When it comes to border towns you can get to without too much hassle: there's the high living of Chetumal to the north and then there's the cheap products of Melchor De Mencos to the west. But, say what you want about Melchor – crossing that border is a breeze compared to the strict, militarized crossing you now find in Chetumal. And that's because, despite the unfounded Guatemalan claim and the whole "Belice es nuestro" delusion – the residents of Belize's western towns have learned over the years how to get along very well with their Guatemalan neighbors. So much so that hundreds of Guatemalan students choose to go to school in Belize – from pre-school right up to sixth form. Yesterday Courtney Weatherburne travelled west to find out why they do it:…
Courtney Weatherburne Reporting…
Belize and Guatemala may be going through a difficult patch as neighbours. But while there is unease between Guatemala City and Belmopan, on the ground, the true state of relations between these neighbouring countries is being proven daily by the hundreds of Guatemalan School Children who cross the border from Melchor to Benque Viejo to attend school in Belize.

Just looking at these students it might simply seem like another regular day as they make their way to school. And it is, but regular for them is not regular for an average student: These Guatemalan students wake up early every morning to attend school in another country.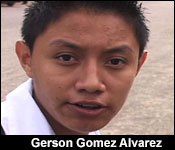 Gerson Gomez Alvarez, Mount Carmel High School
"My daily routine is I woke at 5 and I start get ready for school and I come out here and I need to pass the border, I need to, sometimes we need to check our name at the border and then we can go in the school."
14 year Gerson Gomez Alvarez is one who makes this journey every day to get an education they believe will put them ahead in life.
Gerson Gomez Alvarez
"Maybe because we know another type of language and we can get a better job."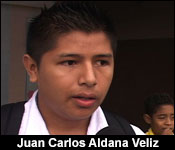 Juan Carlos Aldana Veliz, Mount Carmel High School

"I feel very comfortable to study there because I can understand what I say and I want to tell people out here that it is a good school and we can learn better here than in Melchor."

Amy Hernandez, Mount Carmel High School

"The bus comes at 7, at my house passes at 7 and at school it gets at 7:30, 7:45 and yes it does not get us there in front of our school, but close."

Approximately 680 students cross over to Belize daily and it's been going on for about 30 years now. That explains how Fernanda Contreras went to primary school in Belize. She's now in high school:
Fernanda Ashley Morales Contreras, Sacred Heart College
"From since primary school, since Infant 2, so I went like them in Mount Carmel primary school and now I am going to Sacred Heart."

It has become so much a part of their lives and ours that many can simply walk or ride over the border with ease as compared to the strict regulations and checks implemented at other border crossings – like the one with Chetumal."
Ramona Guerra, Mount Carmel High School
"We just pass."

Courtney Weatherburne

"There is no verification, no ID check, nothing" So you simply can walk pass the border with no trouble at all?"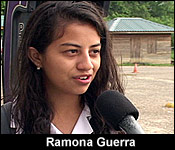 Ramona Guerra

"No, just with your uniform."
According to officials, this is illegal and extremely inefficient but they basically throw up their hands, saying it's been out of hand so long that it's not easy to stop.
But it is a reality and transport services have definitely found a way to benefit from this steady wave of movement.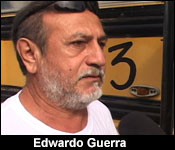 Edwardo Guerra, Bus Driver, Guerra's transport
"Daily I transport 250."

Courtney Weatherburne

"Primary school students?"

Edwardo Guerra

"Yes."

Courtney Weatherburne

"In terms of cost you were telling me that some pay for the entire week?"

Edwardo Guerra

"The ones that pay 50 quetzals per week they stay for lunch at school. The ones that pay 60 per week, they come to their home here in Melchor."

Courtney Weatherburne

"Tell us more about how many buses run daily and how many runs?"

Edwardo Guerra

"There are 4 buses, I am in charge of two buses and Mr. Coleman is in charge of the other two."

That 50 quetzales is $13 dollars per week and 60 quetzales translates to about $15.66 per week. So roughly these students have a monthly transportation expense of about $60 Belize dollars. But these buses are only designated to transport primary school students and so the High schools students take the taxi.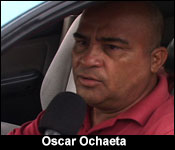 Oscar Ochaeta, Taxi operator

"Well daily it as a lot of students but we just transport about 100 and that's high school not primary school. So it's 2 dollars per student."
And so while diplomats seek confidence building through diplomatic channels, the future of Belize Guatemala relations may be unfolding here at the western frontier where our neighbours learn the Belizean way of life, it's a grand and worthy social experiment but whose paying for it?
Well according to these students and the schools, it's the parents.

Fernanda Ashley Morales Contreras, Sacred Heart College

"For my experience it's more cost but I guess it is more worth it and I have really good grades here so my parents said if you can have your grades up. So it really cost because I do not have a security card or anything like that so I pay another fee. It's just $500 because of not being a Belizean."

Sacred Heart College has 923 students this year and out of those 10 are from Guatemala. They say they must charge this foreigner fee because the government does not.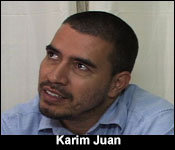 Karim Juan, Academic Principal, Sacred Heart College
"Non-Belizeans pay and addition $500 registration/tuition fee for the year that the Ministry of Education does not pay for non-Belizeans so that fee is to compensate for the short fall."

This is not the case with all high schools. Mopan Technical High School has cut the cost to $225 per year. 95% of their students are Belizean natives.
It is much cheaper at the Primary School level. Ardulfo Velasquez, principal of Howard Smith Nazarane School told us the fee was already set when she began to work 3 years ago.
Ardulfa Velasquez, Principal, Howard Smith Nazarene School
We have about 80 of them coming from Melchor. Ok as Belizeans, we have a policy of Belizeans first so what we do when we have registration we cater to our Belizean students first. Let me say that some of these students coming from Melchor have Belizean documents, so not all of them coming on the bus are from Melchor but some of them are Belizeans living in Melchor. Melchor children pay a fee of $15 monthly."
At Mount Carmel primary School, with a student population of over 900, the 15 foreign students occupying each standard, pay the same $15 a month. While the Adventist primary school has a slightly different fee.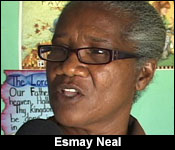 Esmay Neal, Principal, Hills of Promise Primary School
"Since I came here the children pays $60 a month if you are a Belizean. If you are from Melchor, you pay $120 a year and past 3 years parents have been paying that."

And the fees add up. At Howard Smith Nazarene – it's building a shed:
Ardulfa Velasquez
"The fees that we charge Melchor students we use it to do projects in our school and along with the registration fee of non Belizeans right now we are working with our shed out there so part of that money went in to that, we have our fence, part of the Melchor money went into that. We have other projects and that money is included."
And while there are tangible economic benefits – the key is the social aspect: the education the Guatemalan students received in Belizean-ness.
Ardulfa Velasquez

"One incident and I can recall is a student from Melchor coming in with a book having the entire Guatemalan map and attached to the map was our Belizean map and it was brought to my attention and I told the child Belize has it's border, we have our flag, we are independent. Yes miss he said and the child took the page and tear it up and it shows that in Social studies that Belize has its borders and they respect that."
Esmay Neal
"I really haven't had incident that I am aware that a child from Melchor is fighting with a child from here, never in fact it is our own fighting without own. But the kids from Melchor they come catch the bus from right here and the bus drops them off at the gate and they go back and the warden puts them on the bus in the evening, we don't have any problem like political or international type of thing."

A counsellor from Sacred Heart, a Guatemalan born who is now a naturalised Belizean, says that the process of social integration is an organic and beneficial one.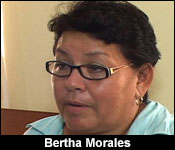 Bertha Morales - Counsellor, Scared Heart College
"So in previous years we has lots of students coming over the border ,they are now professionals, doctors , engineers you name it, some of them are in Guatemala or in the US and all over. For me it has never been a problem, the social interaction has been good excellent and we never had coming here because of bullying or personal conflict, no they do well, they do wonderful, they are very disciplined and responsible about 80% of them are on the honour roll while they are here, others we have to push but they do well."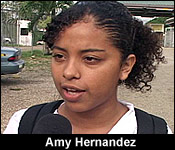 Amy Hernandez
"I think in Belize City they think that here at the border there are soldiers with their guns but it is not through, no one is here going to kill someone."

Indeed, when you get to see the ease of it's daily workings firsthand – the pace and mood of this border seem out of step with the tensions between Belize and Guatemala. Seeing this you'd think it's the border between the two friendliest neighbouring countries on earth. And, maybe, buried beneath the unfounded territorial claim and all its baggage and recriminations, we are that: neighbours trying to navigate an uncertain future.
As we have said, the hassle free crossing has been a long-standing convention and those we spoke to at the Immigration desk told us they have been trying to regulate the flow of persons crossing the border but without much success.

When we travelled to Santa Cruz, Guatemala years ago – where there is a crossing but no border post, we found much the same. That village borders Jalacte in the south, and every day students cross over to Belize to go to school.
The Endless Saga: Ashcroft Alliance Vs. GOB In Court
(posted on Wed Oct 22, 2014)
4 weeks ago, we told you how the Ashcroft Allied Belize International Services Limited won the first court battle against the Government of Belize. They were able to convince Justice Shona Griffith that the Commissioner of Income Tax arbitrarily assessed BISL for 30 million dollars in back taxes that they didn't owe. Justice Shona Griffith agreed and struck down that assessment.
Well, today, the Government of Belize went on a pre-emptive strike to get BSIL's full claim thrown out. The real fight, which is pending, is whether or not Government acted lawfully when they assumed control of the registries.
That case is before Justice Michelle Arana, and a preliminary hearing came up because Government attorney Denys Barrow wants it struck out.
As we've told you, BISL is claiming 60 million US dollars as an award of damages because according to them if the court rules that the government acquisition is unlawful – that's what they are entitled to. The company's position is that they had a registry management services agreement which gave them control over the registries up until 2020, but the Government broke that contract and violated their constitutional rights.
Government, on the other hand, says that the agreement for the registries expired last year, and that gave it all rights to terminate BISL's management.
Today's hearing was based mostly in legal technicalities, but nevertheless, Barrow pressed forward on his application. After the hearing, both sides explained the importance of their arguments, given that 60 million US dollars is on the line: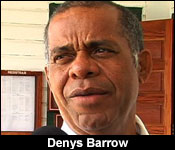 Denys Barrow, Attorney for GOB
"We maintained that the claim they brought should have been a claim for damages, for breech of contract and should not have been brought as a claim for violation of the constitution. And it is on that basis we sat with the court, it is an abuse of the process. Force them to come the proper way and tell them they can't come with a false constitutional law claim."

Eamon Courtenay, Attorney for BISL

"Essentially what has happened is, you will recall the government took over forcefully the registry for the international business company, which was managed by our clients Belize International Services Limited. They claimant has brought this claim saying that the constitutional right of their property has been breeched. That the government used for and took over the registry and took away the balance of the management contract, there was 7 more years, so we have brought that claim for substantial damages. The government says it's not a breech of the constitutional right, that it is a breech of a contractual right and therefore the procedure we adopted is wrong. In response to the arguments made by my friend, Barrow senior council, we contended very forcefully that in fact, the government did breech our client's constitutional rights and we are entitled to continue by way of a constitutional motions to seek damages and appropriate relief. We also point out to the court that if she finds that this is a case that ought to continue as an ordinary claim for breech of damages. That is available and rules provide for that and she should reject the submission of the government and the claim should be struct out."

Reporter

"How is the 60 million dollar figure arrived at?"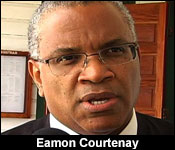 Eamon Courtenay

"Well we have experts who have looked at the performance of the registry, the income of the registry, the revenue of the registry, with expenses of both registries and the projection for what was likely to be earned for the balance of the term. Based on that the experts has advised what they see is the profits that our clients have lost."

Denys Barrow

"That figure in a Belizean context for the people of Belize, to be made or even have a claim against them for 60 million US is a huge cloud to be under. It is something that you do not take lightly, it is something that you fight against."

Daniel Ortiz

"Sir I notice also you make mention that there is no evidence to support this quantum, describe to us why you made that assertion important."

Denys Barrow

"As I mentioned in court, the reference to the 60 million, does not come from anybody saying that this is what we have lost. It comes from somebody saying that we issue a press release in which we told the Belizean people, that is what will catch you."

Daniel Ortiz

"Will your side be presenting this to court as to how you arrived at this figure?"

Eamon Courtenay

"Absolutely. There is very comprehensive and very clear experts reports that have been prepared substantiating the amount that we will claim."

Justice Arana has reserve judgement on this application to be handed down at a later date. It is important to note that if the Government wins, it is not the end of the registries ownership challenge.

Hon. J. Espat Writes Auditor General
(posted on Wed Oct 22, 2014)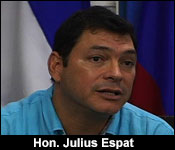 Yesterday PUP Deputy Leader and Chairman of the Public Accounts Committee Julius Espat told us that the Auditor General had let him down when she wrote to him saying that she would not investigate the Petrocaribe loan motion while it was before the House of Representatives. She said it would be premature.

Well, now Espat has formally written back to her saying that even if the motion – once adopted - will have the force of law and can authorize the borrowing, he says it can't give the authority to spend the loan proceeds which have already been spent. So Espat advises, her investigation would not be premature, instead, he says it would be late. He closes by saying, quote, "This matter simply cannot…be side-stepped but must be confronted squarely. It would be a complete abdication of responsibility, by both your office and mine, to sit and watch over two hundred million dollars in public funds expended in an unlawful manner and without the requisite level of transparency or accountability."
And while Chairman Espat appears passionate about the 114 million US dollars in Petrocaribe funds – we note that his passion did not drive him to last Tuesday's meeting of the Finance and Economic Development Committee – of which he is a member. That meeting was convened to discuss the Petrocaribe loan motion. Neither opposition member attended – but it did have a quorum and it did proceed with four government members.
Drug Crackdown In San Pedro
(posted on Wed Oct 22, 2014)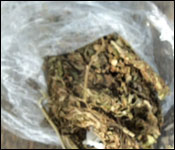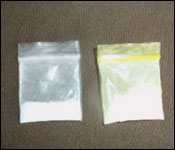 There were several drug busts yesterday between dawn and mid afternoon in San Pedro. The raids were carried out by island police and the GSU.
Near the residence of a known drug dealer in San Pedrito police found a black plastic bag of 179 grams or 6.3 ounces of suspected cannabis, a small white and orange container with 127 grams of suspected cannabis or 4.4. ounces and another plastic bag with 14 grams – or half an ounce. All were labeled as found property.
Again in San Pedrito, Police found another half an ounce in a plastic bag in a open lot. That was also labeled as found property.
The police searched the home of 35 year old Pablo and 39 year old Claudio Barbosa in San Pedrito and found a plastic bag with less than an ounce of Crack cocaine.
Then there was 45 year old American, Paul David Smith who was arrested and charged for drug trafficking and Possession of controlled drugs after police found two small Ziploc plastic bags containing 2.3 grams or 8 ounces of suspected Cocaine, a transparent plastic bag containing (0.6) grams or 2 ounces of suspected Cannabis and a silver metal pipe measuring (3) inches in his room at Ruby's Hotel on Barrier Reef Drive, San Pedro Town.
A New Brand For Belizean Products
(posted on Wed Oct 22, 2014)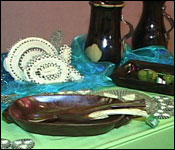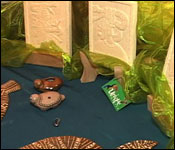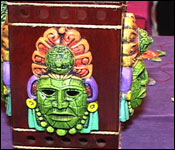 Tourists visiting Belize are always looking to pick up trinkets, curious – or what we locally would call arts and crafts. But, too often, those products which are emblazoned with the word Belize on it can be made in China, or worse, Guatemala.
The project called "Making Tourism Benefit Communities Adjacent to Archeological Sites" is trying to change that by creating a Belizean umbrella brand for genuine, locally produced crafts that have high standard and legit indigenous credentials.
It's called the Unique Belize brand and it was launched this morning at the Princess Hotel. The organizer of the initiative explains that the artwork has to meet three criteria which he outlined: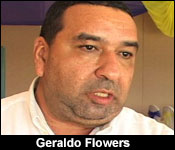 Geraldo Flowers - Project Coordinator
"You see here today is a culmination of, I would say 6 to 8 months of work, training and mentorship for artisans, particularly artisans who come from communities around archeological sites. These are primarily rural artisans, they represent regions from all over the country and they are here today to present their products, their prototypes; And to display the type of wonderful products Belizeans, truly authentic Belizeans can create as artists and can sell in Belize, the region and around the world. Benefits of the programme are many fold. First we want to make sure the artisans look at themselves as small business people and they learn how to manage their finances, how to manage their businesses and how to manage their artistry as a business. We also wanted them to understand how to enhance the product development of the prototypes themselves and thirdly we want them to understand markets. Not only the market near to them, but also the market nationally, regionally and around the world; And we want BTB and NICH to help them to market their products in Belize and elsewhere. It is important to educate and we want to use these artisans as models. There are hundreds perhaps thousands of artisans in Belize. The ones featured here are by no means the onrly artisans or even the best ones. There are other artisans out there who are equally as good and we want to showcase Belizean artisans so they can encourage others to come and be apart of the efforts that BTB and NICH will be leading in the future, to brand and certify authentic Belizean products and authentic Belizean artisans."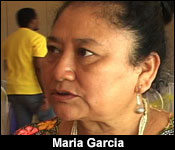 Maria Garcia, Artist
"We do a little of everything. We do sculpturing since 1981 and we do medicinal remedies, medicinal tours as well and we do a lot of Mayan cleansing. Right now we are here because we a part of this launching of new products close to adjacent archeological sites, so that's why we are here. I think it's a good idea, something that is unique and it's so good see a lot of talent in our country and a lot of our artisans, to meet them, to be a long with them and to see the new products we have in Belize. Since we a part of this project, taking our heeling seeds and turning them into unique jewellery, it's very amazing."

The display continues tomorrow at the King's Room of the Ramada and it is open to the public.
Neighborhood Pleads With City Hall
(posted on Wed Oct 22, 2014)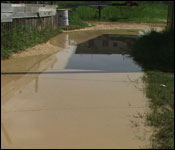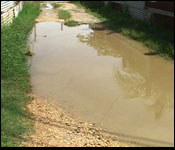 Lately, city residents have had to deal with a lot of irregular flooding and many blame the new cement streets - most of which were built without drainage. But those living on JC Street in the Port Loyola area say their flooding predates those new streets – and exceeds all tolerable limits for civil living. Today 7news visited the area.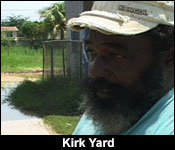 Kirk Yard, Resident of JC Street

"As you could see behind me, that you have a water situation and it's been over 5 years that we've had this situation. I went to see the mayor about it, I talked to the city engineer; I brought it to all their attention and so far nothing done. You can see that we don't even have walking space, we have to use the edge of people's yard and fence to reach. Even the children have to walk in the water, so I make it an appeal to those who are hearing to please try to assist us, put some kind of material in the street, please; Not just for me, but for everyone and the traffic on the street. Sometimes the water last 2 months. As you can see we don't even have drains, no drains on the side of the street and that's kind of hard. The water can't run off and right behind is is Jane Usher and that street is paved, so what about this? We are one set of people living in an environment, one area so it's suppose to one straight across the table. Fix the streets, we are tax payers. We call it our personal swimming pools, there are 4 that way and there is one that way, so there is no real entrance for people to go in or come out, it's all water."

The residents are pleading for the city council's assistance to help alleviate the flooding.
Home | Archives | Downloads/Podcasts | Advertise | Contact Us