Killed At Caracol, Constable Conorquie's Family Grieves
(posted on Fri Sep 26, 2014)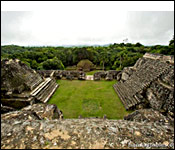 Yesterday, 20 year-old Special Constable Danny Conorquie was killed by Hispanic men - believed to be Guatemalans - at the Caracol Archaeological Site in Western Belize.
If they were Guatemalan, the young constable Conorquie becomes the first Belizean lawman to be killed on Belizean soil, in the line of duty by civilians from the other side of the border. It is disturbing from a security perspective - but there's also the tourism angle: the shootout which led to his death happened in plain view of several tourists and tour operators who were visiting Caracol.
And then, there's his family: they lost a son and brother in circumstances that would boil the blood of any patriot. Today, they came to the City from their home in Georgeville to deal with the post mortem.
His mother was still overcome with emotion - and angry at statements made by the Minister of Foreign Affairs:
Jean Conorquie - Mother of Deceased

"Danny love his job and he always talk on defending himself on his job, but then I don't know what went wrong for them to hurt my son like that. I am trying to hold up, but just now when I went to see him in there he doesn't look like my son at all. They are doing the post mortem, so we had to gone and ID the body. It's really hard, it doesn't look like Danny. I know someday Danny would get hurt with the cycle, or on the job, but I didn't expect it like this. They never had to do my son that. I don't know if he had any enemies out there, but in the village that he grew up everybody is Danny's friend. Everybody talks good about Danny. Everywhere I go "Ms. Jean you have a nice son" - thank you miss, thank you sir and they told me to keep on encouraging and I tried my best, my sister tried her best and everything. I don't know what went wrong."
Insp. Reymundo Reyes, Deputy Commander, Cayo Formation
"Mr. Conorquie is a young officer in the Tourism Police Unit. First he started to work in Belize City and later on he was transferred one year and 9 months now that he was transferred here in San Ignacio. He is a very productive officer; one I could say best when it comes to arrests and so forth. He was willing to go on operations, does his job to th4e best of his abilities that he could. Disciplinary, we never had any problem with that young man. He was somebody that always wanted to gain your trust and he was a friendly person."
Daniel Ortiz
"So it would be safe to say that the police department has lost a good officer?"
Insp. Reymundo Reyes
"That is right."
Jennifer Conorquie - Aunt of Deceased
"He had dreamt to be a police officer and I know that he had got into the force he would have been one of the police officer that wear that uniform with pride. The thing that really hurts us right; I work with the ministry of national security, but this might cost me my job but I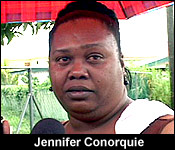 don't care, it's my nephew. When we were watching the news the thing that pains a lot is that the BDF were saying that it was the xateros that shot Danny and then for the Minister of Foreign Affairs to come on the television and say that he got information that there were only two Hispanic men. Who else could it have been? It has to be the xateros. Who else would come out of the bush and hurt my nephew like that. It hurts a lot. We don't have any anger. But it pains a lot to watch the television and to hear it from the Minister of Foreign Affairs saying something like that and like we sitting there and then like there is nobody call us or anything. We, the family are trying to figure out what we are going to do or what we are going to say to my dad. My dad is 86 years old and when we had to break the news to him, it was like it's not true, Danny would never get shot because Danny don't have any enemies. But it pains our heart for someone to say it's the xateros and then coming from the high above is saying its two Hispanic men and not the xateros. I mean everybody knows that lots of things happen at the back there and it doesn't come on the news. This is not the first time that there was a shootout, they had many more, just that it doesn't come on the news."
And while that is the family side of the story, the police, the state, and the military also have to react. First off, it's a police homicide investigation.
Last night, you heard the BDF Chief of Staff explain that he was killed because of some confiscated horses. Well, police from the San Ignacio Police Station say that Conorquie wasn't involved with the confiscation of those horses. Their investigation says that another group of law enforcement officers were patrolling in the area a few hours before, and the encountered persons believed to be Guatemalan Xateros. Those officers confiscated 5 horses and lumber, but they didn't catch the men who fled.
The area then cooled off for the time between that first encounter and Conorqiue's subsequent shooting. What the investigation points to is that the young special constable was doing his duties at the site, which is to keep an eye on the tourists at the site. The Hispanic men then arrived on the compound just before midday in an ambush-type operation. The men shot him from behind and then one of them stood over him and executed him with multiple shots to the head.
We stress it's just a theory that police are working on: that Conorquie was the target of some bizarre retaliation against Belizean law enforcement.
Today, the Deputy Commander of San Ignacio Police talked with us about what they've been able to establish so far:
Insp. Reymundo Reyes, Deputy Commander, Cayo Formation
"At the time of the incident it was sometime around 11:56pm when Special Constable Conorquie and TPU Monty Peck were conducting routine patrols within the site whilst tourists were visiting the temples, when allegedly Conorquie was sitting down underneath one of the shades looking at the main temple where some tourists were when 2 male persons came from behind the bushes and fired a shot which caught him on the center of his back. Special Constable Conorquie apparently fell to the ground and that is when the person approach, stood over him and fired a single shot on his face causing him to die right on the spot. Accompanied was another male persons with these persons who shot Special Constable Conorquie who picked up the shotgun that Special Constable had and they start to retreat back towards the bushes when TPU Monty Peck had sight of them and they ended up shooting at the officer, so he in turn return fire with the shotgun that he had also, but unfortunately I believe that he never hot any of them and they manage to make good their escape."
"At this moment in the investigation we are interviewing people. We are getting statements from tour guides and so forth who were in the area, but we do not a motive. One would believe that the persons went there not to rob tourists, but they had a motive, their intention was to just reach there because as they approach the officer who was giving them his back at the time - he was shot without a word being said to him whatsoever. The officer weapon was taken. These persons came not to rob tourists or whatsoever. He was the first contact that they had and he was the first person that was shot there and then killed and they took his weapon and made their way towards the direction of Guatemala."
"Where the incident happen is actually within the compound of Maya site. The incident happened in the site itself. How far is any of the other villages that connect us to Guatemala, I cannot say, but the directions that the persons took based on the tracks that were followed by members of the Belize Defence Force lead them to that the persons made their way towards Guatemala side."
As we've told you, a representative from the Organization of American States has been dispatched to look into the shooting death of Constable Conorquie. The Foreign Affairs Ministry is keeping a close eye on the investigation, but at this time it is a Foreign Affairs matter because there is no evidence which points definitely to Guatemalan perpetrators.
Immigration Minister Firm On Security Forces
(posted on Fri Sep 26, 2014)
Today, Minister of Immigration Godwin Hulse was not as restrained as his Cabinet colleague Wilfred Elrington - who didn't want to label Danny Conorquie's killer a Guatemalan without certain knowledge of that. Hulse said that the security forces must be protected by all means:..
Hon. Godwin Hulse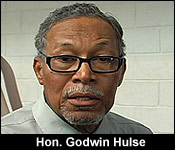 "As far as our security people are concerned we continue to maintain and will not have our people threatened and we will not have our people hurt and we want to protect our people and I know that in the last incident that had occurred that was their port that the particular person who came across and was shot was aggressive and that our people had to do what they had to do to protect themselves and to ensure that he could be deterred. I think the Guatemalans are fairly at this point satisfied with that report and so it continues."
The Caracol Context
(posted on Fri Sep 26, 2014)
Now, for context we should note that the Caracol Archeological Park - as part of the wider Chiquibul Forest is only a five kilometers, or three miles from the Belize Guatemala border - and that area has been under constant pressure from Guatemalans crossing the border to steal Xate leaves, illegally extract timber and loot the site - much of which remains un excavated. That they have come so close to Caracol is an indication of how brazen the Guatemalan poachers have become.
In January, we spoke to Raphael Manzanero from the Friends for Conservation and Development about Guatemalans cutting logs right along the Caracol Road - which was cause for great alarm just eight months ago.
Rafael Manzanero

"The Guatemalans cutting down the Mahogany and Cedar right along the road which is use as access to the Caracol Archaeological Reserve. The most aspect of the concern is because it is very close. In fact the trees that were cut less than 2 weeks ago they actually were dropped right over the highway; over the road. We are actually talking about no more than 1.5 miles from the Caracol center."
Jules Vasquez
"Hearing it - it requires such gall, it's such blatant outlaw behavior right now in the heart of what we should exert control and authority of - the archaeological park."
Rafael Manzanero
"That's correct and what we have done really is to inform and I would assume that NICH would be able to meet and discuss on what they would need to do. Certainly being so close to the reserve, it basically means that the rangers there, the park warden would be required to do more monitoring and surveillance around that zone."
Again, that was January, and yesterday 20 year old Danny Conorquie got caught right in the middle of that outlaw behavior - except that, yesterday, the Guatemalans weren't 1.5 kilometers away from the Caracol Center - as they had been in January; yesterday - they were in the center right near the main plaza with 12 tourists and a guide on the site. There are credible reports which suggest that Danny Conorquie was trying to protect them when he lost his life. There is also information, which says that the horses had been seen by law enforcement from the day before - and that they were involved in logging activity.
Now, there are two important breakdowns in standard operating procedure which contributed to this tragedy. First, BDF soldiers must accompany al tourists into Caracol because of the dangers posed by Guatemalan bandits - this was brought into sharp focus in May of 2006 when 9 tourists were held up at gunpoint and robbed. But yesterday, the BDF transport was not working so there was no BDF escort - had they been there, all this might not have happened. Secondly, whenever horses are captured by law enforcement, they must be removed form the area immediately because the outlaws who are always lurking in the bushes will want them back. This was not done yesterday - and the horses were left at the Caracol site.
It is disturbing on so many levels and today the opposition sent out a release saying, quote, "the PUP is outraged at this brazen, daylight killing of a young Belizean special constable in the line of duty by what appears to be Guatemalan intruders."
It continues, "every attempt must be made to bring Danny Conorquie's murderers to justice as quickly as possible. We demand…that the Government…lodge an immediate and vigorous protest of this crime and affront to our national security and sovereignty, with counterparts in Guatemala, at the highest level, once we can confirm that this abhorrent act was committed by Guatemalan nationals trespassing in our national reserve." End quote.
The release then goes unto chastise Foreign Minister Wilfred Elrington who appeared on 7News yesterday urging restraint in labeling the culprits as Guatemalan.
The PUP says, quote, "We condemn the timid, almost cowering reaction, of Foreign Minister Wilfred Elrington…We absolute(ly) reject any stance which does not recognize that the Special Constable paid the ultimate price for his country…"
The opposition statement says, quote, "we stand ready to meet with the Government of Belize to find practical, workable solutions to this evolving security crisis." End quote.
The NTUCB issued its own statement this evening, saying, quote, "the cost of modern day invasion on Belizean territory has gone up too high!"
Cop Charged For Manslaughter 16 Months Later
(posted on Fri Sep 26, 2014)
Tonight, Police Constable David Griffith, who was attached to the Punta Gorda Police Station, is out on bail after being taken to court allegedly for killing Rasheed Eligio, a prisoner who escaped from police custody last year.
On May 10, 2013, Eligio was arrested for carnal knowledge. He was handcuffed to another prisoner, Brian Garcia, and they were going to be transported to the Belize Central Prison after being arraigned and remanded. The officers were waiting on a James Bus to escort them, but Eligio and Garcia saw an opportunity to escape, and they took it.
3 hours later, police tracked both men down in the Carib Reserve Area, and when the men realized that the officers were on to them, they tried to run a second time. In the process of trying to the detain them, one of the officers opened fire and fatally injured Eligio. Immediately after the shooting, the Police Press Office released Griffith's name as the officer who called the station informing them that Eligio was shot and killed in an attempt to detain him.
Eligio's family was outraged and demanded that police criminally charg someone for his death. Well, over a year has passed, and after a lengthy investigation, police today charged Griffith with manslaughter.
He was arraigned this morning in San Ignacio Magistrate's Court before Magistrate Nardia Morgan, and because the offence is indictable, no plea was taken. He was released on bail of $8,000 dollars and his case has been adjourned until October 29.
Maurice Felix And His Cousins Remanded
(posted on Fri Sep 26, 2014)
In July we told you about the Felix Brothers, Maurice and Emory who had been released from jail after 8 years on remand for the murder of Mitchum Heredia. They faced three trials and got three hung jury results - so they were finally freed. But Maurice Felix only tasted two months of that freedom - tonight he's back behind bars because police say he's part of a gang called the Gill street Gangsters.
29 year old Felix and his cousins 30 year old Roy Bennett and and 26 year old Ryan Bennett were arraigned in curt #3 this evening for possession of a controlled drug and professing to be a gang member.
They were immediately remanded to prison. They were first picked up yesterday for possession of .2 grammes of weed - which is less than point .01 ounces. Then they told the court the GSU came and charged them for the gang offence.
Today Maurice's mother told us she is outraged at what she says is an abuse of her son who was working as a foreman on the Central American Boulevard road project:..
Janet Felix - Mother of Maurice
"They went to Ryan and Roy house and they found weed in their house and they took them to the station. When they took them there afterwards they say that no magistrate will be at the court until Monday. So I was going yesterday evening to do a station bail for them, but I decided that he stayed there and then today I was going to do the station bail, not knowing that they would just take him and put him in jail again. I think it is wrong, for a little piece of weed that they found in their house - I think it's wrong and moreover Maurice is working and the other two are working Ryan and Roy with CISCO, so I think it's really wrong. Every time the police say that they are in gangs, but then they were at
Felix house. If they had different people there, it would be really different. From ever since the policeman are saying that Gill Street is gang. I don't see it as a gang because they are boys how knows one another from they were little - it's not people who come from all walks of life and go there - it's not so. We've been targeted because ever since they were release from prison, Maurice is always getting lock-up. They took him in for bell and light and he doesn't own any bicycle and they had him at Raccoon Street Police Station lock up for 3 days. They have me from side to side walking up and down frustrating myself and then they took him again, then now they took his this time - up he went to the prison."
They were remanded until the 27th November.
Drug-Addicted Man Jailed After Stealing From Mother
(posted on Fri Sep 26, 2014)
Tonight, 35 year-old Jason Velasquez a resident of mile 16 on the Northern Highway, is spending the second night of a 1-year sentence after he pleaded guilty to stealing from his own mother's house to finance his drug habit.
His mother, Cordelia McDonald, reported to police that from September 1 to September 18, an assortment of household items to a total value of $292 dollars were stolen from her house. After investigating the report, police arrested and charged Velasquez with theft.
He was arraigned yesterday before Chief Magistrate Ann Marie Smith, where he wasted no time and pleaded guilty. He also confessed to the Chief Magistrate that he has a drug problem where he smokes both weed and crack.
After considering all the factors of the case, Chief Magistrate, sentenced him to one year and order that he enrol in the prison's 12 step drug rehab program.
Labour Minister Says Lingua Franca Fine In Workplace
(posted on Fri Sep 26, 2014)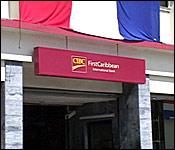 Earlier on you saw what Immigration Minister Godwin Hulse had to say about the Caracol cop killing. But, he's also Minister of Labour and we asked him for his comments on the recent controversy over the First Caribbean Dangriga Branch - where one employee resigned after she claims she was reprimanded for speaking to a customer in Garifuna. The matter has been taken up by her union and could end up as a labour dispute - so we asked the Labour Minister - and former bank employee what he though of it:..
Hon. Godwin Hulse, Minister of Labour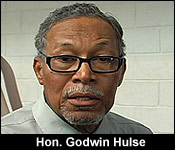 "My simple unequivocal position is that this is a multi-racial, multi-lingual society. We do business and commerce in the English language, but when we deal with our people we are all free to discourse in the language we are most comfortable with and should be free and nobody should impose any impediment. I will say though that before you were born, back in 1964, when I worked in the Royal Bank of Canada, we were forbidden to speak anything but the English language. Those were the good old colonial days, part of what I fought against to help to bring us to independence, so I am not going to support or countenance any nonsense when it comes to people's race, creed, ethnicity, religion or otherwise."
Newspaper reports say that the Bank Manager has been transferred.
BTL Positioning For The Future, Diminishing Profits In Short Term
(posted on Fri Sep 26, 2014)
Belize Telemedia Limited held its eighth annual general meeting last night at the Biltmore Best Western. The company used one of the biggest conference room in town to welcome its hundreds of small shareholders. But they were also there for an unusually frank and plain spoken wake up call: BTL's profits are falling, and they will continue to do so for at least the next two years. It's part of a larger plan which we found out about last night:..
Nestor Vasquez, Chairman - BTL
"Our strategy for the past 5 years has been about making BTL a better company which provides a better future for Belize and for its shareholders."
Jules Vasquez reporting
Those shareholders got a smaller dividend this year though - and that is based on a downturn in profits - 1.4 million less from 21 million to 19.6 million - comparable to pre nationalization figures: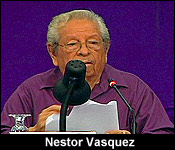 Nestor Vasquez, Chairman - BTL
"The profit of 19.6 million is almost the same as the profit of the former owners of BTL, what they reported 5 years ago. They reported a profit of 19.8; we reported 19.6. But the figures show that the rates they were charging at that time were more than triple what BTL has been charging to its customers today."
Anwar Barrow, Chairman - BTL Executive Committee
"You've gotten "per second billing." You've gotten "VOIP" which has open up an entire world to the Belizean consumers. You've gotten broadband rates being slashed in half again and now again in October and that will continue to happen. We have been evolving and consumers have benefitted tremendously."
And that is owing as much to changing global market conditions as it is to the duty of a national provider:
Nestor Vasquez, Chairman - BTL
"Nationalization means more than just making profits; it means bettering the company for it to assist the economy."
And while that is a convenient explanation, don't be mistaken these executives are concerned about reduced profits - and in an unusually revealing and candid presentation, Executive Committee Chairman Anwar Barrow said BTL is at a crossroads:
Anwar Barrow, Chairman - BTL Executive Committee
"If we sit down and we do nothing and we don't make the investments that we need to make, and we don't make the cultural changes that we need to make at the company, this is what it looks like: By 2018, thereabouts, we'll be looking at 11 or 12 million dollars in profits if we just sit back and do nothing. So BTL is profitable and relevant today, but in order to stay that way we have to transformed the company."
And transforming means investing tens of millions in expanded infrastructure to, first, create new internet customers:
Anwar Barrow, Chairman - BTL Executive Committee
"And we plan to double our broadband customer base within the next two to three years. That is going to represent about six million dollars in additional revenues."
And the company is looking for even more than that by taking mobile phone customers from SMART:
Anwar Barrow, Chairman - BTL Executive Committee
"Our competitor which has evolved over the last 10 years has taken a portion of that market share and we intend to take back a portion of that market share and add about 10,000 customers over the next two years to our mobile subscriber base which should represent about 7 million dollars in up line revenue. So between those initiatives you are looking at about 13 million dollars in additional revenue and that will allow us to return the company to a twenty plus million dollar a year net income after this two year transformation exercise."
But, that's two years away, right now the company will have to invest - which means a further downturn in profits:
Anwar Barrow, Chairman - BTL Executive Committee
"In the near term our net income is anticipated to be reduced given those 54:00 investments."
Jules Vasquez
"Are you concern that it will create a scare among the shareholders to see that after 2010, in 2011, 2012, 2013, 2014, 2015 and 2016 the net profit will be on a downward trend?"
Anwar Barrow, Chairman - BTL Executive Committee
"No, because that is why we are preparing and explaining what our plan is. In order to make money and to grow your company you have to invest."
Investing in a future where Barrow says everything will change:
Anwar Barrow, Chairman - BTL Executive Committee
"I'll share something with you in ten years, voice is going to be free, you are only going to be paying for data, so we are going to shift where now we are paying for minutes to talk to where you pay for data and voice and data are going to converge. The voice portion is not going to be charged. You're competing with the vibers with the skypes with the whatapps and all the over the top players, so the market us becoming extremely competitive and it's no longer a legacy market like it used to be before."
And in this gambit the young Barrow is also trying to make his own legacy:
Anwar Barrow, Chairman - BTL Executive Committee
"I feel that we are off to a good start, but the proof is in the pudding and as people may know I am man who delivers, so let's see what I deliver."
But according to the latest survey of bandwidth speeds in the Caribbean, BTL and Internet Service Providers in Belize are not delivering internet speeds comparable to those in the region. Later on we'll ask Executive Committee Chairman Barrow about that.
AG Says Bar President Not Living In Reality
(posted on Fri Sep 26, 2014)
For the past two days, you've been hearing what the Bar Association has to say about the proposed legal profession amendment bill. Not surprisingly, they don't like it one bit - and both the President and Former president of the bar have rejected various parts of it. One of their criticisms is that the new breakdown of the members lends itself to direct political control by the Attorney General. That's what Bar President Eamon Courtenay said - and yesterday AG Elrington told us he's far from reality:
Hon. Wilfred Elrington, Attorney General

"The truth is that what he said has no relation to reality whatsoever. There is a provision for the appointment of the members of the council and 3 of the members of the council are going to be nominated by the Bar Association and appointed by me. Somebody has to appoint them. The Bar Association doesn't have the locus standi to appoint them, but that is my authority, so I will appoint the 3 members appointed by the Bar. Tell me how it will be political if in fact the Bar Association appoints 3 and nominates 3 and I appoint those who ae nominated, how can that be political? Now tell me how it will be more political if I take myself away from the entire process and leave the chief justice to do it?"
Another argument centers on the dispute over whether compulsory membership in the bar deprives attorneys of freedom of association. That's what government believes and that's why under the new law, those attorneys will no longer have to be members of the bar. But, attorneys Rodwell Williams and Godfrey Smith put out an opinion or the bar association last year saying that because the bar serves a public purpose the freedom of association principle does not necessarily apply. Smith and Williams are tow leading lights of the PUP and UDP - both Elrington says theirs is just an opinion:..
Hon. Wilfred Elrington, Attorney General
"I will tell you of two bar associations that have looked at; the one in Jamaica and the one in Barbados. The one in Jamaica doesn't make it mandatory for attorneys to members of the bar association and that is the best performing one, its the model for the Caribbean. They are doing wonderful work. The one in Barbados make it compulsory because the argument is raise that what the bar association in Barbados does is work which is similar to that which is done by a public entity because it probably has responsibility for legal aid, it has responsibility for continuing education of the lawyers, it has responsibility for discipline of the lawyers and the like. That's not the case in Belize at all. The Belize Bar Association wants to have nothing to do with the legal aid system; makes no attempt to help anybody who is incarcerated in prison; makes no attempt to do continuing legal education for the attorneys and I have complain about that over and over; makes no attempt to educate the public on national importance' makes no attempt to take over the accounts of attorneys who die during practice and makes sure that citizens are in fact properly protected once the attorneys die and they can take over their business - none of that is done by the local Bar Association. The Bar Association collects I would want to think in excess of $30,000 each year in fees and nobody knows what they do with it`. So the opinion of Godfrey Smith, Rodwell Williams is just that - opinion, but each opinion have got to be looked at in its context. It's not gospel and it's only their view."
Hon. Elrington Says Extradition For Bahamian Offshore Bankers Underway
(posted on Fri Sep 26, 2014)
We also asked Elrington about the status of extradition proceedings against Kelvin Leach and Rohn Knowles. They are the Bahamian Offshore Bankers who are facing extradition to the US. But their attorneys say that no extradition request has been entered and they are being imprisoned unfairly. Elrington outlined the official position:..
Hon. Wilfred Elrington, Attorney General
"The process of the extradition proceedings are underway and the issue of bail is being raised by their counsels and the SolGen's office is being ask to respond to those arguments requesting bail, so the matter is in fact in the process of going through the motions for extradition."
Daniel Ortiz
"Do we have an extradition request or extradition order or any sort of document from the US Government which says that they are interested in these two men?"
Hon. Wilfred Elrington, Attorney General
"I just said yes, the matter is in the court - it's before the magistrate court. The application for the extradition is presently being dealt with by the magistrate in Belize City."
Leach and Knowles bail hearing comes up next week.
Getting Justice For Juveniles
(posted on Fri Sep 26, 2014)
For the past two days, there have been no regular Supreme Court or Magistrate's Court hearings. That's because all the judges and magistrates were in San Ignacio attending a conference to dialog with the National Committee for Families and Children, and the United Nations Children's Fund (UNICEF).
The discussion is about how to improve the juvenile Justice System to reduce the impact of child trauma of juveniles whose lives are affected by the justice system.
Today, we went to the Cahal Pech Resort and where we spoke with the main facilitators about the practical outcomes from this session:
Luwani Cayetano - Executive Director, NCFC
"This activity is kind of part of a larger group of activities and partnership that we have and so NCFC, UNICEF and the Supreme Court have kind of come together to do some institutional and legal reform and so a part of that is yes there will be buildings and yes there will be new spaces, but we also then have to provide capacity to the people doing the work and so then providing training about understanding, about how to treat children in court, how to ensure their best interest is really a big part of that - the component of that reform. The information that the judiciary already have is a refresher so that when we have these new spaces, we have new court rooms and we have child friendly spaces in court they will then be able to use that knowledge and the spaces and hopefully then we will have better protection for children who come in conflict with the law, but who are also victims of violence or abuse and exploitation."
Daniel Ortiz
"How do you balance that matter of enforcement against repeat offenders who are juveniles and trying to protect their rights at the same time?"
Hazel Thompson Ahye - Family/Juvenile Law Specialist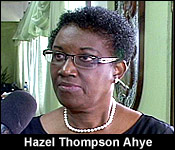 "One of the things emphasize is that even though you are a repeat offender, you are still entitle to all your rights. What needs to happen is that there should be no discrimination because somebody is a repeat offender. A repeat offender many times, being a repeat offender points to the fact that there is something going on with that child. This is one of the things we will be looking at this afternoon; we need to have a correct assessment, screening, to find out what is the root cause because may times if you don't deal with that it's going to keep on happening and that the last session I deal with them - just now was restorative justice, where we have the reintegration of the offend in the community. So we have a different way of looking and the offence. Not a crime against the state, but in fact a crime has been committed against a victim and the community and how do you restore, how to you repay the wrong that has happen, so it's a different way of looking at things and it is very suitable in terms of what you do with juveniles because you need to make them think, reflect of their actions and that's another reason you must have justice expeditiously."
Next week Tuesday and Wednesday, there will be a second conference in which these 3 groups will discuss amendments to the juvenile justice legislation to enable rehabilitation of young people, and increase influence of social workers. The discussion should also include the topic of building child-friendly Family Courts in 2 districts and creating child-friendly court spaces in every district.
Making Cities Child Friendly
(posted on Fri Sep 26, 2014)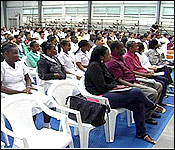 There are many issues that threaten the safety and survival of Belizean youths and in order to address these issues the youths themselves need to be involved in that process. The Sustainable and Child Friendly Municipalities Initiative seeks to do just that; to foster an environment where youths can express themselves and develop into productive citizens and leaders. It is quite an ambitious task but Darrell Bradley tells us how this initiative will empower Belizean youths.
Darrell Bradley, Mayor - Belize City
"What the initiative is the Sustainable and Child Friendly Municipalities initiative, it's really a certificate. It's actually a way that we would keep municipalities accountable. we often times done this at the municipality level and several of the speakers spoken about this, we are talking about streets, we are talking about parks, but it's really more than that - its creating a wholesome environment where our young people can, they can be engaged in decision making. They can be made to feel empowered, that they are listened to and they are actually participating meaningfully in the advancement of themselves and their communities. The project challenge us as a municipality to open up our dialogue and our conversation to encourage and incorporate young people in the decision making part of it so that they feel empowered and engaged."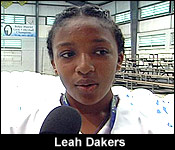 Leah Dakers, SCA
"I think it is important because we young people we are outspoken and we have a lot of opinions about why they should include us n certain decisions that benefit Belize and the people of Belize."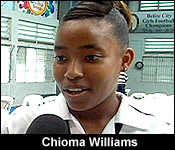 Chioma Williams, Anglican Cathedral College
"I am thankful that they brought us here together for this presentation and it was a great presentation. As a Belizean youth it means a lot to me and all of the Belizean youths here today because it not only states that it want to involve us in like being a part of what they want, but it's like creating a connection and being together and working with them along with just involving all the youths in Belize."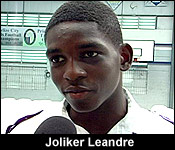 Joliker Leandre, Anglican Cathedral College
"It means a lot because the areas that we live in is mostly gang populated and to hear that there the opposition care about us to have a movement for us to be able to walk the streets and go about freely without having to look over our shoulders or to wonder who is coming after us or something. I think it's a good movement and if successful it could bring a big change to the country."
Shanique Sebastian, Anglican Cathedral College

"It will have a very big impact because one; me as a Belizean it means a lot for us because we don't really like have to worry. We can be carefree, we don't have to worry about what's going to be on the lane or we won't have to be in house and it's going to be a great impact on us."
Again, no timeline for implementation was discussed.
IPhone 6+ Reaches Belize At Record Prices
(posted on Fri Sep 26, 2014)
If you've been keeping with the latest international tech news, you may know that Apple's new flagship phones, the iPhone 6 and 6 Plus were launched last week Friday in the US.
Eager iPhone fans waited outside the retail stores all over the country which ended up selling over 10 million devices in the first week.
Since then it's gotten very scarce - rumours say China is buying them all up. That has driven up prices since the new units are on back order. Locally that means an upgrade to the iPhone 6 is not going to be simple or cheap. You'll have to pay a premium price. It's standard for all new gadget launches where local vendors have to pay persons in the launch countries to wait in line for the device when it drops. The bigger the middle-man's fee is, and the higher cost of getting the device here is, the more you, the end user, have to pay.
Still this phone vendor says that even with all that high price mark-up, Belizean customers still come in. Today, we spoke with one vendor who explained what his company has had to do to make it available to you:
The iPhone 6plus sells local for more than three thousand dollars - but prices are expected to taper off once international demand eases up.
New Internet Rates/Speeds Take Effect In October
(posted on Fri Sep 26, 2014)
Last night we told you about the new doubled up internet speeds from BTL. This was outlined in a more official way at last night's annual general meeting. Here's the new schedule:..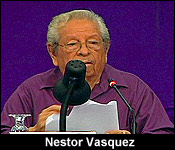 Nestor Vasquez, Chairman - BTL
"The 256KB that is now selling for $56.00 will be $25.00. The 128KB will no longer be available. The 512KB is $56.00. The 1MB is now $88.00. We are doubling up the speed."
BTL Will Leverage Bandwidth
(posted on Fri Sep 26, 2014)
And while you'll be getting faster speeds, BTL will also be changing the way they do business with wholesale internet providers. Anwar Barrow explained:..
Anwar Barrow, Chairman - BTL Executive Committee
"So if you are an entrepreneur, you want to come in and access BTL service and you have a solid game plan, business plan, come in, we are open to you. We want you to leverage our network."
Why Does Belize Lag Behind Other Countries In Bandwidth
(posted on Fri Sep 26, 2014)
And while BTL is ready to work with wholesalers, we asked when will Belize's status on bandwidth surveys get a wholesale upgrade? As we've been reporting, every single survey of Caribbean Bandwidth puts Belize very near the bottom. The most recent survey placed this country 174th out of 192 countries worldwide. Here's what Barrow said:..
Anwar Barrow, Chairman - BTL Executive Committee
"I have seen it but I haven't drilled down into it, so really I can't speak concretely to it but what I can say is that we are moving forward. We are moving the internet penetration rate forward, we hope to double it in the next 2 years and so there are a lot of great things to come and an entire transformation of what the internet is in Belize and who has access to the internet."
Hon. Hulse Says He Didn't Call Anyone
(posted on Fri Sep 26, 2014)
And in one more bit of topical news, today the press asked Godwin Hulse about that rumour that he had intervened to get a relative out of custody after he was caught with some sugar near the Guatemalan Border.
The report is that on Monday 8th September at around 8:00 in the night, alert Cayo police came across 2 trucks loaded with 160 sacks of sugar in the area of the Calla Creek road - which is the major smuggling corridor from Belize into Guatemala.
Police detained 7 men and escorted them to the Benque Viejo border where they were handed over to Customs. Now, Customs told us that indeed they received the men and the cargo, but because it is not an offence to have local sugar in Belize, they could not charge them.
With that they were released. But, here's where the story takes a turn. It turns out that one of the men used to co-manage the Commodities Store, a business in Belmopan, which is owned and operated by Minister Godwin Hulse's family. Hulse told the media today that there's no way he made any call to get anyone free:..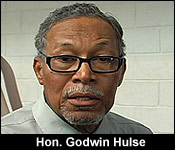 Hon. Godwin Hulse
"The young man in question and his father Ralph Tatum use to be married to my second daughter Crystal. We have no connection whatsoever with that young man or any member of his family in any business whatsoever and if I had i would never pick up the phone to countenance any kind of wrong doing. I've said it a thousand times; it could be my mother, father, brother, sister - it would never come from me. If he was caught with anything wrong doing and the police lock him up and he went to jail - that would have been his plight and I certainly would not have lifted a finger to help or accommodate in any way whatsoever."
Coppershot Taking A Shot
(posted on Fri Sep 26, 2014)
To end off the September celebrations with a bang, the DJ named Coppershot is here from Jamaica to perform as part of the marketing creation called Arthur Guinness Day. Here is their very "spirited" invitation to the public.
The event will be held tomorrow evening from 5 until at the BTL park.




Home | Archives | Downloads/Podcasts | Advertise | Contact Us