Special Envoy Kim Barrow Pulled A Crowd For Women's Empowerment Rally
(posted on Thu Mar 6, 2014)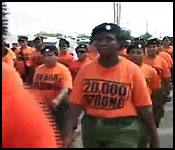 We apologize for the break in transmission due to power failure caused by heavy thunderstorms in our area. Here now is the news. Today was a very different kind of day in households, offices and schools: thousands of women took a break from their daily duties at home and work to go and rally for women's empowerment in the twenty thousand strong rally. So, did the event live up to the advance billing? Did they have twenty thousand? Well maybe not all that, but the crowd was mighty big, and so was the message. Jules Vasquez was there:..

Jules Vasquez reporting
"Imagine A Belize Without Women" and "Twenty Thousand Strong" - the slogans and t shirts were in superabundance today - and at eight this morning the Belize City crowd started gathering at Memorial Park. The atmosphere was cordial and like a reunion of sorts - and why not, for most it was a day off from work even for women in uniform.
There were dozens of busses -we counted a total of 48. It got moving at about 9:00 am a torrent of orange rolling toward Princess Margaret Drive on Marine Parade. On Princess Margaret Drive, the shape and size of the march started to become apparent, a motley mix if umbrellas in a widely spread out march.
It the kind of swell and size, we usually see only in political rallies - but this orange tide was no rent a crowd.
Organizer Kim Barrow, her daughter and the staff from the National Women's Commission cheered and frolicked at their success. It wasn't densely packed - but then the crowd didn't yet have all the out district crowd either. And taken in the long view it was impressive, well over a thousand - but not more than two thousand.
Three quarter mile later at the Marion Jones Stadium, even in the unforgiving sun no one had fainted, and the special envoy still had the life. Another large crowd was waiting at Marion Jones - all those who didn't want to suffer through the walk in the sun, were sheltered under tents.
And more kept coming in on buses from the districts. The current UDP and former PUP ministers of the environment, fisheries and forestry shared a laugh, and we saw other UDP politicians, as well as aspiring politicians. Kim Barrow was well positioned; she sat between Catholic nun Carolee Chanona and John Briceno's wife, special educator Rosanna Briceno.
Sister Carolee gave the opening address and after that, Lauren Burgess kept the crowd entertained. Despite the excessive heat on this very still day, the crowd was in good spirits for most of the event they were entertained, and just to keep the estrogen levels flowing, inspired:
Marie Sharp, presenter

"Event such as this can serve the useful purpose of galvanizing our collective strength."
Faith Babb, presenter
"Ladies it is now time for women to make a bigger contribution to the decision making at the political and the public level."
Sandra Bedran, presenter

"If I could look each one of you in the eye I would tell you who you are, I would say, you are a woman I respect and admire because of the manner you have chosen to live your life."
Rosanna Briceno, presenter

"If I have to I can do anything. I am strong, I am invincible, I am woman."
And the cheerleading caught on:
Kay Menzies, President - Belize Chamber of Commerce
"I love to see the women today feeling their power. I think that when you look at the numbers, you don't realize what we are
capable of. We need to be reminded of what we can do and today is a perfect day for that and I am really excited to see everybody out today Jules."
Rev'd David Gough, Belize Methodist Church
"I am in full support - 110% support for this effort today. I am here for every woman that I have even known; my mother, grandmother, my wife, my siblings, the women I work with in the church - I am surrounded by women in the church and I just give God thanks for womanhood."
Participant

"We are just thankful that that so many women are out here. My hope was that the men would be standing side by side. Thank you for being here Jules."
Lorna Wade, Participant

"I am out here supporting because I as a woman I went through a lot and for being out here I have the courage and to me this is something powerful."
Hon. Lisel Alamilla
"Being one of the only two women in cabinet has its challenges and it's good to know that I don't stand-alone that in many ways I am representing woman at cabinet. I am having the voice of women represented in there."
Participant
"Me personally being here, I am so motivated to do so many things, it's just motivating and so it gives you the courage to continue working hard at what you do."
Anne-Marie Williams, Chair - NWC
"It's an overwhelming success from where I sit and I am sure from where a lot of Belizean men, women and children sat."
Jules Vasquez
"Success, failure, in between?"
Kim Barrow, Special Envoy For Women And Children
"Success, like I said before, if it was only I walking today - it would have been a success."
Jules Vasquez
"You never had 20,000. I don't mean to be unkind; you had a nice crowd but..."
Kim Barrow, Special Envoy For Women And Children
"I told you that yesterday, the 20,000 is symbolic, it would have been lovely and as you know of course a number of the schools that had committed to come they cancelled at the last minute, so that really put a damper on things but we are here and I think we had a good crowd."
Jules Vasquez
"You think the Catholic blockade had an effect?"
Kim Barrow, Special Envoy For Women And Children
"Definitely, yes, I did, it certainly did because we got cancellations - teachers felt intimated, teachers were told that if they come they will be punish and they felt threaten."
Anne-Marie Williams, Chair - NWC

"The church was not a deterrent. I think woman came out to stand and if you look at is the superintendent of the Methodist church was actually marching, so the Catholic church is the Catholic church, but you see a lot of Catholic women out here; Sister Carolee Chanona was the person who gave the invocation and so while one somebody is signing a letter and somebody is pushing an agenda - people are saying we are not with you."
Rev'd David Gough, Belize Methodist Church
"I know that a certain branch of the church has taken a particular stand, and well you know; to each his own and I am here as member of the clergy too to say that that voice does not speak for all of the church."
And while the good vibes lasted long, going into the afternoon, at around 1:00 pm - 5 hours since they assembled to march, the crowd started to visibly wilt:
Kim Barrow, Special Envoy For Women And Children
"And you know what, it happen today. There had to start, I am happy that it has started."
Janelle Chanona, Co-Organizer

"This event is only one catalyst for the change we want to see. The Office of the Special Envoy for Woman and Children in collaboration with its partners is commencing a yearlong campaign which features series of events and opportunities to build more awareness about the need to have women's participation and leadership at every level of society."
So then this mammoth, singular event was just a start - meaning, they stood up, but staying up is usually the hard part - and while we wait and see how that goes, we'll know they'll always have March 6, 2014 - the biggest non-political crowd in memory:
Kay Menzies, President - Belize Chamber of Commerce
"I think when you see any crowd in the thousands in Belize, you use to it being a renta crowd of some kind. This crowd came out today and I think it is a wonderful turnout all in all."
So, if it wasn't twenty thousand, how much did they have? Well, we can't produce our usual precise, head-counted estimate, because when the crowd swelled to its largest, they were scattered under tents at the Marion Jones stadium - which is impossible to count. We saw about 1,750 in the march - and would say that another two thousand awaited them at the Marion Jones. But that is far off from the organizers estimate. They have confirmed that they had 88 buses which is instantly five thousand persons. They say the crowd was close to ten thousand.
Murder On San Pedro Appears To Be Revenge Killing
(posted on Thu Mar 6, 2014)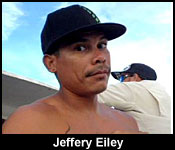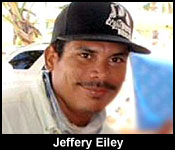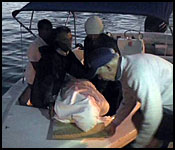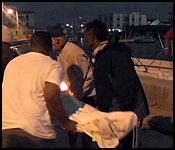 There was a murder in San Pedro Town early this morning. 30-year-old tour guide Jeffery EILEY was killed at around 2:00 am -shot to death, apparently as an act of revenge for a fight on the beach earlier on. Police broke up that fight, and sent both sides their separate ways. But, at the corner of Angel Coral Street, a short distance from his home, Eiley was attacked, beaten and then shot at close range. The injuries were only to his arms, and he ran from his attackers, who kept firing at him. He collapsed a fair distance away and was found still alive and taken to the town polyclinic. He died at 3:30 am, and his body was brought to Belize City for transfer to the morgue at 5:30 am. Today we spoke to his aunt Patty Arceo:..
Patty Arceo
"We understand that 2:30 this morning he was ambushed going home by two persons, one of them I understand has been detained and the thing is that they riddled his body with 3 bullets, I mean these are thing that I don't even think Belize City we hear, but it goes to show that violence is not just in Belize City but its throughout the country and unfortunately it is our back yard San Pedro."
"Jeffrey is a young man that goes out with his peers and friends out there in San Pedro, many times they are invited by the same tourists to stay out and have fun around with them. I was not there in San Pedro, but totally shocked because we know Jeffery not to be that type of person. For gangs and things like that. no, I am not aware."
We note that police tell the San Pedro Sun that he was only shot three times: below the left and right elbows and to the right tricep. Police found 11 expended shells on the scene. According to the San Pedro Sun, police have a suspect, Rafael Juarez who they believe has fled the island.
Belizean Killed In Honduras Drug Deal Gone Bad
(posted on Thu Mar 6, 2014)
Newspaper reports out of Honduras say that a Honduran, Mexican, Guatemalan and Belizean were killed this morning in San Pedro Sula. Reports say that the quadruple murder resulted from a drug deal gone bad. The four men were killed in the streets of the Rivera Hernández. At the crime scene police found two passports in the name of Mexican Miguel Torres Jimenez, and Belizean Mario Roberto Cocom. The other two are presumed to be Guatemalans. The bodies were taken to the San Pedro Sula morgue. This is the third multiple killing in Cortes Honduras this week, which left twenty dead and several wounded.
Fired Bowen & Bowen Employees Show Up For Work
(posted on Thu Mar 6, 2014)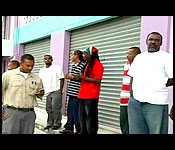 Last night, 7News told you that 13 employees who were complaining about new contracts were terminated from Bowen and Bowen yesterday at the end of the business day.
The company says that they self-dismissed because they abandoned their posts for 2 days straight with no communication, so new people had to be hired in their place so that the company could continue to serve it's customers.
From the perspective of the employees, they were simply exercising their rights as labourers under the law to get advice from unionists on how to protect themselves against a contract that they say will cause them to lose earnings.
7News was out at the Bowen compound at early his morning, when the employees tried to report to work with their doctor papers to explain their absences. Here's what we found:
Daniel Ortiz reporting
At 6:45 a.m., the time he's required to run up at work, Kevin Garbutt reported to duty, but wasn't allowed in. As one of the 13 employees fired yesterday, he was no longer welcome on the compound:
Still, Business went on as usual.
Kevin Garbutt - Terminated Employee

"I went to the gate just now, and they didn't want to let me in. They told me that my name is on a list that certain people cannot come in, 13 of the guys cannot come in on the compound. Not even a phone call we received. We didn't get any kind of information that we were fired; we just found out on the news that 13 of us were fired. So, I came into work this morning because I have my doctor paper to prove that I was on sick leave."
The company's position, which these employees dispute, is that they self-terminated after abandoning their posts for 2 days straight.
John Gabourel - Former Employee 3 Years
"Mr. Reyes personally called me and asked me what is happening, based on the fact that we received the documents Monday night, 11:30. I received my document of the contract, I told him that we all will regroup and come to a decision about what we would do about it, and we'll contact him in the morning. He contacted me 7:10 Tuesday morning, and I told him that we would be regrouping, and we will discuss and come to a decision about what we would do about the new contract. So, they are saying that they didn't have any idea that we would abandon post. I personally told him. I didn't mention it in so many words, but from the fact that I said that we will regroup and discuss, then he knows that we would meet, and it wouldn't be on the compound, definitely."
So the group of the terminated employees gathered together outside the Slaughterhouse Road Depot to regroup and make decisions on what move to make next:
John Gabourel
"We will stand up for our rights, and we will take it to a further level because we won't just allow for them to just take us down like that. We are on sick leave. The labour law tells you that you can't just fired a man who is on sick leave."
But it comes down to money, what they are earning, the amount of responsibilities, and how much this new contract supposedly cuts into their pay check.
John Gabourel

"If you are used to an income, all of a sudden, your employer just demote you for no reason at all. The reason I said demote is because we were drivers, salesmen, and delivery men in one. They took away the position from salesmen, and placed us as drivers and delivery men alone. Now, they are trying to tell us that they promoted us by giving us supervisor position. We are no supervisors. They are not paying us a paycheck as a supervisor. They are not compensating us in a supervisory position. They are only saying that in order to hide from us the fact that they are taking advantage of us."
Christelle Wilson - PR Officer, Bowen & Bowen
"That's what they are saying, but we have actually punched in the numbers. We have done this in San Pedro and in Caye Caulker, and we have looked at what employees used to make, and the now new take-up of products because we have the pre-salesmen going out to market the goods and selling them, that the commission has far increased what they used to make. So, we took everything into consideration, and we punched in what these guys were making, and the projected sales. So, we can say on the record a fact that they will be making much more than they used to make under the old system. And, what I find a little bit disheartening is that these guys did not come to work on Tuesday. They have not come to work today. They have not even seen what the commission would have been. They have not received their adjusted pay slip to make any comparisons to see if there was really a decrease in their salary. They have gotten so riled up, and we're trying to explain to them."
John Gabourel
"You can't just put a document in front of a person after a hard day's work, 11 o'clock in the night and try to sweet talk me about my pay, give me a slip stating that I would be taking home so much. How could I be taking home so much if I can't reach the target of 744 cases per day. How do they expect one truck to delivery 744 per day, not paying overtime? For us to deliver 500 case for the day, we need to be here like 6 o'clock in the evening you would come in. To get that truck checked in, to get everything settled, it would be like until 8 or 9 o'clock in the night."
Christelle Wilson

"What we did, we looked at what they accrue as over-time. We put that as their basic salary, and we have now given them a new basic flat-rate salary. But it is at an increase of 27%, and after that we looked at what they would have made as their commission. And we said, 'Okay, guys were making, let's say 10 cents on every case of products that they sold. However, now, under this new pre-sale system, they would be selling much more case because the pre-sales man would be able to go to many more customers and get many more orders.' So, now, we would not only be selling 400 cases, but maybe 1,000+ cases of products. So, we said, we are going to reduce the commission from 10 cents a case to - it's either 5 or 7 cents - I need to get the figures accurate. But, because of the volume in take up of the amount of sales, the commission would far out-way what they used to make. So, there is a great increase all across the board. And, it's not more work, you are simply delivering on the orders that were taken in. So, you're still doing the same job description that you were doing before the system came into effect, just now in a more structured environment."
Kevin Garbutt
"That is a total lie. We are the one receiving the money. Monday when this thin exactly started, they told us no overtime. So, how they expect us to deliver 8 o'clock, 9 o'clock in the night. They said that we have to deliver everything and try to finish off the day. So, I explain to them, how are supposed to do this? This is 700+ cases. The most we used to take out before is about 200-300+ cases, and that takes us sometimes until 5:30. So,we get our over time. Now, that you're cutting the over time, we have to deliver 700+, all the way up to 1000. So, how is that possible?"
But the discord on the two sides may irreparable.
John Gabourel
"We have no differences in trying to get the job done. We are not trying to sabbotage the company or anything like that. All that we are trying to is trying to be treated right."
Christelle Wilson
"We're a company that give you 2 personal days out of the year that we're not mandated by law to do. We give you 2 sick days that you can take without giving any justification. We give you vacation pay which the law says should be just your just salary. We take 6 months of their commission,and we add it to their basic salary and give them as their vacation pay because we want to be in accordance with the law, giving you your vacation time that you're entitled to rest. So, we are a company that's always working in the best interest of our employees. Why would we now, under a new system that's only there to enhance our customer service and make delivery more efficient, would we in turn, turn around and try to make life harder for our employees who we consider family. It's very disheartening to think that they would be trying to take advantage."
John Gabourel
"I prefer be out here free hustling somewhere, legally of course, to maintain my family than to be under these rules and the way this specific person treat us."
Christelle Wilson, the Public Relations Officer, for Bowen and Bowen told us yesterday that all benefits will be paid to these terminated employees in their severance packages as mandated by law.
Hon. Herman Says He's Being Undermined By DPM Vega Who's Backing Willoughby
(posted on Thu Mar 6, 2014)
Last night on the news we showed you Phillip Willoughby waltzing through Conch Shell Bay. That's one of the poorest, most under-served areas in the Albert Division - and Willoughby is clearly trying to psoiton himself as the next UDP standard bearer in Albert. But they already have a standard bearer, and even more important, he's an elected area representative. And now - so to speak - Willoughby is pitching a tent in his back yard! We asked Longsworth about it today:..
Jules Vasquez
"What you make of Phillip Willoughby, his well publicize moves in the Albert Division?"
Hon. Herman Longsworth

"Jules, I won't get too much into that. The truth is that I've been around for 2 years only, I have done the very best I can to assist people. I don't believe that I should publicize and make a public scene because I am helping people with their resources, something that they hired me to do. I will not do that, but those people that I have helped, they know who they are and they know what that help feels like. When the day comes to go to the poles, it's another story. I will say however, two things worry me a little bit about what has happen: 1. This is almost 9 years that Mr. Willoughby has been a city councilor, did it take him 9 years that the people of Conchshell Bay needed assistance? Come on man, I've been there two years and I've been trying to help. The other issue I have and I need to say this publicly, the day after I sat with my colleague who is responsible for lands and told him that I had lease papers foe people in Conchshell Bay who needed to regularize their documents - none other than his commissioner of lands is walking through Conchshell Bay with my opponent."
Jules Vasquez
"Sir, obviously some bigger games is being played because Willoughby has an ad with German Vega in it."
Hon. Herman Longsworth
"Jules, he can have an ad with anybody in it, Willoughby has the right to contest to me, just like I had the right to contest Tom Morrison when I did."
Jules Vasquez
"However, your cabinet colleague should support you, should support an elected representative."
Hon. Herman Longsworth
"And there is no responsibility and there is no onus to say yes he must, but I don't think it is right that he should be undermining. If you don't support, you don't support and you have the right to that. I choose who I wanted to support when I needed to support - I have that right, but I've never undermined anybody."
Longsworth is referring to the fact that he supported Patrick Faber against Vega in Faber's failed bid for Deputy Leader of the UDP.
Of Failed Attempts To Get Weed Into The Prison
(posted on Thu Mar 6, 2014)
31 year-old former Special Constable, Natalie Hamilton is out on bail after she was busted trying to smuggle marijuana into the Belize Central Prison.
According to Prison Officers, yesterday, Hamilton entered the facility saying that she was going to visit her boyfriend, Gion Bernard, who is currently on remand. The officers searched her and found that she was trying to smuggle 9 grams of marijuana into the facility, most likely for her boyfriend. She was handed over to the police, who charged her with possession of controlled drugs. She was arraigned today before Magistrate Leslie Hamilton. She pleaded not guilty and granted bail of $500.
The Kolbe Foundation reports that they also caught another visitor today, and she was trying to smuggle 12 grams of marijuana in for her boyfriend who is also on remand. It is the vigilance of the prison officers who caught both women. That woman has been handed over to police, and though we have her name, we can't release it because it has not been confirmed if she has been criminal charged
SIF Turns A New Leaf After Scandals Of 2013
(posted on Thu Mar 6, 2014)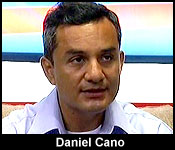 In September of last year, when the Dangriga Market Scandal unravelled at the Social Investment Fund, 4 senior staffers were terminated including Former Executive Director, Daniel Cano, and Former Public Relation's Officer, Mike Hernandez Jr. Well, after a little more than 5 months, they have been replaced.
The new Executive Director is William Lamb, and a release from the Government says that he's an engineer by profession for more than 25 years.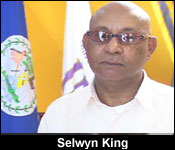 And the new public relations officer is Selwyn King. As viewers may remember, recently resigned from his post as the Director of Office of Public Information at the University a month ago.
Learning Lessons From AIDS In Belize
(posted on Thu Mar 6, 2014)
The 2nd HIV National Research Conference in Belize was hosted today by the National Aids Commission. Results and findings of various studies conducted over the last year were reported and discussed. And while the commission is moving towards a more evidence based approached to the work they are doing in the national response to HIV and Aids in the country - they plan on changing strategies and approaches to best use their resources.
Allison Green - Director, National Aids Commission

"What we we're doing is we're socializing the results and the findings of various studies that have been conducted over the last year or so. As we're moving towards a more evidence-based approach to all the work that we're doing in the National Response to HIV and AIDS in the countries, we're looking a trying to make sure that we're making use of the resources in as effective and with the most impact as was we possibly can. And so, all the research and the findings that will be reported today is going to shed some light on how we can best use those resources but also change the strategies and the approaches that we've been using from before. One the things that we're being made aware of today is that what we've been doing so far has been successful, but we're hoping that because of all the changes in what we're seeing all over the world, where it comes to the patterns the trends in the epidemic, there is a need for something to be done differently. And so, that is what we're looking at today, how to make sure that all the strategies and approaches are leading toward something that is more innovative, something that is going to really have the effect that we want to have for today and for the future. What we've been doing in the past is no longer going to reach what we're trying to reach now. Some of the participants who have here are the national partners in the response, including the UN agencies. We have various civil society organizations; we have the Belize Red Cross, Hand In Hand Ministries, CNET PLUS, working with persons vulnerable to HIV and AIDS. We have UNIBAM, various government departments, the Ministry of Health, the National Drug Abuse Control Council, and we have advocates. We have a retired teacher of 37 years, and so we just have persons who are interested and persons who are working on the ground in the HIV and AIDS response in the country."
The Conference was a one day event which ended at 5 this evening.
Public Health In Emergencies: Can It Be Better?
(posted on Thu Mar 6, 2014)
And while the AIDS experts were at the Radisson, the Ministry of Health was at the Radisson to discuss the "Belize Public Health Capacities to Respond to Emergencies" survey, which was conducted in 2012.
Stakeholders from all over the country attended the session to examine the strength and weaknesses of the report and to find ways to better respond to emergencies:
John Bodden - Principal Public Health Inspector, MOH

"In 2012 actually we had done an assessment of the public health sector in this country to see where we are at in responding to any emergency in the country and as such we had all the different stakeholders in the country come together and look at what we've been doing over the last number of years and identify where there are actually strengths and weaknesses. So today actually that report will establish what those weaknesses are and where the strength need to further continue to ensure that we are better prepared to respond to any emergencies and not just hurricane in this country."
"The report so far speaks of many area that we have significant weakness in and the need for further development of those specific areas to ensure that we are in a state of preparedness. Some of these areas for example communications where there is still not that networking among the different sectors or agencies that respond to disaster and of course we also have the issue of training which should be conducted periodically. If you want your staff to be fully prepared you need to have consistent training and it has to be done periodically and so those are two of the areas where we see significant gaps and the need for strengthening."
"This morning we have the people from the Ministry of Health, we have from NEMO and we also had invited some others who are not here currently because of other circumstances, but primarily it's the Ministry of Health."
At the end of the session the Department plans on developing a plan of action.
Wil Maheia Says Watch The Border
(posted on Thu Mar 6, 2014)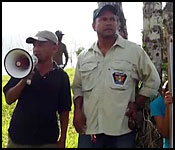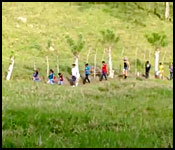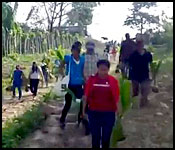 Earlier this week we told you about the first meeting of the Administrative Commission for Belize and Guatemala, a high level group discussing the partial scope trade agreement and many other issues of shared interest between both countries.
But Wil Maheia's PNP says that while they're talking brazen incursions into Belize sovereign territory continue on a daily basis. A statement says Guatemalans feel free to come into Belize and take whatever they can find. Maheia - who recently took another trek to the border with the Territorial Volunteers again calls on government to clearly mark the border.
Joseph Nunez, Playmaker
(posted on Thu Mar 6, 2014)
Joseph Nunez has been working with high school talents to put on a show where young people get a chance to express themselves through the arts.
It's called "Fun Instead of the Gun", and it would have been the third episode of the variety show which takes place at the Bliss. It's a continuing series, and on Tuesday, he told 7News why the public should support it:
The show takes place every Thursday night at the Bliss Center at 7:00.




Home | Archives | Downloads/Podcasts | Advertise | Contact Us