Dr. Frazer Out; Allan Slusher's In At UB
(posted on Wed Apr 16, 2014)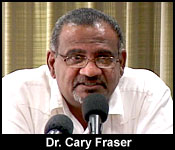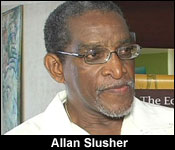 In November of last year, 7News told you about Dr. Cary Frazer's sudden decision to make an exit from the University of Belize and from his post as President of the institution.
It involved a letter he sent to the Prime Minister, the Leader of the Opposition, and the Minister of Education where he complained about bureaucratic pressures and breakdown between his office and the Board of Trustees. According to Frazer, the Board's micromanagement of the university, and lack of financial support from the Government made it difficult for him to develop the institution to the level he had initially planned.
So, his departure will officially take place next month, and at this time, there are moves afoot to get Economist and former Central Bank Governor Allan Slusher installed as a temporary president. We'll tell you all about that. But first, when we got an opportunity to the speak with Harrison Pilgrim, the Chairman of the Board of Trustees, this afternoon, and we asked him about the process they will go through to identify who will be Frazer's permanent replacement.
For an institution as important as the Nation's University, which has been struggling with stability at the helm, Pilgrim told us that they've worked out plan get a suitable candidate:
Harrison Pilgrim - President, Board of Trustees, UB

"We've already begun to put in place what we consider to be a very robust search team, which will comprise of persons from the Board of Trustees of the University, Business persons within Belize, we intend and hope to have onboard a senior person from the University of the West Indies, as well as a senior person from out of the partnership of the COBEC institutions in North America. We're going to do the search using an international search firm, and then, when short listed, the candidates will be interviewed by the locally composed panel."
Daniel Ortiz
"Has anyone showed any interest at this time?"
Harrison Pilgrim
"Well, the process has not at yet reached the point of advertisement because what we are doing at this time is ensuring that we have created the kind of robust profile, and then the search firm will have the tools necessary to search for someone who fits that profile."
Daniel Ortiz
"And what kind of timeline are we looking at in terms of looking at potential candidates."
Harrison Pilgrim
"That's always a difficult question because we don't have any idea of who will apply, and how soon they'll be applying. We have gotten a number of interesting inquiries even the search began, and we feel that there's going to be a number of Belizeans, and perhaps non-Belizeans as well, who would be qualified, and who may fit the profile to act as the President, and to carry the University to another level."
But, when that permanent replacement is installed, will he or she have the same difficulties that Frazer complained about? That's what we asked Pilgrim, and here's how he responded:
Daniel Ortiz
"When this person is installed, as the President - we know that Mr. Frazer, he started out with a brilliant relationship between the Ministry of Education and the Board, and then all of a sudden, it seemed to deteriorate. So, will this new candidate be sort of protected, so that what he or she brings to the table won't be influenced or impeded by the political directorate?"
Harrison Pilgrim
"First of all, I'd like to on record that I do not think that Dr. Frazer was impeded by any political influence at all, at any stage. Certainly, the Board of Trustees, of which I was a part, when he was appointed, was fully supportive of the programs that he wanted to implement. It was also very supportive of having the New President - Dr. Frazer - at that time, build out on the strategic objectives of the University. Objectives which had been developed over a number of years by most of the social partners involved in the University. To, answer your question, I feel if we - if the person who comes on fits the profile - I keep talking about the profile, because I think that one of the things that we are the search firm will do is to have the candidates undergo a psychometric - or various psychometric evaluations - which will help us to understand what make that person tick or not tick, what areas of support we need to give to ensure that that person can carry out the job properly, because we do not expect that anyone who is selected is going to be perfect. There are going to be some weak areas, and if we understand the weak areas, then the Board of Trustees will probably be in a better position, as well as the Ministry of Education to lend the support that any new leadership takes on at the University."
Slusher Has The Confidence Of The UB Board
(posted on Wed Apr 16, 2014)
So, as viewers may have noticed, when Frazer's letter became public, he sort of faded into the background, on a leave, where it was suggested that the board obliged him to make a pre-departure exit. In his absence, Dr. Wilma Wright, a holder of a Doctorate degree, took over as Acting President, leaving her post as Provost to run the University. That's been happening for over 4 months now, as we told you, Allan Slusher, will take over from her.
That appointment is in its final stages, and Slusher's work history is notable. He was a Governor of the Central Bank of Belize, the Region's Nominee at the World Bank, who served for 2 years, and he worked at Caribbean Development Bank for more than 15 years, where he retired as a vice president.
There is, however, one chink in the armor; he is only the holder of a Bachelor's Degree. When that announcement was made inside the University, it caused some protestations from the Faculty and Staff at UB who felt that an individual who does not hold a terminal degree shouldn't be the head of management. The reason was that there are persons who are employed currently, and who are believed to be more qualified than Slusher. There was also the suggestion that his appointment was going be done chiefly because influence of the political directorate. More than that, some faculty members viewed it as a possible vote of no-confidence of Dr. Wilma Wright's management so far.
Today, we asked Pilgrim about those perceptions, and he told us that they couldn't be further from the truth. He explained that Slusher's appointment as a temporary president is being done chiefly so that the business aspects of the University can be streamlined. Here's how he put it:
Harrison Pilgrim - President, Board of Trustees, UB

"Universities across the globe and in particular in North America which is an area that we tend to emulate a lot had been moving rapidly to put in business persons at the helm of their universities, persons who can attract the financing necessary for these institutions, who understand the ethics of business and development and proper management and good governance and all those things which today make for successful enterprise growth. The university is a business, it's a business in education and we feel that by having a strong business person to direct this transition period is going to auger well for creating the kind of atmosphere for a new president who will come in and not have to do all the mapping up, but would have had somebody in there who have done that type of stuff for him or her. We also believe that the office of the provost is one that is central to the academic development of the organization and certainly in the appointment of a provost, one would want to make sure that the person has a terminal because they will be directly interacting at that level. But we do not feel that the presidency of the university must necessarily hold a masters or any other terminal degree and we feel that the job can be done by somebody with Mr. Slusher's ability, with his attitude, he is a people friendly person, he is open to suggestions, he works with other. These are all things that we feel are so very important and we believe that he will get the support that he needs on the academic side and that in appointing him directly as president it leaves the post of vice president, director and all the key senior positions open for us to fill, perhaps even before a new president comes on stream, so that when that new person comes they can move and run straight on with the business of taking the university onto another level."
Reporter
"Sir you speak as though there are moves to make Slusher the head of the university - that there is this high probability that he will become the head of the university."
Harrison Pilgrim
"Sorry I didn't speak as if. I spoke with certainty that Allan Slusher is the designate replacement to be the president of the university barring unforeseen circumstances."
According to Pilgrim, Slusher's appointment, when it takes effect, is expected last for the next 2 years, and after that, the candidate identified by the panel of educational professionals will take over as the proper replacement.
Current Acting President, Dr. Wilma Wright, will revert back to her post as Provost, where the Board believes the technically skilled professional will be best utilized for her qualifications.
NCLís ECP Is Complete. Next!
(posted on Wed Apr 16, 2014)
Exactly a week ago, Norwegian Cruise Line's executives hosted a media tour on their luxurious cruise Ship, the Norwegian Jewel. It was to try to change the perception that cruise tourists aren't cheapos, and to show the Belizean public what their operation looks like behind the curtains.
On that excursion, 7News spoke with Colin Murphy, the Vice President, of the cruise company's Destination & Strategic Development, and he said basically that despite the resistance being mounted by the opponents Harvest Caye project, "it is going to happen."
That's exactly the sentiment we got today when we spoke with Michael Singh, the CEO of the Ministry of Trade, who was present at the very initial stages of this project, when it first emerged.
Here's how he explained it:
Mike Singh - CEO, Ministry of Trade

"As of today the ECP has been completed by the Department of the Environment. NEAC has approved the project and the next phase as you rightly said is for us to enter into definitive agreement. We have been working on the terms of that agreement which will follow pretty much the terms of the MOU which has already been released. Once that definitive agreement has been done, at that point then the project really has the green light to move ahead."
"In my discussions with Mr. Murphy, he has indicated to me that they are ready today to start working and to start construction. Now that's a very important thing for us to know because it means that they may be ready for actual deployment of ships in the upcoming season which could be as early as October 2015 and that's what they are aiming for - to be in 2015/16 season. Now that takes a lot of work to get there because it's a lot of construction that has to happen. We have to prepare a lot of people. The small business center has actually been working in Placencia putting out workshops trying to help some of these small businesses to get ready for that investment so that they can form a part of the ecosystem that will support the activities of that cruise project."
"We are also pleased to note that they've also started a hiring program. We have gotten word of over 300 - 400 people that have been interviewed, job offers have been given to a couple hundred of them, I don't have the exact number. Unfortunately we are finding that not all of them can afford to pay the initial fees for them to take on because they have to do health checks - things that we do not major in the big picture, but for somebody who is unemployed that a difficult thing, so the government now is working out a program that we can actually help to provide support to those people, so that they can get ready because we are planning that those people once they go to work with NCL for the next year onboard the ships that they will come back and take jobs up within the project, so they will be well trained. Its all a win-win; we are training people for employment, we are training small businesses to take advantage, we are helping them to develop the product itself and we are making sure that all this is being done with a good level of economic and environmental sustainability."
Reporter
"The BTIA shared some concerns about the project. Are those concerns being considered?"
Mike Singh - CEO, Ministry of Trade
"Well they have written to the DOE and I can't really comment on that because I am not a part of responding on that. I will tell you my personal opinion, I believe the BTIA is doing a good job of keeping its eye on the best interest of Belize and I applaud them for pointing out things that I believe as a government we need to incorporate and make sure those things are dealt with."
Tune to tomorrow's newscast, where we'll put those difficult questions to the CEO that BTIA Placencia's President Stewart Krohn wants answered about the controversies surrounding the project's economic benefit to the country.
DOE Ignored; BTIA Will Take Them To Court
(posted on Wed Apr 16, 2014)
And we told you last week about the letter from Belize Tourism Industry Association to NEAC Chair and the Chief Environmental Officer Martin Allegria that the environmental appraisal committee needs to rescind their approval of the Harvest Caye Cruise Port.
President of the Placencia Chapter of the BTIA, Stewart Krohn, confirmed to us Allegria responded to their attorney, Godfrey Smith. He said that not surprisingly, Allegria defended the decision to approve the Harvest Caye project, saying that they were well within the rights of the law to do so, which they did properly.
Krohn told us that a decision has been made by the BTIA to bring that court case where they will challenge NEAC's decision via judicial review proceedings.
The Life Of A Career Cyclist Ended Callously
(posted on Wed Apr 16, 2014)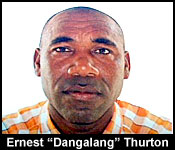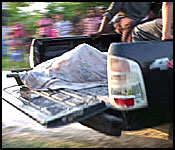 Our headline story last night was the shooting death of Ernest "Dangalang" Thurton, who was killed in the Junesville area. It's a seemingly senseless killing of a long time athlete just so that his assailant could rob him of supposed monies he had on him.
Today, 7News went back to get a few more answers on it, and Monica Bodden reports:
Superintendent Alford Grinage
"On Tuesday the 15th April about 3:30 pm police was inform about shots fired in the St. Martin's De Porres area whereby the police responded. They responded to #12 Junesville whereby upon reaching they observe the lifeless body of a male creole decent
person lying face down on the ground beside a coconut tree. Initial investigations reveal that Mr. Thurton went to the residence as a caretaker for his relative who now resides in the United Stated whereby he was attacked by two male persons who fired a single shot which caught him to the left side of his chest. He was pronounced dead at the hospital a few minutes later."
Monica Bodden
"At this time can police determine whether or not it was a case of robbery?"
Superintendent Alford Grinage
"Yes at this time in the investigation that's where we are going because we now know that he had properties on him that we did not find on the scene, so we suspect that the motive was robbery at this time."
According to family members, Ernest Turton was travelling with a large amount of cash on him at time of his murder. He had recently withdrawn money early that afternoon that was sent by a family member from the United States. Some say it was up to five thousand dollars. They believed he was trailed by the culprits who waited for the opportune time to rob and then murdered him.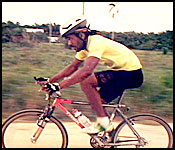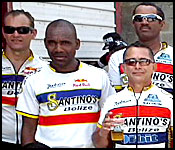 24 hours after the death of Ernest Turton and the news has left the cycling community shaken. Dangalang, as he is affectionately known - was one of Belize's veteran riders and a champ at it.
Fitzgerald Pollard Joseph - Member of Weekend Warriors

"Weekend Warriors is close nit family and surely devastating news to us when we heard of Dangalang demise and it really shook the cycling community. Easter time is a time when we reflect on the death o Christ and that in itself is a sad state but to lose a good friend like Danga - he was like a lieutenant to me on my Santino's Cycling Team - a guy who for us and who did a lot of work and a defender of the team always, so definite a great loss for us and at Weekend Warriors and cycling on a whole."
Back at his home in the Yabra Community - his friends and family members gathered together to mourn and comfort each other. His children each wore his cycling jerseys to pay tribute to their dad.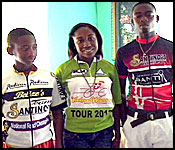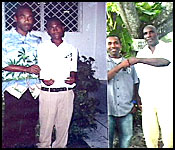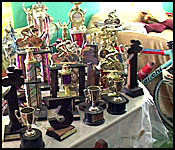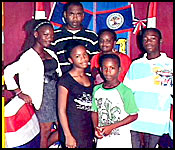 And for a cyclist who has been riding for 30 years, this is just a handful of his many trophies.
Fitzgerald Pollard Joseph - Member of Weekend Warriors
"I met Dangalang maybe some 30 years ago, he was a young kid, I was older than him. Dangalang started cycling around Michael Lewis, Charlie Lewis and myself, he rode early in his career with the Guinness Smiling Team and thereafter he start working at Santino's/San Cas and then he came on our team and so Dangalang pretty much started out as a young kid and thereafter rode a lot of BCA races and thereafter when we began to get old, we then converted to the Weekend Warriors club which he was riding - rode his last race on Sunday."
Monica Bodden
"Tell us a little bit about that club?"
Fitzgerald Pollard Joseph - Member of Weekend Warriors
"Weekend Warriors basically is a club - most of us are veteran cyclist who rode before in our time, many Cross Country champs in that club and the club derive because there weren't races for us in the BCA category and thereafter we formed a club maybe some 10 year ago and it was for guys who were working and only had a few time to train. We merely trained on weekend so that's the name Weekend Warriors, that club derived and from then on it was guys that weren't interested in racing anymore at the higher level and that club suited lot of us; older guys and with bigger stomachs and stuff."
Ernest Dangalang Turton leaves behind his 6 children and his common-law-wife who he was getting ready to wed on June 6th.
We are told that Thurton would have been a part of the service crew for the Hincappy Cycling Team.
Eddison Johnson Reportedly Hunted His Trespassers Down
(posted on Wed Apr 16, 2014)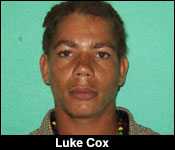 On Monday, we told you about how 53 year-old Edison Johnson shot and killed 23 year-old Saul Garcia and 24 year-old Luke Cox when he found them on his farm in Carmelita Village in the Orange Walk District. Though it may look like Johnson was protecting his property from thieves, he was charged with 2 counts of murder because he broke the law when he shot and killed the men. Today, we spoke with Director of Public Prosecutions, Cheryl-Lynn Vidal, who told that she has reviewed all the materials that Orange Walk Police has furnished so far, and that they still need to do some follow up work. DPP Vidal said, however, that the evidence at this time shows that indeed Garcia and Cox went to Johnson's farm to steal from him. As we told you, Johnson found that his houses were cleaned out of all the valuables, and a part of his roofing was torn off. It seems that the men intended to steal the sheets of zinc which were on the ground, and Johnson caught them.
DP Vidal told us that from the statements recorded, it unfolded that, "after the men entered the premises and were confronted by the accused they attempted to flee. One of them was immediately shot in his back as he ran and he died where he fell. The other was then pursued and shot in his back as well. They did in fact enter as trespassers and it appears that their purpose was to remove zinc from the property.
And according to the DPP is not justifiable homicide. She said, "…the law relating to self-defense or the defense of one's property does not confer a broad right on anyone to simply kill a trespasser. It is very specific as to the circumstances in which and the amount of force that can be used."
G. Smith And R. Fonseca Back In With PUP?
(posted on Wed Apr 16, 2014)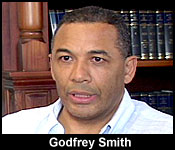 The PUP held a National Executive meeting last week and, while Party Leader Francis Fonseca hosted a press conference immediately after, he didn't tell the press about some important party business. The executive voted to make well-known attorney Godfrey Smith it's new National Campaign Manager. The high profile addition is major news because Smith is seen as Michael Ashcroft's go-to guy in Belize. His appointment to the party executive in such a senior post would seem to suggest that Smith might be able to rekindle Ashcroft's interest in the PUP - which could translate into a much needed infusion of campaign financing for the opposition.
At this point though, that is speculative. All we do know is that Smith who often publicly positions himself as an independent essayist is now fully back in the PUP inner circle as a chief strategist and to some extent, fund raiser - which is how Ralph Fonseca defined the post when he was Said Musa's national campaign manager. The new arrangement as we understand it is that Smith will Chair a national campaign committee.
Smith is a former PUP minister and Secretary General of the party. We note that with the Ashcroft Alliance's backing, Smith did actively work in a dozen or so key PUP divisions in the 2012 general elections, running polls and financing candidates who were seen as likely upsets of UDP incumbent's. He also worked as Francis Fonseca's campaign manager in his failed bid for party leader in 2008.
Another development of interest in the PUP is the report that Ralph Fonseca has been engaged to act as special advisor in a non-executive post.
NGOíS Support SATIIMís Injunction Move
(posted on Wed Apr 16, 2014)
SATIIM and the Mayan Communities in the Buffer Zone are patiently awaiting their post-judgment injunction hearing against the Attorney General and the Ministry of Forestry to restrain them from extending US Capital's Drilling Permit which ends on April 30. But while they do so, they've also gain support from 3 members of the NGO Community.
Association of Protected Areas Management Organizations (APAMO) and The Belize Institute of Environmental Law and Policy (BELPO), and the Coalition to Save Our Natural Heritage have all thrown in their voices in favor of the move to try to block the permit extension.
All 3 organizations have issued statements in strong condemnation of the Government if such an extension is has been or is to be granted.
The Coalition said, "Government should be the shining beacon of following the Rule of Law and in protecting the human rights of its citizens."
BELPO criticized a bit stronger saying, "It is a sad commentary on where we are concerning respect for the law. We have three Supreme Court decisions and one decision from the Court of Appeals affirming customary land rights. We have deals made by the Government and US Capital Energy that fly in the face of those decisions."
But, as we told you last night, the Mayans are reportedly moving on erroneous information. We contacted Michael Peyrefitte, attorney for US Capital Energy, and Wilbur Sabido, the Chief Forestry Officer, Wilbur Sabido, both of whom told us that there is no extension. That's directly the opposite of what the Mayans are claiming. They reported that they were informed that Cabinet decided on last Tuesday to grant the extension, which made this injunction a matter of urgent interest for them.
The Hype For Cross Country
(posted on Wed Apr 16, 2014)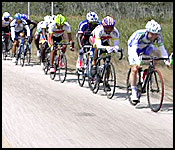 Every year, hundreds of fans line up along the Western Highway eagerly awaiting their favorite cyclist running in the Holy Saturday Cross Country Cycling Classic.
It's pretty much a part of the Easter Celebration, and today the President of the Cycling Federation of Belize told us about the preparations they've made for it this year. We couldn't help but notice how excited he was about Saturday's race:
Dion Leslie - President, Cycling Federation of Belize
"We are on the brink of having a Belizean win 3 consecutive times, so you now all of that coupled in with just the overall hype and the fact that cross country is something that is embedded in the DNA of every single Belizean because your Easter vacation does not start until cross country is finish, you can't eat, you can't drink, you can't do anything until you heard
the end of cross country and so it's something that we are all excited about and we know this year will be exciting, not only because of the prizes that we've gathered but because of the competition coming, both the foreigners coming in and the level where our local riders are right now, we expect it to be exciting, fast dynamic race filled with surprises throughout the entire 140 plus miles."
Daniel Ortiz
"Sir, it's always as you say an issue where Belizeans want to see a Belizean win of course and if that Belizean is the best rider on the road that day it happens. But how prepared are we? Do you think this crop of Belizean cyclist is for the international competition?"
Dion Leslie
"I personally from what I see on the road, we are really prepared. It was our goal as the executive to have more races. You can work out every day but being race ready is something else. It was our goal to have as much races as possible leading up to cross country so that our riders get into what we called race-condition. Not only races itself, if you've notice we've done a lot of crates which helps the riders maintain a high speed for a longer extended period of time which usually in cross country passed you would see foreigners come in, they would lift the pace to maybe 35-38 miles per hour for an extended period of time and that's where you see Belizeans would start to let go, could not keep up and we see our riders this year with the races, with the type of training they put in that they are at that level now and we expect a great showing from our riders and I personally believe that a Belizean will win the 86th Cross Country."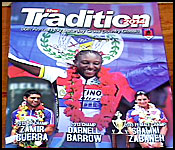 And as we've told you, the Cross Country is part of the Belizean Tradition. That's exactly the name that the Cycling Federation chose for their cycling magazine. Dion Leslie explained today why they want you to support them by buying it for only 10 dollars.
Dion Leslie - President, Cycling Federation of Belize
"I've been saying that tradition is the key word for this cross country because when the executive got together and we formed the committee it's something that we highlighted - we wanted to bring back a lot of traditions that were last in the past; the magazine being one of them and it's on sale. You can get it from any executive member. You can get it from Sky Supermarket in Ladyville, Ramon's Service Station or from the NOC office upstairs of Dooneys on Albert Street. Its $10 for the magazine and like I said if you meet any members of the executive we have them on us and we are trying to sell them, it's a little fund raising that we do for the federation because we are a non-profit organization but we still have to foot the bill for our national team to travel to various competitions around the world, so any little bit helps. But tradition and I want to stick with that word because we are bringing back the parade which will be tomorrow from 4:30 and it will go through the principal streets of Belize City and its something to highlight the riders who are here, highlight the foreigners, highlight the sponsors. I compare it best to when an international artist is coming in people want to see the artist. It's the same way the fans want to see which foreigners are here, they hear this one might be coming in, they want to see if that person really got here. They want to see which one of their favorite Belizean riders is riding with which team, if he is in shape and which team mates, so the parade will be that to promote the race, to promote the sponsors and to promote the federation and the sport on a whole."
And we'll be out there for that parade tomorrow where we'll show you a glimpse the riders who will be competing. Be sure to tune in and see them in action in our last newscast before the Easter Weekend.
BELTRAIDE & UB Collaborate For Enterprise Development
(posted on Wed Apr 16, 2014)
The University of Belize and BELTRAIDE signed a memorandum of Understanding today, which will see future entrepreneurs passing through the institution get an opportunity to bring their business ideas to life.
The MOU will allow BELTRAIDE's Small Business Development Center activate at a higher capacity so that persons interested can receive training on different enterprise management techniques.
7News attended that signing and spoke with representatives of both bodies:
Harrison Pilgrim, Chair, Board of Trustees, UB

"We need to look further than the university because the University of Belize was formed from a partnership you could call it of 5 different institutions and the objective of government at that time and continues to be the goal of the administration is to ensure that this partnership yields benefits for the people of Belize and so it is not a partnership with BELTRAIDE for the benefit of the university but we need to see a partnership with BELTRAIDE together. We will be developing young minds and will be training young entrepreneurs and that will auger well for the development of Belize."
Mike Singh - CEO, Ministry of Trade

"We already have an office here at the campus. We are now going to be having discussions in respect to putting a permanent building on the campus. We staff it with our own people."
Harrison Pilgrim
"We are looking for openings in the opportunities that are available for the service industries, the areas that have provided thousands of jobs recently and it seems to have an unending capacity for development and growth."
Mike Singh
"If I get one young entrepreneur to develop a small business and he hires 10 people, 5 might be other graduates, so the good thing about it it's really an exponential increase in being able to not only give them an opportunity but to expand the employment opportunities throughout. You have the same companies that are trying to hire, they may not be expanding as fast as we would like them to. We have foreign investors coming in that are hiring but again, not at the rate that we would like to see it happen, so we like to see our own home grown ideas, innovation being turned into small business and those people then contributing to add to the job stock."
Home | Archives | Downloads/Podcasts | Advertise | Contact Us