Once More Unto The Island
(posted on Tue Aug 25, 2015)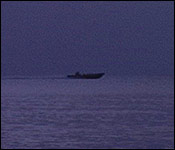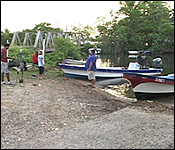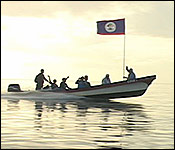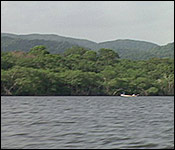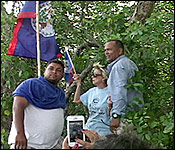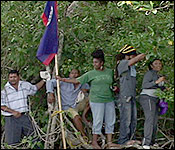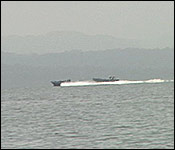 For the last 2 weeks, the news has been dominated by Belize Territorial Volunteers and their trip to Sarstoon Island which ended in a confrontation between them and the Guatemalan Navy. It even prompted a Prime Ministerial press conference where he was flanked the Ministers of National Security and Foreign Affairs, and the commanders of the BDF and Coast Guard - who comprise the National security Council. In that press conference, the Prime Minister implored the Volunteers not to return to the Sarstoon River because it strains diplomatic and military relations.
BDF Commander, General David Jones also made it clear that the agitation by the Territorial Volunteers endangers his soldiers who are posted at the Cadenas Conservation Post. The only way to get to Cadenas is through the Sarstoon River, which the Guatemalans consider theirs. Well, as we also showed you last week, Wil Maheia, responded that he would make attempts to follow the BDF change overs which happens roughly every other Tuesday. Today was supposed to be the first such mission, and our news team of Daniel Ortiz and Codie Norales left out at 1:00 am for Punta Gorda Town to see for ourselves how this would work. It didn't, but something else did work out. Daniel Ortiz reports:
Daniel Ortiz reporting
As we understand it from expedition planner Wil Maheia, the agenda for today was to shadow the Belize Defence Force as they left Punta Gorda Town to change over the soldiers who had been on duty for 2 weeks AT CADENAS.
So, we arrived in PG before 4:30 a.m., to see the BDF leave off at around 5:15 a.m. without the Territorial Volunteers. But military time is not Volunteers time - they were stuck caught waiting for stragglers, and so Maheia quickly changed the mission.
Instead of shadowing, the maneuver became a test of the Guatemalan Navy's response to Belizeans in the Mouth of the Sarstoon River, given the political upheaval in their Government, and the recent activities of the volunteers in Sarstoon.
Today's expeditioners spent about 45 minutes traveling from PG Town to the Sarstoon River mouth. When it was determined that there was no sign that the Guatemalan Navy had come out to blockade the area, the two boat captains directed their vessels to Sarstoon Island. There Maheia and others defiantly erected a Belize Flag, which was tied to one of the mangrove roots on the Island.
Today's participants had what can only be called an Everest moment beside the flag to note its importance - and of course feed social media. After all, they had been prevented from doing so on the last trip there. It did give us an opportunity to get up close and put a foot on it, even if it was only to stand on the mangrove roots.
There was a sense of danger, since in the near distance the Guatemalan Navy was based at the Mouth of the Sarstoon. At any moment, they could have pulled up to Sarstoon Island and caused all kinds of havoc for this civilian mission. There was also a gun boat in the distance that could have moved in and blocked us before we could get into Belize's territorial waters.
So, in a sense, those on board were acting like mischievous children, pushing to see just how much they could get away with before a spanking was handed out. Maheia and fellow participants see it differently.
Daniel Ortiz
"The decision to go and put the Belizean flag on Sarstoon, that, would say is inflammatory - it's provocative. How would you answer to that?"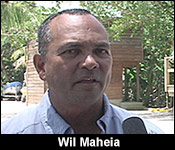 Wil Maheia - Leader, Belize Territorial Volunteers
"I would say that this is Belize. It's our country. Every square inch of this 8,867 square miles belongs to us and I believe that nobody should deny us the right to plant a flag to show our patriotism for this country, in nay part of this country that we so choose. If we want to go to Ranguana, if we want to go to the Blue Hole or if we want to go to north or south - we as Belizeans have the right to do that and that's what we wanted to demonstrate to the people of Belize that we as Belizeans should have the right to put a flag wherever we want to in this beautiful country of ours."
Daniel Ortiz
"Do you accept that there was a risk of being detained when we were doing that and that we have our own views, the Guatemalans would certainly have arrested us?"
Wil Maheia - Leader, Belize Territorial Volunteers
"Yes, it is a very real risk. But as Belizeans we must stand strong, we must stand proud, we must stand Belizean. So while it was a risk, the risk was well worth it."
Daniel Ortiz
"Mr. Wil, while you assert that it is well worth it, there will be those who say 'you see Wil, he is a crazy man, that is crazy man thing he is doing' because they will take the negative view that you are provoking a confrontation on the Sarstoon River. How do you answer to those people who say that something is obviously wrong with you that you would not heed the warnings of our government?"
Wil Maheia - Leader, Belize Territorial Volunteers
"I would say that there is no way shape of form that we as the Territorial Volunteers are provoking anybody by doing something peacefully. Once again we took our boats there. Nobody was armed with any kind of ammunition. We went there as peaceful Belizean citizens."
Audrey Matura-Shepherd - Participant, Return Trip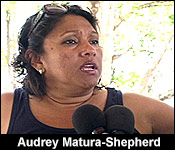 "I dont think it's tempting faith. I know there will be a lot of critics. Let me tell you, those nasty critics who just go on personal attacks, they are singing for their supper unfortunately. They have not stop and think about what the implications are and you find that in the political parties, they will toe the political line."
Wil Maheia - Leader, Belize Territorial Volunteers
"I am a proud Belizean and I believe everybody who have been on a territorial volunteer patrol are proud Belizeans and I believe that everybody is willing to stand up and even die for this country if that's what it would come down to, but at the end of the day, if we don't stand up for what we believe in, then why should we remain Belizean citizens?"
About 2 hours later, we got to see for ourselves just how the Guatemalan Navy is now acting toward the Belize Defence Force. At around 9:30, our cameras caught the BDF vessel speeding out of the Sarstoon River with the soldiers who had just been relieved. Hot on their tail was a Guat Navy boat which following at high speed. It was just as General David Jones had described, the Guatemalan Navy had become more aggressive toward them as well, following any military vessel of theirs to and from the Cadenas Conservation Post, for a total of about 4 hours on the river.
Wil Maheia - Leader, Belize Territorial Volunteers
"As a Belizean, to watch my military being escorted by the Guatemalan military, that was a blow to us. I mean for us the Territorial Volunteers, it was a blessing in disguise that the BDF basically tricked us and left early, because the Guatemalan military obviously escorted them up the river. So it gave us an opportunity to put our flags on the Sarstoon Island without interruption from the Guatemalan military. But waiting there and monitoring the illegal fishing that's taking place and then seeing our military being escorted by the Guatemalan military was damaging to me as a Belizean. I felt insulted that we had to have our military being escorted by the Guatemalan military and they escorted them way into Belizean waters."
Audrey Matura-Shepherd - Participant, Return Trip
"It's just safe passage they gave us. That is how it is operating and it is unfortunate because quietly we've been ceding and ceding and I think that if the government doesn't want to take the bull by the horn and do the right thing and if the BDF was made impotent because of the civilian bosses they have, then we the people who are not afraid need to go and occupy and use the area. It is unfortunate that we don't see our Belizean fishermen out there using the water as a daily way of life. But we did see the Guatemalans, which is a whole other issue."
It is expected that as soon as the Guatemalans discover the Belizean flag on Sarstoon Island, they will take it down, that's if it hasn't happened as yet. And, we'll have a little more from Southern Belize later on in tonight's news as Daniel Ortiz goes crawling around in the mud while chasing after suspected Guatemalans illegally fishing in Belizean territorial waters.
Orange Walkeno Caught In Nicaragua With Weed
(posted on Tue Aug 25, 2015)
An Orange Walk man is detained in Nicaragua tonight after he was caught with a wholesale quantity of weed. He was intercepted on Saturday at Rio San Juan which is on Nicaragua's Caribbean Coast - right at the border with Costa Rica. 32 year old Wayne Thomas of a St. Peter's Street address in Orange Walk Town was driving a Dodge Van with Orange Walk license plates headed south for Costa Rica.
Nicaraguan police stopped the van and found a secret compartment in the ceiling. They took out 101 packets of weed, weighing in at 55 kilos, or 123 pounds. The Nicaraguan media asked him where he was bringing the drugs form - here's what he said:..
Police say he entered the country at "Las Manos" - which is the border crossing with Honduras, south of Tegucigalpa. Police say they suspect there is a drug smuggling ring at work.
Audrey On Ray: It Wasn't (Just) Me
(posted on Tue Aug 25, 2015)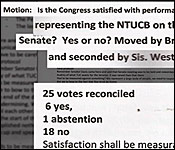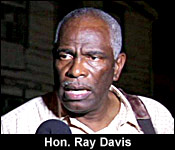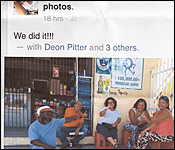 Last night our headline story was about the removal of Ray Davis as the Labour Senator. That was the decision that the General Council of the National Trade Union Congress of Belize took after a motion to vote on whether the members were satisfied with his performance. An easy majority of the 25 representatives voted that they were not satisfied - and so the long embattled Davis will be replaced. But there are those within the labour movement who take the view that he was being dismissed without just cause having been established - and "just cause" is one of the cornerstone principles for trade unionism in general.
Today in Punta Gorda, we asked NTUCB Vice President Audrey Matura-Shepherd about his departure. She's the first one who went public and said he has to resign or be removed - but today she stressed that it was a group decision:
Audrey Matura-Shepherd, 2nd Vice President - NTUCB
"Let me tell you, all I say about that is within our union, democracy prevails and clearly I was not the sole vote. It was an overwhelming majority. I know Channel 7 always gets the scoop because we have the traitors within who always leak the information. So go interview them. But the official word comes from our president Mr. Marvin Mora, who I support and I am just but one vote in votes that go in the double digits."
Daniel Ortiz
"How would you answer to the critics that Mr. Ray Davis, who is a career senator, a career legislator has been railroaded by this last section of his tenure, last serving as the senator for labor?"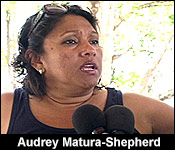 Audrey Matura-Shepherd, 2nd Vice President - NTUCB
"I don't have to answer to the critics. They are just that, critics - who have an interest to serve. It is a dangerous thing when the Prime Minister of this country has only praises for the senator for the unions. That speaks volumes as to where we were going."
Other members of that group are seen in this facebook picture celebrating with thumbs up after the meeting - under the caption, "We Did It" - presumably referring to sending Davis packing.
NUTCB: Many Email Fails
(posted on Tue Aug 25, 2015)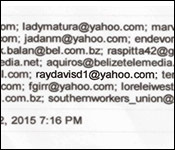 And so while Ray Davis was removed for non performance - it really comes down to an issue of email protocol - or a lack thereof. Things came to a head because the NTUCB believes that Davis bailed on a Senate meeting - and never told anyone, leaving the unions in the lurch. But in fact he did send this email weeks before the meeting - both to the President of the NTUCB and the General Secretary. Except none of them got it. That e-mail fail is what ultimately triggered the campaign to resolutely deal with Davis. So it's ironic that even as the union sent him off - there was another email fail - this one of epic proportions. On Saturday evening at 5:30, General Secretary Rebecca Suazo sent out the email with the minutes of the meeting held earlier that day. She sent it to her NTUCB mailing list - including ex-Senator Davis. It shows who brought the motion to questions Davis's performance and shows who seconded it - and how the vote went: 18 not satisfied, 6 satisfied, 1 abstention. It's awkward, but it's also very bad form - kind of like finding out you got fired in a mass email - before getting a letter of termination. And two hours later, President Marvin Mora sent an email scolding Suazo, saying, quote, "your email below was directed at the NTUCB, and not to brother Davis even though you coped this letter to him." He concludes wearily, "this defeats the purpose of ensuring that Davis be written as a matter of urgency while trying to avoid him from getting it form a third party." Well, that's just what happened - which, from our knowledge of the entire Davis debacle, is sort of symptomatic of the frequent email fails in the NTUCB.
Yolanda Gomez Denies Credit Card Misconduct
(posted on Tue Aug 25, 2015)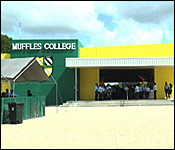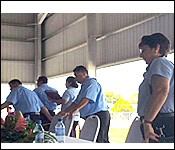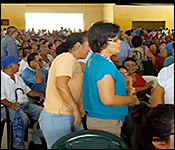 The La Inmaculada Credit Union in northern Belize - it's a large and powerful institution with tens of thousands of members, and - we are told - more than 52 million dollars passing through it annually. But, with all that prosperity, tonight there are deep public misgivings about the management of the union. And as we showed you last night, a special general meeting on Saturday did nothing to allay those concerns - in fact, its inconclusive ending may have resulted in even deeper agitation.
But while there is public frustration with the board - which narrowly escaped having to face a no confidence vote on Saturday - there are also concerns about the tenure of Yolanda Gomez as General Manager. No less than the chair of the board has publicly heaped substantial allegations of wrongdoing at Gomez's door. Gomez has consistently denied any wrongdoing - and the board has not come up with any proof. But, the allegations include unauthorized loans - we are told to family members and Gomez's personal employees. It also includes misuses of the LICU credit card - and alleged repaying of the debts with LICU funds. Gomez flatly denied that on Saturday:..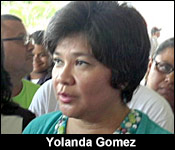 Yolanda Gomez, Former General Manager - LICU
"The president actually claimed that the one in reference to the Visa card that those are paid from the credit union coffers. That's a blatant lie. And they know. They know. There are senior staff members in there, the acting General Manager knows that's a lie. So I have to deny all of their allegations and as Mr. Carballo rightfully said in the end…let the Court come out with the facts. That is when things will come to light."
Mike Rudon, Ch5
"Personally, emotionally how this has affected you?"
Yolanda Gomez, Former General Manager - LICU
"Well as I guess with everybody's it's just natural. They are defaming your character. That is the worst thing anybody can go through."
The Credit Union has indicated it will sue Gomez to recover funds - and she has indicated that she will also sue them. Gomez herself did not get to speak at Saturday's meeting.
GUATEMALAN FISHERS...
(posted on Tue Aug 25, 2015)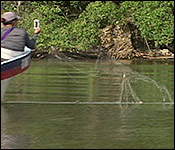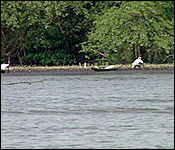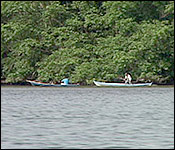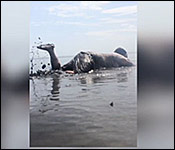 As we showed you at the top of the news, the Belize Territorial Volunteers went back to the Sarstoon River today. They were there to follow the BDF soldiers downriver to the border post of Cadenas.
But the volunteers missed the trip from PG to Cadenas, so they had to wait a long time until the BDF vessel returned through the Sarstoon. And we had to wait with them. So, how did the volunteers pass the time? Well, they went chasing after suspected Guatemalan fishers poaching in Belizean waters. Our news team followed them on that mission - which had elements of both mild tragedy and deep comedy; here's how it went:
Daniel Ortiz reporting
While waiting for the BDF change over to return from Cadenas, Maheia and the boat captains took us along the southern shore of the Toledo District, just before the Sarstoon River mouth, waters considered to be clearly in Belizean territory.
It immediately became apparent what they were signaling to a number fishermen believed to be Guatemalans who were illegally fishing in Belizean waters. Now, we're unable to say 100% that they are illegals fishing in Belize, but there were very distinct traits of their behavior while we were there.
For one, every time we attempted to get closer, these fishermen, making use of lightweight dories, immediately headed for the shore and immediately pulled their boats into the mangroves. Then, they ducked for cover and stayed hidden until we gave up and throttled our bigger boats out into deeper waters. Next, they were fishing with nets considered to be illegal in Belize due to the destruction it causes to fishing populations.
We came across yards long of fishing nets set up to capture as much fish as possible. Wil Maheia decided that it made no sense to uproot it, since it would be tedious and detrimental if it got caught in the engines of the boats.
Later on, we came across a group of about 9-12 fishermen, and that's when Maheia decided to demonstrate just how these suspected illegal fishermen behave when Belizean vessels got too close. Our captains throttled pass them a few a times, and they immediately sped toward the shallow waters, and that's when the fishermen made a mad dash for the mangroves, abandoning their boats and crawling on their bellies to get away.
Maheia jumped out of his boat and pursued them on foot to demonstrate what happens. I joined him along with Audrey Matura-Shepherd and Alfredo Ortega. It immediately became clear why the men chose to crawl to their hiding spots. These waters were shallow reaching me to my ankle, but the mud sucks anyone down to all fours, acting something like quicksand. Creep and Crawling, it took us almost half hour to get to the bank of the sea which would have normally taken 5 to 10 minutes if we were wading through the water on solid ground.
Cell phone footage taken by Audrey Matura captures me at a very unflattering angle. But, comical as it was, it demonstrates the difficulty to catch up with these illegal fishers who were already deep in the mangroves hiding from us. It's a bit impractical to go chasing after these suspected illegal fishermen.
Wil Maheia says that the reason it's so rampant is that there is no law enforcement presence to dissuade Guatemalans from taking advantage of the seemingly abandoned territory.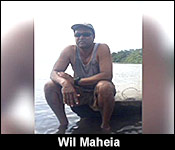 Wil Maheia - Leader, Belize Territorial Volunteers
"It was close to 50 of them hiding in their right now, clusters. See there is a cluster there, and there and there. They can't dispute this. The river is behind me, south of me - Sarstoon River. We are north of Sarstoon. There is no way that we are even close to being into Guatemalan territory. The thing is that we need to protect our natural resources. We need to enforce our laws. If anybody in PG, or any part of Belize set a net like this at any river mouth, they will be arrested. Why is it that the Guatemalans cannot be arrested for these kinds of gill nets? Belizeans get arrested on a daily basis, so why can't the Guatemalans. That's my big fight here."
Audrey Matura-Shepherd - Participant, Return Trip
"Coast guard are they here to enforce these or you don't know?"
Wil Maheia - Leader, Belize Territorial Volunteers
"Well I've never seen them enforcing the law here. The last time I saw the coast guard was in front of Barranco. I've never really seen them south of Barranco as well. Whether they are here or not, I don't know, but I could tell you that I've been coming here for over 20 years and I've never seen Fisheries vessels in this area. I've seen the BDF, but they go straight up the river which worked in our favor today."
Daniel Ortiz
"The BDF, do they stop?"
Wil Maheia - Leader, Belize Territorial Volunteers
"They don't. They go and they see everything here. They passed this every Tuesday or whenever they go up, they see all these illegal fishing, but their job is to go and transfer people and that's what they do. They do not stop and try to stop the Guatemalans. I've never seen them pull up a gill net. I've never seen then stop illegal fishing, I've never seen them intercepted a Guatemalan vessel."
Audrey Matura-Shepherd
"Wil, do you think that if Belizean civilians come out on a regular basis to just traffic this area, there would be less encroachment?"
Wil Maheia
"Oh yes. The whole idea why TIDE got started, this exact same thing use to happen in what is now the Port Honduras Marine Reserve and it as a citizen thing. It wasn't like a government thing. It was a citizen thing that help established that marine reserve. Of course government recognized it and declared it a marine reserve. But it was this kind of citizenry, getting together that made it happen. It was the fishermen of Punta Gorda that made Port Honduras, because at one time, these same people or their relatives were camping in what is now the Port Honduras Marine Reserve."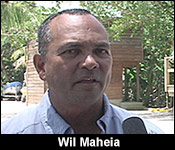 "I am one hundred percent sure that they are Guatemalans, they live on the Guatemalan side. They wouldn't ran away if they were Belizeans, because they would be able to identify that our boat was not like an enforcement agency boat. Again, it's time for Belizeans to stand up to protect our natural resources. The hundreds and thousands of meters of gill nets that were there - the amount of clusters of Guatemalans in groups of 10-12 that was there on the beach just raping our natural resources, it's time for us as Belizeans to stand up. I call on the government, the Fisheries Department, the Coast Guard to begin to patrol our beaches, our coastline from Sarstoon Island all the way up to Rio Hondo and as you can see this morning was just an ordinary morning and you can see that there was, in my opinion, between 50-100 boats including the boats that was at the mouth of the Sarstoon River that was trapping the jacks."
As you saw at the end of our story, as soon as we turned our backs and returned to our boats, the fishermen came out of their hiding places, went about their leisurely way and returned their fishing as if though we hadn't disturbed them.
At one point, members of the volunteer team were questioned by Guatemalan civilians in a bigger fishing boat. They wanted to know why we were quote, "harassing" their people.
BDF In Court For Trying to Defraud Courts
(posted on Tue Aug 25, 2015)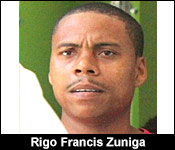 BDF soldier, Rigo Francis Zuniga went to court today accused of committing a mischievous act. Here's what happened: it seems 28 year old Rigo Francis Zuniga was trying to avoid paying Courts Belize bill after getting a flat screen television on credit. He made a false report to police alleging that all his household items were destroyed in a fire, but it turns out there was no fire. It was more like a fire sale! Because when police went looking into the story, they found that he gave the items to a woman who pawned them out at Fair Brothers Pawn Shop. She told police that Zuniga gave her his flat screen television he got from Courts and a stereo to pawn out for him. Police found the items at the Pawn Shop.
As a result, he was charged with committing a mischievous act.
This morning, Zuniga appeared unrepresented before Magistrate Ladonna John in Court #4 where he pleaded not guilty to the offense. Magistrate John granted him bail in the sum of $500 plus one surety of the same. He is due back in court until October 27, 2015.
Sixth Former Again For 14 Year Old
(posted on Tue Aug 25, 2015)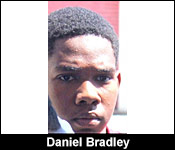 18 year old Saint John's College sixth former Daniel Bradley has been slapped with another charge of unlawful sexual intercourse - again for having sex with a 14 year old girl. Two months ago, he was accused of having sexual intercourse with a 14 year old girl was back in court again to be slapped with another sexual offense.
He appeared before Magistrate, Ladonna John in Court #4 where he was read a single charge of one count of unlawful sexual intercourse for carnally knowing a female girl under the age of 16 to wit, 14 years and 4 months. The contact is alleged to have occurred between May 1 and May 31, 2015.
In court, no plea was taken from Bradley - who was represented by attorney, Ellis Arnold. Magistrate John explained to him that she will not be taking a plea in the matter since it's an indictable offense.
That's when the issue of bail came out and his attorney, Ellis Arnold brought it to the court attention that Bradley was recently granted Supreme Court bail in mid June from Supreme Court judge, Troadio John Gonzalez.
On June 16, 2015, Bradley was first arraigned before Senior Magistrate, Sharon Fraser and he was denied bail due to the nature of the offenses he was remanded to the Belize Central Prison but within 3 days, he was able to meet Supreme Court bail. For this second sexual offense charge, Bradley was allowed to leave the court freely after the charge was read to him in the presence of his attorney.
He is not due back in the Belize City Magistrate's Court until October.
PM Accompanies Wife
(posted on Tue Aug 25, 2015)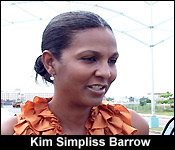 Prime Minister Dean Barrow left the country today to accompany his wife Kim for a regular checkup. She was diagnosed with breast cancer in November 2011 - and after aggressive treatment, it has been in remission for the last two years.
A government press release says that the Prime Minister will return on Friday 28th August. Gaspar Vega will be acting Prime Minister.
Mr Program Makes Introspective Track
(posted on Tue Aug 25, 2015)
Belizean Artist Mr. Program is back with his latest song and music video called "Them Should Ah Know". The catchy song is more than just another track - it speaks about his personal struggle as an artist and where he would like to see himself in the near future. He told us what you should know.
The video is available on Youtube.
Notepads With A Safe Message
(posted on Tue Aug 25, 2015)
Hurricane season is upon us - and the City Emergency Management Organization is always pushing for greater community awareness - specifically - what do you need to know when a storm is coming. Well, a lot of your plan should be based on the warning flags. But do you know the difference between preliminary, red on, red two and all clear? Well, CEMO wants even your children to know. That's why they have launched a new notepad series. Wayne Usher told us more:..
The notepads are available at the CEMO office at the downtown Commercial Center in Belize City for 50 cents each or six dollars per dozen.
Home | Archives | Downloads/Podcasts | Advertise | Contact Us