Broad Daylight Gang Shooting In City, But Victim Survives
(posted on Wed Feb 25, 2015)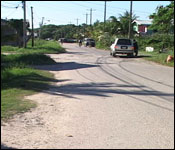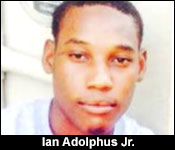 There hasn't been a murder in Belize City for over a month – and this morning, a 21 year old escaped death when he was the victim of what is believed to be a gang related shooting. 21 Year old Ian Adolphus Jr., was shot to the arm and the chest in broad daylight on Freedom Street in the Port Loyola Area. According to his facebook page, he identifies with one of a nest of gangs in that area. Today, police discussed the shooting:…
Sr. Supt. Alden Dawson – OC, Police Precinct 2
"Sometime around nine thirty this morning, police responded to a shooting incident on Freedom street. What they learned was one Ian Adolphus, 21 years Belizean was walking on Freedom street - and upon reaching it's intersection with Justice street, a male person on a bicycle rode up in front of him and fired several shots. One caught him at the right elbow, one to the right shoulder and one to the left side of his chest. The male person then rode off and made his escape. At this time, the victim Adolphus is stable at the KHMH and police are looking for the suspect."
Mike Rudon - Channel 5 News
"Could you give us an idea - I know the investigation is just preliminary but in terms of a motive?"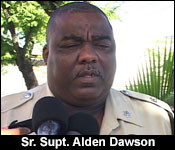 Sr. Supt. Alden Dawson
"It's too early in the investigation to give a motive at this time."
Daniel Ortiz
"Our information suggest that he may have gang affiliation. Is that information the police has as well?"
Sr. Supt. Alden Dawson
"Like I said I haven't received that information yet as a motive - but the police are out there investigating, as soon as we become aware, we will inform you guys."
So, what does police attribute to the relative calm in the city right now? Well the commander of Police Precinct 2 told the media that over the past few weeks, the residents of the city have been cooperating with them in trying to curb the number of violent crimes:
Sr. Supt. Alden Dawson
"I would attribute majority of what is going on now, where the quietness is concerned to the cooperation from the public. We have seen a major increase in the relationship of the police and the public and we're getting a lot of assistance from the public - and that contributes to what is taking place in the city at this time."
Mike Rudon - Channel 5 News
"You have also said that there has been a crack down on people known to be affiliated with gangs?"
Sr. Supt. Alden Dawson
"As recent, we have stepped up our patrol numbers after we had the operation not in my city came to a halt. The police were distributed by the precincts and with that additional number we have covered more areas now and we're stepping up and caught up with gang activities in the city."
Police are investigating this Adolphus' shooting – but have made no arrest. He is in stable condition.
"Exotic" Resort Burns In San Pedro; Firefighters Say Thatch Roof Was Hazard
(posted on Wed Feb 25, 2015)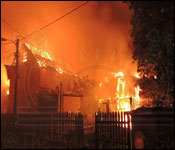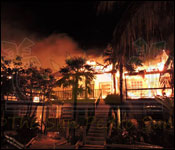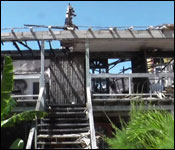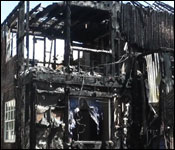 Early this morning, the Exotic Caye Resort, located on Coconut Drive in San Pedro Town, was the scene of a major fire which destroyed 3 buildings that was part of the compound. The owners of Exotic, which has reportedly been doing business for the last 20 years, must now make repairs and try to recover from over half a million dollars in damages.
The fire started at around 2:30 this morning, and it is believed to have started from inside a laundry room. That fire quickly spread to 3 nearby structures, and the fire officials say that a huge contributing factor to the quick spread of the blaze were the thatched roofs on the buildings.
These 3 buildings were occupied by guests who had booked for the tourism high season, and the quick thinking of the security guard on duty allowed for the resort staff to alert their guests and get them out of the rooms with most of their items intact.
One business owner whose property is in close proximity to Exotic Caye Resort, spoke with us off camera about how he and others helped to put the fire out within two hours' time:
Business Owner
"I received a call at 3:30 in the morning and it was my waitress who lives across the street saying the resort was on fire. Then I asked her if my restaurant was on fire and she said no and I said I was on my way. When I arrived, both fire department's fire trucks were on the scene as well the fire department personnel and San Pedro police department. They were at the time trying to put out 3 buildings that were on fire and there were flames shooting 15, 20 foot in the air at the time when I arrive. At that time, we started to assist as much as possible without being in the way and the fire department, the police department and all the volunteers were able to take the fire under control and put it out. After it was all completed, speaking to one of the volunteers - the way it was found was; He was driving home about 2:30 in the morning and saw smoke coming from the laundry room, which time he immediately called 911 and requested their assistance. He proceeded to come on the property and located the security guard, which time both of them went banging on all the doors and waking all the guest and telling them to evacuate the building, so there was no harm to the people. Thankfully there was no personnel that was injured that were staying in the hotels. There was policeman that I know of who was assisting the fire department who received a pretty good gash to his hand and he will probably require some medical attention. And thankfully the one patrol man had the smarts enough to see that my restaurant has a propane tank on the side of my building and it was starting to heating up from the flames - at which time he and another gentleman moved the propane tank and took it across the street."
The resort manager and his staff have since been able to make preliminary inspections of the damage caused by the fire, and they report to the San Pedro Sun Newspaper that the estimated loss is in the vicinity of about 600 thousand dollars. None of the buildings were insured. The guests were relocated to other resorts on the island, whose staff and managers wanted to assist Exotic Resort in trying to manage this crisis. The San Pedro Sun reports that the principals of the resort will commence rebuilding efforts as soon as they are able to.
San Pedro Police Will Have Community Meeting
(posted on Wed Feb 25, 2015)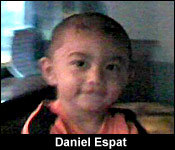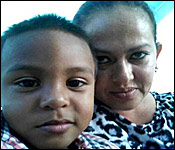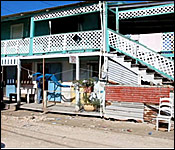 The community of San Pedro continues to be outraged at senseless murder of the 2 year-old toddler Daniel Espat, who was killed in his bed as he lay beside his mother and father. Well, police aren't making much headway, and so, they're appealing to the community, especially residents of the San Pedrito area, to come forward and give them information.
Commanding Officer Luis Castellanos told us this evening, that the investigation is somewhat stalled because they have no leads. So, San Pedro Police has a community meeting scheduled tomorrow in which the residents are being invited to come out and voice their opinions. Castellanos is hoping that the meeting is a step in the right direction to restore the public confidence in the police so that information about this and other open murder investigations can move forward with the help of informants within the community.
As we reported, the two year old baby Daniel, was sleeping with his father, Rolando Espat Sr., and his mother, Aleyda Sandoval in their apartment in the San Pedrito area yesterday at around 2 a.m. That's when someone sprayed the house with bullets which penetrated the door and the walls. Baby Daniel was hit twice in the head, and he was pronounced dead on arrival at the San Pedro Poly Clinic. His mother, Aleyda Sandoval was hit in left elbow, and the bullet traveled up to her shoulder. She's receiving medical treatment at the KHMH.
With the death of Baby Daniel, Rolando Espat Sr. has lost 4 sons, one nephew, and a brother in law to violence, 5 of them to gun violence. Police believe it is the result of a drug war on the island between two rival crews battling for control and possession of drugs that float up on the north end of ambergris Caye.
Man Charged For Knocking Down and Killing Pablo
(posted on Wed Feb 25, 2015)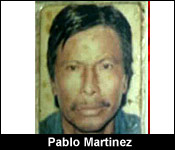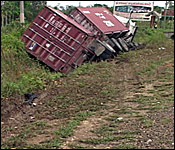 As we reported last night, accident victim 58 year old Pablo Martinez died of a heart attack 12 hours after he was knocked down by an 18 wheeler. Before this tragic news, the driver Levi Figueroa was served with a notice of intended prosecution but now that Martinez has passed away, Figueroa has been charged for manslaughter by negligence, driving without due care and attention, failed to keep as close as possible to the right hand side and death by careless conduct. He met bail and is scheduled to re-appear in court in May.
A Titanic Waste of Time
(posted on Wed Feb 25, 2015)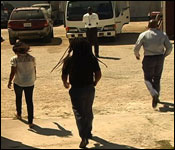 The Magistrates' Court has ruled that Bahamian securities traders Rohn Knowles and Kelvin Leach were stopped prematurely by police who were trying to stop them from leaving the country. Local Law enforcement were cooperating with agents of the US Government who were trying to prevent both men from going back to their home country. They have been indicted on grand jury charges in the US for securities fraud in which it was alleged that they participated with 4 others in defrauding the US Government of a billion dollars in tax revenues.
Viewers may remember that on September 12, of last year both men tried to leave the country on a chartered flight, and when they went to check in at the Phillip Goldson International Airport, police detained them. That was around the time when an extradition request was being prepared, but hadn't come as yet. So, both men were charged with failing to declare funds over 10 thousand dollars while leaving the country. Informed observers concluded that this was a holding charge to stop the men from leaving while the formal documents for extradition requests were being finalized.
Since then, the men have been fighting their case in the Magistrate's Court, and as we've reported, the Financial Intelligence Unit's case has been steadily falling apart. They were unable to get the money that the men allegedly had in their possession at the time admitted into evidence against them. After 12 witnesses were called, their attorney, Godfrey Smith, made a no-case submission on their behalf, asserting that the prosecution failed to establish a case against them.
Today, Senior Magistrate Sharon Frazer delivered her judgment in which she ruled that the men did not commit the crime of failing to declare because the police who intercepted them, acted prematurely. The men didn't clear all the immigration checkpoints as yet, so they did not break the financial laws at the time they were detained.
So, the charges were struck out, and 7News was there to get a reaction from their attorney. Here's what he had to tell us: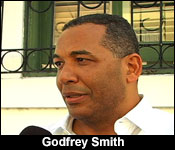 Godfrey Smith, SC - Attorney for the Defendants
"In truth it wasn't a complex decision in my view nor a complex case, although it was a drawn out case with over 12 witnesses. But at the end of the day as the judge rightly pointed out, the whole case turned on whether the gentlemen were guilty of failing to declare sums in excess of 10,000 dollars. The prosecutions own witness said, that you're deemed to commit the offence after you've cleared all the official checkpoints - namely airport authorities' counter and immigration counter. If after that you don't declare, then you've committed the offence. And this wasn't the case. The judge rightly pointed out it was entirely premature."
So, now that Knowles and Leach have managed to get past this hurdle, they must now fight the extradition request which was finalized in the time they were fighting the failure to declare charge in the Magistrate's Court. How will they do that? Well, their attorney says that just in the same way that the local police made errors with the interception at the airport, he asserts that police made critical errors in gathering evidence for the extradition hearing. He told us that the defence against the extradition request will start from that point when that day in court comes: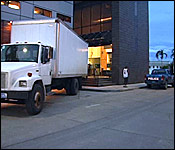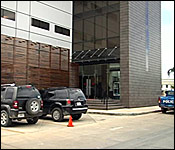 Godfrey Smith
"The real story here - this was a fore gone conclusion the result of this case. The real story here is that the state has acted in an extremely oppressive manner in relation to these people. You will recall around September 9th, there about of last year; Police swooped down on these gentlemen's office, seized all their documents, froze all their accounts, and eventually detained them in prison. What has happened since, first of all, the courts have found that their detention was completely without authority - so they have been unlawfully remanded and detained at Hattieville prison. Secondly, that their monies were unconstitutionally and unlawfully frozen. Thirdly, that their documents and all their documents for their clients were unlawfully seized and had to be returned. I say that to say this, that damaged loom very large in this case because of all of this. These gentlemen business has been shut down completely - and the court has found unlawfully and wrongly so. So having gotten over this final stage, the extradition request has been made and is pending before the court. But this is what I have to say, that extradition request is based on information put together unlawfully, illegally, after they have illegally seized the documents and all the computers. Had it in excess of 2 and 3 months and use that information to create an extradition request, to form the basis of an extradition request. That might be permissible in the United States, from which this entire operation is being directed, it is not permissible under the common law system. You cannot use unlawfully, illegally obtain evidence to form the basis of charges you're going to bring against anybody for extradition. So we intend to attack this at the very root at the very first opportunity."
Daniel Ortiz
"The observation has been that this was just a holding charge to make sure that your clients can't leave the country - even though this case fell a part. Is it a correct view that the Belizean authorities acted to assist and they did assist by bringing this charge?"
Godfrey Smith
"That is my uncompromising view."
3 days before, ADU personnel cleaned out the offices of Titan Securities International of every single document.
Pressing The Political Panic Button
(posted on Wed Feb 25, 2015)
We're now down to just days before the municipal elections and this is when the political operators in both PUP and UDP camps turn up the panic.
The PUP sure did that today when it sent the Chief Elections Officer a three page letter expressing grave concerns about the Belize City Returning Officer's decision to simultaneously count the city's 85 ballot boxes at 10 different counting stations. They are usually done in aggregate at the ITVET compound, but returning officer Hugo Miranda decided to do it differently. He told the political parties that he will oversee operations from the Elections and Boundaries office. But the PUP says that the letter of the law requires that as returning officer he has to unseal all the boxes himself – and can't delegate counting clerks to do it at the ten counting stations.
Now, Miranda's approach is far more efficient, and it would mean that the counting in Belize City would be finished possibly as early as 10:00 pm – when normally it finishes until morning of the following day.
But the PUP warns that, quote, "the counting process…is rife with possibility for confusion, chaos, mistake and inaccuracy" end quote, and calls on Returning Officer Miranda not to go ahead with his plan.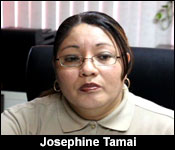 We spoke with Chief Elections Officer Josephine Tamai this evening and she told us that her office sent a list of all ten counting stations to the PUP on the 17th of February – and the party made no objection. Tamai says that the plan set up by Returning Officer Miranda is sound, and will ensure accurate and speedy results in Belize city. She added that it was also counted using this method in 2009. She also stressed that it is expressly legal under the principal act for Miranda to delegate counting clerks to assist in the conduct of his duties, and that they shall have all the powers.
And while she was precise on that, Tamai could not make any specific comment on a breathless complaint coming out of the UDP in Cayo about their returning officer. He is Lennox Bradley, the chief Engineer at the Ministry of Works. They claim he had lunch today with Dan Silva, the PUP Standard Bearer for Cayo Central. Now, we live in a free country, and it's also a small country where people of all different backgrounds rub shoulders on the regular. But the UDP in Cayo say that it gives the appearance of bias – and some unofficial operators we spoke to say they will push for him to be removed.
The Chief Elections officer said she only heard the complaint verbally and can only consider it if and when she gets it in writing.
Selling Tablets Like Pills
(posted on Wed Feb 25, 2015)
In last night's newscast we told you about the over 500 tablets that government distributed to university students. The students we saw were busy trying out their tablets, but at least one of them is giving in to the pull of the marketplace. We found this facebook post today from one of the students who has put his on sale. It offers, "ASUS memo pad 7, sealed in box, for sale or trade for anything of reasonable value..(and that) it needs to go as soon as possible." We called the contact number and the seller told us that he's selling it for 150 Belize dollars and he has more on offer. Now it might seem a cynical twist on a positive initiative, but Minister of Education, Patrick Faber is unfazed. He commented on FACEBOOK today, quote, "There is no other indication that our students are engaging in selling their tablets. As to the post, it is clearly some hater who wants to try and diminish the wonderful success of the government's initiative."
A new 16 gig ASUS 7 tablet sells new on Amazon.com for 140 US dollars.
Mexico Wants A Trade Agreement With Belize
(posted on Wed Feb 25, 2015)
Mexico's new Ambassador to Belize Carlos Quesnel presented his credentials to the Governor General three weeks ago. Since then, he and a mostly new senior team at the Embassy have been familiarizing themselves with Belize – a country that calls Mexico its second best trading partner.
Belize's exports to Mexico grew by over 100% in 2014 – which we would say is attributable mostly to cattle exports. And, the Mexicans want the trade relationship to expand. At a media breakfast this morning, Ambassador Quesnel said that they want a trade agreement – and that comes form their President:…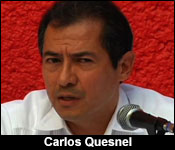 Carlos Quesnel - Ambassador of Mexico to Belize
"The present government, headed by President Enrique Peña Nieto, is focusing strengthening our relation with Belize as neighbours and strategic partners. The embassy will work closely with public and private sectors of both countries to facilitate reaching a trade agreement with our countries. Mexico is already the 2nd supplier of foreign products to Belize and there is no doubt a commercial agreement would force and integration between both countries. Mexico also wants to increase it's presence in CARICOM countries. What a better way to do it than through Belize."
Quesnel also discussed the Belize – Mexico border. It was radically revamped with the opening of the Chactemal Bridge in mid 2013 – but getting across the border isn't much easier. The Ambassador says he wants to improve that by equipping more Belizeans with Regional Visitor Cards – which allow Belizeans to move freely into neighboring states of Mexico for three days with a minimum of hassle. He says presently over 90% of the cards that are in circulation in Belize were issued to residents of the northern districts – a statistic he wants to change:…
Carlos Quesnel
"In order to have more grossing, we are working at the embassy particularly at the border - very closely with Mexican authorities to make the crossing process a more expedite and seamless experience. Today to facilitate the process, we have the regional visitors' card, as you may know. This card is a document which helps Belizeans visit neighbouring states in Mexico. In 2014, more than 8,000 cards were issued - that's a 94% increase compared to last year. The card are easy as the immigration facilities for Chetumal reach. It's also interesting to see, that 93 of these cards were issued by residents of the border districts of Corozal and Orange Walk. That's why we are currently working with our Mexican authorities, so that hopefully in the future, the regional visitors' card could be also in Belize."
Ambassador Quesnel also noted that a call for 25 scholarships in Mexico will open in May of 2015.
Ministry of Health Warns On Measles
(posted on Wed Feb 25, 2015)
Fever, a runny nose, coughing and rashes: those are a few of the common symptoms of measles – now turning up regularly in the USA where there is a measles outbreak. According to 'Reuters', over 123 people are infected in California and most cases are linked to the outbreak at the Disneyland theme park in December. Now, how does this affect us? Well according to Primary Health Care Coordinator Dr. Javier Zuniga, we are at risk but measures are in place to prevent the transfer of this disease to Belize.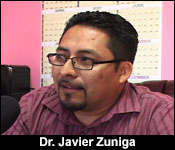 Dr. Javier Zuniga - Primary Health Care Coordinator
"The problem is that a lot of people has this mentality that if they get the measles vaccine, that their children will have autism. And that is the association some of the people in the United States have and that notion is false. So not because your child gets the measles vaccine means that your child will have autism. So they're a lot of groups in the US - minority group, like the Mennonites and some others, they refuse to give their children this vaccine. Now this is the problem that arise, you have an outbreak of measles. We are vulnerable as well, remember we not only have a lot of Belizeans living in the US, but we have a lot of tourist who come from the US as well, more than likely from the California region as well. So yes, we are at risk, but again we're always doing surveillance at the clinics, we do surveillance also at the airports. If we suspect that someone might have the symptoms of measles, then we would recommend for them to assist medical facilities as soon as possible to get the right treatment."
Belize hasn't had a case of measles since 1991. Vaccines are available at all public health clinics.
Inflation Rate Down in January
(posted on Wed Feb 25, 2015)
According to the Statistical Institute of Belize – the inflation rate in January of 2015 was down 1.1% from one year ago. This is owing to a sharp downturn in fuel prices – which also drove down the price of international airfares.
And while the price of beef, pork, fish, seafood and potatoes were up Red Kidney beans, eggs, sweet peppers, tomatoes, cabbage, and watermelon were down – leading to an overall 2.4% decrease in food prices.
Looking at the map, Punta Gorda was the only municipality to record an increase in consumer prices for the month, and that was a marginal 0.3 percent, while Belmopan had the greatest decrease, with an inflation rate of minues 1.8 percent.
Restore and Rotary Team Up
(posted on Wed Feb 25, 2015)
The students at the Queen Square Anglican Primary School got to enjoy their newly built playground set today. A ceremony was held in the school's compound to officially open the park which is equipped with swings, slides and monkey bars – a kid's paradise. Some of partners in the Literacy and Community Development project discussed how this playground will contribute of the student's social development.
The Literacy and Community Development program is a 3 year program. The cost of the playground is over $250,000 Belize dollars.
Lloyd Loving The Solo Life
(posted on Wed Feb 25, 2015)
Lloyd Augustine, you may know him as frontman for the band, Garifuna Collective, which has taken on the late Andy Palacio's torch of spreading Garifuna Music to the world. The Collective has recently been touring the world, but Augustine also has a solo career which he's nurturing.
He's released his second solo album "Yugadan" (yu gada), which features 12 songs that he's held on to for some time, but never recorded. Today, he stopped by and told us why you should pick up his new album:
The album officially launches in Hopkins on Saturday with a concert featuring some of the prominent paranda artists from the south, and Augustine wants everyone to come out. He told us that it's going to be a beach party filled with good clean fun and people celebrating Garifuna music:
Entrance to the concert is 20 dollars, and it starts at 9 p.m. on Saturday. The album itself costs 20 dollars and will be available at Teddy's Music Store and Tambran Music Store.
Home | Archives | Downloads/Podcasts | Advertise | Contact Us