Rice War 2?
(posted on Thu Feb 4, 2016)
BAHA used the long arm of the law to slap down importer Jack Charles the first time around - but information to 7News is that another rice war could be on the horizon - and this one could come right down to that plate of rice and beans you had for lunch today.
A senior official in the Ministry of Agriculture has told 7News that government's lawyers are dealing with a complaint brought by Jack Charles. But it's not about importing Guyanese rice; this time, it's about the quality of Belizean rice - the same one we all eat everyday. Our information says that Charles has found that local rice could be contaminated with harmful fungi - and that is the basis of this new complaint. The Director of BAHA would not return our calls our texts asking for a comment.
Apparently, Charles is getting back at government, after they banned his Guyanese rice alleging that it was of inferior quality or that it did not meet health and safety standards. We called Charles today and he only told us to look out for some major developments on Monday of next week.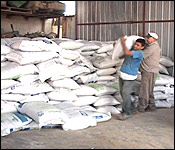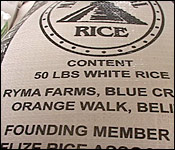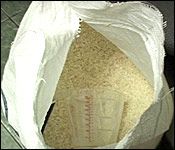 When Will Bert Vasquez Have His Day In Court?
(posted on Thu Feb 4, 2016)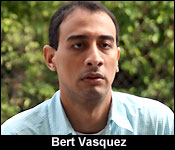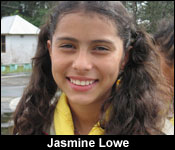 The name, Bert Vasquez, has gone mostly unreported for the past 3 years, but back in June and July 2012, he made national headlines after he was arrested and charged for the murder of 13 year-old Jasmine Lowe. It culminated in hundreds of residents of the twin towns of San Ignacio and Santa Elena camping out in front of the Police Station to him being detained, charged and criminally arraigned.
Well, since then, he's been on remand waiting for his day in court, but apart from that murder charge, he's facing 2 other cases where he's been accused of sexual offences. He went to court today for an adjournment before the Supreme Court, where it was to be decided when exactly he'll stand trial for the first of the 2 sex crimes accusations.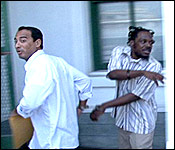 He has a new attorney, Oscar Selgado, who is taking over from Simeon Sampson, and this morning before that Supreme Court hearing, he granted the press an interview. He updated on his client's criminal trials:
Oscar Selgado, Attorney for Bert Vasquez
"There are 3 cases against Bert Vasquez presently before the courts. The first one is murder and that will be tried in the Belmopan court. A date has not been set yet and then there are 2 other cases relating to sexual offences. One of them is before the Honorable Justice Lucas. I am here this morning because that case is schedule to be set down this morning before the Honorable Judge. We will set a trial date this morning and from there we will proceed. I am looking at a date in May. April is finish on the calendar, so we are looking at May for a trial of one of the sexual offences allegation against Bert Vasquez. I have not had full disclosure yet. I have only taken over the case from Mr. Simeon Sampson, senior counsel last week and so I am going through what I have of the disclosure and then Mr. Sampson will give me the remainder documents because he has them."
Mike Rudon, Ch5
"IS there anything you can tell us at this point about the specifics of the allegations being made against your client?"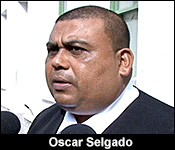 Oscar Selgado, Attorney for Bert Vasquez
"I wouldn't want to delve in that because I haven't had the opportunity to read the whole case file. So while I know it is sexual offences that he has been charge with."
It is expected that the murder charge for the death of Jasmine Lowe, which is the most serious offence Vasquez is facing, will be tried without a jury. At the time of his arrest, police were certain that they had a near airtight case against Vasquez. Well, his new attorney discussed a few details of the evidence he's seen in the police investigation file. He told us that in his opinion the prosecution only has circumstantial evidence to try to get a conviction for that charge.
Mike Rudon, Ch5
"We know that the forensic examination from the very onset was inconclusive. Something like that, would that play into your defense of your client?"
Oscar Selgado, Attorney for Bert Vasquez
"Of course. Defense attorneys crave those opportunities and I for one having looked at what the media was saying at the time when now Senior Superintendent Chester Williams went out to the media and hailed that he has the person, he had the murderer and he had so much evidence. It was all bull. There is no such evidence before the court. There is no such evidence in the hands of the police. As a matter of fact all that the police is a very thin line of circumstantial evidence and the case law is saying that the threshold upon which circumstantial evidence can be used to convict will not be met in this case. It will not be met."
Mike Rudon, Ch5
"As you said the police had gone to say that that had actual evidence, material evidence which they had found on Bert Vasquez. So that is not so?"
Oscar Selgado, Attorney for Bert Vasquez
"All of that is... None of that is in the disclosure and none of that is before the defense attorneys. So that what the police had said in the press conferences was just either to please public opinion, to satisfy public outrage at the time or merely shouting wolf."
Mike Rudon, Ch5
"We know that you have been very successful in the past dealing with murder cases. Do you feel that this will be one of those that your client will be set free based on what you've seen so far?"
Oscar Selgado, Attorney for Bert Vasquez
"I have in 2015 won 8 murder cases consecutively. There is no other attorney on the history books in Belize who have won 8 murder cases in one calendar year and I have done so because I prepare my case work, I do my ground work and I am certain, I am confident as a matter of fact that with Bert Vasquez murder charge, he will be set free."
We'll keep following his case as it goes to trial.
Two Men Shot, Not Fatally
(posted on Thu Feb 4, 2016)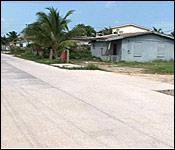 There was a shooting last night in Belize City's Lake Independence area. It left 2 Belize City men, 26 year-old's Benua Andrews and Tyron Myers, hospitalized at the KHMH.
At around 7:12 p.m., police showed up at the hospital and found Andrews, who been shot in the chest, and Myers, who was suffering from gunshots to the left knee, right thigh, and left elbow.
Today, Precinct 2 Police briefed the media about the information they have at this time on the shooting:
Sgt. Roberto Novelo, NCO - CIB Precinct 2
"Wednesday 3rd day of 2016 around 7:12pm, police visited the Karl Heusner Memorial Hospital where they saw Benua Andrews, 26 year of age of Belize City suffering from an apparent gunshot to the left and right side of the chest. Also seen was 26 years old Tyron Myers, he was suffering from apparat gunshot to the left elbow and left knee and right thigh. Initial investigations revealed that both were standing at the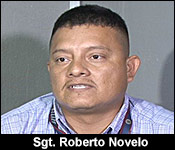 corner of Jasmine and Marigold Lane when a male person approach them and fired several shots towards their direction causing the initial injuries. Subsequently they were transported to the Karl Heusner Memorial Hospital where they are in a stable condition. We are presently continuing the investigation and we are following certain leads. We have one person detained at this time who we believe can assist us in the investigation."
This is the second time that Benua Andrews has made the news as a shooting victim. Back in January of last year, he was shot in the right side of his face, while he was at the corner of Fern Lane and Flamboyant Street.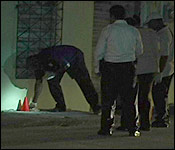 There was another shooting which happened on Tuesday, a block from our studio on East Canal between Dean and Prince Streets. We asked Sergeant Novelo about it, and he told us that no one was injured, and since there was no complaint, there is no criminal case on it:
Sgt. Roberto Novelo, NCO - CIB Precinct 2
"We have information of shots fired in East Canal area between South and King Street. However we do not have any complainant and we understand that two male persons on bicycles fired shots. That's all we know."
Reporter
"Was anyone injured?"
Sgt. Roberto Novelo, NCO - CIB Precinct 2
"Not to our knowledge."
Northside Cops Find High Powered Weapons in Gang Turf, Hold Out For Arrest
(posted on Thu Feb 4, 2016)
Belize City northside police found two high-powered firearms - but tonight they say they aren't releasing pictures until they make an arrest.
The 40 and 45 caliber weapons were found in this apartment building on Handyside Street sometime this morning.
Those are prohibited firearms, but police aren't declaring them as found property right now because they are first trying to lift some fingerprints off them. That's because intelligence says the guns are linked to the nearby Majestic Alley gang. The guns were found concealed in a stairwell, which is used by many people in the apartment building.
A Tec-9 In A Tiny Village
(posted on Thu Feb 4, 2016)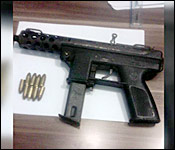 Orange Walk Police also made a gun seizure today. They received accurate intelligence, and at around 1:30 this afternoon, they went to an area in San Pablo Village in the Orange Walk District.
They canvassed the location and found a black plastic bag under a rotten log. When they opened it, they found this black 9mm Tec-9 semi-automatic pistol.
Since they couldn't tie it to anyone, it was deposited as found property.
From Melchor Jail To Freedom For Kayla
(posted on Thu Feb 4, 2016)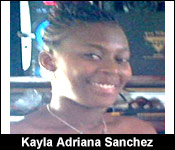 Since Monday, we've been telling you about the plight of 25 year-old Belizean Kayla Sanchez who was arrested in Melchor, Guatemala. Well, due to the successful intervention of the Ministry of Foreign Affairs, she has been released without any conviction, and after the transfer documents are complete, she'll be allowed to come home.
As we told you, she was detained this weekend in Melchor for the theft of a cellular phone. She was then arrested and charged with aggravated robbery due to a report that she was found with a knife. Because of that knife, which is taken as a sign of aggression, she got into more serious trouble, and she was risking 6 months of jail time if she was convicted.
After spending 3 nights inn Guatemalan state prison at San Benito, Peten, she was taken before the Chief Magistrate who has jurisdiction for the Department of Peten. By that time, Foreign Affairs Diplomat Said Guerra had been on the ground personally interceding on her behalf. She had a difficulty with the language barrier, and he took over as advisor and translator. Before today's hearing, he met with the Guatemalan Chief Magistrate and successfully convinced him that Kayla was not violent or aggressive, and so the nature of the crime should be downgraded. That argument was successful especially due to a confusion in the wording of the police report related to the topic of the knife she was allegedly caught with.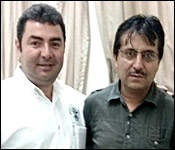 They also talked about the improvement of relations between Belize and Guatemala, the confidence building measures between both countries, and the implications of jailing Sanchez in that wider context.
Guerra then spoke with the complainant who was accusing Sanchez. Her accuser later agreed not to press charges against her. So, she got off basically, scot free, no guilty plea, no jail time, and she didn't have to defend herself in a criminal trial for the charge. The only consequence of this incident for Kayla Sanchez is that she is banned from returning to Guatemala for an entire year.
They are expected to leave Peten and arrive on Belizean soil in Benque Viejo Town by tomorrow.
Kaya Speaks Up For Lady Cyclists
(posted on Thu Feb 4, 2016)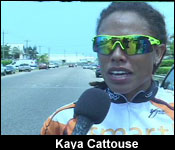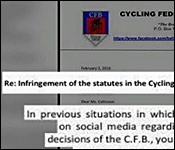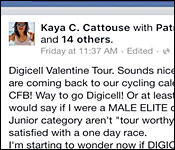 Kaya Cattouse is a well-known elite Belizean cyclist. But, tonight, she's up in arms with the Cycling Federation of Belize. That's because she is alleging sexual discrimination on the part of the federation and one of its biggest sponsors - BTL.
It all started with a stinging post on Facebook regarding the upcoming Digicell Valentine Tour. Kaya posted, and we quote, "The tours are coming back to our cycling calendar. Way to go CFB! Way to go Digicell! Or at least that's what I would say if I were a MALE ELITE cyclist. Female and Junior category aren't "tour worthy"….I'm starting to wonder now if DIGICELL is partnering with the federation and discriminating against riders based on their age and gender." End quote.
Kaya continued with her angry tirade by threatening to convince her fellow riders to switch to SMART.
But the federation is not taking it lightly. On Monday they sent her this letter explaining that her actions are in breach of the following code of conduct: respect for others, respect for self and respect for the cycling federation. We note that a section of the code of conduct says that the signatory shall refrain from any actions that might bring the federation into disrepute. The letter ended with a stern warning that said, quote, "Failure to cease and desist will result in a fine and suspension."
When we approached Kaya for a comment she was reluctant to speak with us, fearing victimization. Deon Leslie, the president of the Cycling Federation also declined to speak on camera but told us via a telephone conversation that quote, "She can be vocal all she wants, she has the right, but in that same breath you must remember that you are a registered member of this federation and you must respect our constitution and our code of conduct which you signed." They claim that the main reason why the female and junior riders have not been included in this tour is due to a lack of finances and has nothing to do with calculated attack on female and junior riders.
The Cycling Federation also noted that it had issued Kaya previous warnings about her angry posts. The situation has picked up quite a bit of traction on social media. Meanwhile the federation says that it will continue to do what it can to protect its sponsors.
Frank Vasquez Verdict Pending
(posted on Thu Feb 4, 2016)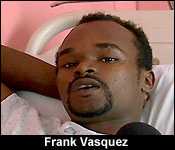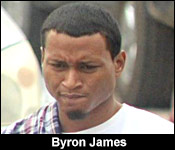 A judge will decide whether Byron James killed Frank Vasquez. James is accused of killing Frank Vasquez in May of 2012. Vasquez was shot multiples times to the head, shoulder, back and mid-section.
His sister testified saying that she saw James riding away after her brother was shot. But James's attorney, Oscar Selgado submitted that she saw James from a distance and added that there was no identification parade conducted by the police. The trial concluded yesterday and the prosecutor is Kileru Awich.
Justice Troadio Gonzalez has reserved his ruling for next week at a date to be announced. James remains on remand at the Belize Central Prison.
Trio Villagers In Land Stress
(posted on Thu Feb 4, 2016)
Right now, a large number of Villagers from Trio in the Toledo District are in distress. They risk losing their homes and their farms because the current owner of the land they've been squatting on has showed up demanding that they move or pay for it.
We understand that it is large tracts of farm land, which used to belong to the Thurton Estate, but has been acquired by a Chinese businessman.
The villagers have been staying there for over 20 years - some of them claim that they've been there for 25 to 30 years. They've cultivated the land and built their homes on it. These same residents say that successive Governments have promised to regularize the situation on by acquiring they land on which they are squatting, and giving them access to titles for it. But, that never came, and the Chinese businessman has now showed up, and we're told he's telling them that they either need to pay him 20 thousand dollars in compensation, or else, they have to move.
Our colleagues from PG TV spoke with a few of the residents earlier this week during a meeting they held to discuss how they will address this problem. Here's what these residents had to say:
Maribel Garcia, Concerned Villager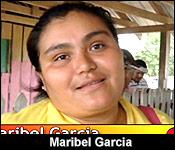 "I have 25 years living here in Trio Village. My mother is one of the affected persons from the Chinese man."
Reporter
"Why is everybody here today?"
Maribel Garcia, Concerned Villager
"Well, we are meeting here to see if we can have a reason to solve this issue that we have with the Chinese man on the land that the people are working on."
Reporter
"We understand that the Chinese man just showed up in the village and say the land belongs to him."
Maribel Garcia, Concerned Villager
"Yeah, that's true without showing no paper, no documents, so that people can see."
We spoke to their Area Representative, Mike Espat, this evening, and he asserts that the Land Department has known about this issue for a long time now, and he says that his hands are tied in trying to assist them. He said that the only fix he can foresee for this problem is that if the Government acquires the land and pays the business man for his property.
We tried to reach officials at the Lands Department for comment, but we were unsuccessful, we'll try again tomorrow.
Baby Drowned In Bathtub
(posted on Thu Feb 4, 2016)
A one-year-old infant drowned when she fell into a bathtub that was filled with water. The incident occurred at a home at Camp 51 in the village of Indian Creek Orange Walk. Reports are that around 10:15 yesterday morning the child wandered inside the laundry room where a large bathtub was located. She fell inside and drowned. Her older brother would later find her dead inside the bathtub. Orange Walk Police say they are not suspecting any foul play and are categorizing it as an unfortunate accident.
BTL Working Through Its Difficulties
(posted on Thu Feb 4, 2016)
Just a couple weeks after BTL slashed its calling rates, hitting an all-time low of 47 cents…bam! There entire short code system went down. That meant thousands of customers were unable access simple services like checking their credit balance, buying bundles, and other essential services that sustain the mobile experience. Today there system is back online, or at least partially.
Today we spoke with Gale Malic, the Senior Public Relations Representative at BTL, who gave us an update on the status of their short code system.
Gale Malic-Ozeata, Senior Public Relations Representative - BTL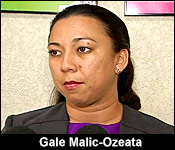 "Our shorts codes are back up as of Monday afternoon. We notified our customers via social media pages, we sent them a text blast. We also did call in to the radio shows to let them know that most of short codes are working. The ones that they use the most, which are the 135, the *22 and *20 to check your credit and add credit. Our *100 for the 100 ways promotion; the *767 to buy and check text bundles and also the *932 to but the 2G plan. The *638 to buy the night shift plan too. So all those are working. So what were able to do in a span of one week, we were able to restore on the servers that went down that supports these short codes. We have a second server currently down which we are working on to restore and we hope to have that restored by the end of next week."
Reporter
"What will the company do to prevent this from happening again?"
Gale Malic-Ozeata, Senior Public Relations Representative - BTL
"What we are doing right now is that we are looking to putting redundancy plan - a backup plan using probably our same USSB codes, like for example when the system went down, we had a 72# which could be used to check account balance instead of the 135 which was down at the time. We are looking at putting in USSB codes for the other short codes. The double up that we are having today is to say sorry for the inconvenience. We've also extended our 100 ways promotion for the entire month of February. This is to say thank you to our customers for their patients and understanding."
But while BTL is strapping down on the short code system failure, there is another issue that costumers have been railing about. That is the often congested 4g services. Here is what Malic told us about that.
Gale Malic-Ozeata, Senior Public Relations Representative - BTL "On that we will have a formal statement at the end of the month. But we are currently doing improvements to our network and we are doing testing at this time to see how those improvements are going and we continue to do the upgrades to some of the other systems as well. But a more formal statement will be shared with the media at the end of the month on that."
BTL says that there has not been any significant drop in revenues from their services, which the company takes to mean that their customers are maintaining their loyalty as the company works through its difficulties.
Belize Survivors Playing a Part In Global Cancer Awareness
(posted on Thu Feb 4, 2016)
World Cancer Day is being observed today and the focus is on awareness and prevention. Belize is playing its part in the global coverage by being featured in a video produced by the World Health Organization. IT features stories from Jamaica, the Philippines, Uganda and Belize - and here is an excerpt:
You can see the entire video later tonight on Channel 7.
Higher Standards For The Lower Court
(posted on Thu Feb 4, 2016)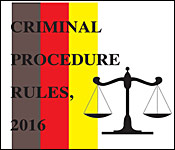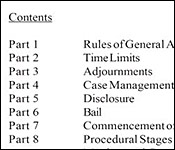 In this year's Ceremonial Opening of the Supreme Court, Chief Justice Kenneth Benjamin told the nation that the Magistracy Department would have a complete overhaul with the roll out of a new Criminal Procedure Rules.
It's a document in the making for a number of months, and we've been informed that it has since been rolled out since the second half of January 2016. It's an extensive document which will bring sweeping changes to the way the court handles criminal cases, and if it is followed strictly, there will be a marked difference in the resolution of criminal trials in the lower courts.
It introduces the electronic recording of trials for transcript and transparency, and for the filing of documents from attorneys electronically.
It considerably shortens the number of adjournments that a case can have, which is usually misused either by the police or the defense attorneys, and causes cases to drag on for years.
One such change requires that in cases, the first hearing must take place within 28 days of the first summons. The case files that police investigators handle must be handed over 4 weeks from the date of the first hearing, and disclosure must be given within 8 weeks. This is the document which the prosecution is required to hand over to the defendants to indicate to them exactly what they're accused of and what evidence the prosecution intends to use to get a conviction against them. Often times, when the magistrates are prepared to conduct a trial, the police prosecutor comes to court saying that he either doesn't have the investigation file, or that they've been unable to provide disclosure to the defense.
What usually happens is that the police prosecutors may be able to abuse that indulgence from the court, and cases get adjourned for long periods of time.
The document has identified those issues and many others like it, and it has sought to end that type of problem by requiring accountability of all involved in the progress of justice at the Magistrate's Court.
Mersey Coming To Belize
(posted on Thu Feb 4, 2016)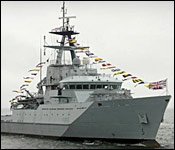 A British navy ship will visit Belize from February 6th to 9th. The HMS Mersey is on Atlantic Patrol and crew will conduct joint training with the Belize Coast Guard and BDF in boarding operations and gunnery drills.
The ship will also host a crisis planning exercise with the BDF, Coast Guard and Belize Red Cross.
The Commanding Officer is quoted as saying that his sailors will also, quote, "enjoy some rest and relaxation on Belize's beautiful beaches."
The Mersy is also taking part in the operation Trade Winds 2016 in June and will conduct counter-narcotics patrols with the US Coast Guard.
Collision in Cane Country
(posted on Thu Feb 4, 2016)
A traffic accident on the Philip Goldson Highway just before news time tonight left one man injured. The incident occurred near the notoriously dangerous Mameyal Curve and it involved a motorcycle and a white Toyota Four Runner.
We understand that the driver of the motorcycle was transported to the Northern Regional Hospital suffering from multiple injuries. Unconfirmed reports are that the Four Runner was travelling towards Corozal Town when the driver of the motorcycle, who was traveling in the opposite direction, collided into him.
Home | Archives | Downloads/Podcasts | Advertise | Contact Us