Hon. Castillo Steps Aside For Mayor Bradley In Caribbean Shores
(posted on Thu Apr 16, 2015)
Another UDP Area Representative has stepped down to make way for a new candidate. Santiago Castillo Jr - who was just elected three years ago - held a press conference today to say he wouldn't go to a convention against Mayor Darrell Bradley on June 7th. Instead, he is endorsing Bradley and returning to his family business when his term is ended. The announcement didn't come as a surprise to political insiders; they knew that Castillo had not been active in his division and would have faced an uphill battle against a Mayor whose popular at the polls. And, so, it was basically pride of place that was keeping him in the game - but pride can be an expensive indulgence - and today Castillo told the media that he didn't want to further tax his sole political financier, who is his mother, millionaire matriarch of the Santiago Castillo business empire, Ady Castillo. The Prime Minister made it official at UDP Headquarters this morning:..
Hon. Dean Barrow, UDP Party Leader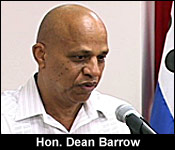 "Minister Castillo, after a long and anxious consideration, has decided that he does not wish to go forward."
Hon. Santiago Castillo, UDP Representative - Caribbean Shores
"I've had long and hard nights thinking about this decision. Something that I discussed with my family in details, especially this past weekend and it's a decision that took me a long time to make. In fact, as the Prime Minister indicated, it was solely my decision. When I looked at everything that was on the board, the main reason I made this decision is because as he said, a convention in Caribbean Shores, and I had a personal meeting with the Mayor this morning and I feel and still feel that that would have been like a Manny Pacquiao/Mayweather fight. I told him that, speaking of boxing. But I was not prepared to put my party through that situation, giving the People's United Party the edge, so to speak, in that regard. That could have divided the party. It would have taken a long time to heal the wounds and so, after discussing it with my family, I felt that the noble thing to do, was to in fact step down and give the seat to Darrell. And I will support the Mayor Darrell Bradley unequivocally in his candidacy for Caribbean Shores."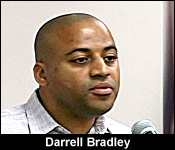 Darrell Bradley, Mayor - Belize City
"I accept the words of the Honorable Castillo with a great degree of humility, with a great degree of pride, with a great degree of knowing the burden that being an area representative would bring with it."
Hon. Dean Barrow, UDP Party Leader
"This was Santi's decision to make and it is in fact a decision that he and he alone made no doubt after consultation with his daughter and with his mother."
Hon. Santiago Castillo, UDP Representative - Caribbean Shores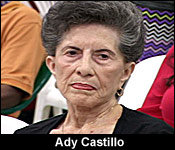 "She told me from the very beginning, son, if you want to contest it, I will support you one percent financially. For your information, in my last convention and general election, she is the person that supported me solely. I went to no one for campaign financing and she would have done it again, but she said it is your decision and at the end of the day if you decide not to do it,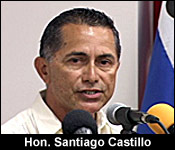 you are welcome back to the company with open arms."
Hon. Dean Barrow, UDP Party Leader
"We are grateful to his mother, for having lent him to us for a time. He's had to during this period not continue as CEO of Santiago Castillio here in Belize. But, again, Mrs. Ady, as usual, you acted in the best interest of your party. I've made it plain that I had to support Santi, not just because of the personal relationship, but because as well of his mother. Who has been a backbone of this party in so many ways for so many long years."
"One of the reasons in my view, that Santi decided not to proceed, was because while his mother was prepared to help him again, he felt that the costs to his mom were beginning to mount up in a way that had to cause him to think twice and he was determined that he would not approach another soul for campaign financing. He made it plain to me, he will never be beholden to anyone. So, he is a different type of politician. All the rest of us are beholden in some form or other. In terms of that sort of pride, he also employed that in saying to me that he is asking for nothing, in terms of his decision to step down. That is the honest to God's truth sir."
The news that Castillo Jr would be stepping down and yielding to Mayor Bradley went out last night as soon as the news was done. Castillo explained that he didn't want us to break it - so he informed his committee at the last minute via text:..
Hon. Santiago Castillo, UDP Representative - Caribbean Shores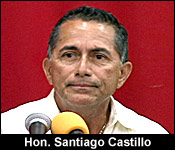 "So as to keep it from the press, I did not informed my committee until after the news last night by texts. That is how I did it. It would have been impossible to call each and every one. I would have been up to right now. So, I sent via text informing them of my decision. That's how I did it because the Prime Minister and I had discussed that we didn't want the news to get out prior to right now."
Geovannie Brackett, Reporter
"Then how are you certain then that they are prepared to support Mayor Bradley?"
Hon. Santiago Castillo, UDP Representative - Caribbean Shores
"Simply because my committee supports me and if I support Mayor Bradley, they will support me."
Geovannie Brackett, Reporter
"That would seem dictatorial."
Hon. Santiago Castillo, UDP Representative - Caribbean Shores
"We are all UDPs."
And while everyone was embracing under the red tent today - how would Prime Minister Barrow handle Darrell Bradley as a Minister - were the UDP to win a third term in office. It should be straightforward enough but the two have a history of sometimes rocky relations - and we asked about that today:...
Jules Vasquez
"He is notoriously stubborn. Notoriously hard to reach and he is still playing hardball on the issue with the sanitation workers. A decision you took - he still is saying that when summer comes, I doubt we could meet payroll. You said that to us 2 weeks ago Mayor."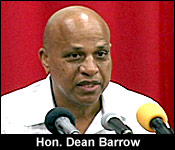 Hon. Dean Barrow, UDP Party Leader
"Well, you would have to ask him about that. I wasn't aware of such a position and your description of the mayor - those are your words, not mine. But, to be perfectly honest, we've had our ups and downs. But throughout, the Mayor has been completely respectful to me as I have been to him and ultimately at the end of the day, Mayor Bradley delivers. He performs in such a spectacular fashion, that whatever little foibles there are, in my view, ought to be very easily overlooked."
We also asked Castillo about his quite brief career in politics. The man who first came to national attention as the impresario for his band, Santino's Messengers has dabbled in many areas over the years, from basketball to cycling, and we wondered if the whole politics thing wasn't just one more jaunt:...
Jules Vasquez
"One wonders if it has not all been an extravagant waste of time, if you only spent 39 months at something you work so hard at. All of us can remember the convention initially, how much contention there was surrounding that - how much intrigue. Then the general election and all of it for just 39 months in office. You feel it has been a waste?"
Hon. Santiago Castillo, UDP Representative - Caribbean Shores
"Actually Jules, I still have time left in government until the Prime Minister calls general elections. So, it's not 39 months."
Jules Vasquez
"Okay, but the term, it's unfortunate, you are a lame duck representative. You don't have anything left to accomplish or to give really."
Hon. Santiago Castillo, UDP Representative - Caribbean Shores
"Jules, let me tell you something. I'll give you the old saying 'to have love for a day, than not to have love at all."
Castillo will still have some love to give because the Prime Minister confirmed that the Mother's day Cheer program in Caribbean Shores will be channeled through him - with the understanding that he consult with his successor. The UDP will still have an endorsement convention for Bradley on June 7th.
Brutality Victim, Andres Rodriguez, Speaks
(posted on Thu Apr 16, 2015)
28 year old driver Andres Rodriguez was beaten by police at his home in front of his wife and son on Sunday night. The video that his wife captured went viral on Facebook and made the news. As we told you one of the officers has been charged for wounding while the others have been will face disciplinary action. Well, Rodriguez came to Belize City today to tell us that outcome is not enough, far from it. He visited our studios today and gave us his personal account of the horrifying incident and told us why he thinks these officers should be sent home. His narrative of the event begins after the police officers approached him in his vehicle and broke his glass window as he drove off.
Andres Rodriguez

"Says he was beaten for no reason. When I was reaching near to where I live, I realized the police was following me and I stopped in the middle of the road. I didn't even park the car in the garage where I should have park it… and so that is when I stopped and came out of the car and suddenly the police started to hit me without saying anything…they told me nothing. When they started to beat me my only reaction was to get into my house because my house was close by. I tried to get into my house and they dropped or loosened the gate and that was when my foot got stuck in the gate. So when I was trying to take my foot out, they started to beat me with the stick in my head, I got many hits in my head until I had to fall and I was as telling them my foot was caught under the gate and I don't know if they understood me or they didn't speak Spanish but I was telling them my foot, my foot!!! …I was even showing them my foot but then they were pulling me and my foot didn't permit me to get up or to go with them."
"For me it is not enough. I want justice. I don't think they should be police officers if they treat people like that - people who do not do anything wrong and for those who do bad or who are …criminals they don't do anything to them. They are free!"
"Right now my son is like traumatized he can't even hear the ambulance siren or of the police patrol and he starts to cry or scream and my wife is the same and that is what angers me the most because it is affecting my family psychologically. They were there, they saw everything and more my son is what hurts me the most out of all of this."
Rodriguez also told us that one of the officers captured in the video even threatened to shoot him. And if that scene at his house was not enough, Rodriguez revealed today that he got another round of beating at the police station after the incident and that the officer had to be restrained. As for the woman who made the report that sparked this entire incident, Rodriguez said that she was taken to the hospital to see him and when she did she told the officers that she did not know Rodriguez. He told us that he does not know her either, and that it was mere coincidence that they were in the same area that night. Reports say she was going through a domestic dispute with her husband and was on high alert.
Half A Million Stolen From Treasury
(posted on Thu Apr 16, 2015)
Almost half a million dollars has been fleeced from the government treasury - and according to the Prime Minister, it was done by officials playing games with account numbers. He told the media today what is known so far about the scam:
Prime Minister Dean Barrow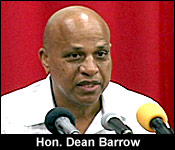 "There is some official or officials who ran some sort of scam in terms of legitimate payments for particular accounts changing account numbers while perhaps retaining the name. It seems initially the bank's only concern that the account number that was given, did in fact exist. What the FS (Financial Secretary) told me was that basically it was the bank or one of the banks that eventually realize that there was a mismatch between the particular name and the particular account number. When the Financial Secretary spoke to me, he did say that it appeared that it could be as high as half a million dollars. The police feel that there is more evidence they need, at least up to Tuesday, before arrests or an arrest would take place."
In her recently released report on the years April 2001 to March 2012, the Auditor General also found irregularities in the Government's accounts - we'll tell you why she gave an adverse opinion.
Upgraded Criminal Charge For Dr. Marco Tulio
(posted on Thu Apr 16, 2015)
PUP Orange Walk East Area Representative Marco Tulio Mendez will face more serious charges of child molestation after the DPP reviewed the file.
Months after Mendez was arraigned, the investigation file was finally sent to the Office of the Director of Public Prosecutions, Cheryl Lynn Vidal. After going over the evidence, she found evidence for another charge that the officers did not lay against Mendez.
This afternoon, DPP Vidal told us that the investigators charged him with indecent assault based on the claim that he allegedly touched these girls in a sexual manner. That's an aggravated assault, but DPP Vidal told us that one of the teenagers reported details more serious than that. She told us that there is evidence from one of the complainants which suggests that Mendez was trying to have intercourse with her.
Legally, the offence of attempting to commit carnal knowledge is more serious than aggravated assault. That means that now the case definitely has to go to the Supreme Court - previously it would have been heard at the Magistrate's level. So, that means more bad news for Mendez, who confidently declared on Monday that he will be acquitted when his day in court comes. Here are those comments again:
Reporter
"Do you remain your innocence in all of this? I mean, you are being accused of several charges?"
Hon. Marco Tulio Mendez - Charged with Child Molestation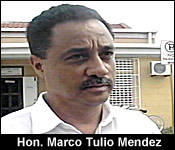 "Of course, I will prove my innocence in the court."
Reporter
"With the public, there is a different perspective of you out there sir."
Hon. Marco Tulio Mendez - Charged with Child Molestation
"But it is the court that will decide and I will prove my innocence there."
It appears that police got the directive a little too late on Monday to act on, and so the charge wasn't brought against Mendez immediately after his arraignment. We understand that investigators are waiting for his next court date of August 11, and at that time, they will bring that upgraded offence against him.
Making Internet Bandwidth More Affordable
(posted on Thu Apr 16, 2015)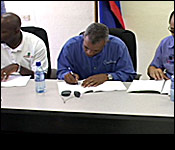 Did you know that even when you are sending an email to your neighbor right across the street - it has to first be routed through Miami? It's nothing sinister, that's just how the bandwidth traffic is routed. But now, a new internet exchange point will be set up in Belize - and all local internet traffic will be routed locally - at no cost to internet service providers like BTL and SMART. It's going through a hub at the UB Belize City Campus in West Landivar - and, in a minor modern miracle, all the major internet service providers have signed unto the initiative.
It was spearheaded by a regional group called Packet Clearing House. Bevel Wooding explained that while it may sound technical, the local exchange point it will make a simple difference in your e-life:...
Bevel Wooding, Packet Clearing House
"Now that access to sites anywhere in the world is normally done through an exchange point. Up to this day, those exchange points that you connect to that, service providers have to connect to, have been outside of Belize. What the parties are agreeing to do today is to bring, to establish, to develop an internet exchange point within Belize. So that the first point of internet traffic exchange is going to happen locally before it happens internationally. You now have a shorter distance for that traffic to go through and with most things, shorter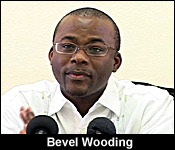 distance means lower cost. Well shorter distance also means more efficient transfer of data between customers on one network in Belize and customers on another network in Belize. What use to happen before, and this is the grave travesty that is being corrected here, is if somebody on a service provider 'A' wanted to send email, a letter, a note to somebody on service provider 'B' in Belize, that traffic would have to go all the way up to Miami or New York or California or London before it comes back to Belize. It is inefficient, it is expensive, and it leads to the unnecessary interrogation of that data by actors, foreign government or others. That is quite unnecessary. By establishing a local exchange point, the providers have agreed today to say any traffic that is destined for a local user on a local network will no longer leave Belize, it will simply go through the local internet exchange point. That means the traffic between local customers is going to move faster. Does this mean you're going to get cheaper internet service? No, it means you're going to get more cost effective internet service. ISP's can provide more local bandwidth at lower cost to local consumers. Whether that translates into special packages now becomes a question of what the ISP's choose to do on the business side. But the point is this, for the first time in the industry in Belize, ISP's will be competing on the basis of quality of service, not on the basis of who have access to the most bandwidth. And this counts for anybody who is only using local traffic of across this new free internet service provider point and that's what this is all about. That's why there's so much excitement, that's why this is such a historic occasion. You have competitors agreeing to do something unanimously for the greater good. They benefit commercially, but consumers and businesses benefit in a very real and very tangible way. It's significant that a small act in an obscure room to deal with a technology that most people don't care about is intended to trigger a cascade of benefits that will touch consumers."
Jules Vasquez
"So, is there a timeline?"
Bevel Wooding, Packet Clearing House
"There is a timeline, the timeline is as soon as possible. The actual target date for this was January 2015. So now that we have the agreement out of the way, the technical aspect of it takes only a few weeks. so Packet Clearing House will be donating the equipment that should get in here within a fourth night and then workshops will happen to tell the local operators connect to the exchange. The room has to be finalized. I believe that is also scheduled to take no more than two to four weeks. So within the next two months I would say, this should be up and running."
As we told you, the exchange point - which is really just a switch and some servers will be housed at a neutral location, the University of Belize in West Landivar. Neutral so that no company is seen to have an advantage. But it's a big boon for the national university which can now embark on new programs. President Alan Slusher explained:..
Alan Slusher, President - UB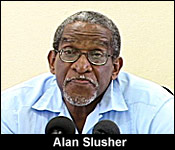 "UB is looking forward to greatly expanding its capacity to deliver training across the length and breadth of the country and directly into the homes and workplaces of our work people. Thus greatly reducing the costs of education while expanding its availability. We are looking for a great leap forward as a result of this corporation."
The local exchange point will also speed up those voice over internet calls made in Belize. You know the ones on Viber or Skype that always have a lag? Well that's because your voice is first going to Miami before it goes back to your Belizean friend who may be right across the street. The local exchange was eliminate that Miami connection as well, and should make those calls far more attractive.
Puerto Azul: Who Owns The Cayes?
(posted on Thu Apr 16, 2015)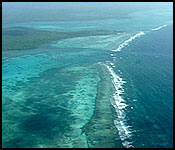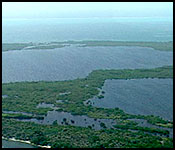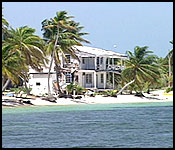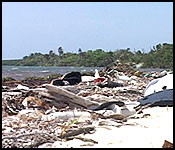 Puerto Azul, the name has been in the news for at least 8 months now. That's after it got roundly criticized by the conservation community and the Government for being too "fantastical" to be placed on the Lighthouse Reef Atoll. The first details released on the project last year was that the Italian investors wanted to build a super exclusive eight star mega resort on North 2 and Sandbore Cayes.
It got negative publicity because the conservationists say that environmentally, the size and scope of the project will affect the integrity of the natural elements of this World Heritage Site. Well, it appeared that the developers got the message, and they intended to scale it back.
Fast-forward to this morning; one American businessman, who has financial interests in the island, decided to go public with his opinions of the project and the changes that the investors are now considering.
First, there is a complex backstory to the ownership of the two cayes where the Puerto Azul investors want to put their resort. The cayes are jointly owned by two companies, known as Northern Two Cayes Company Limited, and the Lighthouse Reef Resort Limited. Those two companies are in court. On one side, there is American Jack Black who is being sued by his former business partners, 98 other Americans, who jointly bought the two islands. Then, there is businessman John Mills who bought a mortgage for the complex so that the existing Lighthouse Reef Resort could stay open. It was being foreclosed on by Scotia Bank. He's now a bondholder trying to get paid, and he has an encumbrance on the property in which the owners owe him over 3 million US dollars. So, for Puerto Azul Developers to buy the property from the two companies, he has to be paid first.
Mills has decided that he wants to inform the public about what is the real status of the Puerto Azul Development. He hosted a press conference this morning, and provided certain details:
John Mills, Debt Holder - Northern 2 Cayes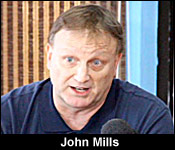 "You can understand that when I read the Belize newspaper and I saw a couple of weeks ago that they had said that the islands had been sold. That was news to me because I have a lean on the property. That is not been the case. Puerto Azul is not closed on the islands. They signed a contract to purchase Northern 2 Cayes in March 2013. The first payment was to be made in March 2014. They did not make that. The second payment was to be made in 2015 and they did not make that. The issue is that they have been 2 years into this and they failed to file an environmental impact assessment. Also, in their press releases they said that the project is in an advanced stage - that they sold 63 time shares and they are going to have 300 sold by the end of the year and that they are going to have an inauguration at Christmas. All is this is interesting since they don't own the islands right now. So, yesterday afternoon, I had a really good conversation with a Fabio La Rosa, one of the principals from Puerto Azul and I would characterized the conversation as both alarming and encouraging. I think that Puerto Azul has a true belief that they can do a sustainable project out there. I think they have their well-intended, in terms of what they are trying to do. On the other hand, I find alarming because there is a disconnect in terms of what is environmentally feasible and also economically feasible. Northern Caye is an outstanding resort side. It is viable development property that the people of Belize needs to recognize that it should be develop in a very conservation-minded way where it creates jobs, creates activity and actually some development out there will in fact help the environmental situation."
So, is Mills discouraging public support for the Puerto Azul project? That's just what we asked him today, and here's how he responded:
Daniel Ortiz
"Some persons may look at this and say that you are trying to sabotage Puerto Azul by criticizing them in this fashion. How do you allay that fear that you aren't protecting any self-interest here, that is simply for environmental aspects to make sure that development happens responsibly?"
John Mills, Debt Holder - Northern 2 Cayes
"Well it's a combination of the two. Clearly I have a financial interest, but at the same time, I am totally committed to the conservation aspect. Puerto Azul, in terms of criticizing it, as Fabio said yesterday, he really wants to do something that everybody approves of. A viable resort would do well out there and I wish Puerto Azul all the god fortune in the world to be able to conclude their contract and purchase the island and do a sustainable resort that helps everybody."
Reporter
"Why until now? You are saying you are two years into this process. Why not from the onset, from when this was mentioned initially?"
John Mills, Debt Holder - Northern 2 Cayes
"Because I have a contract. They weren't in default of the contract until March 2014."
This morning, the Puerto Azul developers released a statement which says, quote, "Puerto Azul has complied with the terms of reference provided by the Environmental Subcommittee, and environmental studies are being conducted to determine the appropriate development for the Northern Two Cayes. The final project proposal will depend on the outcome of these studies…" End quote.
Trying to swing support in their favor, the Developers say, quote, "Puerto Azul has taken and will continue to take appropriate action through extensive environmental studies and proactive measures to ensure the protection of the atoll and its ecosystems. End Quote.
PM Discusses Effects Of The US Money Laundering Money Laundering Measures
(posted on Thu Apr 16, 2015)
On Tuesday we told you about what the Prime Minister said at the Summit of the America's about the perilous state of Belize and the Region's banking industry after draconian anti money laundering measures were enacted by the US Government. He said, quote,
"there is a crisis in my own country....where the big US banks are 'de-risking' by terminating their correspondent relationships with our domestic banks." Now, if you don't know, that correspondent banking relationship is the bedrock of the international aspect of local banking - that's who the banks rely on to conduct all their international transactions, such as wire transfers. Simply put, these correspondent banks - mainly the bank of America in New York - make it possible to get money from one country to another - without them, international commerce becomes impossible.
Today the Prime Minister walked back somewhat from his characterization of it as a crisis; he said no banks have yet lost their correspondent banking relationship.
Hon. Dean Barrow, Prime Minister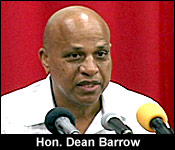 "The banks here still have corresponding banking relationships. If there is going to be some rush to the exits, it appears that first of all the international banks, the offshore banks are the ones that would be first to see the plug pulled. But even that has not yet happened, although there are these ominous mutterings, these rumblings. So while we can't fall asleep at the switch. While it is a very urgent and important matter, I don't want to overstate the case by giving the impression that the crisis has already occurred and that we're looking at the collapse of the banking system. No, not there yet, not by a long shot, we just want to make sure we never get there."
And that's the hope throughout the Caribbean and Central America - where US Banking regulations are putting a deliberate hurting on the services sector. It was discussed at the recent Caricom - US Summit in Jamaica and at the Summit of the America's. And when US President Barack Obama met with SICA, the Prime Minister says he put it very squarely to him:..
Hon. Dean Barrow, Prime Minister
"That issue was very much on the agenda. I raised that as you know, in that speech and at the SICA Caucus with Obama on the Friday. My intervention was strictly about that. Obama in responding to me made clear that apart from the issue having already been flagged, there too before in Jamaica, the president of panama, who was host of the summit and who was host, had a special one on one with Obama bilateral meeting. He had also raised the issue with Obama because what is happening is not anything confined to Belize or peculiar to Belize. The big banks in Europe and America are de-risking as you said because of all the compliance, that ticket of compliance regulations. The President accepted that if it's followed through to its logical conclusion, will completely throttle the economies of small countries. As I've said, you can't be there with all this mighty noble soaring rhetoric about prosperity and stability, if you're going to place us in a situation where our economies can't survive."
CARICOM and Central American Leaders will follow up with letters to President Obama - as they monitor progress over the next one to two months.
PM Trying To Resolve Cruise Port Dispute
(posted on Thu Apr 16, 2015)
The Prime Minister is also dealing with another prickly local matter that has international implications. That's the matter of Belize's cruise future. As we have reported, the Fort Street Tourism Village and its competitor, Mike Feinstein's Stake Bank project are in court with the Government of Belize. There is a bevy of suits and countersuits - but the PM says, he's at least gotten both sides to the table to talk:...
Hon. Dean Barrow, Prime Minister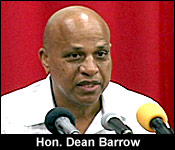 "The development is that, I had a discussion with Mr. Feinstein. Had a discussion with the Fort Street Tourism people, the two of them got together and so there is a little bit more clarity as to where we are, if not necessarily as to the way forward. Again, as to where that solution will come down - as to who the solution will favor - I don't want to be premature. I am trying to be extremely careful because any way you go, there is clearly going to be a degree of discontent. I don't want necessarily to lose FSTV. I certainly, I don't mind saying, would want to see Feinstein as the local, be able to proceed with the development of Stake bank."
Of course, the case has already gone to court. Principally, Mike Feinstein is challenging the ability of the Fort Street Tourism Village to collect tax - since, only the government can tax - and all taxes must go into the consolidated revenue fund. The PM says they may have to go to parliament to fix that:...
Hon. Dean Barrow, Prime Minister
"In terms of the case, quite frankly we expect to go to the House to legislate in terms of the so called head tax, which is a caused of contention in so far as there are arguments, so whether it is properly speaking, attacks and as to who really should have the benefits of portions of the tax, if we do called it a tax. We want to clarify that."
Reporter
"The FSTV who had retained the Barrow and Williams law firm, maybe not for you, but would that play any of those who are thinking that the PM law firm - would that play any kind of effect....?
Hon. Dean Barrow, Prime Minister
"Absolutely not and I think you all know me better than that. The company is free to retain which ever firms it wants. In fact going a little further than I intended to by telling you a little earlier, personally I would want to see the Feinstein project proceed, but I have to be careful. I do not want to lose Royal Caribbean's traffic to Belize and I certainly need to know where Carnival stands. We don't want to produce in our efforts to find a solution - we don't want to come up with a remedy that would kill the patient."
Auditor General Reports On Government Finances
(posted on Thu Apr 16, 2015)
And while the Prime Minister is playing doctor in the case, the examining physician when it comes to government's finances is the Auditor General, Dorothy Bradley. And her recently completed report for the fiscal year 2001 to 2012 gives a poor bill of health. Bradley has registered an adverse opinion, saying that the audit, quote, "does not give a true and fair view of the government's financial position as at March 31, 2012...": The reason for that is 23 commercial bank accounts which were not reconciled. Today the Prime Minister registered only mild concern:..
Hon. Dean Barrow, Prime Minister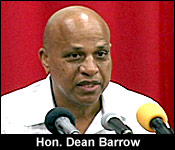 "I'm concerned that we still don't completely have our house in order, but things like a lack of reconciliation, I'm not blaming public officers. But that's hardly the sort of thing that the political directorate can ensure will take place. In terms of contracts being done after works have been performed, that's perhaps a little more problematic, in fact I would say it's a little more problematic. But again there are exceptional circumstances where you shouldn't, but you do move quickly because you feel there's a special urgency to the case. I repeat, they ought not to happen, but look, you're not talking about any case of fraud. You're not talking about any case of any politician or any public servant having made off with monies. I will be very happy that that's not the case."
Tomorrow - we'll have more from the Auditor General's report.
PM Barrow Discusses Labour Senatorís Predicament
(posted on Thu Apr 16, 2015)
We also asked the Prime Minister to weigh in on embattled Senator Ray Davis. Davis is Barrow's former classmate from his high school days at Saint Michael's - and the PM holds him in high regard. He says he too was disappointed in Davis's abstention - since he wanted the Senator to vote "yes" to the Petrocaribe Loan Motion, The union wanted him to vote "no" - but never made that clear to Davis - and the PM says it would be unfair to banish him for that:..
Hon. Dean Barrow, Prime Minister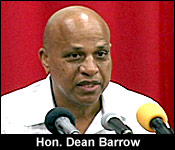 "I can't understand why some people in the NTUCB, in particular, the vice president would be going after him in this fashion, especially because he seems to be able to show that he did not receive specific instructions. If you don't instruct the man, in effect you're leaving it up to him to make his individual determination. How then are you going to fault him for the determination that he did make. It is my sense that he certainly didn't vote for the bill, but it is my sense that Ray bore well in mind the fact that public officers and teachers have benefited so handsomely from Petrocaribe. They have a seat on the National Bank through which they are benefiting. They have a seat on BIL, so that largest infrastructure projects, they are able to provide oversight for. And that while the argument is that they are 'quarrelling' with the legislation rather than with the program, in a sense the lines are blurred. And so it doesn't strike me as at all surprising that, left to his own devices, Davis didn't feel that this was something he should vote no on. I'm a little disappointed he didn't actually vote yes, but as I said, that apart he's an outstanding fellow and I would hope for the sake of the NTUCB that they don't let go of, really, a person who's a stellar performer."
Today the Belize Chamber of Commerce - whose Senator did vote "no" to Petrocaribe - sent out a release further condemning the legislation. The release says, quote, "new Act undermines and effectively reverses all efforts made by the Chamber and the unions in 2005 toward greater accountability and transparency in the handling of public funds.."
It adds, quote, "The Chamber is alarmed that the government retroactively validated what were clear violations of the Finance and Audit Reform Act 2005..."
But, trying to have it both ways, the release adds that quote, "we are all for development of the Country and are certainly not against the Petro Caribe initiative."
The Struggles Of the Fisherman
(posted on Thu Apr 16, 2015)
The Belize Federation of Fishers today launched a unique documentary about Belizean fishermen. The over 1 hour production delves into the life of 7 Belizean Fishermen, highlighting their internal struggles as fisher folk on the sea as well as external issues affecting their livelihood. We spoke with some of the starring fishermen this afternoon at the Belize Elementary School Auditorium about what this documentary means to them.
They held an AGM this morning where they got to voice their concerns to Minister Lisel Alamilla. Some of those issues include limited funding, strengthening the cooperative and establishing a mechanism to regulate fin fish in Belize among others. The federation is working on selling the documentary in DVD format.
UB Student Research Applied To Real Problems
(posted on Thu Apr 16, 2015)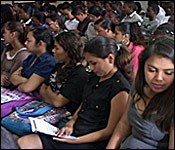 Today a group of University students presented their findings on a number of interesting research topics. They were presented at the University of Belize's Faculty of Management and Social Sciences 5th Annual Research Symposium at the Radisson. About 7 students gave a 20 minute presentation and engaged other students and lecturers in a discussion.
Now, it may sound like a puffed up version of class presentations, but according to the Dean of the Faculty of Management and Social Sciences, it's not just for show; it focuses on how these students can devise solutions to national issues and present new ideas. We met with some of these young researchers this morning and they discussed the extent of their research.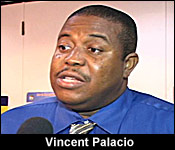 Vincent Palacio, Dean, UB Faculty of FMASS
"As the national university, it is our responsibility to do investigative work, research. To be able to answer questions of national significance. So, we have all of our students in the business program, before they graduate, they either have to do an internship or they do a thesis, which is a research. In the past we use to have thesis defense at the university where only the faculty members would listen to.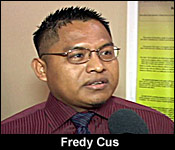 When I came on as dean, I felt it was so rich that we should open it up for the entire country. So we decided to have this conference. Five years in going, the topics are very, exciting and interesting. We added the poster component so we have posters all around that you'll see."
Fredy Cus, Research on new Antibiotic from soil
"The reason for our research was to see if we can trigger a process in how to discover an antibiotic in our country. Because Belize, as you know, is unique due to its rich natural resources. What motivated us was our class lecturer during one of our class, because we did clinical microbiology, so he motivated us by 'can discovery of a new antibiotic happen in Belize?'."
Jonmarie Young, Research on new Antibiotic from soil
"It was just a preliminary research because we couldn't really conclude on anything much. So we basically just extracted soil from our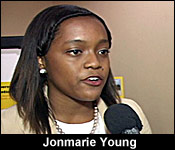 very own back yards, so it was Belizean soil and we cultured it along with the escape pathogens of lococcus aureus. This escape pathogen is one of the harmful bacteria that is slowly becoming resistant to antibiotics. So we use our bacteria against this escape pathogen and our bacteria successfully inhibited the growth of this pathogen."
Estevan Ico, Researcher, Cruise Tourism in the South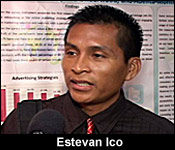 "The topic, I did a study on the perceptions and attitudes of residents from southern Belize on this proposed cruise ship tourism plan that they have for Harvest Caye down in Placencia. My findings reveal that the residents are in the neutral position, yet geared towards looking at it in a positive way. Simply saying, the majority of the residents believe that they can get a lot from the proposed cruise tourism plan that they have for southern Belize."
The presenters consist of current UB students and alumni. Other topics presented today include women in entrepreneurship, drinking and driving among UB students and a study on academic dishonesty.
PROFILE
(posted on Thu Apr 16, 2015)
Tonight we have another installment in the "I am Belize" Profile Series. This time, the profile is focusing on mediation counseling - and Claudia Groutsche tells the profile, how, by counseling others, she stumbled upon the central conflict in her own life: the conflict with her mother:..
The Telecommunications Blackout of 05
(posted on Thu Apr 16, 2015)
So, this week we are observing the ten-year anniversary of the Troubles of 2005. The country came to a standstill on April 15, 2005 - when the national phone system went down: no land lines, no cellular, no internet, no text. At the same time, there were intermittent blackouts and water service outages. For a while there it was like Belize had turned into basketcase. The whole uproar was about the Musa Administration - public funds used to cover private debts for cronies without any public knowledge or disclosure. Things really started to heat up on April 15, which is when the phone system went down. That's when government swooped in to BTL to take it over by force. Last night we showed you how that weekend ended on April 17th, with Sunday night mayhem in front of BTL headquarters. Tonight, we'll show you how it started on Friday night with Police moving in to take over the utility:...
Again, that was ten years ago, in April of 2005. Last night we mixed it up and said March, 2005 - slight confusion created by the fact that our internet archive for those dates are blank - why? Because there was no internet due to the telecommunication shutdown.
Home | Archives | Downloads/Podcasts | Advertise | Contact Us