Alleged Human Trafficker Charged
(posted on Wed Nov 25, 2015)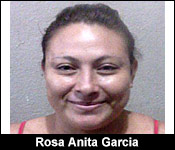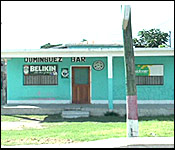 It took Orange Walk police a few days, but they today finalized the charges against alleged human trafficker, 33 year old Guatemalan Rosa Anita Garcia. She's the owner of Dominguez Bar in Orange Walk Town where she allegedly held two women – a mother and daughter – captive, and then twice forced the younger woman to have sex with bar patrons against her will. The waitress forced into prostitution was then told that if she didn't do it – her two children in Guatemala would be killed. Garcia also allegedly locked the pair up in the bar during the day, and didn't pay them anything for their work. IT's a report that has exposed the face of human trafficking – and today Garcia was arraigned on a pair of trafficking charges; these are sexual exploitation and forced labour under the trafficking in persons act. She was remanded to jail until the 27th. January. She also faces immigration charges for being in the country illegally.
BWSL Workers Win Wrongful Termination Suit
(posted on Wed Nov 25, 2015)
You may remember the 6 former employees of Belize Water Services Limited who have been battling what they believed was wrongful termination from the country's water company. The official reason was redundancy, but they were convinced that the corporate bosses were only firing them due to letters and emails which were circulated about sex scandals and intrigues within the company.
Well, today, after 2 years and 9 months, they were finally vindicated by the Supreme Court. Justice Michelle Arana has ruled that they were wrongfully terminated. That's after a full trial where their former bosses were called to testify and withstand tough cross-examinations from their attorneys.
Shortly after the judge delivered the ruling, we were outside of court to speak with one of their attorneys about the implications of the judgment: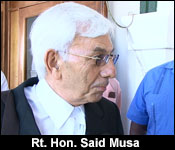 Rt. Hon. Said Musa, SC - Attorney for Mark Menzies
"Our clients were successful, all of them in their case against BWS for wrongful termination of their services. In other words they were wrongfully dismissed why the water company but the judge ruled in their favour and left the issue of damages to be assets at a later date."
Reporter
"No idea when that date will be?"
Rt. Hon. Said Musa, SC - Attorney for Mark Menzies
"No, I can't say."
Reporter
"Now of course this is a huge victory for your client, can you tell us about it?"
Rt. Hon. Said Musa, SC - Attorney for Mark Menzies
"Indeed it is, we've been waiting for over 2 years now since they were all terminated from their service and they have been very patient, they all gave their testimony in court and we expected the outcome today and I'm very happy for them; because really the BWS treated then very badly. They were being wrongly accused of being involved with some scandalous letter that was being circulated in the office at the time. And there was absolutely no proof of any of them being involved. Whereas the CEO of the company actually went on record pointing out that action would be taken against those people and they were the victims of this whole thing."
Reporter
"Reasonably though what can be expected as redress, do we expect that they would be return to their jobs?"
Rt. Hon. Said Musa, SC - Attorney for Mark Menzies
"No, in the law, service of an employee is one area in which the court is very loaves to have reinstatement of service. They would normally award compensation and damages and this is what will happen in this case."
Reporter
"In terms of cost of court, will that also be decided?"
Rt. Hon. Said Musa, SC - Attorney for Mark Menzies
"That was awarded in favour of the claimants."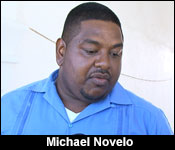 Michael Novelo - Sued BSWL
"It actually feels a sign of relief knowing that we have sent a message to the company that we are not here just for you to shub around."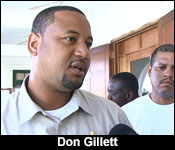 Don Gillett - Sued BWSL
"I just want everybody out there to understand and to see that the buck doesn't stop at your union. Ms. Barnett here was the general secretary; we were basically abandoned by our union. As opposed to just lying over and taking it for what it was, I want the public to see that there is another route or there are other things we can do to protect yourself and clear your own name."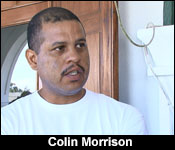 Colin Morrison - Sued BWSL
"I had a wife who was very ill and using the insurance at BWS. I'm not working there for almost 3 years and she passed away this year."
Reporter
"You lost the insurance you say?"
Colin Morrison - Sued BWSL
"We lost the insurance and so we couldn't afford the medical treatment she was getting, so eventually she lost the battle."
Interestingly enough, these former employees have recounted to us their difficulties after being kicked out of BWSL. Journett McKoy, seen here, told us that he couldn't keep a job after he had been hired because his former employers at the water company gave them bad recommendations to their new would-be bosses. He told us that he been hired by one company, and he did everything they asked only to be fired a few days into the new job, after the new boss checked with their former superiors. Colin Morrison, told us that his wife passed away after a long battle with sickle cell anemia. They were able to pay for her medical treatments with the help of his insurance coverage when he was employed at the company. When he was terminated, he and his wife could not afford these treatment, and she passed away in August after her health deteriorated gradually back in 2013.
Unemployment Is Down, 6K new jobs
(posted on Wed Nov 25, 2015)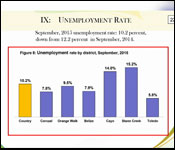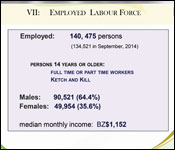 Labour Force Surveys are carried out in April and September – and usually these figures reflect seasonality of the labour force – meaning that in April when tourism is still in season – the unemployment is low – but in September, when the season is off, the unemployment is high. But this year is unusual because the unemployment figures released today show hardly any difference between April and September. The Statistical Institute of Belize released the latest figures – and they show unemployment at 10.2% in September, meaning 5,900 more people were working when compared ot last year at the same time. The Director General said that the increased employment of women is what's bridging the gap:…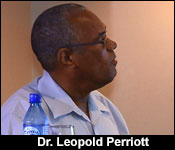 Dr. Leopold Perriott - Director
"As far as the unemployment rate, we estimated a 10.2% in September, that's the current estimate. The country has a couple highs, a high 15.2 in Stann Creek and 14.0 in Cayo. This compares with September 2014 for the country, this is a 12.2% in September 2014, so it's down by almost 2 percentage points. But when I look at the numbers, I think the females are driving these numbers. Unemployment is down for females, the unemployed persons are down by 3,039. I think the females are the ones who are driving the decreasing in unemployment rates."
We'll have more statistics from the S-I-B later on in the news – as they tell us about GDP contraction in the third quarter….
"Chesquire?"
(posted on Wed Nov 25, 2015)
Since July, Senior Superintendent Chester Williams the police officer trying to tackle the gang violence situation Belize City through Community Policing. Well tonight, meet Chester Williams, the attorney. He was called to the bar today, meaning he is officially admitted to practice law by the Chief Justice. His senior, Edwin Flowers made the application in court on his behalf.
And, it's not only a big deal for Williams, who becomes on the 7th police officer in the Department's history to be called to the Bar. To note the importance, His Minister, John Saldivar, and his other boss, Police Commissioner Allen Whylie, both attended, along with the top brass of Police Eastern Division.
After he had taken the oath a legal practitioner, and he had signed the documents finalizing it, we met him outside of court to discuss his elevation.: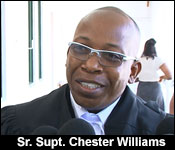 Sr. Supt. Chester Williams, Esq. - Can Now Practice Law
"Thanks to all those persons who assisting me getting where I am today, including my attorney Mr. Flowers who did the honour of bringing me before the court and having me admitted to the bar and to be able to practice law in Belize. I must say that I'm humbled to be a member of this noble profession, a class of very limited people. And as I enter into this new profession, I will continue to do my best in the way I perform my duties as a police officer. And I will use my knowledge and experience to assist the Belize Police Department."
I am the only one who has been called so far and remain in the Belize Police Department. Often police officers leave to study law; they come back and normally leave the department and go in other profession. But so far I am the only one who has acquired the legal education, being called to the bar and remain as a police officer."
"I believe that my promotion is in the pipeline, I should be promoted to the rank of assistant commissioner anytime soon. That discussion has been had with the commissioner of police and even the Prime Minister himself had also assured me that I will be getting my promotion very shortly so. I await that and see where I go from there."
Williams has been in the police department for over 20 years. He says that he will continue to serve as a police officer until he reaches the age of retirement.
Inflation Down, GDP Too
(posted on Wed Nov 25, 2015)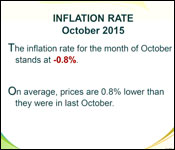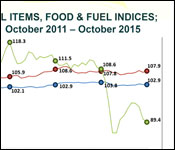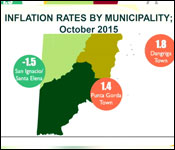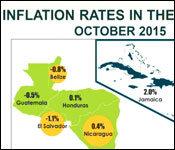 Earlier we told you how unemployment is down to 10.2% for September – which is two percentage points lower than last year at the same time. But there were also other important figures coming out of today's 80-minute press conference held by the Statistical Institute of Belize. First off, inflation was down by 0.8%, imports were up by 3.5% and in the third quarter, the economy contracted, with GDP growth of negative 1%. Here's a full rundown:
Angelita Campbell - Statistician II, SIB
"The inflation rate for the month of October stands at a -0.8% and what that is simply saying is on average, prices are 0.8% lower that of last year."
"The food and all items had very minimal movement but when you take a closer look at the fuel index, we realise since the start of this year we had an increase of fuel prices up until around June then we start seeing a decline in the fuel prices."
"Within the food index we saw beef going up by roughly 29%. There was also an increase in pork, eggs and fruits. Those increases were offset by a decline of red kidney beans of roughly 32% also a decline in vegetables."
"We look again we see that roughly 24% increase in the price of beef, liquid petroleum declined roughly 27%. There is the carrot that went down by -8%, cabbage also went down by -7% roughly."
"If you look closely you realise that Punta Gorda and Dangriga had the inflation rate growing by 1.4% and 1.8% perceptively. That can be attributed to the highest increase recorded in those two areas of rental prices."
"Finally we'll be looking at the inflation rates in the region. Within the region we have Nicaragua recording the highest inflation rate of 0.4%, while we have El Salvador at a -1.1% and we have Belize in the middle of that of a -0.8%. Closer to home we have Mexico growing by 2.5% and Jamaica at 2%"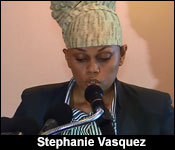 Stephanie Vasquez - Economic Statistics Unit
"In January to October of this year, Belize's imports were valued at 1.7 billion dollars, up 3.1% or 51.4 million from January to October of last year."
"Importation of machinery and transport equipment was the greatest contributor to that increase as heighten purchases of transportation and farming equipment led to a 50 million dollar growth in that category. The manufactured goods category went up by 23 million dollars, largely due to tyre and steel purchases."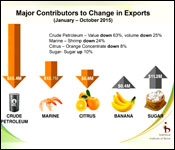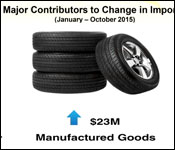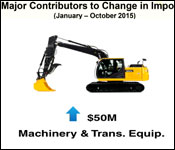 "In January to October of this year, Belize exports were valued at 477.2 million dollars, down 13.2% or 72.4 million dollars from the 549.6 million recorded for the same period."
"Major contributors to change in exports included a 55.4 million drop on crude petroleum earnings. Marine exports fell by 15.7 million dollars, as shrimp sales declined by 24% within the period January to October; additionally citrus fell by 6.8 million dollars, as orange concentrate exports dropped by 8%. Contrastingly sugar's performance has been a strong one, increasing by 11.2 million dollars; a notable 10% growth over the same period last year."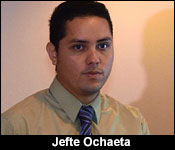 Jefte Ochaeta - Statistician I
"For the third quarter of the year production of goods and services there has been an increase fell by 1% and for the months of January to September, there has been an increase of 1.2% in total goods produced and services in the country."
"We've observed that fishing, fishing which dropped by 25.9 million compared to 2014 had the highest contribution towards the decrease in the economy. Likewise, agriculture also contributed to the decrease in the economy registering a 6.4 median decrease."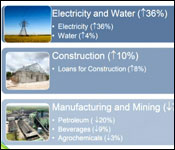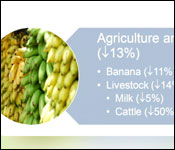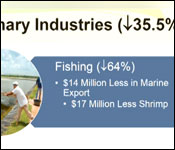 "Banana was down by almost three thousand tons, the main reason is because the year was a dry year and that affected the maturity of plants thus we have less production."
"Construction increased by 10%, we observed this increase when investigating we also found out that there is a correlation between loans that are given by banks towards construction, for construction purposes; those increase by 8%. More people are accessing finance for construction activities. This is interesting, we had 2,000 gallons less of rum production for this year; however that doesn't mean that we are not producing more rum. For the previous months we had an increase in rum production, so I am assuming that it's because these companies have in stock, that's why the decrease of production for this portion of the year. The same patterns were observed for beer where we had a decrease of 14%.
"Hotel and restaurants decrease decreased by 2%. There was a decrease in cruise visitors of 10% and overnight visitors increase by 7%. However it's notable that this 10% decrease in cruise ship visitors represents 17,000 less persons arriving to Belize for the month of July to September."
You can find all the figures at SIB.ORG.BZ .
16 Days Of Activism: Making The Message Painfully Real
(posted on Wed Nov 25, 2015)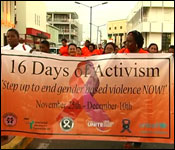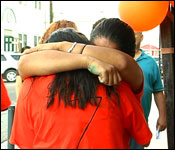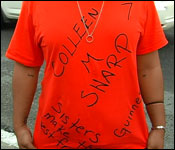 Step up to end Gender- Based Violence NOW!! That's the theme for this year's 16 Days of Activism. This evening at the Battlefield Park the Women's Issues Network launched this initiative with a candle light vigil and a march. This event is to remember the women who lost their lives due to domestic violence and to get everyone engaged on this issue. Program Coordinator Sheena Gentle explained to us that it's more than just a woman's matter.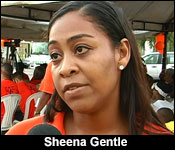 Sheena Gentle - Programme Coordinator, WIN Belize
"This year there is step up to end gender based violence now and of course this is very important and especially in this year we've seen a lot of women who have died at the hands of their lovers at the hands of their boyfriends, ex-husbands and so on. So it's very important for us to now look at it seriously and end gender based violence, end violence against women, end sexual violence. What we do need to do is advocate for policies and laws to be enforced so that perpetrators are given stiffer penalties. So that we can at least see that there is a reason for them not to do it, instead of given them a slap on the wrist and then they just let free or they're not even charged with anything. This is something that all women's organisations, even those organisations that include families, children and men, need to advocate for. It's not only a women's issue, it's a family issue, it's also a men's issue; because a lot of the times we often blame the men for these issues, however women are also perpetrators and the men are also victims. So they need to come out as well and report these cases."
"These are times that we need to highlight the issue and highlight how far women have come, however it's also a time for us to reflect and increase the impact nationwide with the young people, especially coming up. And just to bring everybody together and rally around the fact that we need to end it now."
Among the many victims of domestic violence - Colleen Sharp is one that comes to mind. In mid April she was shot twice to the head by her common law husband Mike Estell. It was a shock to her family and to the community who saw them as a very social and normal couple. But that wasn't the case. Estell shot her and then himself. It's a tragic story, one that the family – including their child - has to grapple with for the rest of their lives. We spoke to Sharp's sister at the vigil and she told us that all she can do now is give support and advice.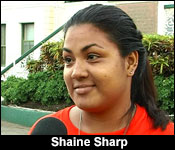 Shaine Sharp - Collen Sharp's sister
"It's still hard to deal with as of today, I feel as if it's just yesterday it happens, I thought it's something none of us would have gotten by because we were close to her and she always around the chair with everybody. And being here today I guess it just show support in the abuse and everything that done us something wrong against women. Women have a voice and they have to try make their voice be heard, my sister is not here any more, I guess this is the only way I can show support."
Courtney Weatherburne
"What message do you have for other women and for the public and men as well?"
Shaine Sharp - Collen Sharp's sister
"Speak up, talk to family, friends, get out of the situation. If it's to start over, get out."
Keisha Buller was stabbed by her common law husband Ervin Wade about 54 times in June of this year. Another brutal incident that has left a 4 year old son without a mother. Her older sister Kendra Buller told us why she had to come out to the vigil.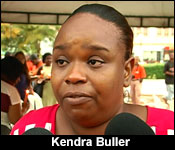 Kendra Buller - Keisha Buller's sister
"The thing is Keisha worked in Benque Veijo Del Carmen, she was there for 3 years and honestly it was shocker to us because there didn't seem to be such of a problem, to be stabbed 54 times, something has to have gone really wrong. I think it's high time women stand up for each other because sometimes it's not what it may seem and we should be there for one another instead of bringing each other down, we should stand up for each other and I have to stand in solidarity with WIN Belize for us to end gender based violence. Not only domestic violence but violence in the work place against women, becoming leaders. I think it's high time that I join the fight, I don't want my sister's death to go and nothing positive comes out of it."
The 16 days of activism ends on December 10th and there will be a number of activities across the country.
Certifying Welders
(posted on Wed Nov 25, 2015)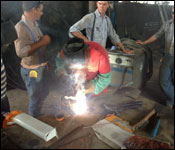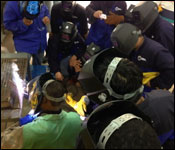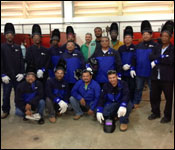 When Santander was building its sugar mill in the Valley of Peace area, more than once we reported on the flood of Central American workers being brought in to work when Belizean labour was available. But, it turned out that much of that imported labour comprised certified welders – because there aren't enough of them in Belize. Sure, we have a lot of welder, but they aren't certified.
Fabrigas Belize, sought to do something about that with the help of Belize Natural Energy and the Ministry of Education.
Through the collaboration of these 3 organizations, career welders are well into a 2 week training which will see them become certified as professionals who have met standards set by the American Welding Society (AWS). Today, we stopped by to speak with the instructor about the progress they've made: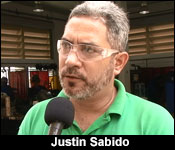 Justin Sabido - Sales Manager, Fabrigas Belize
About 3 years ago I went to all of the institutions in the country that do technical training, welding in particular and I notice that all of them needed some physical resources and human resources; physical resources being equipment and human resources being instructors that are formally trained. So all of them had the same cry that they have their welding instructors but they were not formally trained. But how could they be formally trained if he didn't have a way of doing it before? We basically are responding to this by doing this training."
Daniel Ortiz
"What will they be able to do once they get the certificate?"
Justin Sabido - Sales Manager, Fabrigas Belize
"That's the ultimate goal of this course, to give teachers the formal training and skills that they need to be able to pass it one to their students. Whether the students are novices just coming in or whether they are in the welding field for 20 or 30 years but need the formal training and need the training and technique to become certified."
"This whole training course, training the teachers, getting the students prepared, getting them certified is a part of the wider response to address the need for Belizeans to be certified so that segment of the labour market will be captured by Belizeans. That's the goal, to train our guys, get them certified, so the jobs stay at home and we get the jobs."
The training will finish on Friday, at which time these welders will be AWS certified.
Making History Matter
(posted on Wed Nov 25, 2015)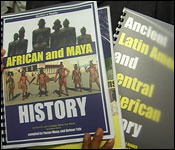 In 2013, Saint John's College embraced the teaching of Maya and African History – and today the Jesuit High School launched a fully developed curriculum for those programs. It may sound arcane, but it's a singular accomplishment for a history programme in Belize; to build it from the ground up– complete with textbooks, syllabus documents and a website in two years. Today, the head of the history department officially handed it over to the school administration, and, in fact, to the world – since everything can be accessed online. Here's how the crafters of the programme explained it:…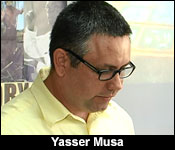 Yasser Musa - Head of History Department, SJC
"Formally presents the first form curriculum, African and Mayan history and the second form curriculum, Belizean history. To our principal of St. John's College, Ms. Yolonda Gongora; in addition to the curricula, we will also present the accompanying e-readers or books; of course these elements of education are connected to our online Belize history sjc.com website, our online classroom. These documents come from a space of burning, today we present paper but as contributions to the hard work of education, culture and history."
Delmer Tzib - History Teacher, SJC
"The main theme behind it is basically to have the students learn history from the perspective of the oppressed. We try to empower the students in the class for them to question. In other words there is a lot more Socratic methods of teaching whereby the students have the power to question whatever they want to question. In doing so, they begin to question or they begin to internalize what the colonial masters use to teach us and how that has created mental slavery in our society"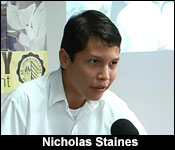 Nicholas Staines - Student, SJC History Club
"I think history is important, I love it because it is the fuel that drives us to empower more. It is the reason why people keep repeating their mistakes and why people keep going better in the future."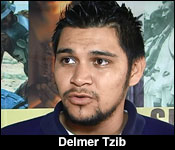 Delmer Tzib - History Teacher, SJC
"In our classrooms, they no longer see history as a pain but they see it a way or an hour and 50 minutes that is different from the other 50 from the other 6 periods that they will be receiving and that to me, regardless of scores in tests and exams, just the idea that they love it is the biggest pay."
"If you look at education, primarily today we need to adapt to the generation that we have and the generation that we have is not primarily looking at printed text and that sort of thing. They are looking at technology and we are trying to adapt technology into the programme so that they enjoy it. It is not simply about dates and memorising dates and that sort of thing, it is more about them internalising themes and understanding ideas of how society functions and how they can change society as well. So when we look at creating books, we decided that electronic books would be quite feasible to be used in terms of our school."
You can find all the resources – including the full textbooks - and background at belizehistorysjc.com.
A Birthday For The Birds: Harpy And Friends At The Zoo
(posted on Wed Nov 25, 2015)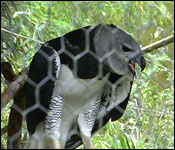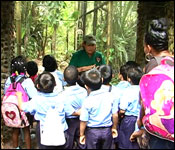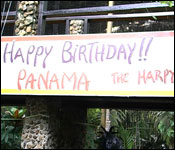 Panama the Harpy Eagle is a star at the Belize Zoo – and this very important predator's birthday can never pass without a celebration. So the Belize Zoo Team planned a party for Panama and they invited the kids from St. Joseph Primary School and a group of 1 st formers from Wesley College. But the kids weren't the only ones who came to pay Panama a visit – he also had some surprise guests who just…flew in. Courtney Weatherburne found out more....
Usually a Harpy Eagle like this would be out in the wild, soaring across the sky with its 6 foot wing span and powerful talons -hunting for prey. But this one – Panama - is comfortably perched on this tree branch keenly listening to the serenaders below.
All that singing is for his 12th Birthday, and just like every year, city kids are invited to come and celebrate with him.
But today is more than just a birthday celebration; it's an event to highlight the significance of these raptors.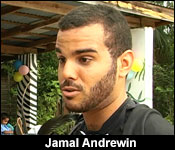 Jamal Andrewin - Environmental Educator, Belize Zoo
"So Harpy Eagles as we know are just raptors in Belize. So they represent a huge group, a category of birds, the birds of prey, the raptors that are very important in our culture as well as in the economy. As part of tourism, birding is a huge thing and it's growing every day. People come to Belize specifically sometimes just to see birds, to do birding. For them to be able to have the chance to see rare raptors like that, Harpy or Spectabilis is very significant. And then of course the role they play in out ecology is just as critical, which the raptor centre has shared with you all. With Panama specifically, there are charismatic mega fauna, they are huge birds people can really identify and connect with just because they are so powerful and so awe-inspiring. So that's Panama's roll, the boss, the top guy."
And it's because of this crucial role that they must be protected.
Jamal Andrewin - Environmental Educator, Belize Zoo
"There is a lot of wildlife in Belize City, first of all and we still find that there is a lot of conflict and misunderstanding. A couple weeks ago there was incident where some children beat and killed a barn owl in Belize City unfortunately. As we've been sharing to years barn owls actually are really important. They eat all the Charlie price in the area, they eat rats, only rats all the time. So to have them around is actually valuable. So we will be trying our best to focus on all urban schools, get them engaged like we have with Wesley. Take the barn owl to the schools and also see how many of them we can bring out to the zoo to meet the charismatic raptors we have here right. Just keep that education and awareness in their minds as much as possible."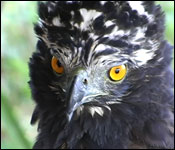 But Panama isn't the only raptor with such status and power. This Black Hawk Eagle is the 4th largest raptor in Belize. Apart from her talons, her eyesight is 8 times greater than humans.
And then there is Luna, the Spectacled Owl. She is the largest owl in Belize and can hear a heartbeat from 25 feet away. But even though these are apex predators – they too are under threat.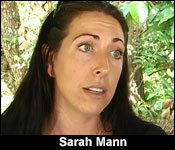 Sarah Mann - Director, Belize Raptor Centre
"They are extremely important, so raptors are natural pest control. We are actually working on a slogan right now that say keep us safe so that we can keep you healthy. A lot of people shoot raptors because of the fact that they do eat chickens here and there, I won't lie about it. But they are obligate eaters, so if they find something when they are hungry. But they also eat a lot of animals that can make us sick. So Luna, one of her favourite food is opossum; opossum can carry diseases that can be passed to humans. We also have skunks and snakes, we have a lot of venomous snakes here in Belize and our hawk eagle loves the Fur-de-Lance, that's one of her favourite food to eat. So yes they may eat stuff we don't want them to but in the end, in the big picture of things, they are protecting us.
The 1 st formers who attended participated in an essay and poem competition on birds of prey.
BEL Hand In Hand With Homebuilders
(posted on Wed Nov 25, 2015)
Yesterday, we showed you how Unicomer - Courts - was among the first corporate citizens to start off the gift giving season. Belize Electricity Limited joined them today when they handed over a brand new house to Police Street Resident Angela Bennett.
We stopped by and found out how the Electricity Company worked with Hand in Hand Ministries to provide this family their new home. Here's what Bennett, the recipient, had to say:
The house was constructed in 4 days.
The Best, The Brightest, The Youngest
(posted on Wed Nov 25, 2015)
The Twenty-first Annual CXC National Awards Ceremony was held today at the Stann Creek Ecumenical College Auditorium in Dangriga. Scores of families of exceptional students from all over the country headed south for the event which was designed to pay tribute to the bets, the brightest and the youngest. Education Minister Patrick Faber welcomed the students:
Nisa Sánchez attended Edward P. Yorke High School.
The Belize Open scholarship is valued at two hundred thousand dollars.
GSU Got Sadiki
(posted on Wed Nov 25, 2015)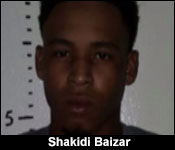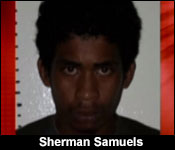 3 men were charged with gun and drug offenses after the GSU found a .380 caliber pistol and weed at house at the 8 mile community. This afternoon around 3, GSU searched 20 year old Shakidi Baizer's house and found the .380 caliber pistol containing a magazine with 6 live rounds of ammunition. They also found a plastic bag with small parcels of weed. Baizer along with 18 year old Sherman Samuels and a 17 year old were arrested and charged for the offence of Kept Unlicensed Firearm and Kept Unlicensed Ammunition and Possession of a controlled Drug.
UNDP And Police Find Common Goals
(posted on Wed Nov 25, 2015)
Our next story is about The Evidence Based Information Management And Citizen Security In Central America Project. That's a mouthful, right? And that's why it's called INFOSEGURA. Through this programme, UNDP, with support from USAID handed over a bunch of computers to the Ministry of National security. IT will be used to build a crime observatory:..
7 News for Wednesday, 25th November, 2015 from 7News Belize on Vimeo.
Home | Archives | Downloads/Podcasts | Advertise | Contact Us