Hattieville Man Who Went To Work In San Pedro Was Killed There
(posted on Mon Oct 20, 2014)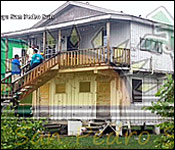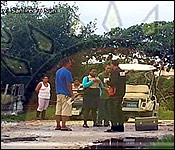 Tonight, San Pedro Police continue to investigate the murder of a hardworking father of 5 who was on the island to do construction work.
44 year-old Hattieville resident Samuel Dawson travelled to the island 2 weeks ago to work with other construction labourers on the North Ambergris Road. Viewers may remember that very much like the works in Belize City, this road in San Pedro is being cemented.
Dawson was in the company of his supervisor on Friday night after work, where they went to a restaurant in the San Pedrito area. The supervisor left him at the restaurant, and when he went back to check on Dawson at his island apartment, he found his body on the ground. The front door was ajar, and when the supervisor went into the house, he saw that Dawson had been stabbed twice in the neck.
Today, island police told us via phone what they have been able to establish so far:
Sgt. Lenancio Bol, Station Sergeant - San Pedro Police
"Police officers from San Pedro Town went to a residence in San Pedrito area where on the upstairs of a two story wooden structure, they found the lifeless body of Samuel Dawson, 44 years old, face down on the floor in the living room area of the house with what appears to be stab wounds to his neck. At this point in time after the police information there is no sign of forced entry to any part of the building."
Daniel Ortiz
"Is this house where they reside sir?"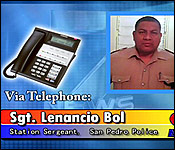 Sgt. Lenancio Bol, Station Sergeant - San Pedro Police
"Right, he resides on the upper flat. He is down here on a construction job. He is one of the persons who is building the road from heading into the north part of San Pedro Town. The investigation shows that he lives in that place alone. He is originally from Hattieville Village."
Daniel Ortiz
"Are you able to tell us what you guys believe happen at that location which caused his death based on the evidence you've been able to find?"
Sgt. Lenancio Bol, Station Sergeant - San Pedro Police
"At this point in time since we are not seeing any force entry and also we couldn't locate his wallet, his personal documents etc., so we believe it's some form of robbery."
While police continue to try to solve his murder, Dawson's 5 children are now without a father, and a provider. Today, we caught up with his estranged wife, who told us that his murder is completely unexpected:
Stephanie Dawson, Estrange wife of deceased
"I just got the news Saturday morning that he was murdered in San Pedro. The children and I are taking it hard right now because right now life is for real and its really rough and it's on his worksite and I am asking whosoever saw and know about the murder to please come out and also his boss, I need him by my side because since it happened I haven't seen anyone or hear from anyone, I alone have to get down myself and get into things and know what will be the next procedure."
Daniel Ortiz
"So ma'am, like how you don't know much of the actual incident itself, just talk to us about Mr. Samuel's personality?"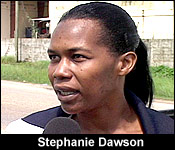 Stephanie Dawson, Estrange wife of deceased
"Mr. Samuel was someone very friendly, he was someone always willing, caring, sharing - you didn't have to beg him. He was also a nice full grown family man. He will be sadly missed by his children, his mom and his family."
Daniel Ortiz
"Ma'am, was he someone to associate with any questionable individuals who may have put his life in danger or does this come as a shock to you?"
Stephanie Dawson, Estrange wife of deceased
"Well he has gotten robbed already, and I don't know if it could have been from off that robbery because he never told me about it. When he came to me the following week I told him about it and he says that he didn't want any problems because he had already gotten back everything. I don't know if it is because of that same robbery that happened so long ago. As far as I am concern I didn't know he was out in the caye because due to the problem with him and his common law, she didn't want he have any dealings with his wife and his children, so that was the problem there until when I got the call on Saturday morning early, that's I got to know that they found him dead."
Investigators are asking for anyone with information to come forward and assist them.
Drunken Bus Driver Busted
(posted on Mon Oct 20, 2014)
A drunken bus driver is an experience too many commuters are sadly familiar with. But on Friday afternoon police caught one on the western highway. At about 3:15 pm, police went into a Guerra's bus that the traffic police had already stopped. They found driver William Ayala with a strong smell of alcohol. He was taken to the police station where a sample was collected.
They took him to Belize City court today where he was charged for driving Motor Vehicle with Alcohol concentration Above the prescribed limit. Ayala was unrepresented when he appeared before Magistrate Dale Cayetano in Court #4 where he pleaded not guilty. Since there was no objection to bail, he was offered bail of $1,000 plus one surety. His next court date is set for November 24.
Ayala was held in police custody over the weekend, and served with his charge this morning.
Carnival Magic Passenger Negative For Ebola
(posted on Mon Oct 20, 2014)
On Sunday morning before dawn, the Carnival Magic cruise ship arrived back in port at Galveston, Texas. The good news is that the 59 year old lab supervisor has tested negative for Ebola - 21 days after she handled a specimen from a Liberian man who died from Ebola at the Texas Health Presbyterian Hospital.
So, her negative test then should conclusively put everyone in the clear: all those four thousand plus passengers who were on the ship - and the handful of Belizeans who also went on the ship as the boarding party.
But, the scare was legitimate and yesterday Channel 2 in Houston captured the unusual homecoming for the cruise -we rebroadcast that story:…
And while all's well that ends well - some choice remarks by CNN anchor Wolf Blitzer raised eyebrows in Belize. On Saturday Blitzer featured Marie Harf, the Deputy Spokesperson for the State Department - who underscored their disappointment with the Government of Belize for refusing to allow the disembarkation of the 59 year old Lab Supervisor unto Belizean soil. Here's that exchange:
And while Belize is being pilloried for daring to say "no" to the USA - multiple press reports say that Mexico did the same, refusing to allow the ship to stop there for a scheduled day trip in Cozumel. And even the state of Texas didn't let the ship dock until it had sent out a helicopter to collect a sample of the Lab Technician's blood for testing. All this to make clear that Belize wasn't the only one who responded out of what spokesperson Harf glibly referred to as "ignorance and fear."
The Carnival Magic is getting a thorough cleansing and all the customers on that ill fated cruise got a 50% discount on future cruises.
Mayor Bradley Says He'll Pay Waste Control
(posted on Mon Oct 20, 2014)
On Friday, we told you about the default judgment from the Supreme Court that was handed down committing the Belize City Council to pay 525 thousand dollars to Belize Waste Control.
It's a quite well-known dispute between the sanitation company and Mayor Darrell Bradley's council. City Hall has historically accumulated arrears for garbage collection, which they claim to catch up when trade license fees start to come in late in the year.
But after years of slippage - and an inability to dialogue earnestly with the mayor, Waste Control decided that they could no longer wait for the council to pay on its own schedule, and the company filed a claim before the Supreme Court. Because City Hall offered no defence, they were awarded a default judgment of over half a million dollars.
Today, we did reach Mayor Darrell Bradley for comment. He told us that the council didn't offer any defence because they have none: they owe and they must pay - his words. With that, Bradley told us that there was no point in mounting a defence or paying for an attorney. He claims that steps have already been taken to try to work out a payment schedule to deal with the debt.
Viewers may remember that Bradley's council had to settle a 2.3 million dollar debt with this company, most of which was interest which accrued over a 10 year period. When we asked about the concerns of the interest on this debt growing daily, he says that it is not a major issue because whenever the council has paid sums towards clearing arrears in the past, these sums have also included interest arrears, even though they were not something formally enforced by a court.
PUC Gets Through First Phase of Evaluating Power Bids
(posted on Mon Oct 20, 2014)
In October of last year, the Public Utilities Commission put out what's called a request for power for 60 megawatts of firm energy, and 15 megawatts of intermittent energy. Today 54 weeks later, they released the findings of the first phase of evaluation of 22 bids for 37 projects - including solar, wind and hydro power.
Today at a press conference, PUC Chairman John Avery explained that the process to arrive at a power purchase agreement still has a ways to go:...
John Avery, Chairman - PUC

"One of the reasons for this RFP, this process is to have an open transparent and fair process and so releasing this report today its one; to assure people that the RFP is still ongoing and particularly the bidders because since we are a few weeks late with the expected final report. We are looking not only to have enough capacity in country, but we are also looking to minimize our costs to consumers. So there are no guarantees coming out of this thing. This is a request for proposals, we've received proposals. In our estimation it has been a successful RFP. We received enough bids to satisfy what we are looking for. A lot of the bids are credible bids from credible people and the others that weren't we've disqualified. So now basically the rest will rely on our long term strategy in satisfying our needs. Basically after we've done with this BEL will then initiate the negotiation phase with each one of them, to start negotiations with them. We are looking for the projects that best fit our system and that overall will result in the lowest cost to consumers."
No timeline has been given for the final report. But on this first phase, the top ranking bid for firm power came from Southern Renewable Energy Limited - which proposes a fourth hydro power facility for Macal River between the Chalillo dam and the Mollejon Diversionary structure. The second highest ranking proposal comes from GSR Energy which proposes a bio-mass project which includes a cane field and ethanol factory.
Southern Renewable Energy also has the third and fourth highest ranking bids for two more hydro projects - but these ones on the Swasey River.
And coming in at number five is a bagasse project from SS Energy Limited. SS is a subsidiary of a company called Santander, the owner of Green Tropics - which is of Guatemalan origin. Now that has raised some eyebrows - and a cautionary note form the opposition. Today Chairman Avery discussed the project quite candidly:..
John Avery, Chairman - PUC
"However, this is a project that will be base in Belize. The company, the Santander Group have registered 4 different companies in Belize; SS Energy, being of them; you have Green Tropics; you have SS Farms and SS Sugar. These people as best we understand it have already started to implement a fairly huge sugar production facility within this country. They intend to build a production facility for their own purpose. They estimate base on their forecast that they will have additional bagasse to them generate further electricity to sell to BEL. The entire operation will be based in Belize. In their bid, they do admit that the 4 major shareholders for the parent group are 4 business persons in Guatemala. If they are awarded a PPA and that project is built, by setting up here they have agreed to be subjected to our laws and under our laws, before we get to the law, the RFP, we indicated in the RFP that any PPA will include step in rights for BEL. In other words if that project is built and the person who owns the project is not operating the project according to the agreement and that sort of thing - BEL will have the rights under certain circumstances to step in and actually take over operation of the company."
Again, this is just the first phase; the bids will be ranked in the next phase and then go to a simulation exercise. After that the companies can negotiation a power purchase agreement with BEL - which the PUC would still have to approve.
Notable is that the bids for intermittent power include Solar power in Orange Walk, san Ignacio and Dangriga, wind power from Mexico and Solar power from Blair Athol Power Company.
Mother of Six Missing For Two Weeks; Family's Worries Mount
(posted on Mon Oct 20, 2014)
39 year old Emma Gillett, a mother of 6 children, a guardian to two others, and a school warden from Maud Williams High School, has been missing for 12 days now and her family is very worried. She has gone missing before but never for this long, and now, her family has no idea where she might be. Her cousin came to our studios to ask for the public's help in locating her.
Kendra Henkis, cousin

"The only thing we heard is that she was in PG. We made efforts in PG to locate her and we didn't find her, everyone said that they didn't see her. She call us on a phone number last week. We tried calling back the number, but it just rang or it goes to voicemail. From then to now we don't have any idea where she is or if she is dead or alive. Recently she began to go, like she would leave one day and go and come back like in 2-3 days, so when she left we never really took it as a red flag and say well that it was something major. But now the time is too long and she have her kids, so we need to know where she is. If anyone out there know or see Emma, the location where she is, they can contact the nearest police station or they can call the family at 661-5312 or 626-6981."
Those numbers again are 661 5312 and 626 6981.
Double Amputee Gets Mercy From Court
(posted on Mon Oct 20, 2014)
28 year-old Stephan Domingo was spared jail time today after being caught with weed, accepting guilt, but being unable to pay the fine.
Police say that at around 2:30 on last week Friday evening, they went to his house in Hattieville to search for drugs. At the time, he was in the company of 2 other men, when they found a bag beside him which contained 3 grams - or 0.1 ounces - of cannabis. All 3 men were charged with drug possession. They were all arraigned before Magistrate Herbert Panton today, and Domingo accepted guilt for the drugs.
The problem is that he is a double amputee, and his only source of income is a monthly stipend of $40. This meant that he would have a very difficult time to pay the $200 fine. Also, he had a fine from 2006 when he was convicted of harm. He was supposed to pay $200 for that case also, but to date, he hasn't paid any money toward it. This meant that he would have to serve several months in jail because he defaulted on payment.
Taking into consideration his disability and his income, Magistrate Panton gave him an extension on the deadline for that 2006 fine, gave him until next year to pay both. Both men who were charged with him were able to go free because the charge was withdrawn against them.
Man Robbed Bus Driver For Child Support
(posted on Mon Oct 20, 2014)
27 year-old Candelario Lemus also got spared a custodial sentence after Chief Magistrate, Ann Marie Smith, found him guilty robbing a bus driver.
Eldon Chiac told police that in April, Lemus entered his bus, robbed him of $275 dollars, and also stabbed 2 of the tires for the bus, puncturing them.
Lemus was convicted in a trial, and after consideration of the circumstances, Chief Magistrate Smith sentenced him to pay a fine of $500 forthwith. He must also pay $700 in compensation for the damage to property. Lemus explained to the court that the incident happened when he went to collect child support from Chiac, who shares a child with his girlfriend.
Justice Blackman is Back
(posted on Mon Oct 20, 2014)
The newest Justice of the Court of Appeal is a familiar face in Belize. Justice Christopher Blackman - who served as a Supreme Court Judge in Belize from 2001 to 2003 - was today sworn in as an Appeals Court Judge by Governor General Sir Colville Young in Belmopan.
69 year old Justice Blackman most recently served as a Justice of appeal in the Bahamas, and prior to that had his second stint as a judge of the High Court of Barbados from 2003 to 2008.
NICH and USA Talk Culture
(posted on Mon Oct 20, 2014)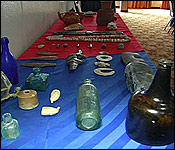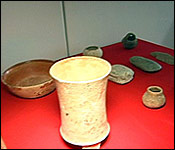 In 2013, Belize and the USA signed a Memorandum of Understanding to stop the illicit looting and trafficking of Belize's cultural property.
Today, a follow up workshop was held in Belize with cultural experts from both countries. The US facilitators want to share lessons with their Belizean counterparts on the very shady world of trafficking in antiquities. We found out more:..
Greg Borgstede, Cultural Analyst - US Department of State
"Belize has a very rich cultural heritage which includes obviously the archaeological heritage, the colonial heritage and we are talking particularly about the tangible or the objects. Those objects are being stolen from Belize, looted out of archeological sites, stolen from under water cultural sites and then trafficked, sent across international borders to markets in other countries. The United States recognizes that we have a market. There is demand in the United States for these kinds of objects and we recognize that this is a problem in that it's robbing Belize of its cultural patrimony and cultural heritage. UNESCO (United Nations Education and Scientific and Cultural Organization) has estimated that for Maya objects in particular throughout obviously Mexico, Belize, and Guatemala - there is about a thousand illicit objects a week are entering the market."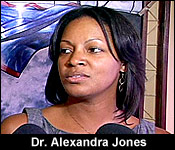 Dr. Alexandra Jones, Exec. Dir. - Archaeology in the Community
"When you take something, you are taking it from the country as a whole. You are actually destroying the cultural understanding by taking one object. That one object in the context it was in could give us a better understanding of what took place at that site and constantly taking one piece here and one piece here which leave us with nothing at the end of the day. So basically just think about the greater good of the people of Belize before think that no one cares or no one paying attention and it's not that important. It is that important."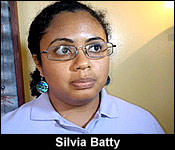 Silvia Batty, Archaeologist - NICH
"We cannot to the number of materials that have been exported or taken out of the country during our colonial period as both private collections or modules that were exported - you could say at that point legally to museums and stuff like that, but I can say that we have been very good partners with the US both in strengthening research and collaboration and we with the repatriation of quite a few artifacts from their national museums. Private museums is a bit more challenging and a bit more difficult, but we've been working on that."
Belize has no agreement with Canada but a number of well-known Mayan antiquities are also held in that country.
Making Sense of Mad Money For High Schoolers
(posted on Mon Oct 20, 2014)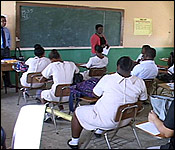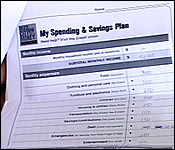 Two weeks ago we told you about the local Credit Unions plan to redefine their services to cater to the saving and spending patterns of youths. Today St. John's Credit Union engaged the students at Maud Williams High School in this process by teaching them all about saving through the Union's "Mad City Money" interactive game.
Lucien Dawson, Marketing Officer - St. John's Credit Union
"We came here today to teach the students about financial literacy, but putting a twist on it call "mad city money" and the way how it is, is that we give them an about me page which tells them their position, so either they are a carpenter or an analysis, a forensic pathologist,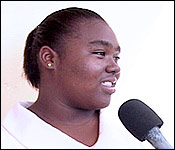 whatever and it gives them a salary as well as their spouse's salary and then what they are supposed to do is go around to the vendors and actually purchase goods and services. What it does is that it teaches them about budgeting, about planning for long term as well it teaches them the importance about being responsible with money and that is the main thing - is that we want to change the culture of how we deal with money here."
Student
"I learned how to write up a cheque and I learned how to record and I enjoyed it, it was fun. You need to save and for example you drop down sick and you need some money to help yourself, then you could go into your account and withdraw the amount you need."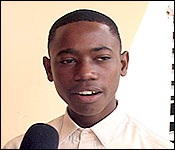 Student
"I gathered that saving is good because the monthly money we have to pay we can save to maintain ourselves."
This initiative was organized in connection with Credit Union's week which was celebrated last week. Today's session was part 2 of the financial literacy game at the school. They also plan on visiting other schools.
Chiquibul Telethon Scores Major Success
(posted on Mon Oct 20, 2014)
The Chiquibul Protection Telethon was held on Saturday at the Memorial Park in Belize City. It was aired live on all radio and tv stations from 10: am to 5:00 pm - and it featured more than a few memorable moments. Here's just a small sample:..
Pledges kept coming in after the Telethon finished and when we checked with the organizers today, it stood at 327 thousand, 870 dollars.
As we've reported, this will go to fund Chiquibul Forest rangers for the Friends for Conservation and Development. The rangers cost 24 thousand dollars annually, so those funds should sponsor about 13 rangers. This is in addition to the 7 they presently have.
Rigo's Reign Still Supreme
(posted on Mon Oct 20, 2014)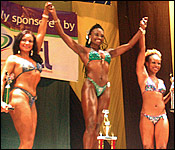 Rigo Vellos is probably one of Belize's well-known bodybuilders, and on Friday, for the 3rd time in a row he was chosen as Mr. Belize in the 2014 Bodybuilding and Body Building Fitness Championships.
The Mr. Belize category is where the elite bodybuilder is chosen, who is in the best shape of all the competitors, across all weight classes. Vellos, who also won the Light Heavyweight category, edged out Clayton Greenidge who won his category as a Master Bodybuilder. Notable mention in the Mr. Belize Category is Oyinkro Okpobodor, who competed on Friday night as a novice, but managed to place amongst experienced bodybuilders.
In the miss Fitness competition, Gina Lovell won first place, while Ann Lyn Apolonio (who was chosen as Miss Bikini Fitness) came in second in the body fitness category. Rounding out the top 3 was Josephine Gault.




Home | Archives | Downloads/Podcasts | Advertise | Contact Us