Denfield Bowen Found Dead After Being Missing For 21 Days
(posted on Thu May 21, 2015)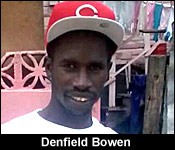 When Plus Street resident Denfield Bowen left his house on the evening of Thursday April 30th, he told his wife that he would be back in a few. But her never returned. Today, exactly three weeks later, the outcome that has family has been fearing was finally confirmed: Denfield Bowen was found dead. The skeletal remains of what is believed to be his body was discovered wrapped in a tarpaulin in the back of his pickup which was abandoned in a bushy area near the Westlake community at mile 8 on the George Price highway.
The discovery was made around 4:00 pm when police got a call. His family is at the scene and has confirmed to us that it is Bowen. They are currently waiting on a coffin to bury his remains immediately. They intend to bury him in his family's home village Manatee. Our news team is there right now and we hope to have some information for you later on in the news.
Bowen is believed to have been a victim of an ongoing war in the George Street gang resulting from the murder of Mark Medina. His family believes he was lured to his death by a trusted ally within the gang. With the discovery of his body and another murder last night - 2015 has now recorded 56 murders and continues to be on a record pace.
PUP Won't Go To Guatemala For Compromis Amendment
(posted on Thu May 21, 2015)
Four days from now, on Monday Foreign Minister Wilfred Elrington will be in Guatemala City to sign the amendment to the Special Agreement between Belize and Guatemala. Now, when the original special agreement was first signed back in 2008, the PUP's Representative Eamon Courtenay was right there. But this time, there won't be any PUP rep there when he signs the amended agreement. That's the position that the Opposition has taken - and they say it's because government didn't consult with them or the public about the change in the agreement.
Now, if you've been following the news, you'll know that the amendment to the agreement is to allow Guatemala to have its own independent referendum on whether the dispute should go to the ICJ. Originally, both countries were supposed to do it on the same date, but when Guatemala said it wanted to go ahead in November as part of its presidential election, the Barrow administration told them, basically, that they're on their own.
And, now, the opposition is telling the government the same thing. A press release issued today says that a public statement on this was to have been issued and cleared with the opposition - but that never happened.
The statement adds that, quote, "no explanation has been provided to the Belizean people for agreeing to such a request…except that the Foreign Minister Hon Sedi Elrington has said that the Guatemalans 'thought that it would be convenient...largely because of cost considerations.'" End quote. And so, the PUP concludes, quote, "the issue is of profound national importance and (it) cannot agree to support any such change to the Special Agreement that was not properly explained and formally consulted."
Today, Senator Lisa Shoman - who has been the Opposition Representative throughout the OAS/Guatemala discussion told us today why she can't take part this time: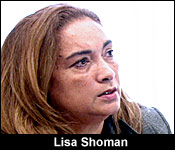 Lisa Shoman, Senator
"What is even worse is that it has always been an achievement of ours, in terms of Belize, that we have never allowed the Guatemala issue to become politicize or part of any political campaign. The same is true in terms of our relations with Guatemala. We have never wanted for this question to be involved with any electoral process in Guatemala, because we know the capacity for it to become a political issue and so the timing of having this particular referendum is something that breaks a principle that we've had for a long time, which is neither Belize or Guatemala would have this referendum anytime during a respective political processes and we have said so plainly to all of the international communities for at least the past 15 years."
Daniel Ortiz
"So ma'am, with the representatives of the PUP not attending this meeting, what effect that does that have on the process and what statement does that make generally?"
Lisa Shoman, Senator
"It says that for this particular event we are not in agreement in the way it was carried out and we will not be attending. No doubt the government will tell you that they have the right to act on behalf of Belizeans and if that is their approach - that is their approach. We have always kept, in fact it is the Peoples United Party government that started with having a bi-partisan approach on the issue and we have kept to that very faithfully. But when agreements such as the special agreement are going to be entered into and the afterwards there will be changes, and those changes are neither properly consulted with the opposition, nor with the people of Belize. This is not something that the party felt as a responsible opposition that we could accompany the government in this regard."
Shoman also noted the Opposition Party's discontent with Foreign Minister Elrington for not informing - much less inviting them to attend - the informal meeting that he had with the Guatemalan Foreign Minister Carlos Raul Morales last week Sunday.
Kareem Grant Gunned Down And Killed
(posted on Thu May 21, 2015)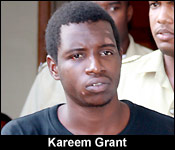 The city witnessed another murder last night. 26 year-old Kareem Grant was gunned down last night at around 8:25 p.m. Grant was inside a yard across from his house on Periwinkle Street when he went outside to talk to a man in a vehicle that had been circling the area. Eyewitnesses tell us it seemed cordial until the man in the car fired a shot into his face. He fell to the ground, and the gunman then let off as many as ten shots on him - and then jumped in his vehicle and drive off. Grant was rushed to the hospital but died while receiving treatment.
Today, the officer commanding Police Precinct 2 briefed the media about their preliminary investigation into his murder so far:
Sr. Supt. Alden Dawson, O.C., Precinct 2, Eastern Division
"Sometime after 8pm last night, police responded to a shooting at the corner of Mahogany and Periwinkle Street. On the arrival at that location we leant that Kareem Grant, 36 year old Belizean was inside a fence yard socializing with some friends. Shots were heard from behind the fence and shortly Kareem was seen with several gunshot wounds over his body and was taken to the Karl Huesner Memorial Hospital and while undergoing surgery, he passed away."
Daniel Ortiz
"Police believe at this time that he was the intended target?"
Sr. Supt. Alden Dawson, O.C., Precinct 2, Eastern Division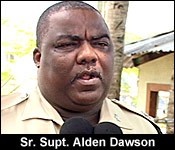 "We can't say at this time. Like I said he was in a yard with some friends and we still haven't established a motive for that most recent murder."
Reporter
"How many people were inside the yard at that time?"
Sr. Supt. Alden Dawson, O.C., Precinct 2, Eastern Division
"From what we learnt so far, there were three other person behind himself."
Reporter
"The gunman shoot through that hole in the gate or did he actually entered the yard?"
Sr. Supt. Alden Dawson, O.C., Precinct 2, Eastern Division
"We don't know. The information we have is that the shots were heard behind the fence inside the yard."
We approached his family for comment, but they refused.
Sources say that it may be because of a street rivalry - since Grant was from Taylor's Alley and had moved to the Mayflower area.
Doctors Brawling In San Ignacio Hospital?
(posted on Thu May 21, 2015)
From time to time hear about simmering tensions in the hospital waiting room - matter of fact, the other day we reported on a patient breaking through a glass door at the KHMH. But two doctors fighting in the ER? Now that's something we don't hear about every day! But, it did happen. According to reports, at around 7:30 yesterday morning, two Doctors got in a fight at the nurses station in the emergency unit at the San Ignacio Community Hospital. Apparently, one of the Doctors sent the other Doctor's patient home without consulting him. That is what led to a physical confrontation and a nurse had to intervene to break up the fight and the police were also called in. One of the doctors walked away from the fight with a swollen face and the other with a swollen wrist. According to our sources, it happened in front of patients. We also understand that the physician accused of sending the patient home without his colleague's consultation has had workplace difficulties before. Today when we spoke to the Deputy Health Manager she told us that it was only a minor disagreement and that she couldn't say if there was any altercation between the two doctors.
Big Tom Jailed For 6 Months
(posted on Thu May 21, 2015)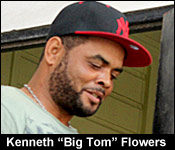 In November of 2013, Kenneth Big Tom Flowers spoke to us as a deportee who was ready to turn his life around. But, since then, he's been consistently in trouble with the law - he says the cops are targeting him, they say it's for a good reason.
Well, it seems the cops won because, tonight, the 38 year-old is spending his first night of a 6 month prison sentence after he was taken back before the Magistrate's court. This time, he was caught driving a vehicle after he driver's license was suspended.
That happened 2 months ago, when Flowers went before the Magistrate's Court for a traffic offense. The outcome of that case was that his licensed was suspended for 12 months. So, when police caught him driving a vehicle at the corner of Youth for the Future Drive and Ebony Street, they immediately arrested and charged him with the traffic offence of driving a motor vehicle whilst disqualified from driving. He was arraigned today before Chief Magistrate Ann Marie Smith, and he wasted no time, pleading guilty to the offence. When the Chief Magistrate checked into his background and realized that he had a court-ordered suspension on his driver's licensed, she took the view that Flowers was being brazenly defiant of a court order, which she found disrespectful. She ordered that he serve 6 month in jail for the conviction.
Judge's Daughter-in-Law Charged For Damaging His Ride
(posted on Thu May 21, 2015)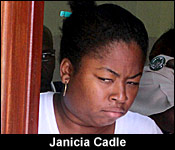 Tonight, 28 year-old Janicia Cadle, daughter-in-law to Justice Adolph Lucas, is out on bail tonight after being taken to court for allegedly damaging the Judge's ride!
His wife reported to police that the incident happened on last week Wednesday at the judge's Belize City house. She told police at around 8 p.m., she heard a noise outside, and that's when she spotted Cadle, who had been living there for the past 5 years. She and Austin Lucas, Justice Lucas' son were having a domestic dispute, and sometime during the altercation, she allegedly damaged the vehicle.
Police investigated the report, and charged Cadle with damage to property. She was arraigned before Senior Magistrate Sharon Frazer, and she pleaded not guilty to the offence. Her mother told the court that Cadle has a mental problem, and she doesn't always take her medication. On her own behalf, she told the court that the family was ignoring a very urgent persona situation and sending her out on errands. She said that this made her angry, and she and Austin Lucas got into a fight.
She was released on bail of $2,000 and she must return to court on July 20, 2015.
Minor Allegedly Shot At Griga Cops
(posted on Thu May 21, 2015)
A 17 year old minor is in custody for shooting at police in Dangriga. Last night around 7:45, the Quick Response Team was patrolling the Back -a -Town area in Dangriga when they spotted two men - who ran off in different directions. Police pursued one of them - a minor and he allegedly pulled out a .22 revolver and fired 3 shots at the officers. The officers returned fire and caught him in the left calf. The minor was treated and taken into custody. The officers are looking for the other man. Police say that apart from the .22 revolver, the minor also had a ski mask. The police believe that these men were about to commit a robbery.
Surviving And Coping With Cancer
(posted on Thu May 21, 2015)
"Caring, Coping, and Surviving: Cancer control - not beyond us:" that is the message that the Cancer Society wants patients and their families to know in this cancer awareness month. That message was the focus of today's annual cancer care symposium held at the Radisson where Doctors, specialists as well as women and children battling this disease attended. Apart from the discussions on preventative measures, treatment and therapy….another key and very real issue when addressing Cancer is coping with grief and depression after losing a loved one to cancer. Today the Minister of Forestry, Fisheries and Sustainable Development Lisel Alamilla was invited to address the crowd on her process of grief and coping with the death of her son. When we spoke with her this morning she told us that while it was a difficult journey, she wants people to know that there is still hope.
The Cancer Society is also working on is a pap smear campaign. They will also have a Cancer walk on May 30th.
Milpa Farmers Moving Away From Policed Sections Of Forest Reserves
(posted on Thu May 21, 2015)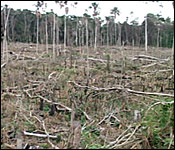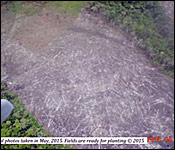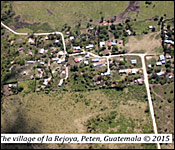 On Monday the Foreign Minister is going to Guatemala to sign the amended special agreement. And while there is controversy over the signing - on the ground in the Chiquibul all that mushy diplomatic talk and petty political bickering really count for nothing. The reality is that every day, poor Guatemalan farmers living on the border on look at their denuded land, and then look across to the green abundance in the Chiquibul forest - and decide to head east into Belize - for their family's survival. That leads to illegal milpa farms, cultivating corn, beans and pumpkin, most of them within two kilometers of the border.
The Friends for Conservation and Development - which co manages the Chiquibul national Park has completed its most recent aerial survey of those illegal plantations - and found that the 23 clearings found in February exploded to 92 by May. Today, Rafael Manzanero told us what is driving it:..
Rafael Manzanero, Exec. Director - FCD
"Agricultural incursions from Guatemala into the Chiquibul Forest is still an ongoing activity. The report indicates that there is 92 clearings that more than likely will be used for the farming of corn, beans and the pumpkin. We believe that there would be some 300 acres or so that potentially could be utilized for farming once again this year. So the reality is basically agricultural incursions is still ongoing. The one that is furthest away from the border would be a little bit beyond 4 kilometre, but most of them are basically within the 2 kilometre zone or so. Be mindful that in a couple of weeks people can destroy a lot. So if you look at the report, the first flight, there was no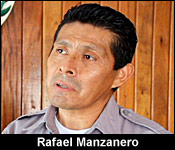 concern for us. As you can see, if a 2 milpas you can see it popping out it was really no big deal, but only after 7 or 10 days you can see a sprout of 48 and then ultimately in a next couple of weeks you see 92. then you realize that it is not only 4 men who are doing, these things are really cores of people coming in. we have not been successful so far to be able to arrest and charge a "milpero" for example. So we want to do that and I feel like it's until then that people can really understand that yes there is a fine, in that case for defacing a national park or forest reserve. So one of the recommendations that we have is that we need to do some of the aerial reconnaissance. From the time of the dry season or even by the month of January - that we can start to fly the area. So that can serve as a presence, because as Guatemalans know that once planes are up, they start to observe that there is what we term as a 'presence' in the Chiquiibul. For certain, the presence of the joint forces unit being BDF, Police and Rangers, Is certainly able to provide a decrease on those activities, but it has to be consistent. In 2008 the construction of Rio Blanco CP was basically for that very same reason, because they were really large milpas taking place there and today that is the area that you can see recovering. In fact there is about 400 acres that have been recovered because of a presence in that zone."
Jules Vasquez
"Explain to me the psychology that drives them every year, whether they know they're in Belize or not, to continue coming across."
Rafael Manzanero, Exec. Director - FCD
"If we look at the landscape across the Belizean border, the landscape is completely denuded. The other flight that was demonstrated that's only one patch that is left. And the concern of the Guatemalans is they would want to protect that patch that is left of that biosphere is of everything is gone. Everything is gone."
Jules Vasquez
"On their side?"
Rafael Manzanero, Exec. Director - FCD
"On their side there's only one little piece that is left. So now the community is large, they don't know anywhere else to go. In fact that is why the clamor of the people from "La de hoya" asking if they could be entertained just the come and farm inside of Belize and they will go back again because they have nowhere else to go. But we were very clear though Jules that our laws they have to be upheld. Our rules and laws have to be upheld, in other words, is it because of poverty then should we allow them to come in? Well not really, but I think we also have to be conscious that there is something that can be done over there. Of course you want to participate."
In total, 92 fields were counted, 34 of these are more than one kilometer inside from the border. 30 clearings were detected in the area of Caracol. 48 in the Sapote and Cebada region, the furthest clearing are found up 5 kilometers inside the park from the west border.
CSME In The Classrooms
(posted on Thu May 21, 2015)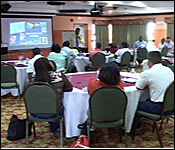 The Caribbean Single Market and Economy - we hear about it every so often in the news, but for most of us, it's just those words "Caribbean Community" inscribed on the top of our passports, and not a tangible reality. But, that might change for high schoolers. Today CARICOM representatives met with high school teachers to provide tips on how to make learning about CSME fun and enjoyable in the classroom. One of the coordinators told us that it is all about capturing the student's attention.
Gordon Yearwood, Coordinator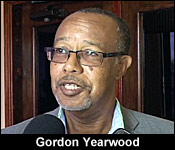 "What it intends to do is spread the message of CSME and the opportunities that are available to members on the CSME, to critical stakeholders in the whole process. So media persons, persons who are in the work place or who will be employing Caribbean persons. And these particular workshops that I am involved in are focused on teachers because we know that teachers are critical in spreading this message. And we know that the students are the persons who will be living this CSME reality for years to come after we are long gone from the scene."
Courtney Weatherburne
"Tell us about the main message. You talk about spreading the main message of CSME, tell us about the main message that you want to be spread and of course the importance of including teachers into this discussion."
Gordon Yearwood, Coordinator
"Okay, now the main message that we certainly want to focus on in the workshop is that what we try to do is to give teachers information. In some cases teachers do have the information, but unfortunately what we've been finding is that teachers are no different from other Caribbean Persons. They know yes that there is something called CSME, but is not really as much a part of their actual day to day living experience. Now the thing is, Belize does to Caribbean Examinations Council Examinations and it's in the syllabus. CSME integration is in the syllabus, but we see these workshops as an opportunity for teachers to meet, interact and exchange ideas with persons who deal directly with this reality. My role is to show teachers that yes now that you have this information, how you can make it alive for the students. because there's no point giving students a whole 500 pages of rules and origin of regulation, that's not sexy, students aren't going to like that. So what I am focused on is to get teachers to package this information in such a way that is accessible to students, that students can use their own initiative and go do their own research to find out about things that really affect them. Students are interested for example in artists, they like to listen to shaggy and they want to know how easy it is. Suppose I wanted to become a promoter when I leave school, how easy would it be for me to bring an artist from Jamaica to come and perform in Belize? What are the rules and regulations that I will have to be cognizant of? Would the artist be able to move freely to come? Would I have to apply for a special work permit? So things to bring it alive and show students that this is not just something in a text book but that's a part of your life."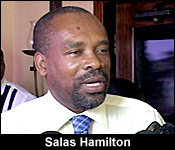 Salas Hamilton, Specialist Communications
"It's actually high school teachers we are looking at, and we also have plans to even develop something for a product for primary school students. And that more than likely will be animation. If our primary school students can look at 'Tom and Jerry' or I think now its 'Pepper Pig', over and over again on certain channels, I'm not going to say which channel it is, why can't we do the same things about the story of Belize, the story of Jamaica, the story of Trinidad and Tobago in animation?"
Today was day 2 of a 4 day workshop. Similar workshops were also held in other parts of the Caribbean.
Denfield's Family Speaks Out
(posted on Thu May 21, 2015)
As we told you at the top of the newscast – Denfield Bowen's remains were found this evening near the mile 8 community – three weeks after he went missing. The police are still on scene and the body has not been moved. But a short while ago Monica Bodden spoke to his common law Claudine – here's what she said:..
WIN Belize: More Women Needed In Politics
(posted on Thu May 21, 2015)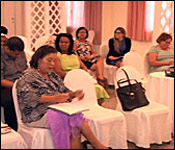 A group of women want the Representation of the People's Act to be reformed. They want it to reflect and encourage more female participation in politics. Now this is an ongoing issue and WIN Belize along with other partners have organized a country wide consultation to attempt to address it. The consultation began a year ago and today a meeting was held to discuss and devise a list of recommendations to both political parties.
Sheena Gentle, Program Officer, WIN Belize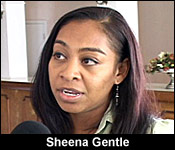 "in 2014 when Belize conducted a national consultation in each district in Belize, asking women on what their thoughts were in the representation of the peoples act. Most people weren't aware what it was and the function of the act. But what it does is that it governs the political process. We wanted to ensure more women's representation in national leadership. So this would be essential for us to do some reform in order to have more women be placed in a position. Some of the recommendations that came out would be to reform campaign financing, to reform the way that we look at the whole political arena when it comes to campaigning. That means all the ads that they put out, the campaign smearing and the personal attacks because it does get messy for women and most women do not want to be a part of that. So looking at these and trying to see how we can make the whole campaign process better for women or more conducive for women."
Courtney Weatherburne
"Okay looking at that point now, while it is important and while we are well aware, I think everyone on a whole, they don't readily accept or don't really like of course that political smearing. But it is a reality of the political arena or the territory. How do you guys navigate through that?"
Sheena Gentle, Program Officer, WIN Belize
"Well it's difficult to say how we navigate because it is sometimes a personal decision if it's not mandated by the political parties to stop these campaign smearing then it's something that each politician would need to address on their own. So I guess one of the things that we do need to address is the whole cultural perspective of politics and what the voters want to accept. one of the other things that was recommended is the whole culture of paying for votes and the idea that the voters do demand money for their votes. And if we could stop this, it would really help because a lot of the women want to win on merit instead of what they can offer to an individual voter."
The report including these recommendations should be finalized in June and presented to the government. The total cost of this initiative is $225,000 US dollars - and it is funded by the UN democracy fund.
New Tilapia Hatchery At Central Farm
(posted on Thu May 21, 2015)
The tilapia revolution, we've been hearing about it for like a decade, but mostly, it still hasn't happened. True, Mike Feinstein's Fein Catch operation has turned things around at what used to be the Mena's Fresh Catch Fish farm - but on the micro level, all those backyard fish farm projects - which were supposed to be a source of protein and income for rural families…that project has just fizzled.
But, there's fresh hope for small to medium scale aquaculture farms with a Taiwanese funded 2.5 million US dollar hatchery. The hatchery is at Central Farm, and the ribbon was cut yesterday afternoon. Both the Taiwanese Ambassador and the Ministry of Agriculture spoke about its importance.
There are 16 ponds, and a larger water reservoir pond about the size of a football field which will gravity feed water into the ponds. The ambassador noted that the development of the industry has been impeded by the high cost of the input materials: namely, the fish feed, which has to be imported, and the fish fingerlings. The new hatchery reduces the cost of the fingerlings for local fish farmers.
PROFILE...
(posted on Thu May 21, 2015)
Tonight's profile is about a young lady named Dominique Norales -a sixth former who plays the steel pan while maintaining a high GPA in the sciences. But what makes her story special is that her ambition to do well and serve was crystallized in a mundane moment of back to school shopping. She asked her mother for a sweet but was told that the budget was so tight, she couldn't get even that. Most kids would just pout, but she forged that moment into a vocation to do better for herself. Here's her story - which starts and ends with music:..
ITVET Students Showcase Their Marketability
(posted on Thu May 21, 2015)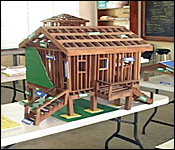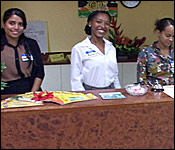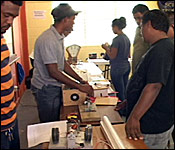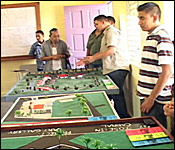 Today ITVET students got the opportunity to showcase what they have learned after 1 year of training. The ITVET Open Day was held on the school compound - which was transformed, with spa and skin treatment therapy even hotel accommodations available among many other services and displays. Today we spoke with the Acting Assistant Manager, Dean Tillett and he told us how important this day is for these students.
Dean Tillett, Acting Assistant Manager, ITVET
"One of the key objective is for employers to come in and well the public in general to come and see actually what the students are capable of doing. This is their day, this is the time that we put them out there. We invite people from industries to come in, people from the various ministries to come in and actually see and get a personal experience of all the skills area that the students would have acquired over the past year."
Courtney Weatherburne
"Hopefully employ some of them maybe so as to have a future with a business or an industry right?"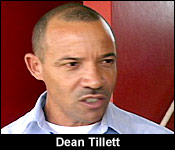 Dean Tillett, Acting Assistant Manager, ITVET
"Well that is our key, and this is just before they would go in job training. In a next couple of week they will be heading out for job training. so this is a good time for them to kind of show to the general public and as you mentioned specifically to industries to convince them 'hey I'm a potential employee, I'm at ITVET, I was trained at ITVET. I'm skilled in this certain area, wouldn't you have interest in hiring me?' so that's one of the key thing about open day, it gives them that opportunity to sell themselves to the public. We have like 7 co-programs and as you mentioned some, we have the cosmetology department, the tourism department which is the hospitality services area, and also the tourism front desk. and we have actually a restaurant, this year the restaurant it think is named the 'Hibiscus' and they'll be serving lunch at 12 mid-day, throughout the rest of the evening. And then we have of course the tourism front office which have a 4 star hotel that is set and display all done by the students. And as I mentioned I'd like to say thanks to, I think it was Dave's Furniture World that assisted us with some of the furniture's for the display. We have the automotive program, the air conditioning and refrigeration, the electrical, and the construction trades. Also for the first time we've teamed up with the campus from UB engineering. so we've teamed up with UB also this year and they also have a display here with us because there's a special program here that we're running that should see students amalgamate, kind of seamlessly into the UB programs here in the engineering department."
Jennifer Pacheco, Student - Tourism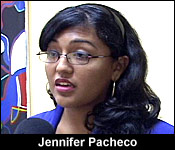 "Throughout the year we have theory, practical.... Today we can actually live up what we are thought right here at ITVET every day. We have learned not only about the careers but also about how to carry yourself which is a very important thing in the tourism industry. And here is a great experience because we can actually put everything in practise. What we have learned, the theory and the practical and it's the live thing. So it has been a very good experience and it exposed us more to what the tourism industry is all about. Here we have like a mini hotel where we have the front desk. We have everything that you would find at a hotel although all hotels are different, but we have the basics right now. We have rooms, the bathroom, and all the facilities that can be found so it's a mini hotel where we can do the practical."
Students were also able to apply for partial tuition waivers for the 2015 - 2016 school year.
Ernestine Toured Jamaica and Cayman Island
(posted on Thu May 21, 2015)
Celebrated Soca Queen Ernestine Carballo is back in Belize after a 2 month Caribbean tour. She visited Jamaica and the Cayman islands and released several collaborations with big names in the Caribbean. Yesterday Ernestine came to our studios to tell us about the tour and how it will boost her musical career as well as take Belizean Soca music to new heights.
Carballo left in March and came back in May. You can see her new music video in full on her facebook page.
Remembering Public Service Day
(posted on Thu May 21, 2015)
Today all across the country - the ministry of the public service set up fairs and open days. It's a chance for them to get out of the office and for the public to learn about the services they offer - even if the word "service" in public service is often a noun with no verb behind it. But still, there they were today recruiting school kids for the best job in the world with a non-contributory pension. Sherlette Neal of the National Public Service Committee told us what it's all about:..
Home | Archives | Downloads/Podcasts | Advertise | Contact Us