Man Murdered, Only Scavenged Remains Found
(posted on Thu Dec 18, 2014)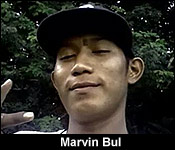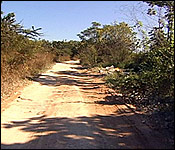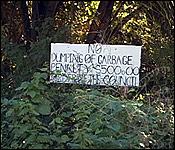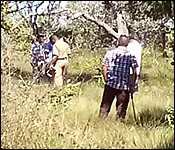 Ladyville police today found the remains of a male who they believe was murdered. All they encountered were the scattered bones of the man, believed to have been disturbed by animals that scavenged his body after he was killed.
It's a developing story and police believed violence was involved in his death. Our news team was in Ladyville for most of today, and Daniel Ortiz has this report:
Daniel Ortiz reporting
The signs says that you're not supposed to dump garbage here in the Dew Drops Area at mile 11 and a half on the Northern Highway.
But, not only is it being ignored, it seems that someone killed a man and left him there to decompose, or they killed him elsewhere and dumped him in that location. At least, that's what police looking at that this time.
He has been identified 23 year-old Marvin Rafael Bul, originally from Ladyville Village.
Insp. Frederick Gordon - Rural Executive Officer
"This morning sometime before 9am, today 18th December, police received information of human remains some 12 miles on the Phillip Goldson Highway, just about 100 yards or so off the main highway, whereby police visited the area where they found some remains of appeared to be a human being. On the scene, the area appeared to be contaminated by what we suspect might be animals or vultures and, yes we also found some clothing; a blue jeans pants along with a blue short pants, a boxers and a shirt was found in the area. Also inside the pants, we also found an identification of a person."
Reporter
"Sir, any reason to suspect that this person was murdered and his body dumped there?"
Insp. Frederick Gordon - Rural Executive Officer
"We are treating this time as a homicide. I notice that the shirt retrieve from the area also appeared to have blood stains on it. So we are suspecting that it might be some kind of foul play. We could confirm that a report was recently made against Mr. Bul about some 6 weeks ago in connection with a burglary. This fellow Bul is known to the Ladyville police."
Ladyville police say that there was no missing persons report filed for Marvin Bul, and that's because mother, who positively identified him from the identification card and the clothes he wore, did not make any. Nobody knew that he was missing, especially her, because for a few weeks now, Bul hadn't been living with her. She told reporters today that she kicked him out of her house because he was starting to hang out with men believed to be gang affiliates from Belize City. Also, he was getting into fights with his sister who also lives at the family home in Ladyville.
Bul's mother said that she believes that one of those people he started to hang out with may be involved in his death. She added that she believes he was kidnapped because a few weeks ago, a strange vehicle showed up at their house and a man demanded to know his whereabouts.
Things Still Not Sweet in Sugarland
(posted on Thu Dec 18, 2014)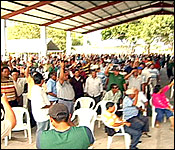 On Monday we told you that the impasse in the sugar industry was at an end - both sides had agreed to the Prime Minister's compromise package and it was only left to sign the final agreement to make it official. But the devil is in the details and all this week, that agreement has been in the shaping. The Chairman of the Belize Sugar Cane Farmers Association was supposed to sign it today - but at the last minute the Association's proofreaders saw one item in there which they felt both sides had agreed to leave out. No one seems quite sure whether this inclusion was intentional, accidental or a genuine misunderstanding - but the cane farmers sent it back to BSI for excision. We understand that the offending clause has been excised, but now the signing has been put back to Friday.
So then, when will the crop season start since it was supposed to start tomorrow? Informed estimates tell us that the earliest it can start is within three days of the signing - which would put it at the earliest Monday, but most likely Tuesday.
Teenager Shot In City
(posted on Thu Dec 18, 2014)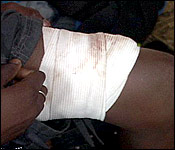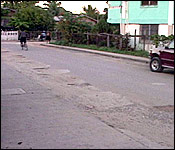 This morning in Belize City, a 14 year old was shot in the area of Partridge Street. It happened at around 5:30 am - and the child was injured in the leg. But who would shoot a young man so indiscriminately and why? Well, he is from the often troubled Mayflower street area, and today Monica Bodden asked his mother what's behind it:..
Mother of 14 year old minor
"I usually get up after 4am when my baby would get up crying, but he didn't got up this morning, so I just continue sleeping. My son usually comes home like after 5am in the morning. This morning my door was shut, so I didn't know they would be outside and then like half an hour after some little boys came to bang on my door and shouted for me and I thought it was the police. They woke my baby and so I came out, the little boy said that my son got shot. He told me that he and my older son and the neighbor went to buy tacos. After buying tacos, they walked up Cemetery Road because my son usually helps a man who is building a house. My son went to see of the man had woke up. All of them walking down Cemetery coming down the lane on Banak Street and then they saw a red van following them. They looked back and saw the van coming slowly, so when they look back they saw the van drove into a yard. As they continue to walk up more, the van came out of the yard following them. They saw that when the van reaches up close to them, they saw a man going down for something in his van. When the man went down and came up, they saw a gun and they ran. My son was the only one that got hit on his foot."
The minor is a high school student. So far he has given a statement to police but no one has been arrested.
Man Charged For Machete Double Murder
(posted on Thu Dec 18, 2014)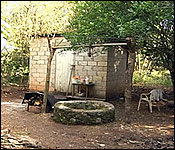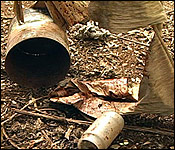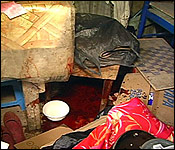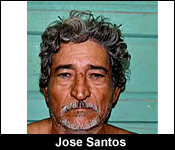 On Monday, we told you about the double chopping murder which happened just outside Paraiso Village in the Corozal District. Well, police believe that they have solved that crime, and one man has been criminally charged for it.
He's 67 year-old Salvadoran Jose Santos, and he has been charged with 2 counts of murder for the savage chopping deaths of 49 year-old Salvadoran Fernando and Heidi Theresita Chable, initially identified as Heidy Atherly.
They were found early on Sunday with severe chop wounds to the head, neck upper limbs. Police believe that jealousy was the motive for this double murder.
PUC Wants Rates Lower Than BEL Proposes
(posted on Thu Dec 18, 2014)
Nine days ago we told you how BEL proposed a 3.4% cut in electricity rates - which works out to about 1.5 cents less per kilowatt-hour. They sent that to the Public Utilities Commission for consideration.
The PUC today announced that it has made its own review and concluded that BEL can cut the electricity rate more than 3.4%; the PUC proposes a 5% decrease on the average electricity rate. That works out to about 2.2 cents per kilowatt-hour.
The PUC amendment to BEL's proposal is what is known as the final draft and so the rules state that within 10 days BEL and the public can send in their comments. You can send yours to the PUC at 41 Gabourel Lane, Belize City, or by email at info@puc.bz.
The new rate would go into effect January first 2015 until the end of June, 2015.
SMART Says Itís Building Its Own Southern Infrastructure
(posted on Thu Dec 18, 2014)
In other utility news, SMART says it's going to send its own transmission line to the Toledo District. As we have reported, the company cried foul when BTL said it would cut SMART off its southern data and voice infrastructure. SMART responded with a lawsuit, saying BTL's move would cut off 7,000 customers in the Toledo District.
The suit has been dropped and BTL has agreed to keep the infrastructure available to SMART until the end of February.
A release from SMART today says that the construction of its transmission line should be completed by the end of February 2015.
Cuba-USA: What It Means For Cubans Living Here
(posted on Thu Dec 18, 2014)
America's move to reestablish relations with Cuba after 50+ years has been making headlines around the world. Ties between the US and Cuba were severed since 1960 when the US imposed a trade embargo on Cuba. This has crippled economic and social development in Cuba. But President Obama has taken a bold step to dramatically improve relations with Cuba. Now many of you might be wondering what this news development has to do with Belize. Well, there are a fair number of Cubans living here in Belize, not to mention the 97 medical professionals in the Cuban medical brigade. So we wanted to find out what this change in US policy means for them? 29 year old Yadielis Martinez has been living in Belize for about 5 years and owns Brisas Del Mar restaurant on Caye Caulker. Today via telephone from Caye Caulker Martinez explained how significant this rapprochement is to Cubans living in Belize and their families back in Cuba.
Yadielis Martinez, Caye Caulker resident

"Well I thinks it's very important for the people who lives in Cuba because if the Cuban government and the United States government have a good relations, that means that they are going to open lot of things that are closed at the moment. I don't know if you know, but Americans, they can't go to Cuba because the US government, they don't let them go to Cuba. They are not allowed to go to Cuba. So this is not good for Cuba because the tourism industry is very important for the economy in Cuba. I don't think that nothing is going to happen with the doctors or with the program because I think a relation with the States is something that everyone is waiting for a long time. Cuba has a lot of programs and relationship with different countries like here Belize, Brazil, Venezuela - with a lot of countries and I don't think that nothing bad will going to happen for the programs. For us, it's very good because we have our families and everything there and we have friends. We go there every year, but we are here working and I think everyone Cuban that is not there, their lives will continue."
Martinez is from Matanzas, Cuba. She lives on Caye Caulker with her husband and 8 year old son.
SICA: The Handover Was Fraternal
(posted on Thu Dec 18, 2014)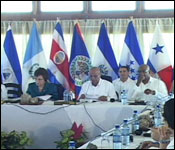 Yesterday's SICA Summit of Heads of State and Government in Placencia ended with Belize handing over the pro tem Presidency to Guatemala. Prime Minister Dean Barrow who chaired the session was lavish in his praise of his Guatemalan counterpart:..
Hon. Dean Barrow - Prime Minister
"I am honored to have served as your chairman for today's proceedings. Events such as these are about many things and one such is the strengthening of the inter-personal relations between officials, between ministers and between heads. President Otto Perez Molina has long since stamped himself as a thinker, a worker and a superb creative force. We can therefore look forward to a bold and muscular semester under the firm guidance of his "mano dura.""
Oddly, the joint communique signed by the heads has still not been released to the press. And neither has the body of the 13 bi-lateral agreements signed between Belize and Guatemala. We tried to get to see them today - but were unable to. Through an opposition release we do know that they cover Prisoner Exchange and the Serving of Penal Sentences, Operating Hours At border Points; Seasonal Workers; the Recovery And Return of Items of Cultural And Natural Patrimony, Visa Waiver for Students, Deportation, Electric Power Trade, Transmission Interconnection And Grid Connectivity; Mutual Recognition of Driver's Licenses; Movement of Students via land entry points; Protection Of the Environment; Degree Equivalence and Recognition of Education documents; Sustainable Tourism; and Stolen Vehicles.
Secretary General of the Organization of American States Jose Miguel Insulza was present at yesterday's summit - since the agreements were facilitated by the OAS as a confidence building measure. He said that with these agreements only one final step awaits both nations:
Jose Miguel Insulza, Secretary General - Organization of American States
"There is however of course one remaining step to be taken which are the referenda required by respective parliaments of Belize and Guatemala. As you all were aware, this referenda were not held last year because the countries considered that the conditions are not right to hold them. A stronger, closer bi-lateral relationship and these agreements with a better knowledge and understanding exist now and therefore we can say the conditions have been created. All that is left is the establishment of mutual state to take the next step."
We are told the 13 agreements will be released tomorrow.
PM Takes Personal Leave
(posted on Thu Dec 18, 2014)
And after pushing through those agreements, the Prime Minister recorded his Christmas message and today went on personal leave. A release from his office announced that he left the country for Florida and will return on Monday, December, 22nd , 2014. Deputy Prime Minister Gaspar Vega is acting Prime Minister.
PUP Candidates Had Bench Warrants In Their Recent Past
(posted on Thu Dec 18, 2014)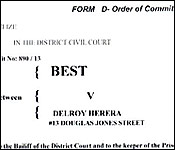 In our next segment we'll tell you about the huge mess that's been created at the Belize Tourism Board because Director Of Marketing Clive Meyers apparently faked his resume. And while the fraud appears elaborate enough, it could also be interpreted as a lack of due diligence on the part of those who hired him for such a senior post. Now, due diligence is a sometimes tricky thing - because, outside of an information society, thorough background checks can be difficult.
And the PUP had to do its own clean up before launching its Belize City Council slates. That's because bench warrants had been issued for two of their Belize City council candidates. Delroy Herrera told us that he paid half of the outstanding amount two months ago, and is paying the balance regularly.
There's another for Sanjay Pitts - another PUP councilor candidate. That one was taken out by Monica's Pawn Shop on December 6, 2013 - one year ago. Today the proprietor of Monica's. Gilroy Usher told us that he checked this morning and someone had dealt with the matter for Pitts.
Such warrants are taken out after debts are left unsettled. If left outstanding, committal warrants can get anyone whose name it is in hauled off to jail.
BTB Suspends One, Investigating Others In Wake Of Myers Misrepresentation Meltdown
(posted on Thu Dec 18, 2014)
Yesterday, we told you how Clive Myers, BTB's new Director of Marketing & Industry Relations resigned only 3 days after being officially installed. Well tonight, we've learned more about the reasons behind it.
It happened yesterday when some anonymous whistle-blower went making the media rounds delivering a package of documents detailing that Myers allegedly forged his credentials. The documents say that he never went to Ashford University Online to get his bachelor's degree, like he claimed, and neither did he go to Drexel University to get his master's degree, as he claimed.
We've looked over the documents, and from what we can see, this whistle-blower went to great lengths to verify his credentials, as if determined to expose Myers. The person pulled from official and unofficial sources, including Myers' social media accounts to paint the picture that he crafted an elaborate scheme to misrepresent himself with the intent to get himself hired at prestigious institutions.
Meyers has declined comment to all media houses, saying only that he resigned to protect the integrity of the BTB. We've also confirmed with Karen Bevans, the Director of Tourism, that Myers left of his own free will, before they could even inquire about the credibility of these reports.
What we have learned is that the BTB has been hunting for this whistle-blower, and that the belief is that this person is someone from inside the organization. Sources tell us that 1 person has been suspended and 2 more are being investigated for suspected connection to the leaked documents.
Meanwhile, the scandal rages in the public domain: how could the BTB's Human Resources Department not do proper due diligence on Myers?
The Opposition Party has fiercely condemned the BTB's executive, linking it to the Barrow Administration. They released a statement today saying, quote, "It is grossly embarrassing for Belize that on one day a press release is issued by the Director of Tourism naming Clive Myers as the BTB's dynamic, new Director of Marketing and less than 3 days later, he resigns because he was exposed as having misrepresented his credentials on his resume." End Quote.
Before taking up the post as the Marketing Director, previously he was the Destination Planning and Development Coordinator, where he had influence on BTB initiatives. Before that, he worked at the Institute of Creative Arts within NICH.
Salvation Army Soldiering For True Spirit of Christmas
(posted on Thu Dec 18, 2014)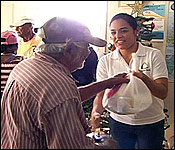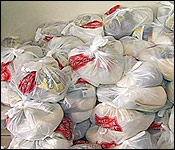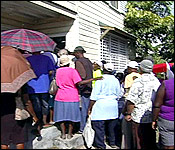 550 families received a Christmas food package today from the Salvation Army. Now, the Salvation Army always helps out the most needy, but this package is just something extra for the season.
According to Joliker Leandre (LEE-AND), Regional Commander of the Salvation Army, their main objective is to make people's lives a bit better, not just during Christmas time.
Michelle Sandoval, Chair lady, Salvation Army
"Right now we are doing the parcel distribution. They will received like the can foods, beans, rice, flour and so forth for each of the elderly citizens here in Belize. When the Christmas appeal started, we were asking them to come to register. They had to just bring in their ID, give their name to confirm that they are elderly citizens and need to receive their food hamper. We are not giving it to any young person of that sort. When they come they bring their tickets and they present it to us and we scratch them off the list that we have already created for them."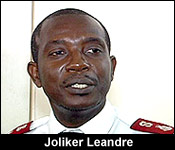 Joliker Leandre, Regional Commander, Salvation Army
"The need comes almost every day because you might have today and tomorrow you may not have. There are persons who may just come because fire destroyed their house, they have lost everything. There are persons who may come because they have just lost their job. So, whatever we have, whatever we can share, we are very happy to share with the general public."
These packages were also distributed on Cemetery Road and Castle Street. The Salvation Army distributes food items every month.
Atlantic Bank In The Hood
(posted on Thu Dec 18, 2014)
Today Atlantic Bank was the one spreading Christmas Cheer. The bank's staff went into the poorer areas of Belize City distributing gifts freely to children - Monica Bodden caught up with them in the Lake Independence area:..
Home | Archives | Downloads/Podcasts | Advertise | Contact Us