New Year, New Representative For Cayo North
(posted on Tue Nov 25, 2014)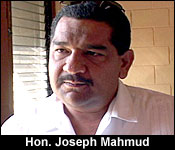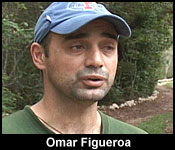 The New Year will start off with a bang for the voters of Cayo North - and that's because the date for the by-election has been set for the fifth of January 2015.
The Governor General has signed the writ of election - and set nomination day for 20 days from now, on Monday December 15th. The election will be held 21 days after that on Monday, January fifth.
And while that total of 41 days is fairly quick - we're told that the Barrow administration would have wished for it to be sooner - but the Christmas holidays got in the way of that plan.
That's because the UDP is already in gear with standard-bearer Omar Figueroa - while the PUP doesn't currently have a standard bearer - after Joseph Mahmud resigned from that post in mid-October. And then he made history yesterday by going one step further when he became the very first elected Area Representative to resign as a member of the National Assembly.
Why did he make this unprecedented step - and what does it say about the leadership of the PUP? A little later on in the news you'll hear what the Leader of The Opposition had to say in answer to the tough questions.
GF of Accused Teenaged Male Says Diplomat Tried To Rape Him
(posted on Tue Nov 25, 2014)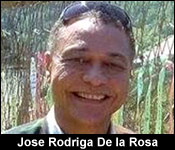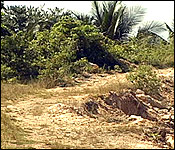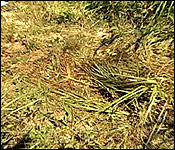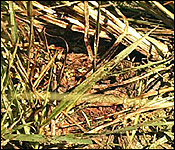 But, first to news of a compelling story coming out of the murder of Panamanian Diplomat, Jose Rodrigo De la Rosa Stanford.
As we told you last night police were quick to detain the prime suspect and even recover the Charge D' Affairs stolen vehicle. Tonight they are preparing to charge an 18 year old male for the crime.
But, there's a disturbing counter narrative that has appeared. It's being led by the girlfriend of the accused. She's not saying he's innocent - she says that the teenager was acting in self defence, as he fought off an unwelcome sexual advance from the 64 year old diplomat.
She says that De La Rosa lured him to that secluded area known on La Choza road, and it was there that the older man allegedly tried to rape him at gunpoint.
We met Chavarria's girlfriend at the Belmopan Police station. She asked to speak off-camera about his version of the encounter, which left De La Rosa dead. Here's what she told us:
Voice of: Girlfriend of Winsor Chavarria
"What happen is that he was defending himself because that man, the Diplomat, he is a pervert, he wanted to rape him. He wanted to take advantage of him, that's why he defended himself. He had no choice."
Mike Rudon, Ch5
"Have you had a chance to talk to Windsor after the incident happened? What exactly did he tell you?"
Voice of: Girlfriend of Winsor Chavarria
"He told me that the man offered him - he knew him from where he use to work and so he met him at the terminal. He was shopping and the man offered him a ride and a drink and so he took it. Then the man told him that he knew a nice place to take a drink and he took him to this place, an isolated place that he didn't knew and then he gave him another beer and then the man like try to touch his private parts when he didn't want it, the man took out his gun and tried to rape him and that's when he saw a blade in his car and he cut him. He didn't know where, but he had to do it to defend himself because it was his life or the man's life."
Mike Rudon, Ch5
"What was Windsor's reaction when he went home, when he was telling you what happened?"
Voice of: Girlfriend of Winsor Chavarria
"He didn't tell me the first minute, but I saw him weird. He tried to tell me what was going on."
Reporter
"AT that moment, his state of mind, did he know exactly the gravity or the extent of what he did?"
Voice of: Girlfriend of Winsor Chavarria
"He was confused. It's the first time he did this because he is not like that. It is the first time he did something like that."
As we told you last night, De La Rosa becomes the first Diplomat to be killed in Belize. The apparent murder sent a chill though the diplomatic community where there was a concern that the crime could have been to target staff of foreign missions. The personal angel seems to suggest otherwise - and we understand the accused has given a confession statement to this effect and is cooperating with police. Police expect to charge him tonight or tomorrow morning. He has been identified by his family to us as Winsor Chavarria, a resident of Belmopan.
Hon. Elrington Has To Speak To Panamanian Counterparts
(posted on Tue Nov 25, 2014)
And while the narrative and the confession from the 18 year old should serve to ease the scare in the diplomatic community - the ugly details make it no easier for Foreign Minister Wilfred Elrington who has to communicate the news to his Panamanian counterpart.
Today, we caught Elrington as he was heading into a cabinet meeting.
He told us that he has been in contact with the Panamanian Government to assure them that the authorities in Belize are doing all they can to bring De La Rosa's killer to justice:
Hon. Wilfred Elrington, Minister of Foreign Affairs

"My understanding is that he was seeing leaving his apartment at the Marina Towers on Sunday morning and then his body was found sometime on Sunday afternoon. So it was a 12 hour period within which this incident occurred. It's a very unfortunate situation. We are very saddened about it, exceedingly saddened. I had met the Ambassador, he was only been here for a brief while and I think everybody who came across him were impressed with him. They liked him very much and he was very enthusiastic, he really wanted to get the airline coming out of Panama into Belize as quickly as possible. I know that's a project he was working on with a great deal of enthusiasm. I was very disappointed to hear of his passing. Our police have been doing excellent work, however and I am told they are just about to charge someone for the offence. They have recovered his cell phone, they have recovered the vehicle and they have gotten a caution statement, so if there is anything that is good about that situation, it is that in fact police have done an excellent job in seeming to resolve that problem."
Reporter
"Have you been shared the details as to how he was murdered or why?"
Hon. Wilfred Elrington, Minister of Foreign Affairs
"No, I don't have that information and generally that is information which is not necessarily shared with us, but I spoke to the Vice President who is also the foreign minister yesterday, I gave her the information which we had up to that date and today we will be sending off more information to her."
Elrington told us that the Panamanian Foreign Minister informed him that a new Charge D' Affairs will be sent to Belize shortly to act in De La Rosa's absence. Elrington also does not believe that the diplomat's killing will affect the relationship between Belize and Panama.
Getting back to the relationship between the deceased and the suspect, Chavarria's family says that he used to work for a security company which used to provide security services for the Panama Embassy. He was posted at the Panamanian Embassy, and that's where he came into contact with Jose Rodrigo De la Rosa Stanford. His family claims that they had no other encounter or interactions before Sunday evening when De La Rosa allegedly offered him a ride and a drink.
Hon. Fonseca Says The Blame Is On Mahmud
(posted on Tue Nov 25, 2014)
As we told you at the top of the news, there's going to be an election in January. That's in Cayo North - a division that went blue in the last election - but, right now it's up for grabs after the Area Representative Joseph Mahmud resigned yesterday.
The UDP hopes it can re-claim the seat which it controlled consistently up until 1998 - while the PUP is hoping to hold on in an area where they currently have no elected standard bearer. Making it harder for the PUP is the fact that the outgoing standard bearer Joseph Mahmud will clearly not help his successor, whoever that will be. How do we know that? Well, he didn't tell his party leader he was resigning, and the party leader says that he didn't even tell his committee. At a press briefing at Independence Hall this morning, Opposition Leader Fonseca admitted to being caught off guard:..
Jules Vasquez
"Is it something that you might have expected or were you caught off guard?"
Hon. Francis Fonseca, Leader of the Opposition
"Yes I would say that I was not anticipating that that would happen. If it were to happen I thought it would may have happen later on and not so quickly."
Jules Vasquez
"I am told that he felt somewhat disrespected by yourself in various exchanges and that after he inform the party of his resignation as standard bearer, that he felt you all didn't even reach out to him."
Hon. Francis Fonseca, Leader of the Opposition
"I absolutely cannot point to any incident, any evidence - there is no evidence to support such a suggestion that I have disrespected Mr. Mahmud."
Reporter
"One of the reasons why Mahmud did what he did was because he had come to you and brought to you several complaints about the Western Caucus, particularly Mr. Julius Espat who heads the Western Caucus and that you have address none of his concerns, none of his complaints and it was a mere frustration - a move out of frustration because you haven't address concerns. This hasn't come directly from him, but from people around him."
Hon. Francis Fonseca, Leader of the Opposition
"Yeah, I think I responded to that in a sense earlier. I've had many discussions with Mr. Mahmud, if you get frustrated because I don't do what you want me to do - that can't be my problem. The issue of adjustment of the Western Caucus, the structure of the Western Caucus was something I discussed at length with Mr. Mahmud. He was the chairman at the time, I discussed at length with him and I made it clear to him that I felt that moving in this direction was in the best interest of the party and of him because he felt overwhelm as an area representative and I though he needed to focus his attention and efforts on his work as an area representative, so I believe I have always been very fair, very open with Mr. Mahmud. So I can't account for his frustration. I made it very clear to Mr. Mahmud at the time that he stepped down as standard bearer, that this is serious business. I take the work of this party very seriously and when we make decisions we have deal with the consequences of those decisions. I made it very clear to him, once you make the decision that you are not going to seek re-election, the party will move forward, I will move forward and in fact that is where we are today moving forward. Yes disappointed that Mr. Mahmud had resign from the national assembly and I think his decision to do so, let me make it clear, his decision to do so without consulting the party, without informing the party, without informing his executive in Cayo North, I think reflects poorly on him and I view that as disrespectful to the party."
Geovannie Brackett, reporter
"You think that he is a traitor, you think that he was bought out?"
Hon. Francis Fonseca, Leader of the Opposition
"I am not in a position at all to make any such suggestion at all. I am certainly not prepared to go there at all."
Reporter
"They are stating all sorts of things that the party is falling apart, that it reflects on your leadership. Are you concerned at all in terms of the perception out there because of this resignation, particularly because he didn't inform you?"
Hon. Francis Fonseca, Leader of the Opposition
"Everything that happens in the People's United Party reflects on the leader and reflects on the state of the party, so yes we would not have wanted Mr. Mahmud to resign. I wanted him to serve out his term with integrity and dignity and working on behalf of the people of Cayo North as best as possible given the challenges, but he made a decision, I've already said that I feel that that decision he made reflects poorly on him and that's where I think it stands - it reflects poorly on him. I don't think it reflects poorly on us as a party."
And so while Fonseca has, rightly or wrongly, transferred the shame and blame to Mahmud - the truth is, he's out of the picture - and he has no election to win or lose. Right now, the pressure is on the PUP to hold unto Cayo North - and as we've clearly laid out, it will be a challenge. First off, the party has no candidate in place - but it does have two eager aspirants, Attorney Michel Chebat and businessman Richard Harrison. Fonseca discussed their chances this morning:..
Hon. Francis Fonseca, Leader of the Opposition
"And the party will now fast track that process of selecting a candidate. Later this week we will have a national executive meeting of the People's United Party and how we proceed in Cayo North will be a major topic for discussion and deliberation and decision exactly how we will proceed, but we are preparing for and anticipating obviously a very early election - that is to the advantage of the United Democratic Party and through to form, they will exploit every advantage that they have. So we have to look forward to a very early election, probably very early in January. And yes we have no choice but to be prepared. We have to be prepared. As I am very optimistic, I am very hopeful because we have very good candidates. We lost a candidate, but out of crisis, out of challenge comes opportunity sometimes and this is how I view it. We have an opportunity now to replace Mr. Mahmud with candidates who are certainly, equally good, some would say, better candidates, but we have an opportunity to do that - to offer to the people of Cayo North very good credible, quality candidates."
Jules Vasquez
"Will the party prevail upon one of the candidates and encourage them to stand because there is just no time for a convention or money?"
Hon. Francis Fonseca, Leader of the Opposition
"Yeah, you are obviously a political strategist Jules, you've learnt a lot over the years from being around the political parties - yes that's an option. I think certainly an option, but that is the purpose of us having a meeting later this week to discuss all those options, to discuss the best way forward as I said, but that certainly has to be on the table. Absolutely has to be on the table. Is it in our best interest to simply endorse one of the two candidates who have applied and move forward with that candidate, given the urgency and the time, the very short timeframe that exist. And then we have to engage in a very intensive 4-5-6 week's campaign in Cayo North. We will never be able to challenge the UDP when it comes to money, they are rolling in serious money as you know, but we have to put up a very strong, spirited campaign."
And even though that press conference was held before the by-election date was announced, he did have his timing just about right - it will be a 7 week campaign - that's if you start today - which the UDP did. Party leader Dean Barrow has deployed key ministers and their available resources to Cayo North -where voters can expect to be showered with Petrocaribe goodies between now and the election.
Hon. Espat Deflects Blame For Mahmud Departure
(posted on Tue Nov 25, 2014)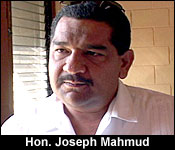 As you heard, the PUP will also be moving shortly to name a candidate, but first it has to do some house-keeping. The historic Mahmud resignation is like a body blow - and the political subtext is that the first blow against Mahmud was thrown by Deputy Leader for the West, Julius Espat.
Ever since the 2012 election, he and Mahmud have been jostling for control of the west: Mahmud was chair of the Western Caucus, and Espat the Deputy for the West. Mahmud's supporters say he was eventually boxed out of that position as Chairman - and that was through the calculation of Julius Espat.
Now, that is only one side of the story. Today, in Belmopan we got the other, when Espat answered the media's questions about the perceived tension between him and Mahmud.
Reporter
"Sir, would you say it was irresponsible for him not to notify the party and the party leader?"
Hon. Julius Espat, PUP Western Caucus
"I think it was a disrespect for not informing the party yes, especially the party leader. That's a personal look at it. It's like your wife divorce you and you don't know. It's a temporary crisis mode, we are dealing with it as professional and that we have to. But that we are scared? No. That we are hunkering down and bringing our troops together? Yes. Maybe it's positive. It highlights the fact it will not be an easy task ahead of us. As far as I can tell you we don't have any tensions. We have differences in opinion and that we have many differences in opinion within the party - its a political party and I think that makes it healthy."
Daniel Ortiz
"Our information says it went a bit further than just a differences of opinion. We understood that you are the direct reason as to why he exited the party."
Hon. Julius Espat, PUP Western Caucus
"How can that be? A decision like this is not about me. A decision like this is about not serving the people that you represent and I think that's where politicians tend to misunderstand the concept of why they are there. I will not allow any person to intimidate me or to force me to do something that is contrary to my people which the people of Cayo South, to me it's an honor to serve them and it is an honor to defend them and so a decision like this cannot be made by just a difference of opinion between a colleague. It has to be more than that."
Daniel Ortiz
"Was there a jostling for power between you and Mr. Mahmud?"
Hon. Julius Espat, PUP Western Caucus
"There is no jostling for power, it's a matter of putting in the work. We have a responsibility. As the Deputy Party Leader of the Western Caucus, my responsibility is to oversee all the constituencies. At that time he was the chairman of the Western Caucus which is an administrative post and there are two different roles to play and so I don't see where the conflict arises."
Daniel Ortiz
"When he made this announcement at the beginning that he would not offer himself for the next general election, you spoke to us saying I wish him the best in is endeavors. To those of us, that could be taken as he being left out in the cold - go your own way."
Hon. Julius Espat, PUP Western Caucus
"But what else you want me to say?"
Daniel Ortiz
"Shouldn't you have reached out to try to keep him in the PUP family?"
Hon. Julius Espat, PUP Western Caucus
"It's not a decision for me to make. You see, if you want to be a part of us, then you are welcome to work as a part of us. If you make a decision that you don't want to be a part of us, nobody can force you to do otherwise. We have had people that have spoken to him in the past and they have done everything in their wisdom or their efforts to try and it has not worked out, but I insist guys, why don't you ask him, he is the one that resign. He is the one that is not here with us. He is the one that has decided not to represent the people of Cayo North. He is the one that needs to answer the questions."
Of course, the one person we have not heard from in all of this is Joseph Mahmud. Everyone's talking about him, but he hasn't said a word - which, has been his style, he very, very rarely talks to the media - and when he does, we get the sense that….he'd rather spend an evening with Julius Espat.
But he did issue a statement addressed to the residents and voters of Cayo North this evening. It says, quote, "I'm deeply sorry that I has to give up being your elected representative. Due to personal reasons I must make this decision and return to private life."
He adds, "everything I have done in my area and for you the people I did it on my own and from my heart without prejudice." End quote.
It's a quite melancholy statement - and it says nothing about the PUP, nor does he urge his former voters to support any party.
Hon. Elrington Says UDP In Gear
(posted on Tue Nov 25, 2014)
And while the PUP tries to move on from finger-pointing to candidate picking, is the UDP's plan? We know they are eager to get it over with quickly, and we tried to speak with Prime Minister Dean Barrow about it when he came out of the Cabinet meeting this afternoon, but he told us that he couldn't grant an interview because he was running late.
We did get a chance to speak with Attorney General Wilfred Elrington about the UDP's take on Mahmud's abrupt departure:
Hon. Wilfred Elrington, Minister of Foreign Affairs
"That's a crisis for the People's United Party and they seem to be lurching from one crisis to the next. I am hoping that in fact the leader Francis Fonseca is not going to be adversely affected by it. These things normally have unintended consequences and I am certain that this kind of resignation brings really great pressure on him. He has been having a difficult time so far and I don't think this helps him. But certainly one has got to commend Mahmud for being principle. I imagine he is taking a principle position on matters of a political nature. I myself had at one time gone off on my own dependently, so these happens with politicians, so again, part of the reality of our democratic system, I think it's healthy. I think it is good that people can feel strong enough about an issue to be prepared to resign."
Daniel Ortiz
"However, this does gives your party an advantage in increasing that slim margin that it has in the government majority."
Hon. Wilfred Elrington, Minister of Foreign Affairs
"Well certainly our party can benefit from it. It doesn't automatically gives you an advantage because there will have to be a by-election and that's going to be done very shortly."
Will PUP Take Petrocaribe Funded Christmas Cheer
(posted on Tue Nov 25, 2014)
As we said, Petrocaribe is expected to factor significantly into this Cayo North election. Indeed, it is the driving force behind politics right now - and if you don't believe that, just ask the thousands who were rolled up to Belmopan to defend the programme a week ago.
Petrocaribe is being used principally for infrastructure projects, but it is also used the Christmas Cheer programme. Last year Christmas, the opposition got shared into the Cheer programme with an allotment - albeit a lesser one - for each PUP representative.
But, they took it - one prominent opposition member even asked for it in cash to reimburse himself for toys he had already bought.
But, that was before the Petrocaribe challenge - since then the PUP has gone to court to try and shut down the programme as unauthorized spending.
So, does that mean they will say no to Christmas Cheer? Well, that's a different matter - the leader explained:..
Jules Vasquez
"Christmas cheer is coming up again and that is funded, we are told, through that fund. Will you all accept the opposition money through that or will you all say its irretrievable tainted and refuse it?"
Hon. Francis Fonseca, Leader of the Opposition
"No decision has been made Jules. First of all we didn't get any mother's day cheer and that was the last handing out of funds, so there is no legitimate expectation that we will be participating..."
Jules Vasquez
"But you got Christmas cheer last year."
Hon. Francis Fonseca, Leader of the Opposition
"Christmas cheer we got, but after that the other program has been the mother's day cheer where they decided they don't want to include the PUPs, so I have no legitimate expectation that we will be included in the Christmas program. If we are advised that we will be by the government, then I will take it to the executive and the parliamentary caucus, the representatives, for a decision."
Jules Vasquez
"Shouldn't you just refuse it though, based on the party's position?"
Hon. Francis Fonseca, Leader of the Opposition
"Well you can say. That's a point that can be made, but I want to allow representatives to speak how they feel about it. We've taken it in the past and it's in a sense and accountable program in the sense that it's directly going not to us as representatives, but directly to people. So I think that has to be discussed."
The PUP executive will meet later this week.
11 Year Old Alleges Gang Rape
(posted on Tue Nov 25, 2014)
There is a very disturbing case of rape to report tonight - it involves an 11 year old primary girl who is alleging that she was gang raped by four men on the southside of Belize City.
She told police she doesn't know all their names - but one suspect was charged today. He is 22 year old Wilfred Ramirez of Iguana Street - and she says it happened at his house late last week. He was charged with a single count of unlawful sexual intercourse with a female child under the age of 14.
Ramirez who was unrepresented asked to speak in court and told the Chief magistrate, Anne Marie Smith that he is being wrongfully accused. He said he had asked for an identification parade but got none. He also said he has been detained for four days until he was charged today. He claims he even asked for a DNA test but that too was denied.
No plea was taken and due to the nature of the offense, Ramirez was remanded to Prison until January 29, 2015.
The investigation is ongoing as police are seeking others not yet known by their real names but only by nicknames provided by the victim.
Earlier this year, Ramirez was busted with a sawed off firearm at the funeral of a gang affiliated person.
Cops and DPP Going Separate Ways
(posted on Tue Nov 25, 2014)
As we've been telling you since yesterday, the killing of the Panamanian Diplomat, Jose Rodrigo De la Rosa Stanford, is a high-profile case being treated in a sensitive manner.
And while you might think that all authorities at the state level are being engaged to ensure that the prosecution airtight when it goes to the Supreme Court, that's not so.
That's what we found out today when we contacted the Director of Public Prosecutions to inquire about her office's input into the investigation at this time. She told us that her office has not been sought for any advice on how the investigator may proceed to ensure that a prosecutable case is brought against the accused person.
Typically, after a case is investigated, the DPP's Office would advise investigators on what evidence they would need to lead a successful prosecution.
But, as you may remember Prime Minister Dean Barrow appeared on national TV the day after those 4 deadly shootings in Belize City on September 18. In his comments, he criticized the delay created when investigators had to consult with the Crown Counsels DPP's Office on whether or not to lay charges against accused person.
Well, it seems that the Police Department took that position very seriously, and 6 days later the Head of the National Criminal Investigations Branch, Assistant Police Commissioner Russell Blackett sent an internal police memo to all formation commanders around the country to enforce that position.
Blackett said, quote, "The Practice of consulting the Office of the Director of Public Prosecutions as to whether to charge a person for murder or any other crime must cease forthwith." End quote.
The memo continues, "Whether an investigator is satisfied that sufficient evidence (exists) to support the charge, the Formation Commander must be consulted prior to and must be the person to give the approval for the charge(s) to be laid."
And while it allows for less delay with the laying of charges, it could create situations where the DPP's Office is crippled when trying to prosecute accused persons at the Supreme Court. There are no plans presently to restore the previous arrangement.
Police: Fixing Up From The Inside Out
(posted on Tue Nov 25, 2014)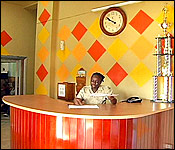 We know police love the get-tough approach, but the Eastern Police Division is trying to transform its headquarters into a customer friendly environment. A workshop was held on Customer care for 20 police officers today at the Raccoon Street Police station. Instead of learning about suppression techniques or weapons handling, they got training in topics such as effective communication skills, front desk management and job etiquette. Courtney Weatherburne found out more:..
Courtney Weatherburne reporting
Usually the focus of a gathering of police officers such as this would be on weighty matters such as crime control and follow up meetings on ongoing cases.
But that was not the focus of today's gathering. These officers are participating in a Customer Care and Front Desk Services Training.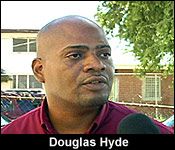 Douglas Hyde, Police Press Officer
"The idea of the training is to better their skills, of course their approach, their public relation when dealing with the general public when they walk in and these officers who are participating in this two days training are the front line workers. These are the persons when any person walk within the precincts or headquarters here, these are the persons that they will see."
But it's not only the public that will benefit from improved customer service. The accused persons that these officers come in contact with on a regular basis should also see improvements in how they are treated.
WPC Shirley Villacorte, Queen Street Police Station
"Pretty much it will assist us in know how to better deal with them, calm them down and have a better communication with them, instead of roughing them up. With this workshop it will enhance us in a way that we will be able to cope with them in a much friendly and be more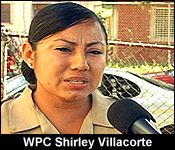 ethical and so forth."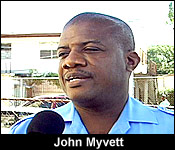 John Myvett, Special Constable
"It's not going to be difficult because we at the department we are here to adjust and to relay to people in all aspects and all manners, treat people with respect and respect is a two way street to everybody, not only yourself."
Apart from these behavioral and customer service shifts, the physical layout of the headquarters has also been upgraded to reflect revised service based outlook.
Douglas Hyde, Police Press Officer
"So we look at training the person, but also changing the environment and coming next week we will look at the different areas, the precincts likewise headquarters here at Raccoon Street in changing the front desk and it's called the lobby - more or less than when people walks within the precincts or the headquarters, they see not only that person, but also the environment changes - the whole atmosphere likewise and we hope that these approaches are to better our public relation, but also give better services to the general public. We hope at the ending of these trainings that we run is that the participants will better understand the importance of their job and likewise the service that they provide to the general public."
THE workshop continues tomorrow.
Licenses Discarded In Dirt
(posted on Tue Nov 25, 2014)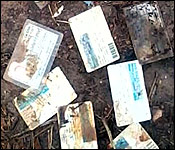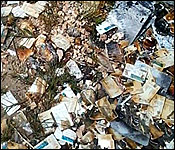 If ever there comes a time when you can't find your driver's license - you might want to go to the City Council Compound at mile 4 on the Western Highway where there's a virtual cemetery for them.
Today, these pictures of carelessly discarded licenses went viral on Facebook. We found them at the very back of the Belize City council works department compound where some had been recently burned while others were just strewn around the fire.
City Councillor Dean Samuels went on Facebook to say that the Council has to discard licenses that accumulate over time. He said they were at the city dump - but in fact they are not.
Of course, this raises all kinds of questions about identity theft and the proper handling of private records by public authorities - but truth be told that illusion of security went out the door with city driver's license very long ago. Its security was compromised years ago - and it is only has limited acceptance as a valid identification.
A Gateway To A New Future
(posted on Tue Nov 25, 2014)
The Gateway Youth Center- it is an initiation of the Community Action for Public Safety Project which aims at creating constructive use of free time for teenagers. The educational, social and recreational facility caters to both males and females who are in school and need additional tutoring and support as well as those out of school youths who wish to re-enroll in an educational institution. Today the official opening of the youth center was held and 7news was there.
The project is funded through the Inter-American Development Bank and the Government of Belize. The youth center provides instructional programs such as Literacy and Math, afterschool program, re-entry and outside referral services and family services. It's equipped with classrooms, offices, auditorium, security and recreational facilities. If you are between the ages of 13 and 19, you can contact a youth officer at telephone number 2-2-7-0-8-4-0 to register to participate in the programs offered.
Yasmin and Patrick Call Names
(posted on Tue Nov 25, 2014)
As the three term representative in the Collet Division Patrick Faber is considered very difficult to unseat. But don't tell that to his new opponent Yasmin Shoman. She's been waging an active campaign on social media - and challenging Faber to do something about the living conditions in his division - which is one of the poorest in the country.
Yesterday Faber told the media that she should have done something about it when she was in municipal office:..
Hon. Patrick Faber, Minister of Education
"To work in the division, continuing our efforts to improve the quality of life for the residence of Collet. I am going to be the first to admit and to agree with Ms. Shoman that in terms of the infrastructure, it has never been what we want it to be, but it is given that it is in an area that is difficult to develop. I would want her to show us her plan as to how she will eradicate the London bridges over Crooman Lagoon. If she can tell us that then I'll let you know. If she can show us where she is going to get the money to fill up Crooman Lagoon, so that no London Bridges are there. It will be a great initiative. I am nor even sure the Petrocaribe funds would be enough. It's a sink hole."
"She is no stranger to politics, she has been in politics, in fact, before and was a two-term city councilor and did nothing for the people of Collet, had no interest in the people of Collet and I think she, I'm not even going to go there. I welcome an opponent, we have to have one but I don't see it as any kind of significant challenge at all. From what I am told and from seeing some of the pictures that they have shown to me from her convention, I guess she made some pictures public, I'd give her fifty residents of Collet being in that crowd, fifty. No more than fifty and that would be very generous. Compare that to the three hundred and odd plus people who were at the Garifuna celebration right in front of the Collet office on Monday night. Compare that to the six hundred plus supporters who filled twelve busloads from Belize City to go to the rally in support of the prime minister and this administration on Tuesday and I think that all would agree that there is no threat in this, Ms. Shoman's candidacy for us in Collet and we will not give her more play than that."
But Yasmin Shoman will not just stand by and take his attacks LIGHTLY. Today, we spoke to her at a PUP Press conference and she had strong words for her opponent:..
Yasmin Shoman
"First of all Patrick Faber needs to take a page from my book; I don't talk the talk, I walk the walk. I am not concern with him. Patrick is nothing than a factor in Collet. The factor is my candidacy coming into offer people hope. People have already made up their minds, and people are asking me where is Patrick Faber and they are waiting patiently for him. Patrick, you know why you cannot show your face in Collet division, but I'd like to invite you minister, come take a walk with me on those London bridges. Come and hear what the people that you have disenfranchise think about you and come Election Day, I am projecting a very high voter turnout because people cannot wait to vote out a very petty, vindictive area representative."
Bze Will Have New Mex Ambassador
(posted on Tue Nov 25, 2014)
Belize will have a new Mexican Ambassador. He is Carlos Quesnel Meléndez. Quesnel holds a Mexican law degree and did graduate studies at the Institute of International Law and Comparative Constitutional Law at the University of Zurich. He also has a Masters degree in International Law from the Graduate Institute of International and Development Studies in Switzerland. He joined the Mexican Foreign Service in 1990. He has served at the Embassy in the United States and the United Kingdom.
Home | Archives | Downloads/Podcasts | Advertise | Contact Us