Budget Debate Continues; Hon. J. Espat Calls Petrocaribe An Illegal Addition
(posted on Fri Mar 27, 2015)
The budget debate continued today at the House of Representatives in Belmopan - and it went all day. After yesterday's session, there were 20 representatives left to speak - but it went along quite quickly and the Prime Minister started the wrap up at about 5:20.
We'll have a clip of that later, but first to the day's theatrics which inevitably came from the self-appointed bad boy of the House of Representatives, PUP Deputy Leader Julius Espat. In his response to the budget, he said government had become addicted to Petro-Caribe:..
Hon. Julius Espat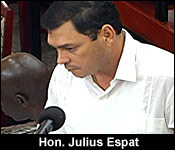 "That what we are presented with in this book Mr. Speaker, disguised as a budget, is useless and has absolutely no credibility. You see Mr. Speaker, the Prime Minister's continued use of supplementary appropriation bills and special warrants undermines the essence and the purpose of what a national budget should be."
"This is a continued abuse of the financial regulations of this country. In reality, uses this method of bypassing regulations to enable him to do his political spending. Clear examples of this are his Christmas Cheer program, his mother's day program and his back to school program. Mr. Speaker, the Prime Minister is managing this country comparable to a substance abuser - how a substance abuser would operate or behave. He has this economy totally addicted to an illegal substance and that illegal substance is called Petrocaribe. It is important that the nation understands how deceitful and how unlawful are the actions of the Prime Minister when dealing with the Petrocaribe loans from the beginning."
Michael Peyrefitte, Speaker of the House
"Remember the matter is in court, member."
Hon. Julius Espat
"In essence Mr. Speaker, the loan agreement is contrary to the constitution and finance and audit reform act and is therefore void."
Hon. Dean Barrow, Prime Minister
"He seems to be arguing...."
Michael Peyrefitte, Speaker of the House
"Yes, I told him about it earlier. That is almost the exact query in an application before the court."
Hon. Julius Espat
"Mr. Speaker, I am just doing a summary. I have the right."
Michael Peyrefitte, Speaker of the House
"No, no. The matter is before the court. We agreed on that before you started. Member, you are free naturally to talk about Petrocaribe in that light, but you are now arguing your case in the National Assembly."
Hon. Julius Espat
"No Mr. Speaker. The problem is, the signing of the agreement by the Deputy Prime Minister was illegal Mr. Speaker, because he didn't come to us, this honorable house."
Michael Peyrefitte, Speaker of the House
"That is before the court, member."
Hon. Julius Espat
"But it's a fact. We can't hide it Mr. Speaker. This honorable house is the legislature that gives authority to the executive to be able to spend our money."
Hon. Dean Barrow, Prime Minister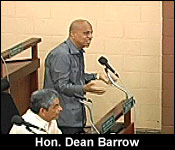 "Mr. Speaker, again, on a point of order. We say the exact opposite, but you are right. This is a matter before the court."
Hon. Julius Espat
"The act that he is proposing has not come yet."
Michael Peyrefitte, Speaker of the House
"But you are anticipating it. You will have a chance to debate that."
Hon. Julius Espat
"No. there is a motion that was presented last two weeks Mr. Speaker. I am not hiding that fact. I have it here."
Michael Peyrefitte, Speaker of the House
"So, then what is the illegality of what you are talking about?"
Hon. Julius Espat
"The illegality is that the government cannot spend money, cannot borrow money, cannot do anything that has to do with the people's money, if it doesn't come here for approval."
Michael Peyrefitte, Speaker of the House
"That is exactly before the court. I have seen the claim form. It is incumbent upon me to look upon the claim form. If you have seen the claim form....."
Hon. Julius Espat
"So, you are telling us that we cannot discuss Petrocaribe here at all?"
Michael Peyrefitte, Speaker of the House
"Not in the way you want to discuss it."
Hon. Julius Espat
"In which way would you like us to discuss it?"
Michael Peyrefitte, Speaker of the House
"No. look...."
Hon. Julius Espat
"Guide me Mr. Speaker. I am sure you would take my guidance. To put it to you then, you handcuffed yourself in the National Assembly when you took the matter to court."
Hon. Julius Espat
"Fair enough Mr. Speaker. Mr. Speaker, due to the fact that the government is totally addicted to this Petrocaribe funds to finance their projects, he has done absolutely nothing else to help to drive this economy. The PM is his irrational exuberance, made the people understand in no uncertain terms, that the UDP administration is awash in money - in millions and millions of dollars. But Mr. Speaker, the Prime Minister also made it clear, that such money was only for the benefit of those who voted UDP. Am I right or wrong Prime Minister? That is a fact and you can go back to the recording, because you know we have recordings now. And it seems to be a disease that both sides are getting the hit now. Remember, my neighbor and Mr. Castro - that just gives you a little going back in memory. I now have it a policy that anybody that meet with me, they leave their phones on the outside and my neighbor and I, we tend to leave the phone in the center of the street, so we don't really have a problem."
And as you saw in there, Espat made an unapologetic reference to secret recordings - and in so doing he seemed to very deliberately cast aspersions on his PUP colleague John Briceno. Espat has stated clearly he wants Briceno to apologize for accusing him of misappropriating campaign finds - which Espat said is a lie. And so, later on when Espat conceded to the PUP losing at the polls, Briceno made it clear only his stronghold in Orange Walk wasn't among the losers - here's that telling exchange:..
Hon. Julius Espat
"Mr. Speaker, the UDP won - they won."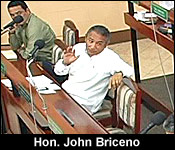 Hon. John Briceno
"Julius, they never won in Orange East, please."
Hon. Julius Espat
"Mr. Speaker, they won, because even in Orange Walk, they took it from a large margin to a narrow margin."
We note also that opposition leader Francis Fonseca had his head turned for most of that badly behaved back and forth.
Parliamentarians Debate The Importation Of Guyanese Rice
(posted on Fri Mar 27, 2015)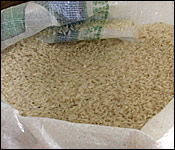 And while that house humour was the most entertaining potion of today's debate - there was also talk about serious national issues. We're referring to the price of rice that we've been reporting on for the past week. As we told you importer Jack Charles is ready to ring in cheap Guyanese rice - which he says would retail for 50 cents per pound less than the current locally produced rice.
The local producers have come forward to say that the high price of rice isn't their fault - it's the grocery shops that are driving up prices beyond the controlled price.
Government is urging local producers to bring prices down - and they won't grant a permit to Jack Charles. But today Foreign Minister Wilfred Elrington said that with the treaty of Chaguaramas, there's only so much they can do:..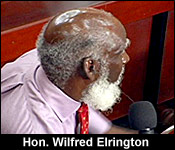 Hon. Wilfred Elrington
"Clearly that is a matter that the government has got to look into to ensure that in fact the people get the best deal. But I would also like to say at this point in time, that I find it incomprehensible that in fact the Guyanese are able to land rice here at 60 cents or 63 cents a pound in sacks and we cannot produce it for less than 80 cents. It's a Caricom sister nation. We are competing against that Caricom sister nation and certainly, it is the entitlement that the Belizean public to get the cheapest rice from Caricom. I am sounding a warning Mr. Speaker, because I know that our government will do all in our power to protect our local industries and our local people. But I can tell you very readily that there are only certain things that we have control over and if in fact business people in our country have the right under our treaty obligations with the Caribbean to import rice at a cheaper price, our government may not be able to help them and stop them from doing it."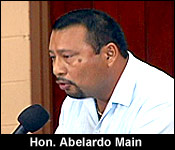 Hon. Abelardo Mai
"If we allow rice to be imported, thousands may lose their jobs. Hundreds of families will be left out in the cold and investments in the millions will be lost. I cannot imagine the social and economic disaster. We cannot allow rice to be imported from Guyana. No sensible government, PUP or UDP or no P at all, should allow the importation of rice from Guyana or from any other country that subsidies its production. At this time, we have rice to last us for 3 years. How in the world can the Belizean farmer compete with Guyana producers, when the latter have the full backing of their government. The cost of production is far lower in Guyana, because of their government support. How can we compete with Guyana when the farmers are being offered lows of 1% interest rate and guess where the money come from? I am certain that the infrastructure investments come from PC (Petrocaribe funds). How much have we invested of the PC money on rice, member for Belize Rural south?"
And so tonight the issues remains unresolved and at the forefront of the national discourse - which is thanks to the work of Jack Charles. But, the price of a pound of rice remains unnecessarily high and ultimately it is the job of the supplies control office to enforce it - and we have not heard a peep from them. We'll press for a comment next week.
PM Responds To Petrocaribe Critics
(posted on Fri Mar 27, 2015)
The budget debate finished at 6:00 pm - and at this hour, the house is debating the Petrocaribe Loans Bill. As per custom, the Prime Minister wrapped up the debate where he challenged the PUP's two principal criticism of the budget: that it was a tax and spend budget and that it relied all on loans - we have this courtesy WAVE TV:
Hon. Dean Barrow, Prime Minister

"That we are a government of taxation. You see why I have to accused them of being ignorant and then they get vex? Ignorant, meaning they lack knowledge. My goodness man, the records are there. This government has not imposed any new taxes for the last 5 years. Then the second one was that we borrow. Well Mr. Speaker, of course we borrow. There is no government in the world that doesn't borrow. There is nothing wrong with borrowing, so long as you borrow on the right terms and conditions. So long as you borrow in the right way. So long as you borrow in the UDP way."
"A part from the super bond, which by the way is 48% of the total debt stock. Super bond that is squarely and eternally on you. A part from the super bond, our debt stock is comprised exclusively, wholly, completely of concessionary borrowing. You know the member for Cayo South, he has been scolded by the southern caucus, said that Petrocaribe is like an addict or is addictive and we are addicts because we use Petrocaribe. Again, would you allow me to shed some light on your ignorance sir? Petrocaribe is only responsible for 4 cents out of every dollar that the government of Belize spends. I don't know how you can call that an addict? Check your facts, check your figures. Mr. Speaker, we have spent their money, not just wisely, but transparently. In fact, that's one of the reasons that they are so frantic, they are so put out that they get into these fits and paroxysms of anger, because we continue to talk over and over about what we do with the Petrocaribe money. We are not hiding anything and people compare and contrast. That is why they have lost every single election since 2003."
And later on - also courtesy of WAVE TV - we'll have a few clips form the debate on the petrocaribe loans motion.
Akeem Thurtonís Attempted Murder Conviction Affirmed
(posted on Fri Mar 27, 2015)
22 year-old Akeem Thurton, the man who was convicted in the first trial without jury of shooting and almost killing attorney Rodwell Williams, got bad news today: his conviction was affirmed by the Court of Appeal.
Viewers may remember that his appeal was heard exactly a week ago. At that session, Jamaican American Human Rights lawyer Nancy Mae Anderson worked with local attorney Bryan Neal to prepare a 20 ground appeal on Thurton's behalf.
After deliberating, the panel of judges delivered its decision today that his appeal was dismissed, but they decided that a small amount of time needed to be subtracted from the sentence that the Chief Justice handed him in 2012.
That's not the outcome Thurton's family or his attorneys were hoping for. They were hoping that the court would overturn the conviction and set him free. We spoke with them outside about the decision, and here's what they told us:
Bryan Neal - Attorney for Akeem Thurton
"The appeal was dismissed on the conviction. The only appeal was allowed was the appeal in respect of his sentence, but only 6 months was removed from his sentence, so effectively he will serve fourteen and a half years by this decision of this court."
Daniel Ortiz
"What was the outcome he was hoping for?"
Bryan Neal - Attorney for Akeem Thurton
"He was hoping to go home today. The good thing about our legal system is that there is one final opportunity to appeal, so that we have the Caribbean Court of Justice and any person who is dissatisfied with a decision of a court, especially with the court of appeal - there is one more chance for him to appeal to the CCJ, so Ms. Anderson and I will be looking at the grounds that we had filed. We will see if we can strengthen those grounds from the court of appeal and decide if we have the possibility to mount an appeal from this decision, which is Akeem Thurton's right to do."
Daniel Ortiz
"What was the ground of appeal you believe was the strongest which you believe would have succeeded?"
Bryan Neal - Attorney for Akeem Thurton
"The retroactivity of the application of the amendment to the jury act that it should not have applied to him. Also, some of the procedural irregularities that we found to have him read the transcript. We thought that those were substantial grounds and we put them before the court, but the court is entitled to refuse to accept them and that is what it has done."
Loraine Thurton, Mother of Akeem Thurton

"I think it was unfair, because my son doesn't deserve this. My son almost spent 4 years in jail and they still give him back the same time again. He has more than 10 years more to spend. My son is young and he is not a gun man. My son told the court everything that they wanted to hear. I don't know what else to say."
Daniel Ortiz
"Talk to us about Akeem, what did he say when he left a while ago?"
Loraine Thurton, Mother of Akeem Thurton
"He told me that they chance him and he was emotional and I told him to be strong and tomorrow is family day and I told him that I will come and spend the day with him, so just stay strong until I see him tomorrow."
Thurton has served 3 years since his date he was convicted, but the Court of Appeal factored in the time he spent on remand after he was formally arrested and charged. Thurton has 21 days to apply to the Court of Appeal for leave to appeal to the Caribbean Court of Justice. As viewers will remember, however, he had difficulty securing an attorney for the first Supreme Court case when he was originally tried by the Chief Justice. He managed to secure legal representation when Nancy Anderson and Bryan Neal took an interest in his case. Neal told us today that he and Anderson will try to assist Thurton as much as possible to get his final appeal heard at the Caribbean Court of Justice.
Appeal Court President Publicly Berates Former Bar President Courtenay
(posted on Fri Mar 27, 2015)
Today was the final day of the March 2015 sessions of the Court of Appeal, and an unprecedented event - as far as we are aware - unfolded this morning. The President of the Court of Appeal, Justice Manuel Sosa, actually scolded former President of the Bar Association, Senior Counsel Eamon Courtenay, and the legal practitioners who are members of the bar. He also demanded that a public apology be issued. That happened in a packed court room full of Courtenay's peers, and it became so serious that the words, contempt of court, was brought up, though no action was actually taken.
Justice of Appeal Sosa's contention is a statement which Courtenay made as President of the Bar on January 12 at this year's ceremonial opening of the Supreme Court. In his presentation to gathering and the press, Courtenay criticized the performance of the Court of Appeal October - November 2014 session. For context we re-air that portion of Courtenay's speech; here's what he had to say:
FILE: January 13, 2015
Eamon Courtenay, President of The Bar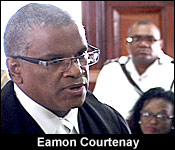 "The bar association wishes to put on record its serious concern about the state of affairs in the court of appeal. The last session in the court of appeals was historic in its underperformance. For the first time in history there was not a single criminal appeal heard. That is unacceptable. On the civil side, there were a record low number of civil appeals heard. The association took a decision that we should publish to the public the state of affairs and also decided that it intends to take drastic and dramatic action to have this matter resolved."
Well, Justice Manuel Sosa found his remarks highly offensive, but he kept the matter private for 10 weeks. He chose today, the final day of this session, when the court was filled with attorneys. They were awaiting the court's delivery of pending judgments for appeal cases which have already been heard.
On the final day of every sitting of the Appeal Court, the normal procedure is that President Manuel Sosa and the other judges would present themselves before the court, with all the cases that they have managed to produce written decisions for would be handed down. This morning, however, Justice Sosa completely caught the attorneys and court observers off guard when he announced that he was going to deliver a few remarks.
He immediately discussed Courtenay's remarks, which he referred to with words like "hostile", "scathing", and "highly reckless". He spoke to the court saying that Courtenay's comments painted an unfair picture of the work that the Appeal Court judges did in the October-November 2014 sitting.
He then went into an intensive report to explain how each of the criminal appeals were handled in that session. According to Justice Sosa, the judges had done all the research and perusal required for each of the cases, and so, when they were called up, the Court of Appeal was ready to hear them all. He then explained that for different reasons, each of the appellants informed the court that they had no attorneys to represent them, and so they requested that the court traverse the case. Sosa added that the court granted each adjournment after consideration, but informed them that the judges are minded to hear the cases at the next sitting even if the appellants did not have attorneys at that time around.
Justice Sosa said that each of the appellants went away contented with the decision of the court. At this point, he made a harsh put down of his own saying, quote, "We shall not allow ourselves to be bullied into becoming a kangaroo court which unfairly denies applications for traversal... The picture presented to the public was incomplete and unfair.... We are entitled to an apology from all who were responsibility for painting that picture to the public. I will not hold my breath for such an apology." End quote.
He then discussed the civil cases which were scheduled for that session and how the court handled those. He then indicated to the court that he has done research into the history of the Court of Appeal, and he has found other sessions in which a similar performance was delivered, which is comparable the October-November 2014 session of the court. He reasoned, then, that this session is not a record low number. Closing off his speech, Justice Sosa urged the authorities responsible, meaning the police and the Director of Public Prosecutions - who was in court today - to review whether the comments constitute contempt of court.
That's serious enough, but Courtenay did not make those remarks as just an attorney. He was speaking as the President of the Bar Association, in a very public and formal setting, so Justice Sosa takes those remarks as being the position of the entire Bar Association. Attorneys we've spoken to tell us that this will undoubtedly discussed by the new executive of the Bar, possibly the Bar Association membership itself, and Courtenay and his advisors.
So, how serious is the contempt of court issue? Well, we spoke with DPP Cheryl Lynn Vidal, and she told us this evening, that she witnessed the comments that Courtenay made first-hand at Ceremonial Opening of the Supreme Court. She added that while she found them unfortunate and unjustified in the circumstances, she didn't think them contemptuous. She indicated that given the unprecedented remarks by the President this morning, a closer look will be taken of the issue.
That's where it is at this evening, and so, we'll keep following this story as it develops.
Football National Team Travels To Gran Cayman For World Cup Qualifiers
(posted on Fri Mar 27, 2015)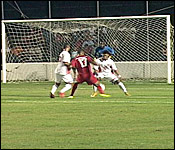 Today the Belize Jaguars traveled to Grand Cayman for the return match in the first round World Cup Qualifier. Wednesday's nil-nil draw at the FFB stadium in Belmopan wasn't quite what we expected but when we spoke to the players today at the Phillip Goldson International airport, they were confident that their existing game plan is sturdy and according to them, they just need more focus and a little luck.
Charlie Slusher, Assistant Coach, Jaguars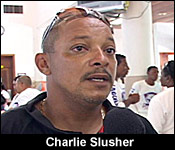 "I just think that the pressure from the home crowd - I think the guys really wanted to get a victory and maybe even trying to get the 6 goals that was anticipated and I think that we kind of lost our focus and was a little hasty when it comes to that final part of just settling down and making that final pass and making the goal. The level of concentration, I think was a little bit lack in the forward line. I think the goal keeper in the midfield was very great, but the last touches to get the goal was the part that we need to work on."
Courtney Weatherburne
"How would you describe the level of preparedness going into Wednesday's game and now going into Sunday's big match against Cayman?"
Charlie Slusher, Assistant Coach, Jaguars
"I think the team is very prepared. Like our coaching staff discussed that there is not much that we need to change when it comes to our strategy or our game plan, because I think other than just scoring the goals, we played an excellent game and as long as we continue focus and stick to our game plan and just make the necessary adjustment in the forward line to get the goals. I think our team is more than ready."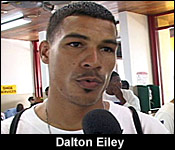 Dalton Eiley, West Wing Defense - Jaguars
"A lot of people might not know, we have never played that team before and we've researched the internet and trying to get videos of games from them, but we never got anything. The only thing you will find is a U-21 or a female team. So, coming into the game, we were like walking in blind. Our plan was to give them the touch off and as they touch it off, just aggressed and see what they are capable of. We did that and we got an early shot at the goal and unfortunately we missed, but that's the game. That's how it goes. Now, we have a lot of confidence knowing that we could aggressed them as much and try to get the goals. The players are more confident now than in the first game. Now we know that we could play and we are definitely better than these guys and we have the talent, the youth to match up with them and we definitely are going to get some goals. We got opportunities, now the guys are even hungrier to score, especially for country and family."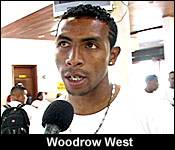 Woodrow West, Goal Keeper, Jaguars
"The only thing that I think we need to change is the goal scoring opportunities that we get. We are not taking advantage of them and as a goal keeper and a defender, it frustrates you a lot to see you team getting all those breaks and can't get the ball behind the net. But it's a positive thing for the team, because we reached the goal and we have a lot of opportunity to score. They forward, they know that, so we just need to go an execute that. That's the only work that we need to do."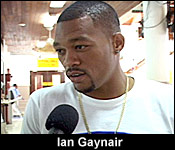 Ian Gaynair, Right Defense, Jaguars
"I think it's one of those days - when I say one of those days, I mean that the ball never wanted to in the net. We did everything else, but just didn't get the ball behind the net and I just think that unfortunately we couldn't score and definitely we are going to Cayman and we will be luckier there. Because sometime football play with a little bit of luck."
We can only hope that the trip turns out better than it started; we say that because the charter was supposed to leave at 12:30 and ended up leaving at5:30. The game takes place on Sunday night at 6:00 AT the Truman Bodden Sports Complex in George Town, Grand Cayman.
Police Constable Commits Suicide
(posted on Fri Mar 27, 2015)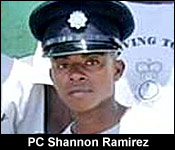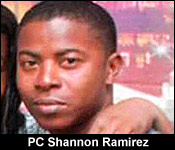 Last night the police department was shaken after news went out that a well-known police constable had apparently taken his own life. It happened around 7:00 pm on Aloe Vera Street in the Lake Independence Area of Belize City. Police Constable #1200 Shannon Ramirez was staying at a house which is rented by a number of police officers. No one in the neighborhood heard a gin go off, but he was found dead with a shot to the head. Police believe it is a suicide. Police have not released any details but this morning the police community relations officer Douglas Hyde told us that the Department is saddened:..
Douglas Hyde, Public Relations Coordinator
"Emotionally I felt it too when I heard the news a couple seconds after it happened. We work very closely. Actually he came through community policing before he actually went to one of the precincts, so it was more of an emotional hurt to us. I think after hearing the different police officers last night, it was like a shock and stunned, because he has never shown any signs to us that he is emotionally depressed, so we didn't see that angle to say that, that would have happened."
Jules Vasquez
"Is there any counseling service that is offered for police officers to try and navigate their way through this mind field of social ills that lies in wait for them?"
Douglas Hyde, Public Relations Coordinator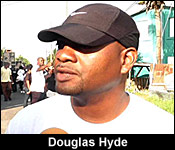 "I know the department over the past couple of months, specifically eastern division, we've been looking at persons to work closely with us specifically when it comes to referrals because we've notice that we have police officers who we identified with such challenging situations and so we've refereed them to the counseling center human development over the past and specifically persons who work in the area of counseling."
Ramirez had an ongoing relationship with a female officer.
Policeís Black March: A Movement For Peace
(posted on Fri Mar 27, 2015)
This morning about 400 police and city residents marched through the streets for the BLACK march. The "Be Loving Cease Killing" march for peace started at the Yabra Green and wound its way all through the city - going through all hotspots.
Now we have reported on countless marches and vigils for peace and the message just doesn't seem to be getting through but today the police officers at the Eastern Division say this is more than a march, it is a movement:
The BLACK march is just the start of what police say will be A YEAR FILLED WITH community policing INITIATIVES.
High School Students Travel To England
(posted on Fri Mar 27, 2015)
11 students from Belmopan Baptist High School traveled to London today for what's called a World English Experience and we caught up with the anxious group at the airport today. The students will be taken on a tour to major sites in London such as Buckingham palace and Big Ben at Westminster Palace. Apart from sightseeing, one of the main objectives is to provide classes for the students to develop their English skills. One of the coordinators told us how the opportunity came about and how this trip will positively impact their social and academic life.
The students will return in time for the Easter break.
Hon. Julius Stays On the Offensive Against Petrocaribe Bill
(posted on Fri Mar 27, 2015)
The Petrocaribe Loans bill was debated after the budget - and that debate finished just a few minutes ago - ending a 10 and a half hour day in the house of representatives. The bill seeks to regularize the inflows from the Petrocaribe initiative. While all loans of a certain size have to go to the house, Government argues that since the Petrocaribe flows change every month - it cannot ask for pre-approval of a figure it does not know. This bill seeks to correct that.
But the PUP says it seeks to give the Prime Minister superpowers to keep the oversight of the petrocaribe funds away form parliament. One hour ago - this is what the leading crusader against the bill Julius espat had to say:..
Hon. Julius Espat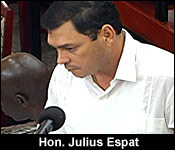 "What the Prime Minister is doing today, is what he should have done from the beginning, except giving him this super human power this authority to override accountability. That is the part I have a problem with. If he would have brought this bill from the beginning, authorizing him to spend or borrow the money, we would not be having this quarrel right now, but he did. He not only did it, he took 3 years before he came to try to justify it. Not 2 months, 3 months, 4 months - a year.... 3 years. But what this bill cannot do and he knows it more than I do, is that he cannot legitimized the errors that he did in the past or the illegalities that he did in the past with this bill. He will pass right now and as the Honorable Dolores said, but he will continue. Our attorneys will continue... we will continue to prove that what you did in the past was illegal, Prime Minister."
The Prime Minister just wrapped up the debate 10 minutes ago - and we'll have highlights of his final rebuttal on Monday's newscast.




Home | Archives | Downloads/Podcasts | Advertise | Contact Us