Belize Refused Carnival Passengers With Ebola Concerns
When we left you last night - there was anxiety all across Belize - because a Carnival cruise ship had two passengers on board that were considered Ebola risks. Initial reports said they were on a tender awaiting permission to enter the tourism village for a connection to the Phillip Goldson International where an air ambulance was waiting.
Well a whole lot has happened since then - and much more is known.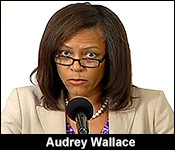 But, to cut immediately to the chase: they were not on a tender, did not leave the ship, and did not have Ebola. CEO in the Office of the Prime Minister Audrey Wallace was the first line of contact with the US state Department on the super sensitive issue, and she explained the status of the two passengers at a press conference today:
Audrey Wallace, CEO - PM's Office
"That we are not dealing with an Ebola patient. The passenger in question is a healthcare provider who works at the Presbyterian Hospital which treated an Ebola patient. The passenger had no signs or symptoms of illness. Now the passenger in question had voluntarily entered quarantine on the ship and has not been allowed to step foot in Belize."
PM Barrow Turned Down Secretary of State Kerry's Ebola Request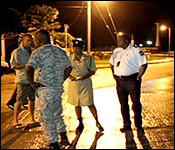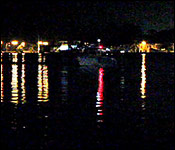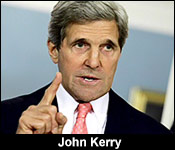 So, they never set foot in Belize - but the US State Department tried mightily to get them to pass through here - meaning that the Prime Minister had to hold firm - as the requests kept coming from higher and higher offices in the state department - culminating in US Secretary of State John Kerry.
A timeline we've put together shows that the first request came at 9:40 am - after 3762 cruise tourists had already disembarked and gone about their tourism business all across Belize. From there the requests continued right through until 8:30 pm - a full eleven hours of back and forth proposals and counter proposals - culminating in a final, firm "no" to the request.
We caught unto the story at about 7:15pm - and Jules Vasquez picked up the action there at the old Customs Wharf - near the tourism village:
Jules Vasquez reporting
This is the Carnival Magic - eight miles out of Belize City last night - with more than four thousand passengers on board. At 7:45 pm, Deputy Commander of the Eastern Division Sr. Superintendent Alford Grinage stood a solitary vigil near the Baron Bliss Lighthouse - waiting for further orders - Because at that time, no final decision had been made - the Prime Minister was discussing possibilities with the US Secretary of State.
This is one of the immigration officers assigned to work the ship, looking out unto the horizon at the ship - the lights in the background. And this is the Coast Guard vessel coming into tourism village for the passports. It was 8:00 pm, the order had come down; they would be returned.
The immigration officer called the shipping agent to bring down the passports which were kept in a plastic bag - while the coast guard got in position. The passports were handed over and the coast guard vessel took them back to the cruise ship on the order that they were to escort the cruise ship out of Belizean waters.
An hour later, at 9:00 pm, the ship - shadowed by the coast guard - started to turn - to head out of Belizean waters - north for Mexico. By 10:30, it had crossed the English Caye Chanel and was out of Belizean waters. Just a spot on the horizon - where minutes earlier it had loomed at the epicenter of national consciousness.
But what we became aware of at 7:30 pm, had been unfolding at the highest level from 9:40 am when the US Embassy set up a call with Wallace and the US State Department to get these two Texans off the ship: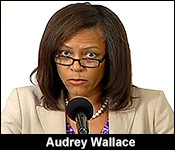 Audrey Wallace, CEO - PM's Office
"I was informed that a healthcare worker from the Texas Health Presbyterian Hospital who was listed as low risk for Ebola by the Center for Disease Control in the United States was onboard a Carnival Cruise ship that landed in Belize in the morning. They explained that the CDC had updated its requirements from self-monitoring for these low risks persons to active monitoring which would require them to be in the United States to be monitored. They explained that the employee had been checking daily for a temperature or any other symptoms of the disease and had none. The doctors on the cruise ship examined her and confirmed that she had no temperature or any other sign of symptoms. The healthcare worker along with her traveling companion agree to self-quarantine on the ship. I was further advised that it was 17 days since the worker would have possible been exposed to Ebola virus. According to the CDC, the maximum incubation period for the disease is 21 days. I was then ask for the government to allow the passenger and her companion to disembark and flown out of the PGIA on a private plane."
Hon. Dean Barrow, Prime Minister
"The suggestion had been that the coast guard would take a vessel out to the cruise ship, disembark the passengers, take them to a landing point at Vista Del Mar and then an ambulance which would have the sort of driving compartments sealed off from the hole or from the carrying area would take the passengers to PGIA where they would be put on this medevac plane and taken to the US."
But the Prime Minister balked at that:
Audrey Wallace, CEO - PM's Office
"Immediately he expressed deep concern over facilitating the movement of the two passengers from the cruise ship to the PGIA. Although fully aware that the disease can be spread only when an Ebola patient is sick. He was most concern about exposing any Belizean to any potential risk no matter how far fetch it may be."
So the State Department tried another strategy:
Audrey Wallace, CEO - PM's Office
"At about 1pm the USEmbassy advise the Office of the Prime Minister that they had some delays with the plane which would not be able in any case to come to Belize until the following day Friday. The US was asking for the two passengers to be disembarked and held in quarantine in Belize terrestrial soil until Friday morning when the plane would medevac them to the US. When informed, the Prime Minister immediately said no to that request being of the view that it would assuredly exposed at least Belizean healthcare workers and security personnel to some risks."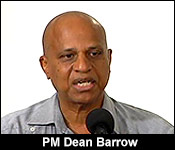 Hon. Dean Barrow, Prime Minister
"In that kind of context as I said once the ground had shifted to the extent where they were now talking about a next day operation and keeping the people on Belizean soil, it seemed to me that axiomatically my answer had to be no."
Audrey Wallace, CEO - PM's Office
"Shortly after 4pm US Embassy called again to say that notwithstanding the Prime Minister's decision an evacuation flight had been arrange and the plane will be leaving the US for Belize. The government's position was reiterated and the embassy told that no transfer would be facilitated and the plane should not take off from the States or if it had already taken off, it should turn back. About an hour later I received a call from the US Assistant Secretary of State, bureau of the western hemisphere - the assistant secretary informed me that the flight was on its way and would be landing in an hour. I reiterated that the government was adamant that no evacuation from Belize through PGIA would be accommodated. I was there after informed that the US Secretary of State, John Kerry would be seeking to speak to the Prime Minister."
Hon. Dean Barrow, Prime Minister
"The request then became for us to disembark the passengers and find some quarantine area in which to hold them overnight until they could be transported to the States the following day. I won't get into the details, but very clearly the logistics of such an operation in my view would have exposed Belizean health workers, Belizean security agents, Belizean front line officials. It is clear that even in the US with all their capacity, with all their expertise there are still a lot of unanswered questions as to how this thing gets transmitted."
That's when the State Department brought in their most senior official:
Hon. Dean Barrow, Prime Minister
"I set out for him our own position. He insisted that there really was no threat and that, I would not be putting Belizeans at any real risk. I stuck to my line which was that in the circumstances we couldn't take any chance. He did ask whether I would consider whether I would agree explore the possibility of they sending a helicopter that would land on the deck of the cruise ship and then take the 2 passengers straight across to the PGIA. If it had been at all possible to do this thing in a way that could absolutely have eliminated any possibility of any risks to Belizeans - I would have been willing. The fact is after the most anxious consideration I concluded that the original positon had to stand because it could not in the circumstances be possible to do what the Americans were asking without exposing some Belizeans to some degree of risks."
"I instructed her to say to the US Embassy it's absolutely not on. My decision stands. It is final, nobody need try to get in touch with me because wanting to be rude, I cannot entertain any further appeals. This is it. Any possibility of any such transfer operation is off, the plane must go back and the ship. If there had been any way to safely, and that's what I need to stress, to safely accommodate the request of the US Government, I clearly would have been so disposed."
And thus ended a night of concern for so many Belizeans who are understandably terrified about the virus landing in Belize. But will the cold shoulder send Belize US relations into a deep freeze?:
Hon. Dean Barrow, Prime Minister
"I hope and think that the United States and certainly Secretary Kerry are mature enough to recognize that ultimately even small states and perhaps especially small states must act in what they consider their best interest and so while they might not have been pleased with the decision, I expect that they will respect our position."
Passport Handlers Were Cautious
So, to make it clear again: the passengers of interest - a 59 year old female lab supervisor from Texas Health Presbyterian Hospitaland her male partner a 60 year old, did not disembark in Belize, and they did not leave the quarantine area in the ship, and they are not presently showing any signs of having Ebola - but this will not be known for sure until the next four days or so - when the 21 day incubation period ends. She is on her 19th day since she was exposed and she is showing no symptoms.
But then, there's public concern that maybe the nearly 3,800 cruise visitors from the Carnival Magic who did come unto land could have been infected on the ship and could be carrying the virus, and could have spread it to those Belizeans they came in contact with.
Again, not a possibility. All the information on Ebola shows it is not contagious during the incubation period. It is only contagious when the symptoms are present. Second, it is not an airborne virus like the flu; it had to be transmitted by bodily fluids.
Still, there are concerns: first for the boarding party and the pilot. First, the boarding party is the crew of immigration officials who have to go on board each cruise ship and review the manifests. Second, the pilot is the Belizean port authority employee who actually steers to ship into port, past the English Caye Channel. Well, those persons are being monitored by the Ministry of Health in Belize - but again, they would not have come in contact with any bodily fluids from any infected persons, and, we stress again, the two passengers of interest, are not known to be infected.
Ok, so then what about the immigration staffers who handled the passports? Well, the passport came in a plastic bag - and today at the press conference, the Director of Immigration outlined the procedure she had specified:..
Maria Marin, Director of Immigration
"The officers were given specific instructions that when the shipping agent handed over those passports, that it was to be placed by the shipping agent in a plastic bag or container and that the shipping agent was the one that was going to pass in on to the Coast Guard officers and it was confirmed to me that my officers did follow that procedure."
Immigration Ban Enacted
From what we have been able to find out - when the passports were handed back over to the Coast Guard, only the shipping agent employee - and not the police or immigration handled them. The Coast Guard officers were reportedly wearing gloves. Again, all precautionary, because no one on the Cruise Ship was presenting symptoms of Ebola infection. A release from Carnival Cruise Line says the female is deemed by CDC to be very low risk. She and her partner remain in isolation on board the ship and is quote, "not deemed to be a risk to any guests or crew." The release adds, quote, "at this time it has been determined that the appropriate course of action is to simply keep the guest in isolation on board.
Still, we note press reports that today that the ship did not get clearance to dock in Cozumel, Mexico - so it is heading back to Galveston, Texas - where it is scheduled to arrive on Sunday.
And so while this event should be behind Belize - what's next for the Immigration and Health Authorities as Ebola anxiety is higher than ever?
Well, first of all, the Department of Immigration is enacting a ban on persons coming from certain Ebola hot zones. Immigration Minister Hulse outlined the plan today:..
Hon. Godwin Hulse, Minister of Immigration
"We have immediately issued a stop on the issuance of visas to persons coming from the West Africa area whom we consider high risk; and those countries will be Guinea, Liberia, Nigeria and any other country that the ministry thinks has now been affected. Nigeria is a special case because though it's a Commonwealth country it requires visas and even though they have declared that they are free we consider the persons travelling from Nigeria a risk. Sierra Leone on the other hand does not require any visas to come into Belize, so we will issue a travel ban on persons coming from Sierra Leone. Our embassies are being advised immediately. The airlines will be advised of this decision forthwith. In addition, persons whatever nationality who have visited that area of West Africa within the last 30 days will not be allowed to land in Belize and the airlines will be advised accordingly."
Presently, the greatest emphasis is being put on the Immigration response at the Phillip Goldson International and the Cruise ships - since the USA has reported cases of infection - but would not be classified as an Ebola hot zone.
Hulse explained what will pertain for the cruise ships:..
Hon. Godwin Hulse, Minister of Immigration
"Persons who would travel beyond the tourism village would be the ones who would present themselves to immigration for the necessary clearance to land. Persons who would remain within the vicinity of the tourism village were only thick-off on the manifest. Effectively immediately that protocol has changed; every single person who will disembarked from cruise ship, the passport of such person will be reviewed by immigration to ensure that no persons has been in the high risk area of West Africa within the last 30 days. All immigration officers effective immediately will be outfitted with the necessary or some protective gear meaning gloves and masks to help to protect our people."
Ebola Quarantine Structures and Areas To Be Identified
And a quarantine area will also be set up at the Phillip Goldson International - particularly for any visitor arrive from Dallas Forth Worth, which has direct flights to Belize.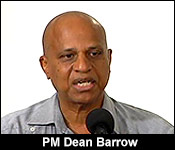 The Prime Minister also announced the establishment of a quarantine area in Belie City:..
Hon. Dean Barrow, Prime Minister
"We are looking at the possibility of the Cleopatra White; two rooms there being converted. We don't want to simply stand down the services there, but in the meantime two rooms are being prepared and if we had to use it then of course all those services would be cut off there. Looking at in the context of the BDF Price Barracks area at some place where we could put another of the Mennonite houses in case we had to move somebody from the airport presenting the symptoms to that spot. But at the airport itself, one of the Mennonite houses will be in fact put on site so that there is an immediate quarantine area for any further screening that might be necessary - if somebody looks a little bit suspicious."
Dr. Ramon Figueroa, Director of Planning & Policy Analysis Unit
"Certainly we're looking at ensuring that the facilities we are identifying meet the standards for quarantine and isolation. And that is why when the Prime Minster asked us today how quick could we have that set up, although I wanted to say within a day or two, reasonably it will take us at least a week or more to get everything in place."
And so now while everyone's talking and on the same page or getting there - one week ago - when the Ministry of Health held a press conference, it was like Babel - with everyone talking their own language.
The point that yesterday's event has crystallized and galvanized the public sector strategy for Ebola didn't go un-noticed today:..
Dr. Peter Allen, Chief Executive Officer, Ministry of Health
"We take this particular opportunity now to shift this public health issue to the very top of the priority list. So NEMO has now been engaged and all of those representatives are meeting on Monday morning to strengthen that cohesion between the different agencies."
That meeting will be held on Monday.
Alleged Weed Dealer Silent In Court
25 year old Calbert Hubert Young, is in jail tonight after police busted him inside his home with over 45 pounds of weed in two sacks and two plastic bags. He was today fined and confined when he was convicted of a single count of possession of a controlled drugs with intent to supply to another person. He was sentenced to 5 years for that and also hit with a fine of $10,000 dollars in default three more years in jail.
On September 15 of last year, the GSU raided his Belize City home and when he was asked if he had anything to declare, he told police, "I have a sack of weed inside my room."
In his own defense today, Young chose to remain silent when he was called to answer to the charge. The Chief Magistrate told Young, he gave her nothing to take into consideration so she only had the prosecution side to take into consideration and in her view, he proved the case beyond a reasonable doubt.
General Jones Says Bze – Guatemala Military Relations Improving
On our Tuesday and Wednesday newscasts, we told you about the high level meeting between Belize and Guatemala at the state and law enforcement level. That meeting was to discuss the murder of Special Constable Danny Conorquie, an armed incursion at the Valentine Conservation Outpost, in which the 40+ armed Guatemalan civilians from La Rejoya Village were trying to lure BDF Soldiers into an ambush after threatening to burn down the facility under construction.
Brigadier General David Jones was a part of the Belize Delegation who met with his counterpart from the Guatemalan Armed Forces. During their meeting, they discussed how both countries could cooperate to prevent future conflicts such as the Valentin Incident, and how to decrease illegal activities.
Jones told the media in a press conference today that the decision made was that both militaries will do joint patrols at the border, separate from the Link-up operations they currently employ:
Brig. Gen. David Jones, Commander, Belize Defence Force
"What was agreed is that both countries would improve on existing patrols and include joint coordinated military patrols. The patrols that we do currently with the Guatemalans are what are called link-up patrols. We go to designated points along the border from north to south. We meet there for about 15-20 minutes, we exchange information and then we go our separate ways. What is being proposed now is that apart from that Belizean soldiers, the BDF and the Guatemalan armed forces will spend probably a day, two days, or even three days patrolling together as a unit and going into some of these same village inside Guatemala and probably talk to these people, so that they have an impression that there are two different forces and they have their own officials informing them where the border is and how they should respect it. So that is something that we are trying to achieve with the Guatemalans. I think this will go a long way because the people appears to be indoctrinated that this country belongs to them and in many occasions the one who are aware that Belizean law is enforced on the eastern side - they still pretend that they don't know where the border is, even though sometimes they do have a good idea. When the soldiers would meet them they pretend that they don't know where it is."
That was only one of the 12 point agreements signed at the end of the meeting. Another important result was the law enforcement on both sides of the border have established a mechanism which allows for greater cooperation and intelligence sharing on crimes which happen at the border. The General said if this mechanism was in place on the day when Special Constable Danny Conorquie was killed, the perpetrator would have more than likely been cornered, increasing the chances of him being captured.
Brig. Gen. David Jones
"Apart from that there will also be establishment of intelligent sharing mechanisms among the various security organizations; so the intelligence particularly between the military to military, police to police, special branch and their counterparts over there will share information. If this was in place it would have help a great deal in the shooting death of the police officer at Caracol because what could have happen, they could have call their counterparts immediately and they would have been able to take action over there and wait for these guys to go over because we know where the track was that leaded over. It was heading towards La Rejoya from Valentin and if they had communication, they could have been able to intercept them. So we are going to try to put mechanism in place to share intelligence and to share information with each other so that as an incident occurs in Belize and we believe the perpetrator's a Guatemalan, we call their authorities and try to get their assistance to stop them on the other side or try to capture them. The main thing that we wanted to achieve was a mechanism to talk to each other immediately as an incident occurs. What the Guatemalan had also pledged is to assist us as much as they are capable to try and find the person who committed the murder of Danny Conorquie. They have intelligence information on that incident, our police department has intelligence information and they are now sharing and in the process of working together to find out who this person is. We already have an idea, we know which village he comes from and we suspect that he is the person that owns the same horses that we had captured. So it shouldn't take very long, as long as they cooperate with us, we should be able to find who committed that murder."
The Commander of the BDF also told us today that Guatemala has also decided that the project at Monte De Los Olivos, which has been very successful in curbing incursions into the reserve forests on the Belize side will be replicated in other communities along the border. Viewers may know that Monte De Los Olivos is a Guatemalan Border community whose residents have become well-known to FCD and the BDF for it's incursions into the Chiquibul National Park, principally to conduct illegal farming. The project set up in that community was primarily responsible for the decrease of such activities in the reserve, and so, Guatemala will take it to other border villages.
Brig. Gen. David Jones
"In view of the success of the development projects in Monte De Los Olivos we foster and promote similar projects in other communities. So the area of Rio Blanco and the opposing villages; there was one village called Monte De Los Olivos, this is where we've had the problematic people that have been coming in to the Chiquibul and this is the same area where the last fellow who was shot and killed because of exchange of gun fire with the BDF came from. The Guatemalans have implemented a project in that village so that the people can self-sustain themselves and they are being educated that they are not supposed to come over on the Belizean side because Belizean laws will be enforced. That has been very successful. The women is that village are being given a stipend. So they are given money to send their kids to school and to sustain their family. So 90% of the problems we had in Monte De Los Olivos have been solved. There are still a few people coming across, but that area of the Chiquibul we have had very good success. Now that success in Monte De Los Olivos we want to take those down to the other Guatemalan communities. The next one in particular that we would like to see that happens is in area of La Rejoya which is just opposite the Valentin camp. That area in the Caracol Archaeological Reserve is where we deem now is the biggest threat to our security in that area; to the troops and the extraction of our products."
Jones also told us that there were other commitments which were given, which in his opinion will finally allow for Guatemala to actively join the effort to stop its citizens from crossing the Belizean Border.
Brig. Gen. David Jones
"Conduct joint visits to neighboring communities in Belize and Guatemala to convey the commitment of both parties to improve the quality of life and community safety and to strengthen the friendly relations between neighboring towns as well as to protect the environment. Also in the agreement identify mechanisms for direct contact among the various agencies, military forces in order to establish direct free flowing and ongoing communications to coordinate preventative measures as well as rapid and effective responses in situations as necessary. Personally for me, what I wanted them to do was to agree to try and do more. I did not believe that Guatemala has been doing all they should or could to stop the encroachment inside Belize. They have pledge to support that. They will work closer with our military; with our security forces; with our police and we will work jointly together to try and stop their civilians from coming across. So it doesn't matter how much resources we have, how many man power we have - it won't be very successful unless Guatemala plays a part. They are our neighbor. If they can stop or dissuade their people from coming into Belize it will help us a great deal. We will still put the necessary resources to stop whatever encroachment. illegal or criminal activity that comes over to Belize, but Guatemala has to play a part. If they implement what they have pledge - what we will see in the Chiquibul, the Caracol Archaeological Reserve is a significant reduction of encroachment and illegal activities occurring inside Belize. This will also minimize the eventuality of armed exchange of gun fire between the security forces and Guatemalans. It will also reduce the tension between our country and also reduce the criminal violence and encounters."
The General believes that if it works out as the Guatemalans have pledged, then there will be a further decrease in tensions. This will foster a closer friendship with the military from both sides to allow joint operations for humanitarian purposes in both countries.
BDF Trying to Hold Down 51 Miles Of Border
But in the meantime, the Belize Defence Force has to defend against civilian incursions along the 133 miles of border the country shares with Guatemala.
Statistically, the problem areas are focused along 51 miles of that 133. That is the hotspot where mass illegal incursions and activities continue to happen. Among that 51-mile slice includes the border areas of the famous Chiquibul National Park, the Caracol Archaeological Reserve and the Bladden Nature Reserve. Of that 51 mile hotspot, 19 miles of the border demarcation belongs to the Chiquibul, which remains under constant pressure.
The BDF Commander discussed how the fight at the Belize Guatemala frontier has been going from a military stand-point:
Brig. Gen. David Jones, Commander, Belize Defence Force
"Apart from the areas in the Chiquibul, the entire north and south of the country - there is a lot of contraband activities happening cross border between Belize/Guatmala, also between Belize and Mexico and there is a lot of drug trafficking activity that occurs in these areas. What I want to just point out briefly looking at the map behind us, this area from the north up there is the border with Mexico where the Rio Hondo starts. The entire length of the border from north to the south to where Cadenas is - is approximately about 144 miles. of that distance the border we share with Guatemala is approximately 133 miles. Out of that is border that we share. The area of main concern today is the area of the protected areas; the reserves and the national forest which starts from the Vaca area up here and then extends down south to the Colombia River Forest Reserve. That area encompasses just over 51 miles of where we have major concerns and that's where a lot of our efforts in the Cayo District is concentrated because of the encroachments and the illegal activity in that particular area. Bear in mind the operations the BDF conduct is not only along the border, we conduct operations in every district of the country and this is alongside members of the police department, forestry, fisheries and other non government organizations to include FCD, NICH, TIDE and any other NGO who wants protection from the Belize Defence Force in regards to launching their operations we provide that sort of security for them."
BDF Success With Incisive Gallop
One of the chief operations that the BDF has been employing to deter illegal activities is the Incisive Gallop operation. As we've told you, the idea behind it is that the BDF employ reconnaissance teams to gather intelligence about the illegal activities along the hotspots, and then Incisive Gallop is launched with mass deployment to destroy illegal farms and detain cross border interlopers.
More than 90 soldiers and law enforcement officers are deployed for a week, where they move along and conduct surgical strikes.
There have been 3 Gallops so far, and today he discussed the second one which happened in May:
Brig. Gen. David Jones, Commander, Belize Defence Force
"The second operation that went in May, this occurred in the area of Valentin Camp, Cohune Ridge Sebada, Ceibo Chico and all the way up north - Arenal. 21 plantations of various crops such as corn, cassava, beans, and pumpkins were destroyed. Whatever has been planted in that area, the soldiers and the other supporting agencies who went in with us conducted the destruction of these operations. A total of approximately 118 acres of illegal plantations we destroyed on that second operation. it's quite a number of acres to be cutting down in a short period of time and with the distance that the soldiers need to cover is a long area they need to cover."
The third one happened 4 weeks ago, and today, the General Discussed it with us:
Brig. Gen. David Jones
"Focusing in the areas again Valentin, Cohune Ridge area, De Oro and Ceibo Chico - plantations as normal of various crops and sizes to include beans, banana, cassava, pumpkins were destroyed. the plantations were in excess of over 35 acres. A number of the patrols that have destroyed some of these plantations did not record the exact size, so it would definitely be in excess of 50 acres of plantations that were destroyed in this second operation. Various clearance and pastures were found in the area, even cattle were grazing on some of the areas that we found. 6 Guatemalans were detained during this second operation and they were released. They weren't found with anything illegal but they were escorted back across the border into Guatemala. During the operation as normal there has been a network of roads and tracks that we have discovered. These lead east to west, so from inside Guatemala they come into Belize; they come in to do their illegal activities be it either extracting Xate or logwood and then what has been prominent now, a part from the planting of vegetation, marijuana is being planted a lot in our country and we suspect its mainly from Guatemalans because it's so close to the border. We don't expect Belizeans to be traveling that far into the jungle to go and plant marijuana that far or even crops as well, so marijuana cultivation has become prominent very close to our border."
As part of the new operations, General Jones says that once any of the patrols encounter plantations of any sort that is 300 meters or more inside Belizean Territory, he gives the order for it to be destroyed immediately. This is a departure from the 1 kilometer "Adjacency Zone" principle where anything within that 1k had to await OAS verification. That leeway allowed the farmers to move up their timeline and reap the crops before that process was finished, thereby rendering the illegality hard to prove.
BDF and US Blaze Up Weed Plantations
As we you on Wednesday, the BDF collaborated with the US Military's Joint-Task Force Bravo over a 5-day campaign to destroy all marijuana plantations. They managed to burn and destroy $54 million dollars worth of drugs, and today the Commander explained that this operation was happening simultaneously with the third Incisive Gallop.
Brig. Gen. David Jones, Commander, Belize Defence Force
"Way down in the middle here, these were all in the Chiquibul over ten thousand marijuana plans were destroyed in the Chiquibul and the remaining 38,841 plants were in the Toledo District. There were a lot more plantations along the borderline, but it is very challenging to go there. We only had the helicopters for a short period of time, so we weren't able to go to the others, but there is still a number of marijuana plantations along the AZ be it inside the Chiquibul or along the other portion of the western border."
Over that 5 day period, the joint enforcement team destroyed 58 thousand marijuana plants, 10 pounds of marijuana seeds, and 1 thousand pounds of processed marijuana plants. Joint-Task Force Bravo provided 2 UH-60 Blackhawks and 1 CH-47 Chinook Helicopters to assist with the destruction.
BDF Doesn't Want Pictures Posted
And finally from the General for tonight, he had a bone to pick with the press and others who had been posting pictures on the social media about the areas under tension, such as the Valentin Outpost.
He says that persons have been releasing details of BDF operations, including pictures of the conservation posts, especially when the area came under heat from the armed civilian incursion. Now, we don't necessarily support the restriction of information free-flow to you the viewers, but the commander says that this is necessary because it poses a serious security risk to release these pictures and information without clearing it with the military first.
Here's how he explained it:
Brig. Gen. David Jones, Commander, Belize Defence Force
"Some of these NGOs that goes with us on these operations take photographs of the soldiers, take photographs of the conservation post, take photographs of the soldiers with their equipment and this poses a security risk to the soldiers and to the NGOs that goes with us on these patrols. Sometimes their photographs I would not be aware of this until I see it in the newspapers and these NGOs that work with us and its not Guatemalans who have been going to our OPs and taking pictures, it is our own Belizean people, our own NGOs that works with us go and take pictures of the OPs like the one at Valentin. The photographs was sent out to the media, exact location where it is without consulting with the BDF and that conservation post in the Valentin area, its only Belize Defence Force and the police working there, no other agency. So no other agency should have been taking pictures there and sending it out without consulting with us. They even sent out information as to how much soldiers are there; how much are being reinforce; how much will be working there. This is not information came from the BDF. So those NGOs or any other security force that works with us we urge them not to do this because it doesn't only out the security of the BDF at risk, but it also put their lives at risk because basic military discipline; you try not to disclose your location and strength to your opposing force, you don't do that. You are not suppose to do things like that and then if there is any operation you want to have in the area consult with us and we may warned you and give you advice as to where you can go and when not to go. A basic example; right after the incident occurred where the allege 40 Guatemalans went to try and persuade the Belizean soldiers to go close to the border with Guatemala for a meeting with the Guatemalan armed forces - that information when the soldiers got it they relayed it to the headquarters, came to me and they ask for further direction and very basic direction it's not going to happen, it's not something official. I will never allow any further to follow any civilians to go and meet us with a Guatemalan patrol. It didn't come across in military channel, it not the protocol. If they want to meet with us it will come through the normal channel then our soldiers will go and meet with them and have the discussion, but it was a typical standard ambush that was going to happen to the soldiers. They had about 20 of them visit by the OP site and a couple hundred meters away close to the bushes there were another 25 men with rifles, shotgun, and machetes. Their intention was to lure the soldiers into an ambush."
Toledo Floods Unexpected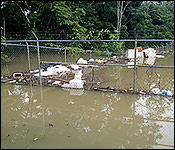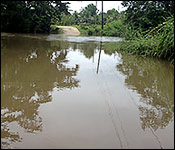 Due to an intense thunderstorm on Wednesday night in the Toledo District, the villages of San Miguel and San Pedro Colombia experienced serious flooding, the likes of which they haven't seen in a generation.
The water hasn't receded completely, and the villagers are still waiting for the situation to improve. Two families had to be evacuated because their homes became inundated.
Of important note is that the Rio Grande is in close proximity to both villages, and it has contributed to the flooding. The residents tell our colleagues from PGTV that such a flooding has not happened in 2 decades.
CITCO Hit With Huge Judgment
You must pay Belize Waste Control half a million dollars. That's what the Supreme Court told Belize City Mayor Darrell Bradley today in a default judgment order after the sanitation company sued City Council for arrears.
Viewers may remember that in April, BWC took the Mayor to court for arrears and they retained Senior Counsel Eamon Courtenay as the attorney. The last we heard was that both sides had arrived at an out-of-court resolution.
Well, it seems that things didn't work out as planned, and as you've heard the Mayor lament many times on the news, there is nothing to be done to stop the council from falling way behind on their weekly arrears with the company to clean up the city. This more than likely was once such instance, and this time the sanitation company pursued its rights in court.
Because City Hall did not offer any defense, Waste Control won by default, and the court has ordered that they be paid 525 thousand dollars. Every day the Council fails to pay, the amount increases by 86 dollars as interest.
We asked the mayor for comment but got no response….
Why Were Immigration Lines Long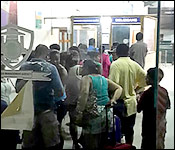 Monday October 13th was a holiday, the end of a long weekend - and as usual many people spent the day going across the border to Chetumal for recreation and shopping. But when they came back, they met some extraordinarily long lines - all because only one officer was on duty - at the end of a long weekend that's never enough. Today we asked the Director of Immigration what went wrong:..
Jules Vasquez
"Had to wait over two hours in some inordinate enormous lines and there was only one immigration officer on duty. What went wrong, did you all not anticipate people to be spending long weekend in Chetumal?"
Maria Marin, Director of Immigration
"No, it's not that we did not anticipate. For whatever reason sometimes staff do get sick over the weekend and these long weekends. We expect that the port commanders will be able to step up right away. We have advised our port commanders that whenever they asses their situation and they realize that they will needing extra staff at any border station or any port of entry, what they can do is advise headquarters because we have officers who are assigned to field offices and stations that can be pulled out and ask to assign to these border stations. We must get that request from the port commander and so we are looking into engaging in this as we speak because we realize that that situation did occur. I understand that the situation there was an officer or two became ill and did not report to work."
BHS Befriends St. Martin's
Belize High School is the only private high school in the city - and one of only a handful in the country. And while the school is considered elite, today, for their school service day they tried to show that they aren't elitist.
The entire school body spent a day with the students and teachers of St. Martin's De Porres Primary School on Partridge Street in Belize City.
I stopped in to see how the interesting social interaction was going:…
BHS has been doing the service day at St. Martin's since 2010.
What Are Streets Saying On Ebola
At the top of the news tonight we told you all about last night's Ebola scare - but what are Belizeans saying about it ? Are they properly informed ? Well the general facts vary but when I hit the streets today I found one common sentiment among the public and that's doubt in our health system's readiness and responsiveness:
For clarity the disease is not air borne like the flu virus. It is transmitted through contact with blood and bodily fluids of the infected persons who are showing symptoms.
A Mexican Opera in Belize
When you hear the word "Opera" for most, images of women in flamboyant dresses and top hats and men in overalls with white wigs are evoked. Well our next story is about a visiting Mexican Opera where the performers wont necessarily be draped in elaborate or outlandish costumes, but they will be bringing the drama and passion that defines this form of art to the Bliss stage. I found out more today:..
"Voices from Mexico and Venezuela" will be playing tomorrow night at the Bliss Center at 7.
Bring Boxing Back
For the past few months, we've been telling you about a few of the major boxing events that local boxers have been participating in, such as the recent bout between Belize and Mexico in Orange Walk 6 weeks ago.
There are local personalities who wish to bring back boxing to it's former glory, but for those who don't know the finer details to the sports or how, the Boxing Federation of Belize is organizing a seminar.
They hope that all coaches, referees, and persons interested in the sport to show up to learn or refresh themselves on the rules and statutes of how the sport is governed.
It's president stopped by to say that all in the community is welcomed to attend.
The conference takes place at the ITVET Compound on October 25 - which is a week from Saturday - at 10 a.m.
Health CEO: Chik V Is Coming, But Not Here Yet
Tonight, all the news has been about Ebola, but Chikungunya is a much more real and present health danger. IT's swept across the Caribbean and caused a national emergency in Jamaica. And now privately conducted tests in Belize are coming up positive for it - but officially these are not being reported as Chikungunya because the tests - according to health CEO Peter Allen - are inaccurate:..
Dr. Peter Allen, Chief Executive Officer, Ministry of Health

"I am happy to confirm that in Belize we don't have any confirm cases yet and there are none confirm in Benque. We are aware that there are some reports of cases and we do have a concern about a test that some in the private sector are using, a rapid test for Chikungunya because it is not very sensitive and it is not very specific for the Chikungunya pathogen, the Chik V virus and the World Health Organization and the Pan American Health Organization gives the rapid test, the equivalence of a coin toss, so it's right in about 50% of the time and wrong in about 50% of the time, so it has very little value and we do not recommend it. But as of right now we do not have cases of Chikungunya, but the fact is that we are going to have cases of Chikungunya. Really it is just a matter of time and so we all have responsibilities for ourselves and for our community."
Chiquibul Needs Your Help
The Chiquibul protection telethon will be held tomorrow at the Memorial Park from 10:00 am to 5:00 pm. The NGO which co-manages the Chiquibul - is asking the public to help it fund 20 rangers to protect the embattled forest at a cost of twenty four thousand dollars per ranger. FCD Volunteer and the driving force behind the telethon Valerie Woods told us how you can help:..
Join Indira Craig and I tomorrow as we co-host the telethon along with our colleagues from all Belize's other media houses. It starts airing live on Channel 7 and all other TV and radio stations at 10am.




Home | Archives | Downloads/Podcasts | Advertise | Contact Us