Steven Hyde's Gruesome Murder; The Second In 2 Days In Roaring Creek…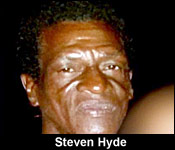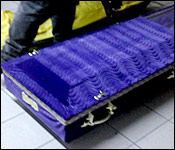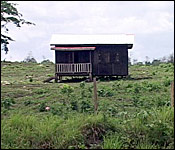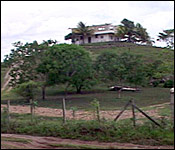 As we told you last night, 51 year old Steven Hyde - 1st cousin of Russell Hyde was found butchered at the back of Russell's yard in a shallow grave. This is just about 24 hours after finding 28 year old Edilberto Madrid's headless body floating in the Roaring Creek River. Today I went to Camalote to try and piece together the stories of these savage murders:
Courtney Weatherburne reporting
This solitary wooden shack in the center of this vast farmland, hardly looks like a home. But it was for 51 year old Steven Hyde. Hyde was the care taker of this portion of farmland where he stayed.
But he also closely maintained this property and estate belonging to his cousin Russell Hyde.
Hyde had only been working for his cousin for about a year but he had grown fond of managing the land. But these same fertile grounds that Hyde guarded and preserved became his grave.
Uncle Deeds, as he was affectionately called was last seen on Monday evening when he left his mother's house to go to his cousin's home on the hill. But he left seeming uneasy and troubled - indicating his intention to leave the farmland.
Viola Spence, Mother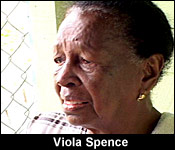 "He told me that he wanted to leave this place, because too much things are happening here. And it's a big farm and he has to tend to cattle, horses and all kinds of things. He said that he only gets $100 per week. I said son, I don't know what to do. So afterwards he went. He went on Monday evening and from them we haven't seen Steven."
Until his body was found in a shallow grave yesterday in the back of his cousins yard. Hyde was shot to the back of the head and decapitated. His legs and arms were also severed. But what was really striking and horrific is the precision and meticulousness of his death
Voice of Family member
"He was like a Barbie. Like when you take a Barbie and popped the hands, the legs - it was a really brutal murder. His head was cut off. His hands were like way up - as I said like a Barbie, not just chopped off and leave a little piece. Everything is ripped off. The cuts were clean. Like when you are butchering meat and you take it to the slaughter house - it was cut clean. Not even a bit of bone pushing out....like clean. I don't know what they use, if they put him on a machine, but it was brutal."
Brutal: that is just one of the many descriptions that come to one's mind when faced with such savagery.
Shanieka Spence, Niece

"We are devastated, because personally I feel that they didn't have to do that to my uncle because he isn't a cow or a pig that you cut up and sell at the market. He is a human being and yes, my uncle made mistakes and everything, but we love my uncle and they never had to do him that. How are we supposed to sleep, knowing that uncle gone like that? How does my granny supposed to feel who gave birth to him?"
Viola Spence, Mother
"When they took him out, they say they sawed off his two feet - something with a saw...neat and his two hands and they cut off his head and then they cut in his belly. I said mister, that is hard for me. How will they cut up my son like that?"
In just a couple of weeks, residents of Roaring Creek and Camalote have witnessed more barbaric acts than they can bear: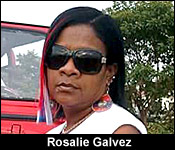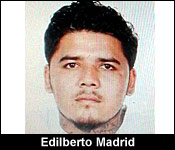 Including the execution of Rosalie Galvez about 11 days ago near the Belmopan junction to the horrific discovery of Edilberto Madrid on Tuesday morning in the Roaring Creek River
Then to the butchered body of Steven Hyde in his cousin's yard. For these families many questions linger as to why their loved ones are being killed and if they are all somehow connected.
Although it is known that Madrid, Steven and his cousin Russell Hyde form a circle of friends - it is believed that that circle was somehow broken - igniting this murderous spree. But it is all speculation at this point - enough to leave the family and the entire community shaken and in fear.
Shanieka Spence, Niece
"Personally, how could they find your cousin on your property? My uncle left Monday evening saying that he is going by you. Tuesday passed, yesterday - you couldn't look for my uncle or nothing? Like what happened there?"
Belmopan Police Say Violent Murders May Be Connected
And what did police have to say about these recent murders? Well, after a couple of days of investigating they were finally able to speak with us today. Although they could not provide extensive or in depth details on these recent murders, they did conclude that Edilberto Madrid's murder and Steven Hyde's murder are linked. Here is what police had to say:
Mike Rudon, Ch5
"Are police operating on the premise that these murders are related?"
Supt. Howell Gillett - OC, Belmopan Police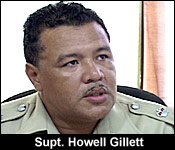 "There is indication that they could be related, but I would say our investigation is very encouraging thus far. We're progressing smoothly. We believe that the two last murders are co-related, but to say that the first one of Ms. Galvez is related, I have no evidence to show that 'yes it is related' but that's a thinking at this time."
Mike Rudon, Ch5
"Sir, could you tell us what led the police to search the property of Russell Hyde in Camalote?"
Supt. Howell Gillett - OC, Belmopan Police
"Well it's based on information that we've been receiving and interviews that we've been conducting that led us to that area."
Mike Rudon, Ch5
"Could you describe the scene for us where the body was found?"
Supt. Howell Gillett - OC, Belmopan Police
"It was found behind a farm maybe about 200 yards from the George Price Highway and it was in a shallow grave."
Mike Rudon, Ch5
"Could you confirm for us the state of the body? We have heard that it was chopped and the thigh, shoulders decapitated. Could you confirm that for us officially?"
Supt. Howell Gillett - OC, Belmopan Police
"Only to say that it was mutilated."
Mike Rudon, Ch5
"Were the injuries similar to those of Edilberto Madrid from the day before?"
Supt. Howell Gillett - OC, Belmopan Police
"I wouldn't say they're similar. They are different. What we believe is that the first killing was a revenge killing and the second led from the first one. The first incident led to the second one, without going into the details because there is an active investigation were I wouldn't want to do anything to jeopardize the investigation so far."
Police say that they have 3 persons detained for both Madrid and Hyde's murder. Police also assured the public that they have 24 hour patrols in the Roaring Creek and Camalote area. They also told us that they are looking for Timroy Neal. Neal is wanted for murder, though police could not say which murder. Also in connection with Hyde's murder, some items or tools of interest were found at Russell Hyde's property but again police were not able to disclose more than that.
Theft Of Major Dollars At Post Office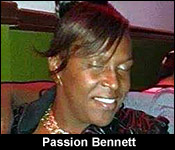 The Post Office is investigating a major case of theft of funds by one of its own employees. Passion Bennett was the clerk at the Express Mail Service - which is an international priority mail service offered by at the post office. A review of records shows that between January and May of this year, Bennett failed to account for, and is believed to have made off with a little over twenty thousand dollars in Express Mail receipts. How did she do it, and how did it go un-noticed. Well, according to James Gabourel who is holding over for the Postmaster General - Bennett was responsible to take all the monies she had received to the main cashier. But, according to him, she would "under-deposit" the amount she paid into the cashier. By doing this, an average of four thousand dollars a month was pinched from the Express Mail monies.
And while it seems simple enough - where were the checks and balances, to check the cash receipts against the receipts issued? Gabourel told us that, indeed, further checks should have been made by her supervisors - and the internal investigation, will also check to see if there was collusion.
But that investigation is seriously compromised because it seems Bennett got wind of it, and absconded. She is a Belizean-American who had been working at the post office for three years after she got transferred from the Housing Department.
The post office management detected the missing funds in mid-May, and the finance officer started checking the records on May 19th. The theft was confirmed on Wednesday, May 20th, but, by then, Bennett had already submitted her resignation - and didn't show up to work on Thursday the 21st.
A police report was made on the 22nd of May, but Bennett is believed to have left the country on that same day. Her husband is also a postman and he remains at work. Police say they are looking for Bennett but have been unable to find her.
Roaring Creek Community Advocates For Peace Following Gruesome Murders
At the top of the news, you heard the family's side the latest murder in Roaring Creek.
You've you have also heard from the police but what about the wider community? How are they coping with the relentless violence plaguing their villages? Well, there is a church led initiative in Roaring Creek that was organized to try and stop the crime. Today we spoke with one of the coordinators and he told us what the initiative is about.
Resident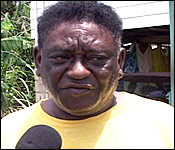 "The community initiative that will taking place right now is that the churches have come together on a high level. Trying to break loose and stand up for righteousness, so that the crimes could get to a halt, because it is out of hand now. Also we would like that to see participating from the youths and that something would come about with the government to participate with the churches so that they could put back the corporal punishment in the different schools. It is time to put down the guns and be free and put on a new person, because crime doesn't work."
A meeting was held with police officers and community member and church leaders last week to mobilize this initiative.
Dirk Is No Longer At Audubon Society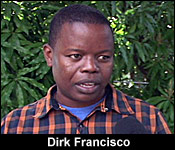 If you watch the news with any regularity, you'll know Dirk Francisco - he's been the publicity director for the Belize Audubon Society for over ten years. Or we should say, "was the publicity director." Francisco is making the news tonight because he's been fired from the Audubon.
7News has learned that on May 5th. Francisco was given notice of termination, and told that he was being let go, because he could not keep up with the pace of the organization.
But, Francisco isn't going quietly, 7News has learned that he has lawyered up - and is threatening to sue the Audubon for "wrongful termination." It seems that the Audubon's disciplinary procedures, which require verbal and written warnings before termination, were not followed. In fact, it turns out that Francisco was awarded with an increment based on his appraisal for 2014.
He declined comment and referred us to his attorney Godfrey Smith.
Speaking today with Amanda Acosta, today, she told us via phone that the Belize Audubon Society cannot make any comment on the matter because a process has been started, and it has to run its course.
Darrell Henry Claims GSU Harassment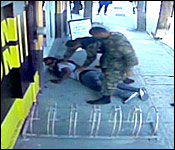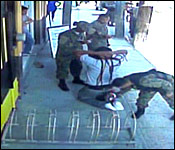 Darrel Henry was in the news around Christmas of 2014 because police seemed determined to have him under remand for the holidays and they did.
But he says since then the police harassment has continued and it's getting worse - even affecting him when he is on his job. But this time when the police caught him he caught them on camera - and used it as proof to tell us of his plight.
Jules Vasquez reporting
This is surveillance video from Toto's store on Church Street. As the time stamp shows, it is after 2:00 pm on Friday May 22nd.
The GSU pulls up in a pickup truck and proceeds to question a man they know well, Darrel Henry. He says they ask him if he works; at Toto's. He confirms that he does, and to make sure two officers go inside to question the business owner who also confirms it.
Five days later at almost exactly the same time, the unit pulls up on Henry on what they now know is his jobsite and waste no time. He narrates the encounter for us.
Darrel Henry, Harassed by GSU
"They harass me on my job site again. They threw me on the ground. I am tired of these men. They threaten that how they will kill me too. They whisper that in my ears."
Jules Vasquez
"But so what we are looking at here? They are searching you. Did they say what they are searching for?"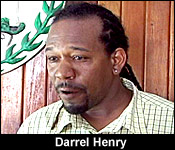 Darrel Henry, Harassed by GSU
"They didn't say what they were searching me for. They just threw me on the ground and try to disrespect me and humiliate me. They want to hurt me. They tell me that they want to hurt me. They threaten my life."
Jules Vasquez
"I see they take off your shoes. Why did they take off your shoes?"
Darrel Henry, Harassed by GSU
"I don't know. You should ask them that. I don't know what they are searching for."
Jules Vasquez
"Now, right here he is loosening your hair. Explain to me what happened? Is he looking for drugs in your hair?"
Darrel Henry, Harassed by GSU
"That must be what they were looking for. He whispered in my ears and told me that he will kill me too and that they runs things out here."
Jules Vasquez
"He said he would kill you right there. Is that for real?"
Darrel Henry, Harassed by GSU
"That's for real. He whispered in my ears and told me that."
Jules Vasquez
"Who is he referring to?"
Darrel Henry, Harassed by GSU
"I know who."
Jules Vasquez
"Is it somebody that you've killed or is it somebody that they want you to think they've killed?"
Darrel Henry, Harassed by GSU
"What they killed, or who they know they killed."
Jules Vasquez
"Who is that person?"
Darrel Henry, Harassed by GSU
"Arthur Young."
Jules Vasquez
"So what's happening right here. I see you kneeling. You have your hands behind your head."
Darrel Henry, Harassed by GSU
"They put me down and told me to put my hands behind my head and ask me where I live and my name and my particulars."
Jules Vasquez
"Let's be argumentative. Let's say I am the police and I see you at the front looks like you are hanging out."
Darrel Henry, Harassed by GSU
"I was hanging out. They came ask the store owner if I work there and he told them that I work there. They came back again the next day."
Jules Vasquez
"So, you're gainfully employed there. Now sir, you have had interactions with the GSU before. You spent Christmas in jail."
Darrel Henry, Harassed by GSU
"That's what they did to me. They harass me. You know what they sang for me? Merry Christmas and a happy new year. They humiliate me and disrespect me. I am tired of them."
Jules Vasquez
"Now, you have an old saying in creole and I have to be the devil's advocate here. You have an old saying in creole saying 'nobody stones empty mango tree.' Maybe you are knowledgeable of certain underworld activities or involved in certain underworld activities. I ask to ask you straight up. Is that the case?"
Darrel Henry, Harassed by GSU
"No. That why I have a job. I want to know who is me. Nobody. You understand. I am tired of these men. From yesterday I came here angry, because I am tired of these men. That's why I came here, because I am tired of it and I can't take it anymore. Anytime they see me, they humiliate me and disrespect me for no reason. I have no criminal record. Go and check my criminal record."
Jules Vasquez
"Has this happened at other places sir?"
Darrel Henry, Harassed by GSU
"All the time. Whenever they meet me in my vehicle, they harass me and threw me on the ground. I am in my 30s, I am not a little boy anymore. Don't come and disrespect me and humiliate me all the time. I am tired of them and that's why I came here to the media."
The GSU says it has intelligence that Henry is peddling drugs from that location. As you heard, he flatly denies that.
Minor Arraigned For Shooting, 1 Day After He Turns 18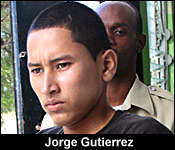 18 year-old Belize City resident Jorge Gutierrez got a terrible birthday present from the police department who waited one day after his birthday today to arraign him as an adult allegedly attempting to shoot a man.
The incident happened one week ago on last Thursday at around 7:45 p.m. 32 year-old Luis Dominguez was riding his bike on J.R. Street when a Hispanic youth came out of a yard and shot at him. Several of those bullets injured him in the left side of the neck, shoulder and head area, and he was rushed to the KHMH.
Well, the man who police believe was the gunman is Jorge Gutierrez, and they have been investigating him for the crime for a few days now. His 18th birthday was yesterday, and so that means that at the time when he was detained by police for the crime, he was still legally a minor. Police apparently held off on arraigning him today, one day later, so that he cpuld be arriagned as an adult in front of the Chief Magistrate, Ann Marie Smith. He was read charges of attempted murder, dangerous harm, and use of deadly means of harm, and due to the nature of the offences, no plea was taken from him.
It was at that time that the sensitive issue of his age came up, which means that the court had to decide if he would be treated initially as a minor or as an adult. After consideration, Chief Magistrate Smith informed Gutierrez that his case will be forwarded to the Belize Family Court, since at the time when he was initially accused of the crime, he was still 17 years-old.
Gutierrez couldn't be granted bail at today's arraignment, and he was remanded to the Belize Central Prison until September 4, 2015.
Wallace and Underwood Acquitted Of Fatal Shooting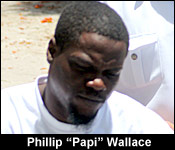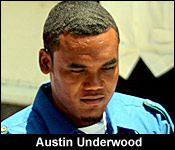 2 men, 25 year-old Phillip "Papi" Wallace and 21 year-old Austin Underwood were acquitted today of the murder of 21 year-old Darrell Williams Jr.
Their trial was completed before Justice Troadio Gonzalez in which evidence emerged that on February 1, 2010, Williams was shot in the head at around 6:40 p.m.
According to the evidence, Williams was at Rick's Chinese Shop when two men rode up on bicycles and started shooting. Williams ran home. Three other persons were also shot.
The prosecution's case fell apart when the only eye witness, Jason Reynolds, took the witness stand and denied that he gave a statement to the police which pointed to the two men as the alleged shooters. Reynolds said that he could not remember giving a statement to the police and that the signature on the statement that was shown to him was not his. He was treated as a hostile witness, and when he was summoned to court and he failed to appear, a bench warrant had to be issued for his arrest.
After the prosecution closed its case, the two defense counsels, Kathleen Lewis and Oscar Selgado, submitted that their clients did not have a case to answer to. Justice Gonzalez upheld their submissions and he directed the jury to return a formal verdict of not guilty, acquitting both men.
Slyvio Espinosa On Trial For Murder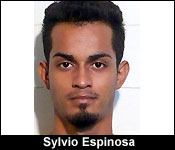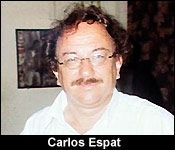 For the past week and a half, an unusual type of murder trial has been taking place before Justice Adolph Lucas. The accused is 27 year-old Sylvio Espinosa, and he is accused of killing 47 year-old Carlos Espat, the elder brother of Mark Espat.
Espinosa has been standing trial without a jury, that's notable enough since there haven't been a large number of those so far, but in this case, it's not a state attorney who is leading the prosecution against him. The prosecutor in this case is private attorney Ellis Arnold, a senior counsel, which to our knowledge, hasn't happened recently for a long time, if at all. He is being assisted, however, by Crown Counsel Sabita Maharaj.
Slyvio Espinosa is being represented by attorneys Audrey Matura-Shepherd and Christelle Wilson, who have so far made sure to challenge every single bit of the prosecution's case on which their objections have been allowed. At this time, the case is in a very sensitive portion, and we are unable to go into any further detail.
As we reported, 47 year old Espat was found dead in his bathtub at his Albert street apartment by his brothers Phillip and Mark in September of 2010. He had been beaten to death with a blunt object.
OCEANA/COLA Discusses Off-Shore Oill Drilling Win
Last night, we told you about how the Government of Belize decided to withdraw their Civil Appeal to the victory that OCEANA, COLA and the Coalition to Save Our Natural Heritage won in their fight against off shore oil drilling.
In that case, Justice Oswell Legal declared 6 offshore oil drilling contracts illegal. Those contracts were issued by Government between 2005 and 2007. After the trial at that time, the litigators on both sides were convinced that the issue wasn't resolved, and the Government filed suit to appeal the judgement at the Court of Appeal. Well, as we told you, they withdrew that case, which would have been very lengthy and expensive for everyone involved.
Today, we got a chance to speak with the leaders of two of the organizations who gave us a reaction to the decision of the Government to discontinue on this issue: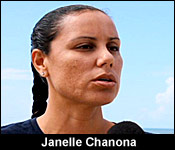 Janelle Chanona - VP, OCEANA Belize
"We're looking at the withdrawal of the appeal and the indication that the matter of the injunction will be similarly dealt with. As a clear indication that government is trying to demonstrate its commitment towards the magnitude of this issue. That cannot go unnoticed, the Prime Minister was very clear in his position in terms of asserting that a moratorium is in effect. But certainly as a policy organization, we take this as signs of good faith but we continue to work towards a position where we are comfortable with the policy currently in place."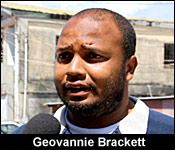 Geovannie Brackett - President, COLA
"I think it's just reaffirms, Justice Legal's first prior decision that it was right. Indeed this is not just a victory for the claimants. OCEANA, COLA and the Coalition to save to natural heritage, but it's a victory for all the supporters who came out in the mock referendum to support us. I think just the other day, the Prime Minister was asked if he will hold his promise of hosting a real referendum, considering the fact that Petrocaribe is rolling. So I think that he was hesitant and we yet to see that promise come to display, but there's still a lot of work that needs to be done. I think part of the ruling, I think that affirms what we initially wrote in our very first press release when COLA sent it out in 2010, which stated that these companies are more than just fly by night companies. these are just people in our opinion, who put together a company and then not even proper bidding, in our view, was just attempting to get a whole of a PSA and trying to get it market it to try to get some money."
Janelle Chanona - VP, OCEANA Belize
"If there's a policy in place, that gives some comfort in knowing that there is a law in place, that there are conditions that have to be met, that there are procedures that have to be followed for any changes. As opposed to somebody waking up and having a different feeling that day. Certainly that is why a legal formalized document, a clear position I think is what Belizeans deserve. This is their public resources, this is something that so many of us depend on every day for our livelihoods and as a country we depend on as a key economic driver through tourism and fishing. so at the very least, yes this deserves a clear policy and we've been invited by the PM to submit language to that effect and we're going to get that to him as soon as possible."
There is now only one remain court matter in this case, which involves an injunction.
How To Successful Run A Family Business
Today, business owners who keep it in the family and hire other relatives, were invited to attend a workshop organized by BELTRAIDE, the Inter-American Investment Corporation, and FINPYME.
They were there to take discuss issues the secrets to success for the families, communications and conflict management, family governance, family meetings, councils, company constitution, ethics, and a host of other issues that business owners face on a daily business in this type of commercial module.
We stopped by and spoke with the organizers and asked about the hypothetical about what to do when a family member in the company believes that he or she can be negligent or non-performing, and still be protected from termination simply because of relation to the bosses. Here's what they told us:
Shahera McCoy - Manager, Export Belize Beltraide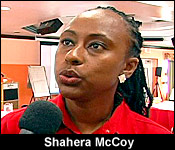 "We have partnered with the IIC on several of FINPYME activities. As you may recall, last year we did FINPYME export plus where several companies benefited. We are doing FINPYME Family business today because of just the nature of a lot of the Businesses in Belize. A lot of them are Family owned and sometimes it's a bit challenging to be in business with the family and separating that whole family dynamic from the business dynamic. And so today, what we are doing is introducing concepts that have been used by family businesses elsewhere to have them better manage their business better as a family. To put protocols in place so that there is not all these challenges that their currently facing. One of the other things that we recognize at times is succession planning, who takes over after the first generation is ready to move on or retire. So all these things are the kind of information that will be shared today through FINPYME family business. As a follow up, there is also an opportunity for additional technical assistance for some of the companies for the FINPYME team to work with them on specific challenges that they may be facing as a family owned business."
Daniel Ortiz
"It can sometimes turn into a welfare program where one member slacks behind and the other members have to pick up the rest of the weight. How does one manage that aspect that each family member must contribute equally for the benefit of the whole?"
Shahera McCoy - Manager, Export Belize Beltraide
"Well, some of those issues were already raised in the session this morning because as the facilitator, who has a lot of experience has mentioned, sometimes people view family business as having nepotism in there. And so one of the key concept that was shared, is to actually separate roles, to understand the roles of every family member and to have roles that don't cause conflict of interest. And so what was shared this morning is that, when we are looking at ownership, directorship and management of the company, you have to really do the separation and ensure that everybody understands their role even though they are a family member."
The workshop was an all-day session.
Reggae Rock Stars Ready To Put On A Grand Show
Reggae Stars Tarrus Riley and Tanya Stephens are in Belize once again. The duo will be hitting the stage at their upcoming concert on Saturday night. Today a press conference was held at the Biltmore Plaza - and the media got to ask them what their fans can expect?
Young has been painting for more than a decade. And tomorrow Tarrus Riley and Tanya Stevens will be holding motivational sessions with the students of Gwen Lizarraga High School and Edward P York. The concert is on Saturday night at the Hour Bar Field and tickets are 75 dollars general, 140 VIP and 300 dollars for ultra VIP.
Foreign Minister: Belize Maritime Boundaries Uncertain
Belize's maritime boundaries - where are they set and what is the marker? Foreign minister has been roundly criticized for not coming down squarely on the issue. On Monday on Guatemala City he said that it is still not certain due to the territorial dispute:
H.E. Alexis Rosado, Belize's Ambassador to Guatemala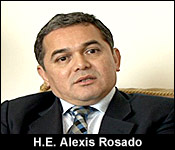 "So it is important for every nation state, every sovereign government to be able to define the limit of their sovereignty and in the maritime spaces they have not been able to do that, because we have not been able to sit down and agree. Every sovereign, free and independent state wants to be able to have clarity as to where the limits of their sovereignty lies. And in the sea they have not arrived at that point yet."
Hon. Wilfred Elrington, Minister of Foreign Affairs
"In the absence of proper delimitation and demarcation of your land borders, you're not in a position to even begin to deal with your maritime borders. And the Guatemalan land borders just like the Belize land border, is in doubt because of the Guatemalan claim. They are saying that their border is East of Belize City. That is what their saying, that I think is in their constitution, that has got to be resolved. So that's an urgent matter for them."
And another thing the Guatemalans are pushing for is to put the claim behind them. Elrington said it is a matter of economics:
Hon. Wilfred Elrington, Minister of Foreign Affairs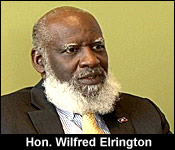 "And I can see the Guatemalans getting tremendous economic benefit for bringing on into dispute. They are already making serious in rows into the CARICOM region. They are already very dominant in SICA. They are moving into strengthening their relationship with the commonwealth countries that we traditionally associated with. So that they are benefiting tremendously from an economic point of view, in taking on this new image of maturity, of been serious of this dispute resolution and the like. In my view, this is enhancing their own statue on the international community and they are benefiting from it, it is encouraging investors and others to treat them with respect and want to invest in their country. So I can see for them, it needs to be remembered that historically they were the ones that were opposed to go to the ICJ unconditionally, but the world has changed and the economics is playing a very great role."
Home | Archives | Downloads/Podcasts | Advertise | Contact Us