A(nother) Broad Daylight Robbery At First Caribbean; Reports Say Robbers Got 100K
The First Caribbean International Bank branch, in the San Cas Plaza by Belcan Bridge in Belize City was robbed early this morning. It happened between 8:30 and 9:00, when the morning rush was just beginning for the end-of month payday. The bank was more crowded than usual, and that's the when 5 armed robbers stormed in.
They were well dressed like regular customers but dramatically flipped the script when they threw the security guards to the ground, jumped over the counter and helped themselves to as much as a hundred thousand dollars. By the time police responded, they were gone. We arrived shortly after and found out how the second daylight armed robbery in two and a half years happened at the same bank branch:
Daniel Ortiz reporting
The First Caribbean Bank in the Plaza should have been opened for business when we arrived, but the "we're closed" sign was up. Inside, employees and customers alike were present, most likely reporting to the police what they saw and heard during the armed robbery.
All around the premises, city police had the area surrounded; they were out in numbers - numbers which couldn't change the unalterable fact that there had been another broad daylight robbery at this northside bank.
The police booth which was right on the San Cas Plaza compound looked to be operational, but while the armed thieves were operating, it was a non-factor in the robbery in progress. Bank Customer Lloyd Neal was inside when 4 or 5 men stormed in and robbed the place.
Lloyd Neal - Was Banking During Robbery

"When I went into the bank this morning I was quite surprised about the long line. Normally the line is short. So I was joking, I said is this the 8% that public officers and teachers were withdrawing why the bank is crowded this morning. We were in there chatting, chatting. I didn't see when anybody entered looking suspicions, because we were chatting watching TV about t6he plane that they found, the wing - G70 down in Asia side there. While I am chatting having fun, I heard "get on the ground and nobody will get hurt." It made me begin to wonder are they film a movie. Anyway, I got down, because this old man doesn't want to die too quick - although he is already old. Then I saw the fellow with the gun and then people jumped over the counter - young fellows. We weren't too scared, because no gun was fired and no big threat was laid. But it was done in a very quick time. About 4 persons jumped over the counter, came up back with bags and so on. The truth is that we were not very frightened because no gun was fired. That's all I got to say."
Reporter
"What was the response of the either tellers or the security who were working inside the bank?"
Lloyd Neal - Was Banking During Robbery
"They obeyed what they were told "Nobody do anything funny and nobody will get hurt.""
Neal says that it caught his attention that these robbers did not try to shield their identities. Their faces may have been caught on surveillance video, and it should help the investigators working on this case.
Lloyd Neal - Was Banking During Robbery
"Something of particular interest to me, none of the culprits tried to hide their faces in any way. It made me wonder, are they sure of something? Nobody even put on a little funny thing to hide their identity. Very funny and very suspicious."
Reporter
"Each of them had hand guns or just one or two?"
Lloyd Neal - Was Banking During Robbery
"I only saw about two hand guns, but there could have been more."
Reporter
"Did they attempt to relieve any customer of the bank of any personal items?"
Lloyd Neal - Was Banking During Robbery
"No, but they made sure they put the securities on the floor and searched them good for gun or something or the other. They didn't bother with anybody else - the customers and so on."
As we mentioned, this very same branch was robbed before, on March 1, 2012. In that incident, 4 men stormed the building, and managed to get away with 230 thousand dollars. But that time, police responded while the crime was in progress, and one of the alleged robbers was shot and killed while he was trying to escape. A large portion of the money and with 2 firearms were recovered.
Cops Say Taylorís Alley Affiliates Responsible For Robbery
The robbery happened in Precinct 4, and police have been doubling down - trying to identify the suspects in the security video.
Their commanding Officer told us that police have made major progress in locating the perpetrators, whose faces were seen in the bank's surveillance footage. He discussed the information that they've been able to find out so far:
Supt. Linden Flowers, OC, Police Precinct 4

"The first call came in around 8:40am that a robbery was going on at the First Caribbean Bank at San Cas Plaza. Police officers from the station, which included uniformed officers as well as members of my strike team, was dispatch to the area and it was discovered that indeed a robbery had taken place. The information that I have received from my investigators who are still on the scene and working the scene interviewing and reviewing and canvassing for the information, is that 3 male persons of dark complexion, enter the bank, taking the security guard who was stationed outside the bank inside the bank. At that time they ordered the persons who are doing business in the bank as well as workers to go down to the ground, which my information is that they all complied going down to the ground."
Daniel Ortiz
"Can you reveal to us if they got away with any money?"
Supt. Linden Flowers, OC, Police Precinct 4
"Yes, I can inform you that monies were stolen from the bank."
Reporter
"Any idea how much money?"
Supt. Linden Flowers, OC, Police Precinct 4
"Not at this time and I do not know that I will disclose it whenever it come here. But money was stolen from the bank."
Reporter
"Can you say whether or not the ban security camera was operational?"
Supt. Linden Flowers, OC, Police Precinct 4
"Yes, cameras were operational and it has been helpful so far with the police officers in identifying some persons that have already been taken into custody."
Reporter
"How many persons were taken into custody?"
Supt. Linden Flowers, OC, Police Precinct 4
"So far we have 3 persons taken into custody, as a part of this investigation."
Reporter
"My information is that the robbers had a green van waiting outside. Can you confirm this?"
Supt. Linden Flowers, OC, Police Precinct 4
"Yes, there was a green van that was seen to be a part of the robbery."
Daniel Ortiz
"Sir, can you tell us if these persons will be charged or are they just being investigated at this time?"
Supt. Linden Flowers, OC, Police Precinct 4
"At this time the investigation is continuing. It is very likely that will be charged for a portion of the robbery or the other. The persons that we have in custody, are the persons that are the suspects of the camera that have been revealed so far as well as citizens in the area are all known to police. All the names that have come up in the investigation so far is known to the police."
Reporter
"Can you say if these persons are gang related and if any of the monies that were stolen has been recovered?"
Supt. Linden Flowers, OC, Police Precinct 4
"At this moment I cannot say if any of the monies were recovered. We are still in some hot searches for what should be the monies that were stolen."
So, why was the police so late in responding this time around? There is a police booth in the San Cas Plaza area, and an officer was on duty at the time. We asked Superintendent Flowers if the officer was sleeping on the job. Here's what he had to say in response:
Daniel Ortiz
"Can you tell us about this police booth, was it functional? Was an officer there? Could they have assisted in trying to prevent or interdict this robbery while it was in progress?"
Supt. Linden Flowers, OC, Police Precinct 4
"Yes, an officer was at the booth that is located at the roundabout on the San Cas compound and an officer was stationed there and his report so far is that the quickness of when it occurred he was not alerted until after the robbery had taken place."
Daniel Ortiz
"Is that an acceptable excuse? Is that an acceptable reason for not being involved or trying to prevent or stop this crime in progress?"
Supt. Linden Flowers
"At the moment except if other things arise, because of the location, there were a number of persons moving around, I am still doing some investigation into that. But I will say that I have told the officer that he needs to be more alert. So I want to see more alertness in the area - but it could have happened."
Police have detained three of the five suspects - who are affiliated with the Taylor's Alley Gang. As we noted they reportedly got off with a hundred thousand dollars - but the bank has not confirmed this.
One Female Bank Worker Was Hurt
This afternoon, the Christian Workers Union - which represents bank workers - released a statement on the robbery, saying that one female staffer was injured, but not seriously.
CWU President, Audrey Matura Shepherd, says, quote, "I condemn in the strongest possible terms this brazen... robbery of the Bank. I hope anybody with information...assists our law enforcement authorities." End Quote
Attorney Matura Shepherd Sanctioned For Contempt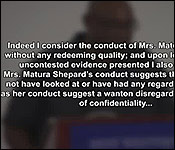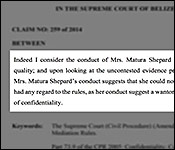 While Matura-Shepherd was very vocal in her condemnation of the crime, she was very silent today on the news that she becomes the first attorney in memory to be sanctioned by the Supreme Court for contempt. She has been ordered to pay $3,000 for it.
That's the decision that Justice Courtney Abel handed down after her case was argued before him in chambers.
Matura made her mis-step when she was representing BGYEA. You'll probably recall that the Lands Department was trying to block them from using the road reserve in Harmonyville on the Western Highway. The Government took them to court, and the case was finally settled in February, after mediation. But, before the attorneys for both sides could sign on the dotted line, Matura-Shepherd granted an interview to the press in February and she outlined the resolution.
But, apparently, the rules say that the information discussed in mediation sessions is supposed to be kept confidential, and Deputy Solicitor General Nigel Hawke, applied to the court on behalf of the Government saying that Matura-Shepherd be cited for contempt.
They submitted a transcript of the interview she gave to 7News, and Channel 5, and also an article that she wrote about the case in the Amandala. The government's attorney, Julie-Ann Ellis as well as Audrey Matura-Shepherd's attorney, Godfrey Smith made oral arguments as to why she did or did not break the confidentially rules of the Mediation Sessions with her public comments.
That was about 4 weeks ago and today Justice Courtney Abel handed down a written ruling in which he gave Matura-Shepherd a stern put down and a condemnation in very strong language.
In a portion of his 15 page judgment, Justice Abel says, quote,
"Indeed I consider the conduct of Mrs. Matura Shepard without any redeeming quality; and… Mrs. Matura Shepard's conduct suggests that she could not have looked at or have had any regard to the rules, as her conduct suggest(s) a wanton disregard to any notion of confidentiality…"
It continues, quote, "such conduct even suggest(s) a deliberate and flagrant, even contumacious flouting of such rules by such a breach of its confidentiality provision as to be unimaginable by a responsible Counsel, and an officer of the court…as it borders on contempt of this court's connected mediation process…"
And that's not all. Justice Abel adds, quote, " the only possible benefit that could be gained from it, as far as I could discern, very unhappily, was self- publicity…, as the content and circumstances of such disclosure, it seems to me, tended to undermine even her client's own interest in satisfactorily concluding a final agreement with the GOB which was still being worked out at the time of such publication…" End Quote.
With that, the judge ordered her to pay $3,000 a sanction for this breach of confidentiality.
After news began spreading that the judgment had been delivered, reporters started contacting Matura-Shepherd for a comment. She has not responded to them, and she also declined an interview to Krem News who was at court when the parties exited after the hearing.
Her attorney Godfrey Smith told us quote, "We will discuss it with our client and consider the merits of an appeal". End Quote.
Easy Glen Leaves Court In Ambulance For Hospital, Escapes Prison Bus Bound For Jail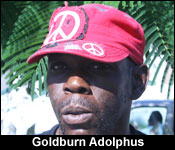 Well known street operator Goldburn Adolphus, known as Easy Glen went from courthouse to emergency room today - after he fell into a sudden seizure, just as he was told he would be remanded for the weekend.
Adolphus was charged for aggravated assault with a pint bottle upon Court prosecutor, Cpl. Noel Muschamp.
When he appeared in court this afternoon, He pleaded guilty, begged to apologize and generally threw himself on the mercy of the court. Magistrate Ladonna John accepted his guilty plea but remanded him to prison until Monday, August 3, 2015 for sentencing. And that's when Easy Glen took a hard fall to the courtroom floor. He was having some sort of seizure, and when his head slammed against the floor, his dentures flew out. Court orderlies called an ambulance and got first aid advice over the phone to stabilize him.
By 3:30, he was whisked away in an ambulance to the KHMH.
The facts of the case are that Cpl. Muschamp says that a week ago on Partridge Street Extension Easy Glen approached him brandishing a pint. Glen was supposedly upset because the Muschamp had arrested him the day before on a committal warrant for 815 dollars he owed the court.
He settled the debt, and so tonight he is at the hospital- at least until Monday when he will be sentenced.
Cops Fundraise for Fallen Colleague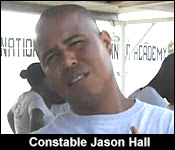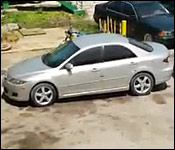 A month ago, we told you about Police Constable Jason Hall, the officer attached to Precinct 3 in Belize City who was the victim of a brutal assault by a civilian.
That attack happened near the entrance of Rhaburn Ridge Village at Mile 37 on the Northern Highway on Monday, June 29. That's where PC Hall had a blow out in his private vehicle on his way to work in Belize City. A man came along who offered to help him fix the flat tire, and as soon as they got it fixed, the man clubbed him over the head - and took off in the car, leaving the cop unconscious on the side of the road.
When he regained consciousness, he called for help, and was rushed to the KHMH for medical treatment. Since then, it's been a slow recovery, and in that time, the officer has incurred a medical bill that he must pay.
Today, his fellow officers chipped in with a barbecue fundraiser. 7News dropped by to see how it went: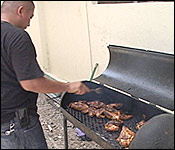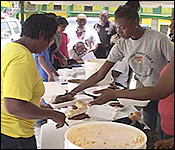 Daniel Ortiz reporting
Inspector Fitzroy Yearwood and the other grill masters put the last of the 300+ pieces of chicken on the grill, they had just spent a taxing 10 hours there preparing the meat for a fundraiser.
Inspector Fitzroy Yearwood - Relief Commander #3, Precinct 3 "My crew and I have been here since 1:30 this morning and we plan to serve people Bar-be-que by 11am and we are almost through."
The purpose is to raise funds to help Constable Jason Hall cover his medical bills. Viewers may remember that he was attacked and clubbed over the head on June 30 by an imposter good samaritan who helped him fix a flat tire, and then stole his vehicle and drove it to the City.
Police say they caught Darren Gillett in the vehicle shortly afterwards. Police Precinct 3 is simply trying to help their fellow officer out with the medical bills he's stacked up while being treated for injuries suffered in that attack.
Inspector Fitzroy Yearwood
"PC Hall was assaulted where he lost his ability to eat and all sort of stuff and he have to be on a liquid diet. So we know that he accumulated a sizeable medical bill, while the department has help tremendously, we the members of team #3 and Precinct #3 itself, the commander Supt. Ms. Anderson, we decide to come together try to raise some funds to try to assist PC Hall who will be away from us for a little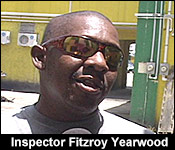 while. So we came up with the idea to do a Bar-be-que and we are selling it for $7 and we did proper advertisement we got our tickets out. Mr. Hall was a member of my team, one of my favorite drivers, very reliable, responsible. He would have been here on any ordinary day checking reports, servicing his community. But he just this person that I can rely on and he goes that extra mile, even when he is off duty and I call him in to assist, he never complains, he juts jumps into it. So he is tremendously missed and likewise I know he misses us. Yesterday he sent me a text that he wanted to see us yesterday when he came to doctor, but when we got to work we were working night instead of day. But that doesn't stop us. I will pay him a visit over the weekend because he is a member of our family. At Precinct 3, we treat each other like family, not as co-workers."
That respect that the young officer is already cultivating is the driving force behind an effort to make the most of this fundraiser.
Inspector Fitzroy Yearwood
"We sold a little more than 300 tickets, but we are hoping to see the entire 345 that we did here today."
The officers each gave a small donation to buy the chicken and other ingredients for the barbecue. That means that whatever money is made from the fundraiser is 100% profit, which can be donated to Constable Hall.
Full Moon Brings Full Nets For Shrimpers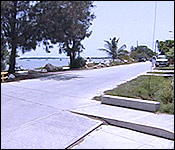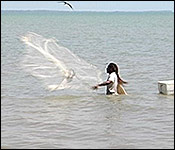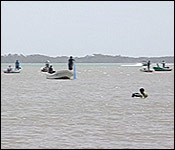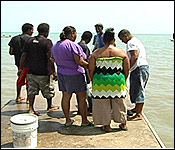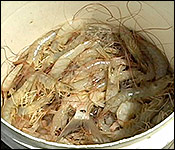 Farmed shrimp may be the convenient craze these days, but there is still a lot of "shrimp" in the sea - problem is you just got to know how and where to catch them. Today we met a group of veteran fishermen who know the exact spot to pull them in. Every year around this time fishermen flock to Buttonwood Bay to catch sea shrimp. We met with 2 fishermen who told us why they go out every year to the Northside and what their catch means for their survival.
Courtney Weatherbune reporting
A white cast net and an ice box: that's all Winston Lucairo needs to catch sea shrimp.
He is just one of the fishermen who have been out here since 6 this morning.
You would normally see them on the Southside catching shrimp but today they've tracked down these rare bottom feeders to the Northside of the city.
Winston Lucairo, Fisherman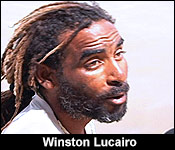 "The next side kind of choppy, so I come on the northside here where it is calm, because the weather has shifted. The southside is rough right now, so I come on this side here where it is smooth. Basically, this is all we are doing right now for living. It depends on moon, because these kinds work with the moon too to catch them."
The distinct glare and positioning of the moon and the roaring sea - key variables to monitor in this business. It's quite a taxing process - not to mention standing hours beneath the sun throwing and hauling the net back in until you get a decent catch. But according to fisherman Albert Davis whose been coming here for about 6 years - it all about the hustle.
Albert Davis, Fisherman
"Normally, usually around this time they come. We just try to catch them to make a little extra money. Most of us out here are fishermen. We didn't go to sea, because this is a short distance and we don't burn too much gas and still make a little money off the shrimp. Right now we are getting like $10 per pound."
Courtney Weatherbune
"Now you will sell for like $10 per pound?"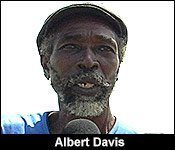 Albert Davis, Fisherman
"Yes. Some of the guys will make about $200 for the day."
Davis caught only about 5 pounds this morning - which translates to $50. Like him, the others plan on staying all day until their sacks and buckets are full.
There is no longer a shrimp season because shrimp trawlers have put an end to the commercial shrimp trade. One of the residents told us the he hasn't seen so many fishermen in this area for a long time.
USDA Money For Medfly Eradication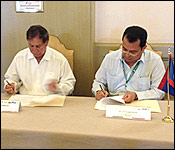 The Mediterranean fruit fly has been detected in southern Belize and now there is a million dollar plan to eradicate it. The United States Department of Agriculture has committed 372 thousand Belize told and the Government of Belize will chip in with another 687 thousand dollars for medfly eradication activities and the procurement of equipment, materials and supplies, as well salaries and operational expenses for the medfly programme.
That's the plan coming out of the 2nd meeting of the Multilateral Fruit Fly Commission held in Cancun, Mexico.
The Cooperative Agreement is signed annually to manage the fruit fly in the interest of protecting crops in Belize and the United States. BAHA is currently making eradication sweeps in the south to contain the medfly.
Summer Drums, Summer Fun
There are all kinds of summer camps, but one of our favourites has to be the drum workshop. It's an effort of the National Kriol Council - where 100 youth get to master infectious rhythms on the oldest instrument on earth - which sounded as fresh today - as it did when the first man beat the first drum like…six thousand years ago. I spoke to the particpants:…
The Drum Camp is part of the Project called "Bridging the Gap to Safer communities through Education, Training and the Creation of Business Opportunities in Cultural Arts for Youth in the Belize District" funded by the U.S. Embassy through the Central American Regional Security Initiative.
Taking On Technology In New TV Show
The Belize Film Commission has embarked on novel mission, to educate the public how professionals harness technology in everyday activities you probably didn't even know about.
And to bring the high-tech down to earth, they've hired American Television producer, Steve Odell and former Engineer Cadet Henderson. Both men have been hard at work, and earlier this week they brought us a snippet of this new television program called, Technology Belize, Greatest Places on Earth. Both men stopped by to explain why you will want to tune in:
The Commission is expected to start airing the show as episodes on national television.
Months Later, Burnt Out Family Still Putting Pieces Together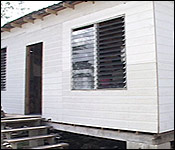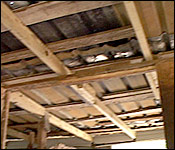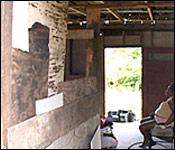 3 months ago, we told you how Belize City resident Caroline Hamilton and her family suffered great misfortunate when their house burnt down. As ae showed you weeks later, they had nowhere to go. So, they did the only thing they could think of and slept in the burnt shell of their destroyed home, while they waited for help from the Government and whomever could make donations to assist them.
Well, the Government assistance has not arrived yet, but the community has been chipping in little by little with donations of construction supplies. Her common-law husband has been making repairs with those supplies, and today, she told us that while her family's house is on the way to being fully repaired, she still needs a little more help.:
Caroline Hamilton, Fire Victim
"It's been a rocky road, but I as a strong mother stand up and face my crisis. Because if I turned my back, what will happen to my children. So I beg and I cry and someone heard me started to send me help from the Facebook and I thank everybody who helped me out there. Thank them,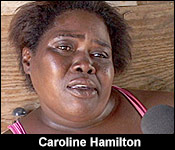 that they have a heart towards me and my children, but I still need help along the way. I need my back door, I need the rest of glass windows for my house. I cannot stay in the house anymore where I am, because when there is a high tide, the water comes up in the small house where I live. So I have to move out. Fire ants are taking me over when I am sleeping. I am going through a hard time in my life. I want her (daughter) to go back to school. I am buying the books one by one, but I still need help. Because I don't want to let down my child. I want my child to get an education like everybody else and If I don't stand up, who will? I am begging the public once again to please help me - that I could finish my home."
Hamilton has 3 children.
All For Arenal
Arenal village in at the western edge of Belize - half of the village is in Guatemala, the other half in Belize. And while contraband is often the main business in this frontier community, now the 400 Belizean residents have a suped-up resource center to keep them busy. The newly constructed Centre valued at $315 thousand dollars through a loan from the Caribbean Development Bank was opened today. The building features a new computer lab including 5 computers, with all the peripherals. A part of the project is that eight young persons from the village were trained in Computer Skills Training, and Desktop Publishing. They learned graphic design applications and how to create artwork for print, advertisements, logos, and book layout.
The building also doubles as a hurricane shelter.
Hopkins Law Enforcement Beefed Up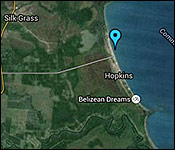 A week ago, we told you about that mid-year review that Police Minister John Saldivar held with the most senior officers of the Department. As part of the discussion, the Police Department decided that they would create a police jurisdiction for Hopkins alone, and today, they began discussions with the community to make that happen.
Today in Hopkins, Saldivar met with Southern Regional Commander Ralph Moody, Assistant Superintendent, Mark Stephens, Sergeant Cardinal Smith, and the Chairman of Hopkins Village, Wayne Casimiro. Also at that meeting was the Belize Tourism Industry Association, representatives of the Belize Tourism Board, and members of the Business Community.
Members of BTIA and BTB affirmed their support and are prepared to assist with a police barracks to house additional police officers, renovation of the police station as well as transportation and communication. Minister Saldivar said that his ministry will assist with 2 motorcycles and the furnishing of the barracks and additional police officers to be a part of the Hopkins Police Sub-Formation.
Home | Archives | Downloads/Podcasts | Advertise | Contact Us