Alleged Teenaged Diplomat Killer Arraigned…For Theft, Not Murder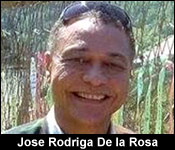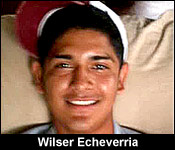 Tonight, 18 year-old Belmopan resident, Wilser Echeverria is at the Belize Central Prison after being arraigned in the Belmopan Magistrate's Court.
As we've told you last night, he was charged by police with the murder of the Panamanian Diplomat, Jose Rodrigo De la Rosa Stanford, but the sitting Magistrate in Belmopan refused to arraign him due strict procedures in law which were not followed. As we told you, Echeverria has confessed to police to killing the Diplomat, but he says he did it because De La Rosa tried to rape him as gunpoint.
Under the criminal code, an accused cannot be lawfully charged with murder if he claims self-defence without the written leave from DPP Cheryl Lynn Vidal that she intends to proceed with a prosecution. Due to that memo from Commissioner Blackett, Vidal has not been privy to any of the details from the case, and so she did not sign off on a murder charge.
Belmopan police instead went with a charge of theft today because they have been able to link him to the diplomat's missing vehicle and phone, which were recovered. They are accusing him of stealing these items, and they have a witness who has tied him to them. So, he was arraigned today on that charge, and even though theft is a charge for which bail can be granted, he was remanded due to the submission from the prosecution.
As we've told you, police have improperly charged him with murder, and only a directive from DPP Vidal will validate it. That has played into his eligibility for bail.
So, how has that infamous memo affected the case so far, and how does the state proceed? Well, we have learned that despite ACP Russell Blackett's instructions which orders Belmopan police not to consult with the DPP Office, the lead investigator of the case met with Cheryl-Lynn Vidal today. They have had a discussion, and the file is now in her position for perusal. They are working towards validating that improper murder charge, but at this time, Echeverria's fate is still in limbo at this time in relation to that capital offence.
Hon. Elrington At The Nexus Between Diplomacy and Justice
And the back and forth between the police and the DPP over this murder charge happens to fall within the perfect intersection of the powers of Foreign Minister Wilfred Elrington. He's also the Attorney General - under whose ministry the justice system falls.
So what does he think of the wrinkle in relations between the police and the DPP? We asked him today:..
Hon. Wilfred Elrington, Attorney General

"The memo is quite correct and it is in accordance with the law. We have separation of powers here in Belize. In the case of minor offences, once those charges are laid, a case file is presented to the court and then you have the trial taking place many times without the DPP even having knowledge of it because these summary matters, the Director of Public Prosecution don't normally deal with. She deals almost exclusively with Supreme Court matters; indictable matters. But it is not her responsibility to say who is to be charged or `who is not to be charged - that's not her responsibility at all. Her responsibility is exclusively to prosecute."
Daniel Ortiz
"Doesn't it seem prudent that the prosecuting authority who will undoubtingly have to labor in the Supreme Court, to get a conviction, a successful prosecution - wouldn't it be the best practice to have that authority give input to make the best possible case?"
Hon. Wilfred Elrington
"An excellent point you are raising and it's something that we have even thought from time to time. It's not my understanding that the practice of the police ought to wait from the DPP was helping the situation. The record of conviction has been very dismal in the country. I am not blaming the DPP. We have change circumstances and very difficult these days because of intimidation of witnesses and all kinds of things to get conviction, but it is not my understanding that the practice of the police had` of sending the file to the DPP was helping the situation. I think it was retarding the dealing of justice, delaying and then you have the blame game; nothing is being done and when you ask one person why this is being done, he say well I am waiting for the DPP, and the DPP is saying well I don't have the file from the police. But there is no need for the police to go to the DPP before they lay a charge."
Panamanian Officials In Belize To Observe
And Elrington also has to explain the same issue to three visiting Panamanian Officials who are here from that country's ministry of Foreign Affairs.
He told us what they are here to look for:..
Hon. Wilfred Elrington, Minister of Foreign Affairs

"Three officials from the Panamanian government came into the country I think it was day before yesterday on Avianca. I had been informed by the Vice President and Foreign Minister of Panama, that she was intending to send them to see, in fact, into the details of what had transpired here with the death of the Charge D' Affairs. It's a courtesy which we accorded to them, we have been doing the same thing with the Guatemalan government. They have had officials come over when they had a death of one of their citizens, so they came in and I had a meeting with them yesterday morning at about 10am. It was a very nice meeting. There were three males along with the person who heads the office now. One was from the diplomatic corps, the other two were police officers and basically what they wanted was to be allowed to meet with our police personnel who were responsible for the investigation and for them to give them details of the information which they had collected. I spoke our Minister of National Security, Minister Salvidar, who readily consented to their request. I also spoke to Assistant Commissioner Lino, who was the point man, Mr. Blackett was out if the country and he also are being readily to accommodate them. They also wanted to have a person from the protocol office here in Belize accompany them and to facilitate their activities here. We readily agree to that - provide them with a protocol officer and a vehicle."
And while the solving of the murder is somewhat up in the air, there will be a requiem mass for Rodrigo De La Rosa for tomorrow at 9:00 am at the Divine Mercy church. Elrington says he will attend:..
Hon. Wilfred Elrington, Minister of Foreign Affairs
"I would certainly attend the mass. I am sure other members of the Ministry of Foreign Affairs will attend as well. I am not sure who else from the government will attend, I will attend, I am sure other staff members from the Ministry of Foreign Affairs will attend."
Almost $400k In Jewellery Stolen From Roe Family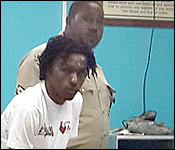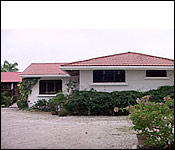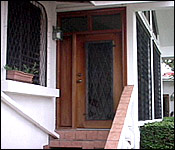 Tonight, Ladyville police have 2 men detained for a burglary of a house belonging to the Roe Family in Ladyville, in which thieves got away with around $390,000 worth of jewelry.
We can't give you much at this time about the burglary itself because the Roe family members have not given police a formal statement itemizing all their belongings that were stolen. What we do know is that the house on the Airport highway was targeted by thieves who broke in through the back door.
Once inside, the thieves went to the bathroom, where a safe with the very pricey jewelry was kept. Somehow, they broke into the safe swiped all the items inside and left everything else in the house untouched. Police don't know what to make of that, and they have strong suspicions that the thieves got inside information on how to get in.
But there is another element to the story, Lionel Bregal, the man who police have as their main suspect, says that Ladyville cops tried their very best to beat a confession statement out of him. His family made a clandestine voice recording in which Bregal talked while in custody about his ordeal. They wanted him to explain in his own words what happened, and here's what he had to say:
Lionel Bregal, Claims Police Brutality
"They took me at Crooked Tree last night. They took there to beat me and when I told them that I will give them what they want, they took me to granny. I told them in front of granny that I told them that because I wanted them to bring me here for my people to see the injury in my head and they laugh. They say that they will take 10 times and they will start to beat me."
Now, we get reports like his all the time, but his allegation has gotten some credibility because his attorney, Oscar Selgado, suspected what had taken place, and he got the Ombudsman, Lionel Arzu involved late last night. He told us that that, incredibly, the investigator admitted to them that Bregal was beaten while in custody. The cop allegedly tried to justify the unlawful behavior to the attorney:
Oscar Selgado, attorney

"The man arrived there about 10:30 last night and he made several calls and he requested of the Corporal to bring in the citizen and that was what happen. At about 10:30 last night, finally Lionel Bregal was brought to the police station. He was totally devastated, he was shattered, beaten by the police. His face was totally swollen; he had at least 3-4 what we called "guavas" on his forehead and on his cheeks, whether he was gun butted. He was bleeding from his head and he was taken to Karl Heusner. The Ombudsman requested that they do a proper medical of him and he was taken to the Karl Heusner Memorial Hospital where a medical officer, doctor, categorize his injury and treated him as harm. But interestingly when we were at the Ladyville Police Station, that same Corporal had a private discussion with me and the Ombudsman in which he sought to justify that because $390,000 of jewelry were stolen and a place was burglarized, this jewelry was stolen, that gave him the right to beat this citizen and to get a recorded confession from him. He admitted that the man confessed and he admitted that this man was beaten. He had to admit because I told him that I inspected this man in front of an officer at Queen Street Police Station and he was not in this condition."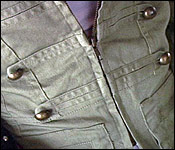 Voice of Amy - Sister of Accused
"He said that they beat him until they got the answer that they wanted which was to admit to something he didn't do. They just wanted a confession on what is happening, so that they could stop abusing him. So he told them what they wanted to hear, so the beating could stop, which I mean anyone would have done that. A lot of thing ran through my mind because police are known to abused and kill young men. That is known. They beat a young man the other day until he "shit" himself literally. And this corporal has a beef against my brother. I am shook now."
Well that Corporal Sutherland told us just a few minutes ago that he said no such thing to Selgado and that he didn't lay a finger on Bregal. He says that Selgado came to the CIB office in Ladyville last night at 9:00 where they had an unofficial discussion about Bregal's rights to an attorney. He said that at no point did he discuss any injury to Bregal - who by that time had been taken to see a Doctor.
Police are holding Bregal based on the allegation that a Rolex container was found at Bregals' house in Belize City.
As Selgado is now a witness to the cop's alleged confession, the family's lawyer is now Audrey Matura Shepherd.
We tried to reach the Ombudsman today to confirm Selgado's account, but we were unable to do so. We'll try again tomorrow.
But, back to Lionel Bregal, we note that our records say that he has been accused of burglaries in 2009 and 2010.
PG Cops Cleared of Murder Charge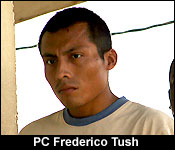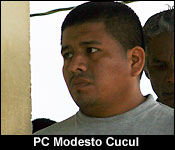 Today police officers Frederico Tush and Modesto Cuccul were acquitted of murder in the Dangriga Supreme Court.
They had been accused of beating 47 year old Michael Valerio to death on July 29th, 2012 on Front Street in Punta Gorda town.
Allegedly, Valerio also known as "Street" stole a bicycle belonging to one of the officers. The officers then allegedly chased him and beat him on the stairs of Central Bar, where they also injured the bar owner Luis Braddick. Valerio was left on the stairs to die.
The trial without jury took place before Justice Denis Hannomansingh. Tush was represented by Bryan Neal, while Cucul was represented by Dickie Bradley.
In the end, the judge was not satisfied beyond a reasonable doubt that the two officers beat Valerio to death. The case fell on the errors in procedure in an ID parade in the case of Tush, and an insufficient dock identification in the case of Cucul.
With that both men walked from the charge this morning and are home free tonight after more than two years on remand.
Three More Cruise Ships Cancel; Millions More Lost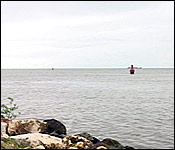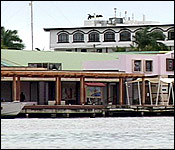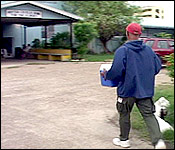 Yesterday we reported on the cancellation of two cruise ships as a result of bad weather. It held back thousands of passengers from disembarking on Belize's shores.
Well, the nightmare continued today as 3 more ships were cancelled! We spoke with Director of Cruise and Regional Initiatives at BTB today and he discussed the daily and cumulative impact:
Valdemar Andrade - Director Cruise & Regional Initiative, BTB
"Today we had three ships who decided to cancel because when they reached the English Caye Harbor, the winds were blowing at 50 knots and the seas were very choppy and they decided to again cancel those 3 ships. There were two Carnival and a Princess and so all in all we are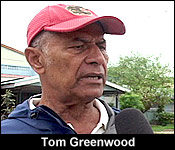 looking at about 15,144 passengers that basically didn't come on shore."
Tom Greenwood - Local Tour Operator
"The cruise lines, I am sorry, are not going to lose one single penny other than a few dollars for having turn the waters into Belize and back out, but the people; your hair braiders, your food suppliers, your tour guides, you suppliers of every type of tour you can think of in Belize. Large and small companies are taking a licking. We try to play the financial game as well to see how to compensate these people; get it sold elsewhere or we get some money together to compensate and then we take the food to organizations. We brought some here to the home for the elderly."
Valdemar Andrade

"However, the long term solution is a port, a docking facility where the ships can pull up and the people can walk off."
Today over 15 thousand passengers were unable to disembark. Based on the industry wide formula that each cruise visitor spends an average of 75 US dollars, that translates to a financial loss of $2.2 million dollars for today alone. Add it up to yesterday's losses and it is over three million dollars.
Who Will PUP Choose for Cayo North?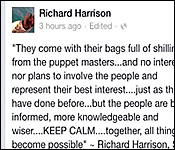 The national executive of the PUP meets tomorrow - where members will decide whether the vacant seat in Cayo North will be filled through a convention or by simply selecting a candidate.
Because time is short and money is low, the party is inclined to select a candidate rather than go through a convention. And sources suggest the party is leaning towards the attorney Michel Chebat over businessman Richard Harrison.
And it seems Harrisson has gotten wind of the party's plan to select rather than elect. He posted this on his facebook page this morning, QUOTE: "they come with their bags full of shillings from the puppet masters…and no interest nor plans to involve the people and represent their best interest…" That's an oblique reference to his own party where the term "puppet masters" was famously used by former representative Mark Espat to refer to financier Michael Ashcroft.
And in another post, he spells out democracy, and adds that quote, "it is the given right for every registered voter to be able to choose a representative…."
So clearly Harrison is pushing hard for a convention - while prevailing wisdom suggests the PUP Executive will vote instead for a candidate to be selected.
But, no decision has been formally made so we wait for the final word from tomorrow's executive meeting.
The by-election is set for January fifth, 2015 - and nomination day is on December 15th.
COLA: Political Interference Happening Within Police
Last night we told you how the activist group COLA had gotten all hot and bothered about a trove of documents, which it claimed, proved political interference in police work. The single document COLA presented to the media today is a letter from the President of the Belize Police Association Corporal Eldon Arzu to Ombudsman Lionel Arzu in September of 2013. It complains about political and administrative interference in police work dating back to 2012 and cites four cases in which police officers were allegedly punished for their involvement in police matters which became politicized.
At a press briefing dramatically staged outside the Queen Street police station this afternoon, COLA says the letter speaks to a systemic problem in the culture of governance and policing:...
Geovannie Brackett - President, COLA
"We have to wonder why the Ombudsman never granted us in favor of requesting the evidence from the Commissioner of Police, because he has written and several situations was brought in front of his desk, yet he has not responded."
Nedal "Jihad" McLaren
"What the police department is trying to get and what these officers are trying to get is that they do not want that police officers continue to be victimized because of doing their job."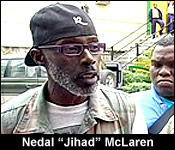 Geovannie Brackett - President, COLA
"These are serious allegations of interference in what appear to be human trafficking. These are serous interference from political directorates, political ministers time and time again. If you would look at this document and this needs to be address formally."
We could not confirm if the ombudsman has seen the letter.
YAP Graduates 69 More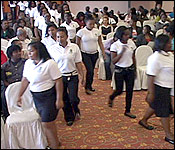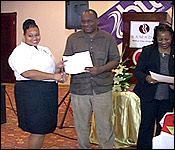 Earlier this month we reported on the 7th intake for the youth apprenticeship program and the goals those participants plan to realize through this program. But today we met a group of them who have passed that stage. A ceremony was held at the Princess Hotel this morning to honor the graduates of the 7th intake. 69 out of the 150 completed the 6-month program. They told us how this program has changed their lives.
Gerniele Gill, Graduate
"Well 6 weeks for me, all I can say is that it change my life a lot because if it never changed my life, right now I would be in jail, if it weren't for Ms. Finnegan and this Youth Apprenticeship program - I would be doing simpleness on the streets, badness and everything else what everybody else could think about to do out there. I was doing the same thing, but I change my life now."
Ericha Will, Graduate
"For me I enjoyed it and I had fun and the place that I am working is KHMH physiotherapy. I didn't have any idea what to do in that department and I learned a lot. The thing is about my department is therapy, like when you have a broken ankle or sprain or anything like that - you can go and then they massage you and when you have a back injury.. I learn all of that. Right now just want to learn a little more and then I am going to get more in-depth with it and I think I'll go to 6th form to go in more and then go outside to study abroad and then eventually maybe I can handle my own business on my own."
Prunella White, Graduate
"It was good for me because first I said that it was not going to work out, but at the end of the day it pays off. First of all I want to thank Ms. Finnegan and to my boss at Biltmore. I got fulltime at Biltmore in less than 2 weeks."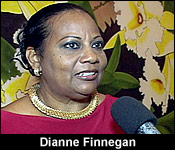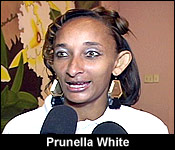 Dianne Finnegan, Coordinator
"These young people have shown that they are worth the investment and more. That we ought to take them seriously because when they make up their mind, when they are motivated to do, they run and all they ask is that you don't let go of their hands and they'll prove to you exactly who they were created to be."
Several of the participants have found permanent employment through this program.
Arthur Saldivar Vs Melonie Coye Concluded… Then Restarted?
Arthur Saldivar, we haven't reported on him since he was booted as a PUP standard bearer.
It made major news when an allegation emerged that he made off with almost a million dollars of his former client, Melonie Coye's money. His political downfall pivoted on that allegation, and he still has to clear his reputation in relation to that money.
Well, that case has been churning through the court system, and we learned that a default judgement was granted in Coye's favour because Saldivar didn't offer any defence.
That would suggest that Coye's position was vindicated, and that she won an established ownership of the 900+ thousand dollars. There was something unusual which happened, however. We were informed that Melonie Coye's lawyers applied to Justice Shona Griffith to get the default judgement vacated. Now, we have been unable to find out why they would want to do that, and we've also been unsuccessful in getting the details of the orders from that judgement.
Nevertheless, the default judgement was vacated today, and when Saldivar's attorney exited from court today, we asked him about the case. He left us more confounded than before the interview started:
Hubert Elrington, SC - Attorney for Arthur Saldivar
"The judgment that they have obtained, the other side obtained in defense was made at their request. Of course we had also made a earlier request for sitting aside. The truth of the matter is that they were so anxious to enter a judgment that they counted wrongly; it was simply a matter of 1,2,3, but they succeeded in getting it wrong. So having realize that, they put it in 3 days earlier that it was to comment. They had ask the judge to please set it aside for them and we agree at a cost to us of one thousand dollars."
Daniel Ortiz
"Sir, talk to us about this judgment and what effect would have been had it not been vacated?"
Hubert Elrington, SC - Attorney for Arthur Saldivar
"Well if they claimed certain orders and directions in a claim as was done, the entire orders and directions that were claimed would have been in effect given by the court and then the matter between Saldivar on one hand and Coye on the other hand would have been completely concluded, but remember we are saying that it seems to us strange that Ms. Coye who was not the owner of any money that was seized by the police because the admission was of all times that the money belong to her father, so we are kind of baffled by her claim that this money is hers and she ought to be given it, so we wanted the matter to go forward to clarify that issue at least."
Daniel Ortiz
"Doesn't the fact remains then that it still belongs to the Coye family? Doesn't it still belong to her father in his estate?"
Hubert Elrington, SC - Attorney for Arthur Saldivar
"Well go and apply for administration of estate, that's what you do. If you died, you would have to apply for administration of estate. The law is clear. Nobody has applied for administration of estate."
Reporter
"She can still do that?"
Hubert Elrington, SC - Attorney for Arthur Saldivar
"Well anybody who thinks they have a right to the estate can apply. That's what the law says."
Nevertheless, the vacating of the judgment means that the case must continue, and the attorneys meet for a case management conference in January of next year.
Dance X & Jamie Thompson Is Back
The 6th annual Dance X Festival - which is hosted yearly by the Institute of Creative Arts started yesterday. The event features a line-up of international professional dancers and dance instructors facilitating workshops and training sessions for dancers at the BLISS Center. One of the facilitators and the prime mover of the program is Jamie Thompson - who now owns a dance company in Dallas Texas. As a part of giving back, today the dancers put on a show for high school students. 7news was there.
The first show starts on tonight at 8pm at the Bliss and entrance is free.
Pickwoad/Maud Williams Land Suit Complete
3 Weeks ago, we told you about how the Pickwoad family and the Ministry of Natural Resources couldn't reach a pre-trial settlement on a disputed piece of land in Belama Phase 1.
As we've reported the Pickwoad family has disputed the manner in which the Lands Department terminated her lease and transferred rights to it over to Maud Williams and Mervin Castillo Jr. That case has been before the Chief Justice Kenneth Benjamin, and today, Lands Commissioner Wilbert Vallejos was cross examined by attorney Audrey Matura-Shepherd.
The case was completed this morning, and outside of court, we spoke with Matura-Shepherd about the evidence revealed so far. Here's what she told us:
Audrey Matura-Shepherd, attorney for Pickwoad family
"We are at the end of trial and all evidence has been given. The last witness that had to be on the stand was Mr. Wilbert Vallejos and his witness statements stands as evidence and we just cross examine him, The focus of the cross examination clearly be did the person get notice and was the person given a reasonable time to respond and so we go back to court on December 17th to report and in the meantime yes, we are still encourage to try and reach settlement."
Reporter
"Talking about the processes, it seems to be a bit problematic to get that out of the commissioner. How do you feel about his response on that?"
Audrey Matura-Shepherd, attorney for Pickwoad family
"You know sometimes when you do these matters when you don't get the response, that itself, is a help because it shows you where you are with everything. It shows you and I think you all were listening to the evidence and understanding the process of the Lands Department, I think what you all need to look at is what are the polices at the Lands Department. Are they applied evenly across the board with everyone and that's beyond this case."
Daniel Ortiz
"What is the weight of Mr. Wilbert Vallejos' input into this case chief evidence and cross examination?"
Audrey Matura-Shepherd, attorney for Pickwoad family
"Well it carries a lot of weight because he is able speak as to the processes and he is a decision maker."
The case goes back before Chief Justice Benjamin for a report on December 17.




Home | Archives | Downloads/Podcasts | Advertise | Contact Us