Dr. Marco Tulio's Wife Speaks; Asks For Empathy For Her Children During Emerging Scandal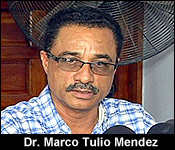 The pressure continues to build against the embattled Orange Walk East Area Representative, Dr. Marco Tulio Mendez and, tonight, police from Orange Walk are following up on allegations of indecent assault made by 2 teenaged girls. We've been reliably informed by police sources that they have tasked an investigator to check into whatever information the females have provided to the Department of Social Services. They're checking to see if the information provided can result in criminal charges - which information suggests could be brought early next week.
Politically, pressure groups have now emerged to agitate against Mendez, and it led to a protest in front of the Orange Walk Town Council today. The agenda is to unseat him as area representative for Orange Walk East. We'll show you that later in our newscast, but first, we got a chance today to speak with Dr. Lesly Mendez, the wife of Dr. Marco Tulio. She figures prominently into the story because she's separated from Dr. Mendez.
She decided today that she would speak with us on behalf of her children and herself, who, she says, have become victims of attacks from members of the community in the wake of the emerging scandal against her husband.
She told us this afternoon that it is unfortunate that because her family decided to seek outside help to solve this very serious issue, they are now being targeted by political operatives from both sides. Here's her impassioned plea to the public to be left alone while this situation unfolds:
Dr. Lesly Mendez - Wife of Dr. Marco Tulio Mendez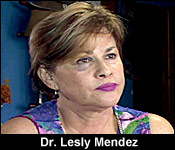 "The situation is that we are a common family. A family like a normal family. We are not an abnormal family or like how I've been hearing over the radio or any other media that something must be wrong with this family, since we are a numerous family. The situation is that we have identified a problem in our family. We cannot name that problem as yet. We are being brave enough to identify the problem. I think that is what the Belizean population should look at because many families, many women, many children, many men, they have problems, but they are afraid to identify, they are afraid to look for help. We went to look for help to solve the problem. To see if there is any problem, but sadly, we are just being used as political poppets. I haven't received any call of support. I haven't receive any professional help, any therapist, offering help, any high profile whatever you want to call, offering us help. Only things I have received are hate calls, hostility, people throwing stones to my husband, to my family, to my children - but no help. I haven't received that community support. I feel just used and I think that is completely wrong and I really condemn that. I think that is why so many issues are not being properly addressed and I think that's why our children are being misled, because we adults are not showing them the proper way to do things. We certainly are going through a very difficult time. But are looking for the best way to solve the problem, but the people are not allowing us to do that in a healthy way."
And while Dr. Lesly Mendez is looking for support instead of hatred from her community, she is still cognizant that there are political consequences of the allegations against her husband. She discussed that with us also, while informing us that she and her husband have been estranged for a year, due to the seriousness of what Dr. Marco Tulio Mendez is being accused of:
Daniel Ortiz
"We've been unable to reach Dr. Mendez himself. Is he in Orange Walk Town? Is he out of town? Is he out of the country?"
Dr. Lesly Mendez - Wife of Dr. Marco Tulio Mendez
"You know because of this problem, we've been separated for more than one year, so we do not really keep close contact. I know that he is in Belize, definitely he is not in Orange Walk. I don't know where he is."
Daniel Ortiz
"How long ago did this problem emerge within your family?"
Dr. Lesly Mendez - Wife of Dr. Marco Tulio Mendez
"It's like a year. We've been separated for a year because of this issue. Because we've been trying to find answers, looking for professional help. Sadly, in our country, Belize, people have the brains just red and blue and that is very sad. I want to take this opportunity to ask the people to please be sensible, respectful. If you cannot help, then don't destroy people's lives. We are talking about a family here. We are talking about children involved. How is it that I am receiving threats? What have I done? I know that this is a very sensible issue, but I will not tolerate to be use for political agendas, being red or blue - I don't care. I am not talking about juts my case, but I've seen the destructions and the in two weeks when another worse topic arrives, people will just forget us, but will left myself and my children with a very strong pain, with a stigma in our lives."
"My duty as a mother, as a wife, is to look for the truth, for the correct answers and if there is someone that should be punish, they should be punish. But I cannot tell you yes, my husband did this, my husband did that."
Daniel Ortiz
"How do you answer to those when they see you speaking, they will say, Dr. Mendez is trying to cover for her husband, how do you explain to those people, look I am not covering for my husband, I am just trying to be objective and to be fair?"
Dr. Lesly Mendez - Wife of Dr. Marco Tulio Mendez
"Did I sound to you like I am trying to cover for him?"
Daniel Ortiz
"Not to me, but there may be people who want to make mischief out there."
Dr. Lesly Mendez - Wife of Dr. Marco Tulio Mendez
"That's my point, that in this type of situation, we cannot entertain that type of assumptions. You know how many garbage I been receiving? A lot. But my conscience is clean, my heart is clean, my children are stable and I hope my husband will finally clarify his name, if that is possible. That is not in my hands."
Viewers may have noticed that Dr. Mendez has a bruise under her right eye. She told us it happened when she was almost run over by an unknown vehicle. She is a Guatemalan Belizean and it happened at the Western Border., She told us that after her most recent trip across the border last week, she was about to get into her vehicle. That's when a vehicle she didn't recognize, being driven by an unknown person, charged toward her, and trying to get out of the way, she was struck by the oncoming vehicle's mirror.
As for her husband Dr. Marco Tulio Mendez, a relative told us that contrary to what has been reported, he remains in the country in the company of friends and family. He is awaiting the laying of charges against him - and, sources tell us, he plans to travel to Guatemala for medical treatment after that. As his party Leader Francis Fonseca says, he plans to defend himself against any accusations and has retained Richard Dickie Bradley as his attorney. Those charges could be brought as early as Monday.
There Was No Abduction At Queen Square Primary School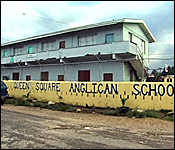 Last night, at the top of the newscast we reported on the very troubling report of the abduction of 4 primary school students from in front of the Queen Square Anglican Primary School in Belize City.
Well, tonight we can confirm: it didn't happen; four children were not abducted in a white van. Though a child did say that she witnessed it - it seems that was just a story. There has been no missing person report - and there are no children from that school unaccounted for.
Today Eastern Division police held a press briefing at the Raccoon Street Police Station to say that, nonetheless, measures are being taken to ensure the safety of children.
WCpl Hortence Hernandez, Community Policing

"The main purpose is for children up to t6he age of 17, who the police have no doubt in their mind to believe that a child or children have been abducted. Simply means taken against their will by someone else. That was the purpose of Jasmine Alert. What we urge parents or guardian to do is to teach your child simple basic things; parents phone numbers, you addresses. One of the things we know that Belizeans don't do very often is to take updated photographs of your child. We urge that you take photographs at least twice a year. What is very important, it is imperative that if you believe that child have been abducted or kidnapped - for the police to get this information as soon as possible, not 24 hours thereafter. For the Jasmine Alert to be effective, we cannot work within information after 24 hours. So, parents, guardian, if you believe your child is in any eminent danger, make a report to the nearest police station as soon as possible."
Sr. Supt. Edward Broaster, Deputy Commander, Eastern Division
"What we want to encourage the principals and the school wardens and parents and the community at large to do, is to be on the lookout for our children and to ensure that when anyone sees any suspicious activity or anything out of the ordinary or any vehicle that is circling or not normally in the area, to call the police and report the matter, so that we can investigate and check it out."
"Yesterday, we got a report that 4 children were abducted; 3 female, 1 male. As of up to this hour, we have not have any report from any parents to confirm that their child have been abducted. We had canvass the area yesterday. We have expend all our resources today in the area, check with all the neighbors, the fire department included - everybody in that area to confirm that report and we were unable to do so."
"There are a lot of panic that is going on with parents and some parents today didn't sent their children to school. We are saying to them that you can sent your child to school and we are just appealing to the community to be calm. When we got this report yesterday about the 4 children being abducted, we act upon it as if though it occurred and we are still doing investigations and we are still doing cautions to schools. As we speak right now we have a senior officer in the officer commanding visiting the schools, talking to the principals and to the school wardens, to emphasize this message or this advisory that we are putting right now, that if they see anything suspicious, please call us and so forth."
Vigilance also remains high in Orange Walk where earlier this week reports emerged that a Caucasian man in a white SUV was trying to lure school children into his vehicle. Later on you'll hear from the principal of La Immaculada School.
Obudsman's Vehicle Stolen And Crashed By Thief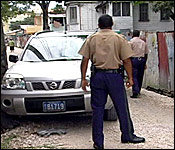 This morning at 9:30 the Ombudsman's vehicle was stolen from in front of Fair Brothers Pawn Shop. According to police reports an employee of the Ombudsman's office went to the Fair Brothers Pawn Shop at the corner of Mahogany Street and Central American Boulevard. Police say he left the engine running with the key in the ignition and asked the security guard to keep an eye on it. But, apparently he didn't and in a flash, a stranger raced off in the Nissan X-Trail. But it didn't last long - shortly after the car thief ended up in a lamp-post on Glenn street - which is one of the narrowest streets in Belize City. This morning police told us what they know:..
Sr. Supt. Edward Broaster, Deputy Commander, Eastern Division

"The vehicle of the Ombudsman was stolen this morning. The suspect who stole the vehicle, crash the vehicle Glenn Street. As we speak, police is on the scene and the vehicle is being recovered and taken to the police station."
After crashing the vehicle, damaging the front end and disabling the steering, the car thief could not drive out of the drain - and he dashed out of the vehicle with the keys. In a bizarre twist, police told us that he then went back to Fair Brothers and threw the keys there - which is when the driver got it back.
Police have a known suspect who they are seeking tonight. When apprehended he will be charged for theft of a motor vehicle in precinct two and damage to property in precinct one.
The Final Numbers Of Chik-V Patients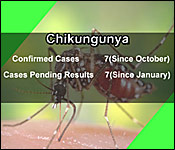 Chikungunya - on Tuesday, the CEO in the Ministry of Health said Belize had done an admirable job in containing the virus - but we asked for numbers. The Director of Health Services, Dr. Michael Pitts gave that to us today. He says that since October, The Caribbean Public Health Agency (CARPHA) has confirmed 7 cases. These are primarily in Las Flores, Belmopan, while there was one case in Armenia Village on the Hummingbird Highway, and there was one more - this time in San Pedro. As for the San Pedro Case, Director Pitts says that was imported into the country.
Presently there are 7 results pending from CARPHA. These samples were collected from surveillance done this month.
NTUCB Defends Floyd Neal's Nomination For SSB Board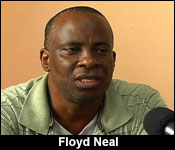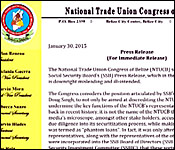 Last night we told you about the Social Security Board meeting that had to be aborted because of a union boycott. Social Security's Board sent out its version of events in a press release yesterday and today, the National Trade Union Congress of Belize sent out a thousand word press release challenging that. The release says the NTUCB represents quote, 'the People who pay every single penny into SSB as well as the stipend enjoyed by members of the SSB Board Of Directors."
As to the claim that having Christian Workers Union Secretary General Floyd Neal present would create a conflict of interest, the NTUCB says, quote, "it is ridiculous for them to be claiming that the function of Mr. Neal within the Board will be a conflict interest, unless all the SSB does is deal with issues arising out of the Collective Bargaining process between Social Security Employees and SSB representatives!:" The NTUCB says that when the collective bargaining agreement is discussed, an alternate union representative can be designated to sit in.
So the NTUCB concludes that it is malicious on the part of the SSB; "to want to force the NTUCB to make another selection." They call on the Prime Minister to make the appointment and allow the process to continue so that the SSB can carry on with its usual function.
OW Residents Pressure Dr. Marco Tulio; Political Opportunism At Play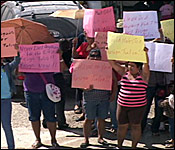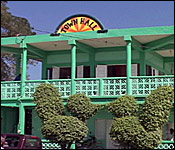 At the top of our news, we showed you our interview with Dr. Lesly Mendez, wife of Dr. Marco Tulio Mendez, as she discussed the difficulties she and her family have been experiencing the wake of the emerging scandal against her husband.
She wants her family to be left out of the scandal by persons who are politicizing the issue to pressure Dr. Marco Tulio to step down. There was one such group of persons today who stood in front of the Town Hall and used the platform of the protection of family values as the premise to demand Dr. Marco Tulio's resignation. Our News team was there to challenge them on the political agenda at play. Daniel Ortiz reports:
Daniel Ortiz reporting
20 residents living in Orange Walk Town stood in front of the offices of the Town Council to picket Mayor Kevin Bernard.
Though there are no criminal charges against Dr. Marco Tulio Mendez, they want the Mayor take a moral stance as the titular leader of the town and demand that Dr. Mendez steps down as Area Representative for Orange Walk East.
But, we detected political undercurrents at play.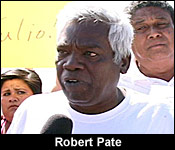 Robert Pate - Former Mayor/Protester
"As a parent and a leader in this community, I believe that Tulio Mendez must resign, because the allegation is a serious allegation. The leader of the opposition must tell him to resign now and allow us to have a true elected representative."
Reporter
"But like you said, it's all allegations. It hasn't been substantiated."
Robert Pate - Former Mayor/Protester
"From the time the person who report it along with the two young girls is definitely enough, that he must resign."
Daniel Ortiz
"There may be those who say that you are acting too quickly. You are acting prematurely because there are no charges, you can't even tell if the authorities will take any action. "
Robert Pate - Former Mayor/Protester
"If you look at the case with Arthur Saldivar, it was only an allegation right and they remove him from being a political officer. Why now a serious allegation like this, will not remove from the party. So, we say and ask the leader of the opposition to let him resign now."
Daniel Ortiz
"How do you answer to those who say this is political opportunism, that persons are attacking Tulio to try to remove him from office and this is just a perfect opportunity for you al to do that."
Robert Pate - Former Mayor/Protester
"If its politics, it's within the PUP party, it's not with UDP. We know they have rifts between the PUP and the leader of the opposition right said I know it's a political move, but it's within the PUP, not within the UDP."
Reporter
"It seems a bit hypocritical sir."
Robert Pate - Former Mayor/Protester
"I am doing what I got to do as a leader within this community."
Reporter
"So who are out here?"
Robert Pate - Former Mayor/Protester
"All parents, mothers and fathers."
Daniel Ortiz
"How do you divorce yourself from the suggestion that this is a political move and that you may be acting on behalf of the UDP?"
Robert Pate - Former Mayor/Protester
"I am a UDP and I am not afraid. I think anybody supposed to be proud to be a UDP, with the type of government that we have - the first time that we ever have a government that is working that hard that we are doing at this time. We are doing this as parents and not the political agenda. So, I want the world, the PUP, the UDP know we are here as parents and not as political agenda."
The Mayor was happy to oblige us on the topic, he says that the protesters are misguided, or at the very least, mistaken to try to pressure him, especially because there are no charges yet.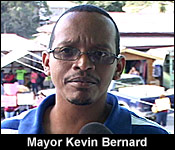 Kevin Bernard - Mayor, Orange Walk Town Council
"First of all this is not Marco Tulio's office. This is the town hall and at the end of the day whatever allegations there are, we don't know if there is concrete evidence to whatever. I think the party has spoken on that matter and I will leave that as that. Its allegations. I can't go by allegations. Yes, I must take charge of this town, I will protect all our children in this community. That is my role as the mayor. However, what it is right now is allegations - far from any evidence that has been brought to court. We don't know the truth behind this whole story is. It could be a political mischief, it could be whatever. I can't answer to something I don't know."
Shortly after our cameras stop taping, the protesters departed the area.
City Hall Repairing Cemetery Road's Concreting Job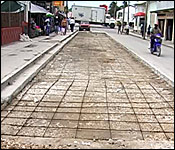 More than a year ago, on December 17, 2013 we showed you how Cemetery Road had sprung a pothole in heavy rains after it was cement paved. Well, we've been pressuring mayor Darrell Bradley about it since then, and finally today work started to re-cast the two trouble areas on that much trafficked street. We saw work crews had torn up the cement and were getting ready to re-cast it. The mayor has said that this will not cost the city - as the funds to do this would be taken out of the contractor's retainer. We don't know if that still holds since the streets was first paved about two years ago. But there are other cement streets such as Church Street that have shown serious sings of degradation only a year after being paved.
12 Miles Of Old Northern Getting Paved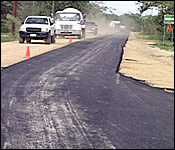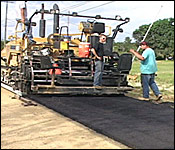 And while the Mayor is fixing that section of Cemetery Road which did not stand up too long to the elements, 12 miles of the Old Northern Highway will get a much needed repair after decades of neglect.
Edmond "Clear the Land" Castro, the area representative for Belize Rural North, told us today that his constituents are most anxious to have the work finished, even though it's only just started:
Hon. Edmund Castro, Belize Rural North Area Rep.
"The government of Belize through the PetroCaribe funds and the contractor is Rodla Construction. We begin the hot mix and the paving of the Old Northern Highway, the first 5 miles which will go somewhere in the Boston Area and as soon as we complete this first 5 miles from Sand Hill going in, we will commence another 7 miles, which will take us past Altun Ha Road somewhere in Lucky Strike area. So, this is some of the hard work that we are doing for the 9 villages on the Old Northern Highway. Much deserved. I think the last time this type of work was done similar to this was some 30-40 years ago and since then, no area representatives before that were able to get any of that done for the people along the Old Northern Highway."
Daniel Ortiz
"The total length of the road, will it be paved all the way to the end?"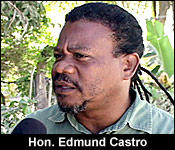 Hon. Edmund Castro, Belize Rural North Area Rep.
"Basically, I have been lobbying before I got elected. It's a beautiful road and about 12 villages will use that road. I have been lobbying and basically saying we should pave from Sand Hill to Tower Hill which would be very nice. That's the Old Northern Highway. In this first and second tranche is the first 5 miles out of PetroCaribe funds and then we are doing another 7 miles and then I will be lobbying again for another maybe 10 miles that would get us through at least to Maruba, which will cover most of the villages in my constituency along the Old Northern Highway."
Daniel Ortiz
"How many villages total would experience this improvement?"
Hon. Edmund Castro, Belize Rural North Area Rep.
"We are looking at about 12-13 villages, because even the villages like Bomba or Maskall we haven't reached yet. This part of the road, all of us uses it, even though village as far as Santa Martha and so on making their way this way will enjoy the nice and beautiful highway."
Daniel Ortiz
"Have you gotten a reaction from the residence of the area knowing that this is on its way?"
Hon. Edmund Castro, Belize Rural North Area Rep.
"Definitely, they can't wait to see it get done. For a long time we've been talking about it and they believe that even when we got the contractor, they believe the contractor was taking too long and the people are anxious."
Castro will lobby to have the whole length of the Old Northern Highway to be paved sometime in the near future.
Abduction Attempts At La Immaculada Primary?
The school abduction scare was visited on Belize City yesterday evening - and the day before we heard about it in Belmopan. The narrative that's now been repeating itself started in Orange Walk earlier this week - when two children, girls aged 10 and 11 reported being almost abducted. It happened right at the lunch hour on Monday and Tuesday. The principal Manuel Polanco told our colleagues at CTV-3 news more:
Notably, there were no eyewitnesses coming forward - even thought both incidents were reported to have happened in the heart of town. A similar report emerged in Corozal.
Elizabeth Welch Is Safe
Last night you heard the plea from Elizabeth Welch, the Mother of 15 year old runaway Amanda Usher. Well, right after the news aired, at about 7:30 p.m. the teenager was found in Dangriga. She was in good health and was returned to Belize City this morning…
Police Will Hold "Pure Black" March Against Violence
We have reported on peace vigils and prayer marches organized by the community but the police also want to make a positive impact with their peace march. "Be loving and seize killing": that is the theme of the march that the Eastern Division police unit is organizing. It's all about trying to reduce crime and violence in the city with unity. Senior Superintendent Broaster told us more about the purpose of this event.
The march is scheduled for Friday March 27th.
2015 Agric Show Date Change
The dates have been changed for The National Agriculture and Trade Show. It was supposed to be held on the 24, 25 and 26th of April, but the dates have been changed to May first, second and third. It seems the business community asked for dates closer to payday to increase the purchasing power of visitors. Sale of booths will begin on February 23rd - since work is being done to improve the infrastructure and this will affect the booth layout.
BDF Parade New Soldiers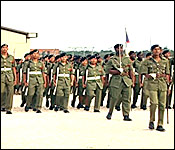 Tomorrow is BDF day - the single day set aside to celebrate the Force's anniversary. Today, at Price Barracks they held their BDF Day Parade to welcome new soldiers and have them display their parade square discipline. Commander David Jones explained the significance:..
Brig. Gen. David Jones, Commander, Belize Defence Force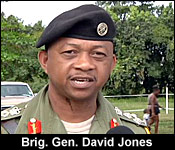 "Today we are having most of the representatives of the different formations of the BDF on parade, but the most important thing is the day we are reflecting on the 37 years in existence since the formation of the Belize Volunteer Guard and the Volunteer Force into the Belize Defence Force which occurred on the 31st of January 1978. The recruits are going to pass out today. We've had over 100 candidates who took the selection board. The selection exam has been over 17 weeks now, finally today is the day they complete training and I am sure they are looking forward to this day because they are now trained soldiers after this parade. So, we have 83 of them. Including in those 83 are 4 officer cadets, who are potential officers that will be sent out later on to do course to become officers in the Belize Defence Force."
The open day happens tomorrow and the public is invited to have a look at a variety of displays from the various formations.
And while the Force is celebrating 37 years, it's also recovering from a bruising breach of security. Over 2,500 rounds of ammunition were stolen from one of their ammunition stores and today our colleague from LOVE FM asked Cornel Shepherd what they've learned one week after the discovery of mass theft:
Lt. Col. Raymond Shepherd, Chief of Staff - BDF
"Our investigations thus far has revealed that our systems and procedures are robust, but it is the personnel that is supposed to safeguard those systems and procedures, that has failed us, by not adhering to the procedures that were set in place and because of that several people will face military discipline in the form or charges."
Reporter
"Now, in terms of the recovery of the missing ammunition, has there been any kind of leads to say where those might be right now or?"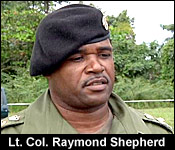 Lt. Col. Raymond Shepherd, Chief of Staff - BDF
"Not that I will be able to say at this moment because the investigation is still ongoing and I wouldn't to say anything that would jeopardize that investigation."
Reporter
"As it pertains to news coming to our center of two soldiers actually being detained after a bullet proof and a magazine being found in their dorm, can you comment on that?"
Lt. Col. Raymond Shepherd, Chief of Staff - BDF
"Yes, there was in fact the detention of two soldiers. Both of them are Lance Corporal. They were detained on Wednesday and this is a part of the ongoing investigation, where we got information and we conducted a search of the accommodation that they occupied and in that accommodation we found a bullet proof vest and a magazine for a M16 rifle. As a result, they were handed over to the police department with the view of them being charged criminally for those offence."
Additionally, one sergeant who was a part of the 14 person team securing the ammunition's store has been arrested and remanded on an unrelated firearms charge.
El Jai Will Perform At Bob Marley Tribute
Banners and flyers on the 4th Annual Bob Marley Tribute are everywhere around the city - and there are a couple TV ads as well. But the featured artist - Eljai, who is an international Belizean artist - came to our studios this morning to invite the public out himself. But apart from the entertainment, there is another element to this show that extends to the community. Eljai and the Vibes Alive International promoter told us more about it today.
The tribute will be held at the East Sports Center in Orange Walk tomorrow night.




Home | Archives | Downloads/Podcasts | Advertise | Contact Us