Cola To GOB: Build The Base Now!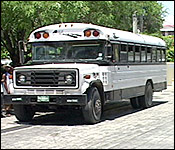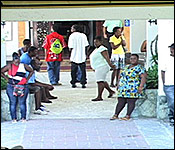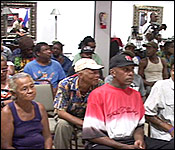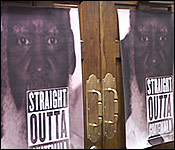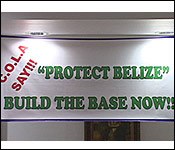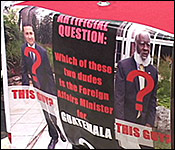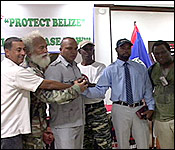 Last week when the Prime Minister held a press conference to say that the Guatemalan Navy was wrong for coming into Belize to bully the territorial volunteers - the government hoped it would stem the political hemorrhaging over the Sarstoon Island and River. But, the pressure just keeps building - and today the pressure group COLA tried to ramp it up a few notches with the launch of a campaign called "Build The Base Now." They're referring to the forward operating base on Sarstoon Island and today the group held a fiery press conference at the Radisson to launch their campaign:..
Jules Vasquez reporting
Supporters were bussed in to the Radisson for the event where they filled up the VIP Room which was plastered with vinyl all weather banners - complete with Hollywood style logos and branding all the trappings of a political party - so we had to ask.
Jules Vasquez
"Will COLA be activating itself as a political party? I ask this because I see you all mobilizing like a political party. You brought a bus with supporters - that's fair. I counted 16 all-weathered banners across the room, quite sophisticated."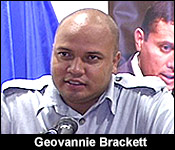 Geovannie Brackett, President, COLA
"Well I don't know. The Prime Minister asked you in his press conference Jules, how did you get there? I think I have to ask you the same question. We are not going to try to play soft ball when the government is playing rugby. That's foolish. The government has money. The government is coming hard and we believe in our position and the conviction. Therefore we will give it our all."
And their all means delivering a political message, even if it was not expressly partisan sense
Geovannie Brackett, President, COLA
"COLA therefore is calling for three things: 1) to build the base now. Not next year. Not after you try to win an election. But to build this base now. We want this base to establish and build now. 2) We are calling again for the removal of Sedi Elrington as Foreign Affairs Minister. Any foreign minister that openly sides with a foreign organization over its people is no longer fit to work on behalf of its people. Resign! Resign! Resign now! 3) The third thing is for us to revisit every single agreement with Guatemala that has ever been signed. It is time for us to reevaluate the pros and the cons."
And today's event was not a one-off thing - COLA says it will keep up the pressure:
Geovannie Brackett, President, COLA
"This campaign has fuel. This campaign has energy and this campaign has the support of the people."
But, while COLA is a grassroots organization - these things - everything here - has a cost - form the bus to the signs to the supporters:
Jules Vasquez
"But you all are a grassroots organization. So we have to ask, I estimate an event like this cost upward to $15,000 to stage."
Geovannie Brackett, President, COLA
"Wow. No. Jules..."
Jules Vasquez
"Just my experience. I have to ask you are you all being funded by some external group. I am saying this Geovannie because I've been tracking COLA from before you were in COLA and COLA use to have signs made out of construction paper."
Geovannie Brackett, President, COLA
"But we still do."
Jules Vasquez
"Thats fine. You should grow up. But I am saying these things cost money. I love it. Money is spending and money is making. I am just saying who is paying?"
Geovannie Brackett, President, COLA
"Jules, the first thing is this. You don't hold the political parties accountable, but yet you and the government want to hold any other group accountable. So all I will say Mr. Vasquez take that level of accountability to the Prime Minister and you take it tea - dinner - tea."
Jules Vasquez
"You don't have to shout after me. I have good understanding."
Geovannie Brackett, President, COLA
"I won't ask you what is between your two ears like the Prime Minister. We will be kind and generous to you."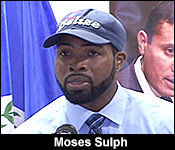 Moses Sulph, Past President - COLA
"There is nothing legitimate happening at COLA. We don't have money. We depend on people who have a heart and who love the country and who want to hold politicians accountable."
Jules Vasquez
"I understand that if you demand accountability, you must also give accountability."
Geovannie Brackett, President, COLA
"But then you are not a member of COLA and we didn't pay money for you to come here either."
But some did get paid - and it's clear COLA has the guts and the gas to keep this campaign going.
As noted in the story, COLA says it will be the first in a series.
GOB, Special Meetings Next Week
But government is moving ahead with its own business - and there's something big coming down the pike next week - but no one seems to know for sure what it is. 7News has confirmed that there will be a special House Meeting next week Tuesday - the day after a special cabinet meeting on Monday. Now - there are all kinds of rumours and speculation about what both Meetings will be about. Some say that Monday's Cabinet meeting is for a Cabinet shuffle. Well based on what we've heard from our sources we can say with almost absolute certainty, that's not going to happen. And the house meeting? Well, the rumour mill says that could even be to dissolve the house and set the date for an election. But, again, our best information says there's almost no chance of that. But, there is some major announcement that is expected - just that, right now, it's a tightly guarded secret, and no one can say for sure what it is.
FCD Says 18 Million in Hardwood Stolen From Chiquibul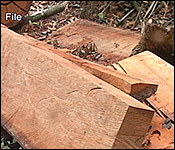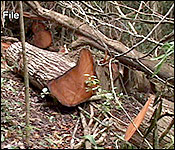 The Friends for Conservation and Development or FCD as they are known, the co-managers of the Chiquibul National Park, released their annual report today on illegal logging activities in the protected area.
Their estimate is that from 2010 to 2012 4.248 million US dollars' worth of Cedar has been illegal cut, and 5.199 million US dollars' worth of Mahogany has been illegally harvested. That's a total of $18.89 million Belizean dollars that has been lost from the Chiquibul. First off, the good news is that there have not been any visible signs of illegal logging since September of 2014. But the bad news is that's probably because all the logs close to the border have already been illegally extracted and the poachers would have to come too deep into Belize to find more. But, no doubt, it's also because there are a greater number of park rangers and security forces patrolling the Chiquibul.
Still, the present illegal logging zone, which has not increased, is measured at 45,567 hectares - or approximately 176 square miles.
Overall, the area impacted by illegal logging has increased by a factor of 2.5 between 2010 and 2015. The report notes that the present illegal logging zone of impact is 45,567 hectares or 4.4 times the size of the Caracol Archaeological Reserve. And the numbers? Well, they are staggering! Overall, a total of 8.7 million board feet of lumber have been illegally extracted from the Chiquibul Forest, having with an estimated monetary value of $18. 8 million US, or 37.6 million Belize dollars.
BEL Says Itís Willing To Compromise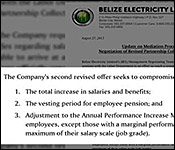 Over the past two weeks - we've talked to the minister of labour, the labour commissioner, and the energy Workers Union about the ongoing dispute between BEL and its union. Well, today the company put in its five cents. The company says it has made a second revision of its initial proposal, which it presented to the Labour Department yesterday. The company says it is willing to compromise on the following: The total increase in salaries and benefits; The vesting period for employee pension; and Adjustment to the Annual Performance Increase Matrix.
While the union says it is principally asking for an across the board 8% increase, the Company's maintains that its initial proposal was for an increase in salaries and benefits that is equivalent to a 24% increase in salary.
Maskall Marijuana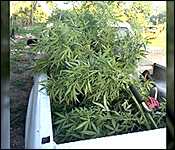 Eastern division rural police took down a good-sized marijuana plantation on Tuesday. It was found in the area of Maskall village - where 800 mature plants were uprooted and destroyed. Police sat on the field for two days waiting for the owner to turn up - so he or she or they could be arrested. But when no one turned up - they proceeded to destroy the field.
Belize And Mexico, Making Trade Work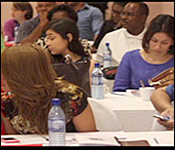 One month ago, we told you about the moves that the Ministry of Trade was making to strengthen trade ties between Belize and Guatemala. They're also working on opening up trade relations with Belize's other neighbor, the one to the north: Mexico.
Today, BELTRAIDE hosted a conference between the producers and exporters all around the country to meet and speak with the regulators and trade facilitators from the Mexican Government and the private sector. Both sides are working on completing a platform that allows unimpeded access to the Mexican market with all the benefits, and none of the headaches.
We spoke with the CEO about the progress both countries have made, and how much further they have to go:
Mike Singh, CEO - Ministry of Trade
"The meeting today is a third in a series that we've been promoting for exporting Belizean products to different regions and through collaboration with the Belize Embassy in Mexico and through a lot of work put on their behalf, as well as collaboration with our group in Belize, we were able to put together a very high level team of experts from Mexico that will work with our exporters to understand market procedures, policies and hopefully help them with their quest to expand markets into Mexico."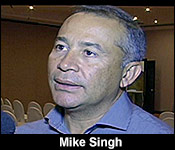 "We have a group of experts; everything from Customs to Customs brokers association - all these people are going to be working talking to exporters about how to overcome barriers, how to look at markets, this like that. This workshop will inform us on some of the major topics that we need to include in our partial scope agreement. One hundred million people. That in itself tell you how big it will be, Belize is a primary producer of a lot of agricultural products. Mexico has grown to the point where there cost of producing primary products may not be as low as it was when they were focused on primary production. So that means that a lot of their products which are being exported via NAFTA into the United States and Canada, is taking up a lot of the volume. Which means that there is a void for their domestic market, so products like grains, cattle, meat products, and shrimp - all these products are better sourced from another country and Belize is finding that as our producers expand their production, that market is becoming more and more prevalent."
"Currently we our base really is agricultural products including cattle, grains, shrimp. However there are some exporters that are attending the session today that are interested in expanding their production in things like furniture, I think there is one gentleman that's doing a degreaser made of citrus bi-products. So there is interest in a lot of new products as well as services."
The Belizean exporters got an in depth lesson from the Mexican representatives on topics such as the Mexican market overview, niche markets and value generation.
Working Towards Zero Traffic Accidents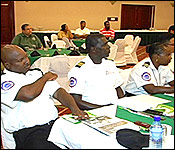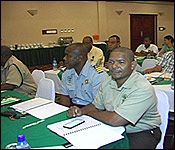 Within the last 2 weeks, there have been 4 traffic accidents around the country, resulting in 4 fatalities. That statistic is not lost on the Belize Road Safety Project coordinators who are still working towards reaching zero deaths and zero to traffic accidents by the year 2030. Since 2011, however, there's been an average of 56 fatalities per year.
So, it's a very ambitious goal, and so the coordinators have come up with a draft National Road Safety Master Plan. This plan seeks to engage the multitudes of Government professionals - in all areas from education to enforcement - to try and work towards that goal.
Today, the National Road Safety Committee gathered all the different traffic departments, Health, Education and Emergency personnel from around the country to discuss what the draft master plan currently looks like, and how it should be improved towards final implementation. 7News stopped by for the opening ceremonies of the workshop, and here's what the Leaders of the committee had to say: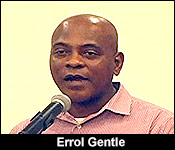 Errol Gentle, CEO - Ministry of Works
"I am pleased to be able to deliver a few words at this opening ceremony, to review the national road safety master plan 2016/2030. The government of Belize through the Ministry of Finance and Economic Development Road Safety Project has engaged with Ms. Mavis Johnson, International consultant of Canada, to coordinate the development of Belize's Road Safety Master Plan 2030. Within this master plan, it is believe that road safety vision 2030 will carry the vision towards zero deaths on Belize's roads and highways. Toward zero death means, we do not accept that fatalities and serious injuries on our roads are inevitable and acceptable and that is the reason why we refrain from saying accidents, because one would believe that accidents is bound to happen. Whilst most of road crashes or collisions are done because of faults of the drivers."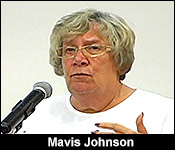 Mavis Johnson, International Road Safety Consultant
"Certainly I am a frequent traveler here, not quite often as I was, but it doesn't mean to say I am not busy working on what's important to Belizeans and over the last year I have worked on developing what I think would be a plan to carry us forward beyond where we are now right to 2030."
Today's discussion was an all-day event.
Solar Powered Lights to Replace Kerosene
For those of us who live in areas with electricity - we take it for granted that we'll always have lights. But in the remote reaches of the Toledo District - electricity is a far off reality - and in villages like San Vicente and Jalacte - they use kerosene lamps. That includes school children who have to get their home work done using those same lamps but, while it has been going on for generations, a US Charity called grid earth says breathing in that kerosene smoke is toxic to children. So they give out specialized solar lights - 200 of which were donated in San Vicente and Jalacte earlier this week. Here's how it was pitched to the villagers:..
This year grid earth gave out 200 solar lights, last year they gave 400.
Southside Police Back Into Community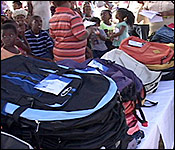 Community policing is one thing - but the eastern division Southside is taking it to a whole new level. The Southside cops have been holding a back to school drive for the children of Mayflower Street - and they handed over their donations today at the Berger Field. Senior Superintendent Williams told us why they are doing it:...
Supt. Chester Williams - OC, Eastern Division South
"It's a continuation of our back to school drive. We had the one last week in the Jane Usher Boulevard area and now we are doing one for the Mayflower area. Today we will be giving out a total of 100 bags to the children of this area and again like I have said before we try to reach out to the younger generation as well and not only to those who are already caught up in the criminal justice system. So it's just a good gesture from the police to give back to the community and show the community that you know we are serious about working with you. What we did, we saw the need to assist these people in this area and the police officers from south side Belize City each contributed one exercise book. Some give two. Some give three. Then pencils, pens, rulers - so the police officers basically donated the exercise books, pencils and pens. And we seek assistance from the cooperate citizens and we got some bags from Mr. Deon Leslie, who assisted us with some. We have the Minister of Education Patrick Faber who gave us 25 bags and again Mr. Faber is the area rep for the Mayflower are which falls in Collet division. So he also contributed to this endeavor and we have Lamb's Funeral Parlour who also came in and gave us something and Mendoza's. So there are a lot people out there who were willing to assist us in fulfilling this obligation to give back to the community."
Reporter
"Sir, how is this going to help with the crime situation? We know yes, that for some time now the city has been relatively quiet, but is it really the fruits of this labour that you guys have put in place?"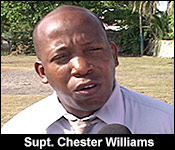 Supt. Chester Williams - OC, Eastern Division South
"I would want to think that the efforts that we are doing community policing wise is contributing significantly to the reduction in crime on south side Belize City. We do not expect that our efforts will deter all crimes from occurring, but if we can stop one or two or three or four crimes from occurring, then it is a plus. So I will not take credit for the reduction in crime. I will give credit to the several factors; the efforts of myself, my senior manager management team, Mr. Chi in Precinct 1 and Ms. Moody over at Precinct 2, my deputy Mr. Dawson and most importantly the foot soldiers, the police officers who hit the pavement on a daily basis either doing foot patrols, bicycle patrols, motorcycle and vehicular patrols in the various hotspots in Belize City, trying to see what they can do to curb the situation and I also give credit to the young men who were involved in the different gang feuds who I must say up to now have been listening to what we are saying to them and some of them are buying into the option that you know what living a life of crime will not put you anywhere, but if you can work with the police then it will ease some pressure off you. But I think that it is now paying dividend to our policing efforts on south side Belize City."
Chester On Checkpoints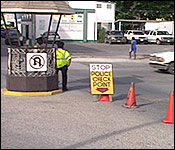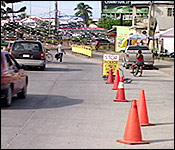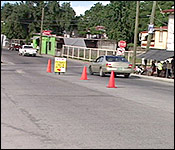 And while Senior Supe Willaims and his teams were doing their thing on the Southside - hardly a mile away at the Belcan Bridge - there's a 24 hour checkpoint waiting for everyone crossing over from Southside to north.. It's a new policing strategy where these checkpoints have been installed at all four bridged connecting the northside and the south. But it it discriminatory? Because it almost seems to suggest that criminals travel from the Southside to the north - when it's really not that clear cut. Today we asked Williams about it:
Supt. Chester Williams - OC, Eastern Division South
"The checkpoint, I must say at times are very inconvenient, but at the end of the day, we must understand that crime is everyone's business and the commander on north side do have her responsibility and the obligation to ensure that crime on her side of the city remains at the minimal. And if they believe that the checkpoint is one way of doing that, then by all means that is the way to go."
Reporter
"Sir I think that question was really because of the fact that the placement of those checkpoints is really just seeing people from south side going across to the north side. It seems kind of bias that only people from south side do crime."
Monica Bodden
"Or it is like saying that south side people are suspects coming over to the north side."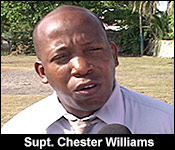 Sr. Supt. Chester Williams
"Well I don't know if that is the reason because the truth of the matter is that is north side do have criminals as well. And I think that the correct person to answer that question would be Miss Phillips; she knows the reason why. And I personally don't have an issue with the checkpoint. If for example people from south side have the propensity of going over the north side to commit crime, then by all means she needs to put things in place to ensure that she knows who are coming over to her side of the city because she, just like me, has an obligation to do much as she can to ensure that the persons living on that side of the city are safe on a daily basis."
The checkpoints are now a semi permanent feature at the northern foot of all four city bridges - but the checkpoints are often lax.
King At Work, No Truce With Kremandala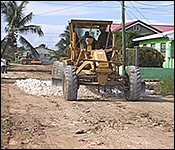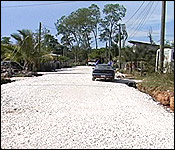 If you've been around the Lake Independence constituency, behind the CB Hyde Complex building, you may have noticed street works in an area formerly known as Junesville. It's the work of UDP Area Rep Mark King - who says nearly 100 streets will be getting much needed attention. According to King, about 1.5 million dollars will be spent on the construction upgrades of these streets:
Hon. Mark King, UDP Area Rep. - Lake I
"We are doing the second round of Petrocaribe powered streets. As you know the entire country is doing streets and in this area, we've picked out under the project, streets that really need develop, streets that really needs drainage and streets that really need that extra resurfacing and so we've selected like 30 streets throughout the entire constituency which is going to be brand new streets. Brand new simply meaning up to pave standard. We are going to do everything to it except tar. We are going to put the hardcore material on top of all of them. We are going to come in with the all-in, we are going to compress it and its going to be smooth and then we are going to put culverts and dig out the drains in front of everybody's home and cement it so they can have access to their drive ways. So we are looking at almost one million dollars' worth of streets. On top of that, we are going to be doing remedial work on another 30 streets and then we will be doing patching and so forth on those that aren't too bad and so that brings us to almost 100 streets being fixed between now and October."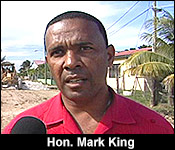 "Like I always claim, 40% of the streets in Lake I are either cemented or upgraded and that will move us to almost 60% - 70% thereabout."
Daniel Ortiz
"Was this - you went around the constituency speaking with the people. Was it like that or was it a survey to see which one of the streets are really bad?"
Hon. Mark King
"It's a combination. From the time we have been campaigning in Lake I, we have been fixing streets. However since we have the money now to do major works, the ones that were really gone, that needed that kind of upgrade, we finally can say that we've reached out to it."
As you heard, King and the contractors estimate that 1 million dollars will be spent on 30 streets which will get a complete construction over haul. Another 500 thousand dollars will be spent on the rest which will get varying degrees of repairs.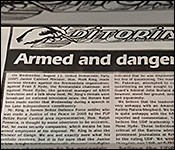 Viewers may not have caught it, but the street that was in the background of our interview with Mark King was Luis Street. That's where his political opponent, Cordel Hyde, lives and so we had to ask if this is an olive branch to quell the public war of words that has been ongoing between King and Kremandala media empire, headed by Cordel's brother, Evan Mose Hyde, and his father, Evan X Hyde, who the Chairman of the enterprise.
2 Weeks ago, King gave a prepared speech saying that he will be taking on all three personalities. Amandala has responded by calling his words direct threats. So today, we asked if he was making a move to cool things off:
Daniel Ortiz
"Why stage it here?"
Hon. Mark King, UDP Area Rep. - Lake I
"It's not necessarily to stage it here. It's just I would say today is the day that we are fixing this street and at the end of the day we do have other streets that the media can see. This one is being fixed today. We have 2 in the Holy Emmanuel area that are completely done and we started this project like last week. So we are here, yes the former area representative for the PUP lives on this street, but at the end of this day, there is a lot of people that lives on this street that really needs the service of the community, to use the street. Just like when we did Alicia Street to the back here. Everybody though I wouldn't pave it because Cordel Hyde lives around the area. But that is not my concern. The people of Lake I they must benefit totally from these streets."
Daniel Ortiz
"Is this a cease fire so to speak? Because we know you made those harsh or tough comments and you took a bit of backlash from it in the Amandala. They were quite offended and alarmed by your comments. So is this like a let's leave the campaign aside and be person living in Lake I."
Hon. Mark King
"Don't get me wrong. The municipal elections were launched from behind the zinc fence. They have involved themselves publicly known as they are Cordel Hyde supporters, so we know they are with the PUP. They've been bashing the government for years. So they will continue to be my political opponent. That have nothing with me giving the goods and services to the people of my area just because Cordel Hyde lives on this street. No brother, UDPs, PUPs, citizens of this area all live on this street and so that is separated. Whatever KREM ask for they will get. It's as simple as that. It's on with them."
Daniel Ortiz
"You stand by those comments you made?"
Hon. Mark King
"I never back down from my comments, but at the end of the day I will always say that if they get themselves involved in politics, they are no longer an independent media house. They are a political media house and they must stand firm on that ground. They cannot attacked me and expect that they will not be given attention."
According to King, the works should be completed some time in October.
Bobo Youth, No Foul Play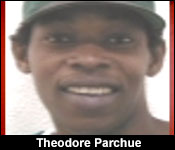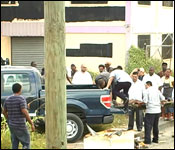 A post mortem was conducted today on the body of Theodore Parchue, formerly known as the performer "Bobo Youth". The post mortem concluded that he died of drowning and police have ruled it as an accidental death - not a homicide. The 34 year old's body was found yesterday morning in the Belize River under the Belcan Bridge by a fisherman who found Parchue when he cast his net. After being sentenced to 7 years for burglary in 2006, Parchue had fallen on hard times. He was homeless, living under the bridge and was also an epileptic. A police report says he was last treated for an epileptic seizure in April of this year.
Belize Work Force Mostly Uneducated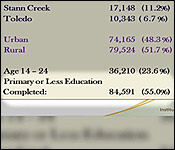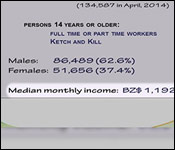 Yesterday we told you about the labour force survey - which showed that unemployment was down. But the survey does much more than determine the unemployment rate - it also monitors work trends, who's entering the work force and who is leaving.
The survey found that more females than ever are entering the work force, and the more educated a female is - the more likely she is to find work. Now, overall far more men are employed, but women with tertiary education - have almost exactly the same employment rate as men. And because more women have tertiary education than men, in this sector of the workforce, there are actually more women employed than men - fifteen thousand compared to 11 thousand.
Keeping it on education, perhaps the most alarming finding in the labour force survey is that 55% of the workforce has completed primary educator or less. That means that more than half of the workforce would be considered un-educated.
Home | Archives | Downloads/Podcasts | Advertise | Contact Us