No Joke: Guat Pres-Elect Jimmy Morales Comes To Belize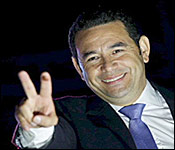 Jimmy Morales - he hasn't even been sworn in as Guatemalan President yet - but already his name has become well known all across Belize. And that's because of what he said before the Guatemalan presidential election. He called it "deplorable" that Guatemala was, quote, "about to lose Belize" and said Guatemala should quote "fight for that territory or part of that territory." In response, Belize's Prime Minister Dean Barrow fired back at Morales, saying his country would not be bullied by Guatemala.
Hard talk - and many speculated that because of it Morales would skip Belize on his pre-inauguration familiarization tour of Central America. But, he won't. Morales is headed to Belize tonight to pay a courtesy visit to the Prime Minister tomorrow.
Best information says that Morales is coming by road from Mexico. He will pass through the northern border later tonight and will be shuttled with a full police escort to the Radisson in Belize City. That's where he will spend the night and he will meet with Prime Minister Barrow tomorrow at an undisclosed location. An official press release says, quote, "being a courtesy call, it is not expected that the meeting will delve into too much detail of our bilateral relations but the general public will be informed of the content of their discussions," end quote.
This is the end of a busy week for Morales, after meeting with the presidents of HONDURAS, Nicaragua, Panama, Costa Rica and Mexico. He also used the opportunity to invite the Heads to his inauguration.
And that is expected to hold for tomorrow when - despite what has been said - President elect Morales and Prime Minister Barrow are expected to have amicable talks - since, we are told that Morales has walked back from his feisty pre election comments. 7News will be closely following the activities tonight and tomorrow - and we'll have a full report on Monday, and up to the minute updates on our facebook page.
With Publicís Help Police Catch Businessmanís Alleged Killers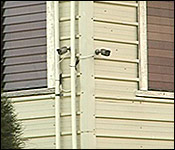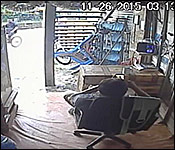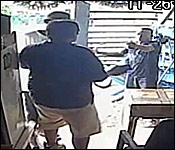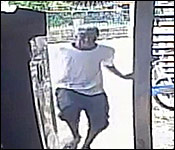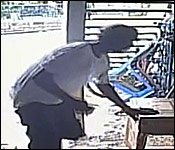 Tonight, Belize City Police have the two men who they believe killed businessman Ruben Perez yesterday. As we showed you, Perez was at his block factory at the far end of Vernon Street when the men ran up into the lot - and shot him in the neck after a very quick skirmish. As he lay on the ground, one of the men ran up and grabbed his cellular phone.
It was all caught on security camera which we showed you on 7News last night. Police say that led them to the suspects - both of whom were arrested today. We learned more in a press briefing this evening at the Raccoon Street police station:...
Supt. Hilberto Romero, OC CIB - Eastern Division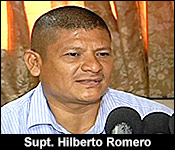 "We have arrested 2 persons Keon Dennison and Tyler Mead, they will be charged for this murder. We would like to thank the public for their assistance. We had several tips that we followed up and this lead to the arrest of these two persons."
Insp. Alejandro Cowo, CIB Prct. 1 & 2
"The two suspects that we have at this time, they were detained at different times with different places. One was detained in a pre-dawn operation this morning and the other one was just about 2 hours ago. As we mentioned, the phone belonging to the deceased was found with the second person. Presently we are tracing back to all persons that he dealt with so that we can link up to gather more evidence regards in dealing with the phone."
Sr. Supt Chester Williams, Commander, Eastern Division Southside
"They are two young persons. One of them is 19 and I think the other one is not even more than 20 as well - two young people and one is from Maskall and one is from Dangriga. So you would see why they are not persons who been known to us, in terms of being involved in criminal activities in Belize City."
Insp. Alejandro Cowo, CIB Prct. 1 & 2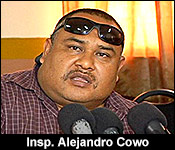 "One is from Dangriga. Very seldom comes to Belize City and the other one is from Maskall. So that when we had that first footage, we didn't have that knowledge of who these two persons were. But again, with the cooperation with the people, we give them many thanks. Because if it was not for them, we wouldn't get to them as quick as we had done today."
Sr. Supt Chester Williams, Commander, Eastern Division Southside
"Thanks to Channel 7, Mr. Vasquez and his crew who assisted us in editing the video and made it available to the broadcast on Channel 7 Last night and that assistance that they gave us was significant in the breakthrough we got in the investigation."
Supt. Hilberto Romero, OC CIB - Eastern Division
"We know that they did not have any prior history. The information is that they randomly targeted that business place. We have established that the motive for that was robbery."
Jules Vasquez
"If it was a robbery attempt. What caused it to go wrong so quickly? Because you know in one second literally it escalated from a confrontation to murder."
Supt. Hilberto Romero, OC CIB - Eastern Division
"We know that at some point that there was a struggle at which point one of the assailants fired that single shot towards the deceased. The information that we have gathered is that business place was randomly selected. It's at the end of Vernon Street. We know that there is no security posted there. So they randomly choose that particular business and targeted that area."
Jules Vasquez
"If you've seen the stuff, they seem to have reacted in a adhere trigger and not out of a practical 'okay, well we will do this.'"
Supt. Hilberto Romero, OC CIB - Eastern Division
"That is what it appears to be. At some point, the person who had the firearm seems to just have fired that shot after there was a small struggle with the deceased."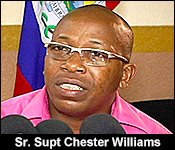 Sr. Supt Chester Williams, Commander, Eastern Division Southside
"If somebody comes to rob you, do not have a struggle. At the end of the day I think that the premises of Mr. Perez had reasonable good surveillance cameras and therefore if it was only a robbery, we would still have been able to apprehend those persons. So, it's an unfortunate situation. I guess it is something that only he would have been able to say why he reacted the way he did. Unfortunately he was killed senselessly. But I think that at the end of the day like you rightly said, if they come to rob, its money. Surrender the money and leave the work to the police to try and apprehend them afterwards."
Supt. Hilberto Romero, OC CIB - Eastern Division
"The stolen phone from the deceased has also been recovered."
Sr. Supt Chester Williams, Commander, Eastern Division Southside
"Yes they are amateurs and like you have also pointed out, you could see in the video, they are not persons who would seem to be stable handling a gun. So, its things that we need to look at and going into the Christmas anti-crime campaign again, what we impress on our officers is to do more stop and search. Especially when they are policing these hotspots, the business area and we must be able to target those persons who we know have the propensity of committing crime."
Williams says Police will be beefing up their presence and stepping up patrols with the launch of their Christmas anti-crime campaign on December third. As for the 500 dollar reward that was offered through crime stoppers for any information leading to their arrest - well no one will claim it, because the persons who had the information didn't call crime stoppers, they called police directly. But Williams says they are grateful for the help and he will try to raise some reward money from the business community to pay them.
Ladyville Murder Has Belize City Gang Ties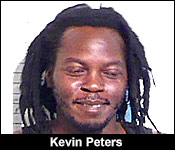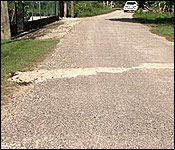 Senior Superintendent Edward Broaster, Williams' counterpart in Eastern Division Rural, is also investigating a suspected gang-related murder in Ladyville. This one happened 5 hours after the attempt robbery turned murder of Reuben Perez in Belize City.
At around 8:30 p.m. last night, 37 year-old Kevin Peters was standing in front of his sister's house on Samuel Gray Street in the Japan Area of Ladyville. That's where a gunman ambushed and shot him several times, once to the abdomen. He died while being rushed to the KHMH in Belize City. Senior Superintendent Broaster briefed the media today about what the investigators know so far:
Sr. Supt. Edward Broaster, Commander - Eastern Division Rural
"At about 8:30pm we received a call of a male person that was shot in the Ladyville area. In the area of Japan which is known as "Japan." That male person was learnt to be Kevin Peters, who was shot to the abdomen. He was rush to the Belize Defence Force medical center where he was later transported to the Karl Heusner Memorial Hospital and he was pronounce dead on arrival by the medical practitioner at that location. The investigation is currently ongoing. We do not have any motive at this time. We've managed to apprehend 4 individuals who we have in custody. One of whom we believe is the shooter. Four expended shells were found on the scene of 9mm caliber. And at this time we are attempting to secure witnesses to get statements from them regarding this incident."
Daniel Ortiz
"Can you explain to us why he was in Ladyville last night? Do you have any other information at this time?"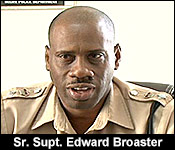 Sr. Supt. Edward Broaster, Commander - Eastern Division Rural
"We know that he reside in this area as well. He have family members and he lived in Ladyville."
Daniel Ortiz
"Is he known to police? Does he have any kind of affiliation to any of the gangs in the city?"
Sr. Supt. Edward Broaster, Commander - Eastern Division Rural
"He has affiliation with the Taylor's Alley gang. He is known to police."
What we've been able to learn is that Peters, a reputed affiliate of Taylor's Alley Gang, was at the 3-storey blue house belonging to his sister, Carla Escarpeta. We're told that he and his family were having a Thanksgiving dinner. Sources tell us that he socialized with a few of his friends in the yard, and then, he left to go buy weed.
We're told that when he returned, he stood outside the gate on the street to take his smoke. That's when the gunman, who is believed to be a known enemy, reportedly crept up from behind and shot him 4 times before escaping.
Of note is just after the Christmas holiday in December 2012, the GSU charged him for allegedly trying to hide a handgun in Taylor's Alley when they encountered him on Christmas Day.
Southside Cops On Alert After Ladyville Murder
And so while the murder happened in Ladyville - it can be traced right back to Taylor's Alley in Belize City. That means Belize City police will have to be monitoring this gang turf which is running red hot right now. We say that because of a weekend incident there - and now this murder. Today, Williams told the media they will be working to hold things down in Taylor's Alley:...
Sr. Supt Chester Williams, Commander, Eastern Division Southside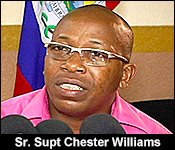 "With the murder that took place in Ladyville last night. That might have some spin-over into southside Belize City between the Taylor's Alley crowd and the other part from where the other persons came from. So again, we have to monitor the situation between those two groups to see what they may want to do as a result to retaliate to what took place in Ladyville last night. So we must remain vigilant. We know that southside Belize City is very challenging to police. But despite that challenge I must say that my staff has been doing their best to ensure that we keep calm as much as we can."
Williams denied the report that the Taylor's Alley beefing could be related to the August heist at First Caribbean Bank. Taylor's Alley figures were charged for that crime, and sources say the inter-gang beef is about quibbling over the proceeds of that crime.
Emerson Burke Crashes And Dies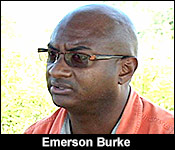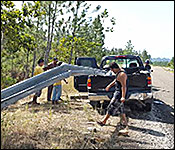 Well-known Belmopan businessman Emerson Burke died in a terrible traffic accident on the Southern Highway early this morning.
Independence Police report that at around 6:08 a.m., they were called out to an area of the highway between Bladden and Medina Bank Villages known as Machaca Creek.
There, they found Burke's black Toyota Tundra pick-up truck pinned to the side of guard rail on the left shoulder of the road. Lying a few feet away from the vehicle, they found Burke's lifeless body on the ground. They believe time is that he was traveling towards Punta Gorda Town. Burke then somehow lost control the vehicle and slammed into the guard rails. He suffered severe head and bodily injuries, and he was pronounced dead on arrival at the Southern Regional Hospital about 2 and a half hours later.
Emerson Burke rose to prominence in 2006 when he acted as whistleblower in the DFC scandals. He was employed then as chief appraising officer. His name hit the news as recently as May of this year when he wrote a letter accused Belize Rural North Area Rep. Edmond Castro of squatting in Santa Marta Village. Castro categorically denied that accusation and threatened to bring a slander lawsuit against Burke if he continued his crusade.
Crazy Collision On Western Highway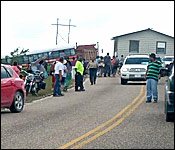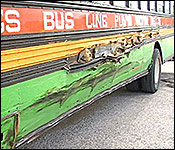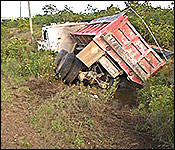 This afternoon at around 1:30, there was a crazy accident at mile 26 on the George Price Highway. Fortunately no one was killed - but an entire JAMES bus loaded with passengers was put at risk. It all started with a trailer carrying a Mennonite house coming down the road. A wide load - too wide for the bus to pass - and here's what happened when it pulled over to give way:
Courtney Weatherburne reporting
This was the scene at mile 26 on the George Price Highway this afternoon
This Express James bus was heading to Belize City when a trailer transporting this house was heading to Belmopan. The James Bus pulled to the side of the road to let the trailer pass
But this dump truck didn't take that approach. This truck tried to squeeze his way between the parked James Bus and the trailer. That caused the trailer to be flung into this ditch, and when that happened it scraped the bus, and the conductor was thrown out of the bus and pinned, breaking both his legs.
A massive accident, but all that's left on the road are chunks of truck and engine parts lodged in the mud.
The driver of the James Bus was 46 year old Glen Cassimiro while the driver of the dump truck was 58 year old Arthur Cadle. Both were issued with notices of intended prosecution.
UDP Area Rep Finnegan Calls Out UDP City Council For Dean Street Drainage Woes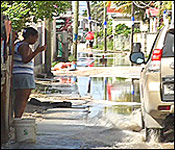 Belize City may be plastered with new concrete streets - but drainage is another issue altogether. The City Council has been widely criticized for building new streets with insufficient drainage. But, the truth is unless you're living on Western Dean Street - you shouldn't really be complaining. That portion of the street, for a good three blocks, is always flooded, and it's a nuisance and a health hazard to residents. We know their woes only too well because Channel 7 is also on Dean Street - but we are lucky enough to be on the dry part. Today, their area representative Michael Finnegan dragged the city council out to the location to do something about the problem. He told us why he's gotten impatient:..
Hon. Michael Finnegan, Area Rep. Mesopotamia
"You see the City Council send all those workers here to resolve a problem which in my view is an engineering problem. Now first of all, if you send the man to clean the drains that the City Council sent them to clean. You clean from there to here where the hole stop. Now, what happens to here and to there? How will the get to clean there? So you will clean here to there, but all the sand and all the cement and all the debris they pile up from here to there. And as you go along the street, it's the same situation that will happen. This has been going on for more than a year and you have these people in these kind of condition. This matter has got to be resolve. It is unfair to the people living in this area. These people can't come out of their houses. As they come out their house they will walk in dirty water. This matter has got to be resolved."
Jules Vasquez
"Now as the area representative Mr. Finnegan. You have called upon the City Council. I can't imagine this is the first time."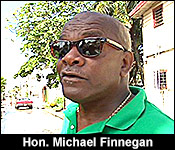 Hon. Michael Finnegan, Area Rep. Mesopotamia
"I call them over and over. I called the talk show. I call Wave. I called everywhere to try to come and resolve this problem. But everybody pussy-foot on it."
Jules Vasquez
"But now have they told you anything? I see Councilor Samuels here. Has he told you anything that...."
Hon. Michael Finnegan, Area Rep. Mesopotamia
"Dean is trying to resolve the matter. I had to twist his hand and his ankle and turn his neck around to try to get the matter resolve. But we have to get the matter resolve. This is a health hazard then. This is unfair to good decent, abiding citizen of this area. This is unfair."
Jules Vasquez
"And for people who voted for you?"
Hon. Michael Finnegan, Area Rep. Mesopotamia
"Yes, exactly. They have voted for me over and over. This in unfair to them."
Jules Vasquez
"One might suspect that there is no easy solution. It might be more than just the clogging of the drains."
Hon. Michael Finnegan, Area Rep. Mesopotamia
"That's why we send these guys to the great university - to study engineering. These problems can be resolve easily. All they need to do is to put their engineering skills to work. You don't put your engineering skills to work by sending 4 people with shovels and deck broom to solve the problem from there to there."
Jules Vasquez
"Will you be able to tell your constituents that you have a solution for them?"
Hon. Michael Finnegan, Area Rep. Mesopotamia
"They know they can depend on me. I don't have to tell them. They know they can depend on me."
Jules Vasquez
"I know you can't back water bucket."
Hon. Michael Finnegan, Area Rep. Mesopotamia
"And we will resolve this problem. I can't even back myself right now Jules."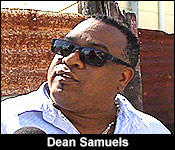 Dean Samuels, City Councilor
"Mr. Finnegan gave me a call. I am no engineer just like him, we have the professionals at the council who is out there to try and resolve the problem."
Jules Vasquez
"What are they saying and is there any real hope for resolving this without having to redo the whole street?"
Dean Samuels, City Councilor
"I have spoken to the engineers and what they have said is that lets start at A. Let's clean the drains all the way down from here to the other canal side. Let's start with A and we move on from A to B to try to resolve the problem. Presently lifting up the manhole covers what we have found is that silt is all the way to the top. So the drains are blocked totally. So what we are doing, we are cleaning out the manhole and what we will try first sludge truck to try to push the dirt to try to see basically if we can get it moving."
We should note that the flooding is directly related to the tides; whenever there's a high tide it gets really bad - and it's been that way for decades. With sea level rise, and the spring tides that prevail at this time of the year, the past few months have been merciless to area residents.
Consumers Will Pay (Dearly) For Intíl Sugar Price Slump
The controlled price of sugar that you buy at the store will go up by 25 cents per pound. That's the decision that Deputy Prime Minister Gaspar Vega announced this afternoon when he came out of a meeting with the 3 cane farming associations and the factory owners.
As we've been telling you, this was what sugar industry stakeholders have been pushing for, ever since they found out that the price of sugar in the European market is down. It is a welcome decision to the farmers who say that they are teetering on financial ruin - but not very welcome for consumers who will see the price per pound go up from 50 cents to 75 cents. That's 33 percent more per pound - steep - which is likely to drive up prices for many food items made with sugar.
The cane farmers and the factory owners got the opportunity today to lobby for this increase at a meeting with the Sugar Industries Control Board and the Ministry of Agriculture. Now, to be specific, this meeting happens every year before the start of the crop season. The discussion usually centers around the work that Government does to improve the sugar roads, the 2 million dollars fuel subsidy for farmers, and the subsidized licensing of cane trucks. Coming out of the meeting today, Deputy Prime Minister Gaspar Vega told the press that the Government looked favorably on this increase to mitigate the effect of the low prices of sugar abroad: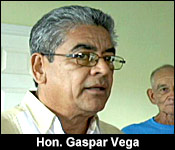 Hon. Gaspar Vega, Minister of Agriculture
"The increase on locally consumed sugar which is a request that the cane farmers have been doing for probably for the past 2 crops. And today I think that was one of the most important lobbying that was being done and I want to announce that the government did approve the 25 cents increase per pound for our locally consumed sugar. Some people thought that probably it could be even more because of the price on the sugar in our neighboring countries which is Mexico and Guatemala and even at 75 cents per pound, we are still lower than the price sold in Chetumal or Melchor."
Reporter
"When will it come into effect and what all need to happen to that to be imposed?"
Hon. Gaspar Vega, Minister of Agriculture
"As we speak both CEO and I are looking into getting the SI ready, sending it to the attorney general so that its approved and made law and hopefully we would be able to do that pretty quickly. That will assist them. That should be giving them something like $4.60 more per ton. So instead of $35.33 or something like that, they should probably get another $3. Because the $4.60 the way it works, BSI only pays a percentage upfront. You have to remember that ASR does not collect for the sugar until it's sold. So the first payment that they make it's not money that they have collected from the sugar that they will be selling. So they either have that in savings which I doubt, or they have to make a loan. So those are the challenges that the industry has to learn about."
All parties agree that the best start date for this upcoming season is December 7.
Open Scholarship Winner Stacey Grinage: Living The Dream
Stacey Grinage: she first came to our attention in 2009 when she won the CAPE open scholarship. She topped the examinations for Belizean students with six grade 2's in Caribbean Studies, Communication Studies, History and Sociology. We had a chance to speak with her about this great accomplishment in 2009 and she told us how excited and surprised she was when she heard the news. Here is a short excerpt from that 2009 interview.
FILE: November 3, 2009
Stacey Grinage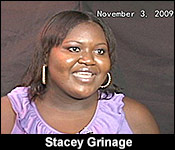 "I was sitting around the dining table at my aunt's house in Belmopan eating lunch when the 12:30 news came on and I heard the headline and then I said let me listen and hear who won the open scholarship. Next thing I hear Stacey Karen Grinage and I jumped up and I was like that's my name. So my aunt's babysitter was in the house and I ask her did you hear my name? Just to make sure that I wasn't hearing my own name and she told me yes, that's you and I didn't even hear the rest of the news. All I heard was my name and that's it and that's how I got the news and then everyone started to call me congratulating me and that's how I got the news."
So that was 2009, six years ago…and where is Stacey Grinage now? Well with that open scholarship Stacey went on to study law at the University of the West Indies in Cave Hill Barbados. She was recently called to the bar and is now a practicing attorney at Young's Law Firm in Belize City: living the dream. We met with Stacey to see how she's been doing all these years and what's next for her. For this child of Lake Independence, Stacey's drive, motivation and vision offers a new and refreshing outlook on the Southside narrative. I spoke to her in depth yesterday..
Courtney Weatherburne
"Did you always want to be a lawyer?"
Stacey Grinage
"It was always an option for me. But I remember when I was in primary school I wanted to be a dentist at first. At one point I wanted to be a dentist, then a teacher, then a sociologist. For me it was Always at every level of education I had a passion for something. And whilst I was attending junior college I loved sociology and I wanted to be a sociologist and so it all went with my level of education where I was. But when I found out that I won the scholarship, after speaking to my parents and even my grandfather I was advised to take up a profession - a path whereby I would have a profession forever and so I decided to since law was always on my mind an option that this is the opportunity now. But also my mother, she works at the Supreme Court law library and with her working there I use to go there all the time. I use to see the attorneys, see the judges, and see the officers of the court and that also gave me an appreciation to the profession and I interacted and that also added to it as well for me."
Courtney Weatherburne
"Describe the role of your parents and your family played in this particular dream?"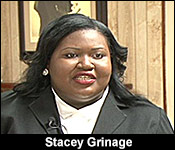 Stacey Grinage
"Both my immediate family and my extended family are extremely supportive and encouraging and they show me all the love in the world. So I know that any profession that I would have chosen, they would have supported me in it. But specifically when I decided to study law, everybody was happy for me. Everybody said we know you can do it and they motivated me."
Courtney Weatherburne
"So everyone wants to realize their dream, but it doesn't quite work out for everyone perfectly. So what's special about you?"
Stacey Grinage
"I would say is that I am blessed by God and I am blessed like I said with a family immediate and extended, that we hold certain values and principles dear to us and it is these values that we hold dear that we maintain. All of us try to maintained; education, work hard at whatever work you might do. And also I must add that whenever I need to make decisions, I consult with my family. I consult with God and I find that I have a blessing of discernment where I know what to decide and I usually make the right decision."
Courtney Weatherburne
"So you grew up on Mahogany Street. There is a negative perception or the southside. Many people say that nothing ever good comes out of the southside and there are no success stories. What do you have to say in response to that?"
Stacey Grinage
"Well I would say that a lot of the generalizations are false and the stereotypes are also - they may be false as well. Because I look at me and I look at my brother and my cousins, my neighbors. I have people who I work with, who are from my community and there are success stories. But it just so happens that the negatives is always highlighted more than the positives and that is why I am happy to be one of the positive. One of the success stories and my hope is that more of the success stories are heard of."
Courtney Weatherburne
"Did you ever doubt yourself?"
Stacey Grinage
"I never doubted myself. I knew and I know that I could be anything that I wanted to be. Whatever career path I would have chosen I could have been any of them and I know I would have put in the same dedication and hard work to any path that I would have gone down."
Courtney Weatherburne
"So you've been working here at Young's Law Firm since July. How has he experience been so far?"
Stacey Grinage
"Well my application to Young's Law Firm was successful and I began working here as an associate in July 2015 and it has been a wonderful experience. Here at Young's Law Firm, we operate like a family. We call yourself the YLF Family and it has been a good experience and once again I must say that I am blessed to have been one of the first persons from my class to have been employed. It feels so rewarding. It feels like I am living the dream - all the work. This is a manifestation of my studies and my work and you know you take up something and you say some day you will see the light at the end of the tunnel. This is my light." [Smiling]
Stacey graduated with first class honors from UWI with a Bachelor's in Law. She also received several awards including the David Nathaniel King Memorial Scholarship for the most outstanding performance in the course Offshore Financial Law, The Belizean Bar Association Prize which is awarded by the Belize Bar Association to the most Outstanding Belizean Student over two years and The William Roper Memorial Prize- for outstanding performance .
Stacey says she plans to give back to her community through volunteering.
Services Commission Sings BELTRAIDE Deal
The Belize Coalition of Service Providers is celebrating services week - and today, as a culmination, they signed an agreement with BELTRAIDE. We found out how the agreement will benefit service providers:...
Firing In A Crowded Casino?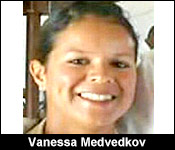 Tonight, Caye Caulker Resident, Vanessa Medvedkov is out of bail tonight after police accused her of pulling out her firearm inside a casino and firing it while under the influence of alcohol.
According to police, on Wednesday she was at the China Town Casino on Caye Caulker, and according to eyewitnesses, she was drinking while gambling. Different accounts say that she took out her licensed handgun and inexplicably fired several shots. Another version is that she simply placed her hand inside her purse and touched the trigger of gun, which caused it to fire several shots.
The police were called in, and they confiscated the weapon. They say that she appeared to be intoxicated, and when they wanted to test her blood-alcohol concentration, she refused. They charged her with 3 charges: discharging a firearm in public, being in possession of a firearm while under the influence of alcohol, and failing to provide a specimen. The firearm offence is an automatic remand, and so when she was taken to court yesterday, she couldn't get bail.
Well, her attorney managed to get her a expedited bail hearing today in the Supreme Court, where Justice Denis Hanomansingh granted her application. She was released on bail of $5,000, and she must return to court on January 12, 2016.
Day Care For The Elderly
We've all heard about Day Care Centers for babies and toddlers, but how about for the elderly? A first ever Elderly Day Care Center was opened today, it's called Belize City Seniors. It's located at the John and Charles Wesley Center - right next door to Channel 7. Now, there are organizations right now like HelpAge, that give older persons an outlet to be active and that's is exactly what the coordinators of this new center want to accomplish in their own unique way. We found out more about it this morning.
The Day Care Center will cater to persons older than 55. It opens from 10 to 2. If you want to be a member of the center you can attend their first meeting on January 8th. The coordinators are asking for corporate and individual sponsors to kindly donate to the center.
Free Flu Virus Available For At Risk Persons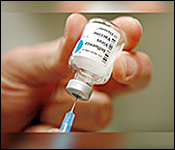 It's the end of November - which is the flu season. And, tonight, the ministry of health is urging those in at risk groups to get a flue shot. Now, just who is at risk? Well, a ministry release says "Persons at risk for serious flu complications include young children; pregnant women, those with chronic health conditions such as diabetes, asthma and HIV; and persons older than 65.
All those persons are urged to take a flu vaccine - which is available free of cost at all public health centers.
Cops Take On Taylorís
Earlier we told you about the flare up of rivalries within the Taylor's Alley gang. Well, by coincidence, Southside police were touring that same general area today. Police say they were there to follow up as they do in other communities, but they were also there to establish a peace keeping presence:..
Coast Guard Gets New Recruits
From community police to new Coast Guard officers. Today, the Belize National Coast Guard welcomed 45 new recruits into the service as part of the 7th Intake.
These recruits have been put through 3 months of intense basic training, and today, they got to officially pass out in a ceremony, where their family and friends observed in pride.
Today, their Minister, John Saldivar had a few choice words of respect and confidence in their commitment to serve their country:
These 45 officers came from a crop of 200 applicants. 5 dropped out after showing up for the start of training.
Coast Guard Celebrates A Decade
So that was the passing out of Coast Guard Recruit Intake #7. Well, Today was extra special for the Belize National Coast Guard. They celebrated the milestone of 10 years of service to the public as the naval protectors. The Coast Guard has grown from 54 officers who signed up in November 2005, to 320 officers currently serving.
Their commandant, Admiral John Borland, has been a member of the Coast Guard since day one, and today, we discussed the progress that his organization has made over the years:
So, what's next for the Coast Guard? Well, National Security Minister John Saldivar discussed the direction that the organization will take in the next 5 years. First though, he talked about the new toys that these Naval officers will get, along with that new Forward Operating Base at the Mouth of Sarstoon:
We'll show you that ground breaking ceremony at the chosen Location for the Sarstoon Base in the next 2 weeks.
Takes Two To Tango
And that's 7News tonight - thanks for Watching - I am Courtney weatherburne..
We leave you with some dramatic performances from last night's Dance X - starting with a Tango performed by an Argentinian group - enjoy and join us back here on Monday..
Home | Archives | Downloads/Podcasts | Advertise | Contact Us